What Good Is the Ski Area Scorecard?
A nonprofit that grades U.S. ski areas on their environmental friendliness wants you (and them) to take its report seriously. But navigating the details feels like skiing through crud.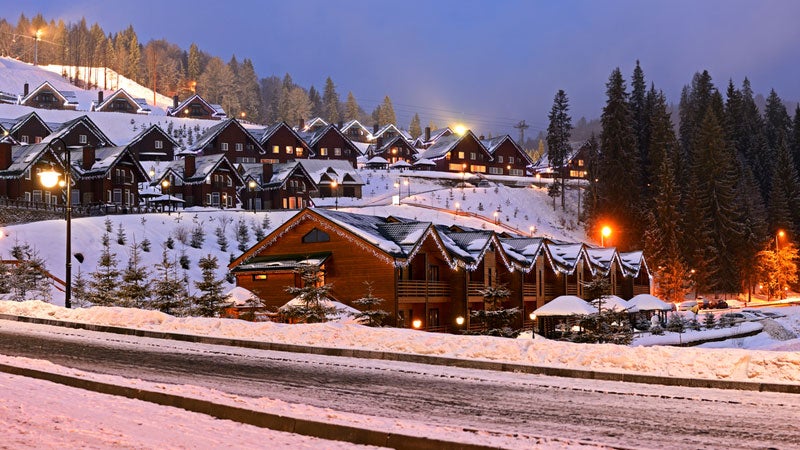 Eduard Kyslynskyy(Photo)
Heading out the door? Read this article on the new Outside+ app available now on iOS devices for members! Download the app.
On November 19, the Ski Area Citizens' Coalition released its 12th annual Ski Area Score Card, a survey that rates 85 Western ski areas on their overall environmental impact. This year's top spot went to Washington's Stevens Pass, which earned a score of 93.3 percent (out of a possible 100) while Mount Spokane, just 260 miles due east, landed in last place with 47 percent.
This year's scorecard, which started as the work of a now-defunct NGO called Colorado Wild, but is now compiled by the Sierra Nevada Alliance, praises Stevens Pass, as well as Park City and Aspen's resorts, on their growing use of renewable energy. As the costs of solar panels and turbines begin to fall, more and more resorts are installing systems to offset their reliance on carbon-based power—although in most cases the amount of energy that results is a fraction of the resort's total consumption. (That's no longer the case for Aspen, which last year financed a waste methane-to-energy project that produces more power than it consumes.)
The goal of this yearly report is laudable: to anylyze on-the-ground environmental actions ski areas take. This is important given that the National Ski Area Association's own sustainability program, Sustainable Slopes, does not closely vet the performance of participating resorts—something it has been criticized for in the past. (However, a three-year-old program launched as part of Sustainable Slopes, called The Climate Challenge, does include a reporting protocol.)
That said, there are some important caveats that readers should take into account when considering this year's top 10 and bottom 11 resorts.
Here's a primer on how to read and interpret the report, and what it says about your favorite destinations.
1. Resorts are penalized heavily for expanding into undistributed land. (Mount Spokane, in fact, is fighting a lawsuit over an expansion it has proposed for which it has not conducted a complete environmental impact study. Multiple calls to the resort seeking comment on its scorecard rating have not been returned.) To understand why, it's helpful to read the Ski Area Citizens' Coalition "How We Grade" explainer. But here's the most salient argument: Since the mid 1980s, visits to ski area have stayed relatively flat, while the number of skiable acres have grown by around 140 percent. Resorts compete with each other through expansions, but when those expansions require cutting into pristine forests, the environmental impacts in terms of increased erosion, destruction of wetlands, and loss of habitat are critical.
In an attempt to score progressively, each year's scorecard captures a moment in time and terrain expansion is weighted accordingly over five years. If a resort has announced or implemented an expansion into untouched terrain within the past 12 months, all 30 points in this category are docked. If that was between one and two years ago, it falls to 80 percent, between two and three years ago is 60 percent and so on. If it's been five years since the expansion was proposed or implemented, the resort receives all 30 points. (Expansions into already-disturbed terrain are not weighed as heavily in the scorecard, but are still significant.)
2. Non-responsive resorts are still judged. The first six questions in the survey are based on public information, such a expansion permit requests, that the Ski Area Citizens' Coalition collects from public records and through Freedom of Information Act requests. But more than half of the questions are administered through a voluntary survey, which asks about the resort's buildings, water use, energy use and snowmaking practices.
"We get about half of the self-reporting surveys back," says Anna Olsen, who administers and manages the scorecard. "Some ski areas send us their sustainability reports instead, so we are able to get answers to the questions from those." But if a resort gives Olsen the silent treatment? "If they did no not fill out the survey, we take information from the previous survey they completed," she says. "Some resorts object and refuse to respond. If we can't find any publically available information on them, that negatively impacts their score. But we try to give resorts the points they disserve."
3. Transportation is not weighed heavily enough, or fairly. The survey includes three transportation-related questions, which earn a resort just nine points, total. The questions are appropriate and reference the use of incentives for guests and employees to use shuttles or carpools. But the environmental impact of guests driving long distances to a resort—or, more importantly, flying from another or country—are potentially massive. For this reason, the distance from a major metro area, the number of annual skier visits, and the percentage of out-of-state or out-of-town visitors should be factored into transportation scores. Why should last-place Mount Spokane—a 30-mile drive from Spokane and hardly an international destination—be rewarded or penalized as heavily as Vail, or Aspen? It's a part of the survey that Olsen says she's looking to improve.
4. Summer-specific report cards are needed. As snowpacks thin and become more erratic, resorts are focusing more on attracting guests during the off-season, by offering amenities such as bike parks. There's a growing need for a watchdog report on how these summer activities and infrastructures impact the mountain environment.
5. The report is really hard to read and could use some Q-A testing.
Nowhere on the site can you find a complete report, showing or comparing all of the resorts that were surveyed. Your only option is to drill down to a specific ski area, using the drop-down boxes in the upper right-hand corner of the site. This gives a helpful overview of that ski area's score, but to really understand the reason for the grade, you'll need to click "View Full Report." Unfortunately, in many cases this full report fails to fully explain the reasons for specific scores, and some URLs to external documents are broken.
For ski areas that receive high marks, this scorecard is a handy marketing tool. But because it's created by a small environmental and tends to get drowned out by other industry news, the scorecard does not seem to adequately pressure poorly-graded resorts improve their environmental performance. Perhaps by partnering with an organization that has the ears of more skiers and snowboarders, such as Protect Our Winters, the Ski Area Citizen's Coalition could get more bang out of the scorecard.
Lead Photo: Eduard Kyslynskyy