What's the best way to fix torn ligaments in the ankle?
I tore a ligament in the ankle area last August and it still gives me a bit of grief at times, though a recent ultrasound showed nothing. I'm walking around the house wearing an ASO Ankle Brace but worry that I won't have enough flexibility in my ankle area to cross-country ski; do you have any thoughts here?—MarilynToronto, Ontario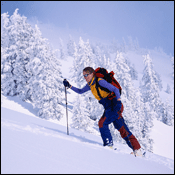 Heading out the door? Read this article on the new Outside+ app available now on iOS devices for members! Download the app.
I feel your pain, Marilyn. I, too, once severely tore ankle ligaments. I got by just fine for years. Then, on a single backpacking trip, I re-injured those ligaments something like three times in a single hour. OMG, it was awful. Plus, a year after that I was twisting off a tight cycling shoe and manually re-sprained my ankle. You don't even want to hear the language I used.

The issue is time and therapy. You are going to heal, but it will be a while. See your orthopedic specialist or a physical therapist, but one of those should be able to give you a sheet with several ankle exercises to help with strength and flexibility. Not that you can't figure it out—toe raises, or anything that mildly stresses the lateral muscles like using a rubber tube or bungee cord for resistance so you can rotate the foot from inboard to out—all those will help. And do things that help flexibility but not put you at risk of hurting yourself. Exaggerated stair climbs, for instance.
KEEP wearing the brace. It will cut your re-injury odds enormously. And that is key—whatever the healing process is, you do NOT want to re-injure.
Anyway, be a bit patient, use the brace, do therapy. You will recover. And ski again, beautifully.