What's the best avalanche beacon?
I need to purchase an avalanche beacon for my son who is skiing in Montana. The decision has come down to either the Ortovox Patroller (which I can buy off the NSP website at a pretty good price) I can source a Pieps DSP for a very good price (I have really good connections through my work). The cost difference will end up being about $80.00. Model to model, is the Pieps that much better than the Ortovox model?CliffNew Boston, NH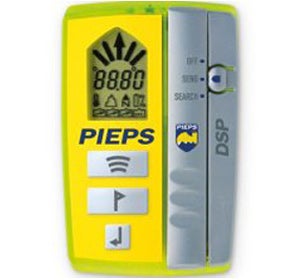 Heading out the door? Read this article on the new Outside+ app available now on iOS devices for members! Download the app.
These are both excellent beacons. The one big advantage of the Pieps DSP ($450) is that it's designed to receive and distinguish between multiple signals (such as when most of a party is buried). With the Ortovox Patroller ($350), you need to use the "three circle" method, which makes it possible to tease out multiple burials in a tight radius. (Here' s a good paper on the three circle method.) Otherwise they're very similar in function and performance.
The DSP

The DSP
So I don't have really strong feelings either way. What is FAR more important is the training and wisdom of the person using the beacon. I'll be honest, I'm not really keen on avalanche-survival equipment because it creates the impression that an avalanche IS survivable—you just get covered with fluffy white snow, and in ten minutes your buddy pulls you out.
Which is so wrong on so many levels. Being hit by an avalanche is like being hit by a truck. Then you are tumbled and tossed down the mountainside, very possibly smacking into trees or rocks. Then when the avalanche comes to a stop there is a pause of a few seconds before the snow settles—whump!!—and all the crystals interlock, creating something akin to concrete. Unless you've managed to get your hands in front of your face and make an air pocket, you suffocate in a few minutes.
Does any of this sound like fun? Seriously, a while back Bear Grylls did an episode of Man vs Wild on winter survival. In one segment he was deliberately buried to semi-simulate being trapped by an avalanche. Bear's a tough dude, but he was practically screaming for help after five minutes.
We had a name for avalanche beacons when I was doing mountain rescue work. We called them "body locators." Because that is what they were most useful for.
So, get either the Pieps or Ortovox beacon. But also be sure it comes with a ticket to a good avalanche-safety class. Because avalanches are to be avoided at all costs. The need to use of beacons or other devices should be seen as an absolute last step, and the result of an error in judgment.
Yes, I feel strongly about this.