What's the best walkie-talkie for keeping in touch on the ski slopes?
What is the best current model of the Motorola Talkabouts to purchase for skiing? I gather the 280SLK and the T-Series are no longer made, but I find today's models confusing so I need some help. The units must be rechargeable. Diane Roslyn, New York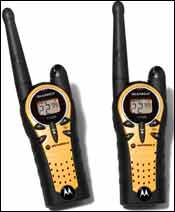 Heading out the door? Read this article on the new Outside+ app available now on iOS devices for members! Download the app.
You're right, Diane, the Motorola 280SLK radio, which came out about four years ago, is no longer on the market. But several good models can be had under the Motorola banner, as well as some models from the competition.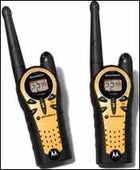 Motorola T7400's

One good candidate is the Motorola T7400 ($100 for two; www.motorola.com). It's a sturdy little radio that comes with both FRS (Family Radio Service) and GMRS (General Mobile Radio Service). You'll need to get an FCC license to use the longer-range GMRS (up to seven miles, but take that with a grain of salt), but that's not a big deal (it costs $80) and you can still use the radio on just FRS mode. The T7400 comes with rechargeable NiMH AA batteries and a charging stand, and you can use regular alkaline AA's if you wish.
Motorola really dominates the walkie-talkie market, but one worthwhile alternative is the Uniden GMRS720-2 (www.uniden.com), which comes with the same features and radio options as the T7400. It doesn't have the Motorola unit's handy docking station for charging, but one can always buy rechargeable batteries and a charger. It also requires an FCC license to operate because it's a GMRS-only model.
None of these units is exactly weatherproof, so you'll want to take a few precautions when in the mountains. Simply keeping the radio in a secure ski parka pocket will likely ensure their protection from the elements. If not, a simple Ziploc plastic bag will do wonders. Or, get an Aquapac Mini Walkie Sports Case ($35; www.aquapac.net), a Ziploc bag on steroids that's shaped to fit a Talkabout-style radio and antenna and allow full use while the radio is encapsulated. It also includes a handy arm strap so you can attach it round your bicep if the mood strikes.
For more gadgets to keep you in touch wherever you're wandering, check out Outside Online's Communications Buying Guide.