Which snowshoes are the best for beginners?
My 17 -year-old son would like to try snowshoeing. He has done a lot of hiking and climbing in the past but only a little skiing. What would you recommend for a good starter set? Ellen North Chath, New York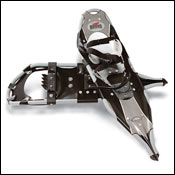 Heading out the door? Read this article on the new Outside+ app available now on iOS devices for members! Download the app.
One of the great things about snowshoeing is that it really doesn't call for a lot of extra equipment. Your son probably already has all the clothing he needs: long underwear, an insulating layer such as fleece, waterproof/breathable jacket and pants, gloves, and a hat. Most quality hiking boots adapt to snowshoeing nicely, and wool socks are handy (SmartWool Hiking Socks, $16; www.smartwool.com), as are a pair of gaiters (Outdoor Research Crocodiles, $59; www.orgear.com). But otherwise, all that's necessary is a pair of snowshoes and some poles.
Redfeather Trek 30 snowshoes

Trek 30 snowshoes
The other great thing about snowshoeing is that the popularity of the sport, plus competition between snowshoe makers, means there are lots of choices for snowshoes at lots of price points. One can't-miss snowshoe is the MSR Denali Classic ($140; www.msrcorp.com), which really ushered in the modern age of snowshoes when it was introduced more than a decade ago. It's a molded plastic snowshoe with integrated bindings and crampons—light, easy to use, and effective.
I also like Redfeather (www.redfeather.com) snowshoes, which have a distinctive long tail that helps with stability. They're built with more of a traditional frame-and-deck construction than the MSR 'shoes, with aluminum frames and decking made from tough, long-lasting polyvinyl. The Trek 30 from Redfeather is a good all-around snowshoe that costs a very reasonable $160.
For rough-terrain snowshoeing, it's helpful to have a pair of snowshoes with sturdier bindings and longer crampons than recreational models. The Tubbs Mountain 30 ($290; www.tubbssnowshoes.com) is such a snowshoe, as is the very similar Atlas 1225 ($250; www.atlassnowshoe.com).
Ski poles work fine. But adjustable-length poles with larger baskets are useful, too. REI's Summit Trekking poles ($55; www.rei.com) would work fine, especially if you add some Komperdell snow baskets for $6 (also available at REI).
Then you just strap on the snowshoes and go. The learning curve is minimal—if you can walk, you can snowshoe. It's great fun.
Get more advice from the Gear Guy as he picks this season's top gifts in Away.com's Holiday Gift Guide. You'll probably find a few things to put on your own wish list, too.