Winter Rules
Twelve hot tips that, if followed closely, guarantee an epic ski season.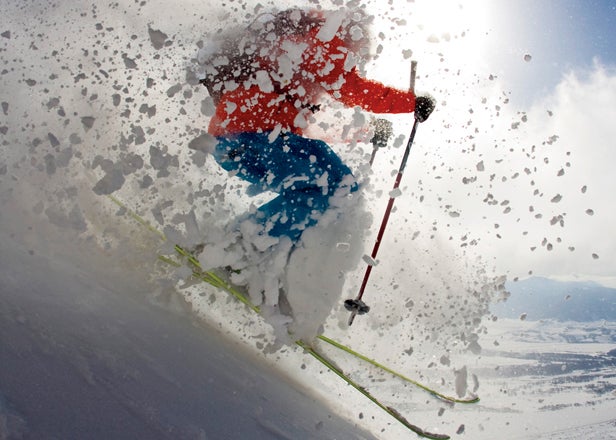 Heading out the door? Read this article on the new Outside+ app available now on iOS devices for members! Download the app.
La Niña Is Queen
If you like your powder fresh and deep, make a beeline for the Pacific Northwest. "For Oregon, Washington, all the way up to British Columbia, it should be a good year," says Mike Halpert, deputy director at the National Oceanic and Atmospheric Administration's climate-prediction center. That's probably putting it mildly: La Niña cools Pacific Ocean temperatures by four to five degrees, diverting wet, cold weather patterns toward the Pacific Northwest and bringing dry winters to the Southwest. And NOAA experts predict this will be the strongest La Niña since 1988: Oregon's Mount Bachelor saw its first snowfall in August. "The areas affected will see 15 to 20 percent more snow," says Tony Crocker, an actuary based in Southern California who has spent 12 years analyzing NOAA's snowfall data to predict La Niña's effect on ski resorts. "But the 15 ski areas that are traditionally hit heaviest could see much more." Among those resorts are Bridger Bowl, Montana; Whistler and Fernie, British Columbia; and Jackson Hole, Wyoming. (Yes, La Niña reaches that far east.) Book tickets now for typically uncrowded periods, such as the first two weeks of December and the third week of April.
Bigger is Better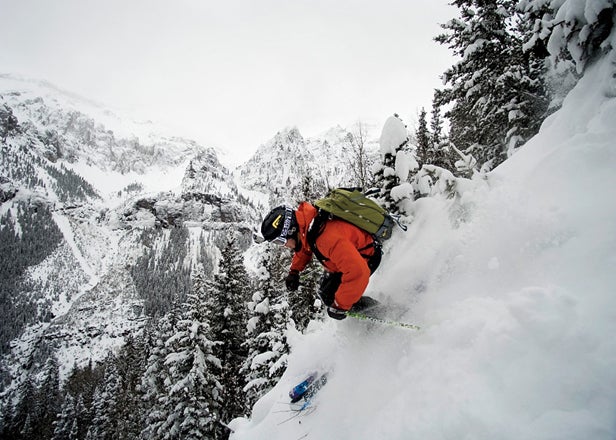 Our favorite ongoing trend at ski resorts: the opening of steep and challenging in-bounds terrain. Here's the best new stuff:
THE CANYONS, UTAH
Iron Mountain, adjacent to Dream Peak, adds 300-plus acres of intermediate-to-advanced, northwest-facing tree skiing, all of which is accessed by a new high-speed detachable quad. thecanyons.com
THE SUMMIT AT SNOQUALMIE, WASHINGTON
A landslide took out the main chairlift in the Summit East area in January 2009, so this summer the resort's brass installed two lifts that service 65 new acres of groomed and gladed terrain.  summitatsnoqualmie.com
KICKING HORSE, BRITISH COLUMBIA
Known for years by local backcountry skiers as the "Super Bowl," Kicking Horse's newly added 75 acres of terrain feature 15 advanced and expert chutes accessible by a short traverse from the top of the Golden Eagle Express gondola. kickinghorseresort.com
SUGARLOAF, MAINE
Sugarloaf's expansion into Burnt Mountain will add 270 acres of glades this season, with another 385 to come in the next few years. sugarloaf.com
DURANGO, COLORADO
This year, Durango—long known as an intermediate resort—added 40 acres of expert terrain, including Ambassador's Glade, a playground of cliff bands and 30-degree pitches. durangomountainresort.com
TELLURIDE, COLORADO
Over the past four years, Telluride has been steadily opening up a treasure trove of new terrain, a total of 400 hike-to acres, including Revelation Bowl, a series of experts-only couloirs on Gold Hill, and nearly 2,000 vertical feet on the north face of 13,320-foot Palmyra Peak. tellurideskiresort.com.
The Skies Are Clear
skiing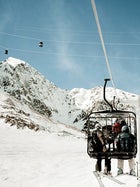 Big Sky's Lone Peak
As they have for the past two seasons, budget-minded skiers will drive to local slopes instead of buying plane tickets to destination areas. Which means New England, Lake Tahoe, and Summit County will feel the brunt of weekend travelers, while destinations such as Jackson Hole, Sun Valley, Steamboat, and Big Sky will stay relatively empty. "You could walk right on the tram most of last year," confesses Zahan Billimoria, communications manager at Jackson Hole. "I've never seen it quieter on powder days." But here's the thing: If you plan it right, getting on a plane doesn't have to blow your budget.
If you book with three friends through Jackson Hole's central reservations desk by January 1, you get a free plane ticket for a fourth skier. (Direct flights are available from Atlanta, Chicago, Denver, Salt Lake City, Dallas, and L.A.) Drop your bags in resort lodging ($78 per person per night, including lift ticket), at the base of the tram, and head for the Far Drift run, at the south end of Rendezvous Bowl. jacksonhole.com
At Sun Valley, opt for the Stay and Ski Free package (available January 3–March 27), which gets you a room at the Sun Valley Lodge for $129 per person, plus a free ticket for each guest. sunvalley.com
Big Sky offers a three-night stay at the resort's Huntley Lodge, plus breakfast and two days of skiing for two people, for $315. bigskyresort.com.
You Can Teach an Old Powderhound New Tricks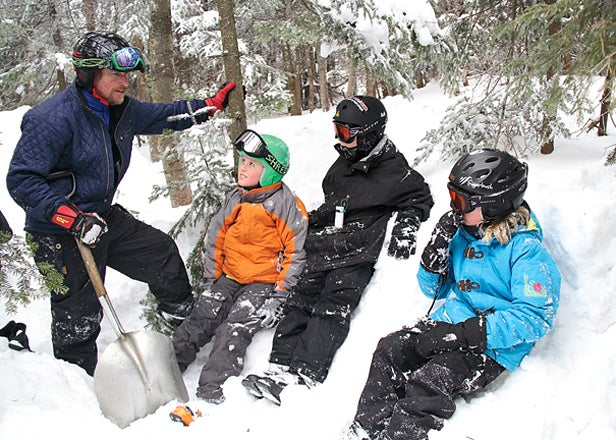 Three new programs that improve even the best skiers and riders:
POWDER SCHOOL, WINTER PARK, COLORADO
Winter Park's year-old, three-day Steep and Deep camp outfits students with the newest and fattest skis from Salomon, Rossignol, and K2, then pairs groups of three to six with a powder-wise instructor. At the end of the day, coaches pop a video of your turns into the DVD for technique analysis. March 11–13; from $517, lodging not included; winterparkresort.com
EXTREME TERRAIN SCHOOL, CRESTED BUTTE, COLORADO
Mount Crested Butte's North Face is full of 40-degree pitches that, thanks to superior wind and sun protection, hold fresh powder for a week after a storm. There, you'll learn how to safely negotiate hairy in-bounds terrain off the High Lift. Half day, $90; full day, $115; skicb.com
GLADE SCHOOL, SUGARBUSH MOUNTAIN, VERMONT
Sugarbush's brand-new (and awesomely named) School of Gravitational Enhancement, led by John Egan, a veteran of 12 Warren Miller films, teaches the basics of tree skiing on eight new glade trails. Guests learn everything from pole etiquette (remove your straps so you don't blow a shoulder catching a branch) to how to properly point skis down the fall line through the trees. $350 per half day, $600 per full day; sugarbush.com.
Birds are Everywhere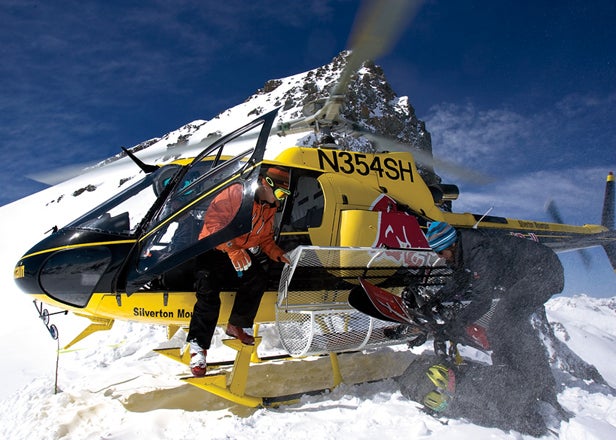 For the first time in 40 years, heli-skiing returns to Lake Tahoe. With a new 100,000-acre private land lease, Pacific Crest Heli-Guides, run by an experienced Alaska guide, will fly groups of four into previously unskied terrain in the Sierra Nevada beginning in December ($900 per day; pacificcrestheliguides.com). And Silverton Mountain Resort's heli-operation will begin accessing 18,000 new acres of the San Juan Mountains this winter—up from 1,819 acres last year ($159 per run or $900 per day; silvertonmountain.com).
And Cats are Right Behind
Can't afford a heli? Hop a snowcat. Powder Mountain's Snowcat Powder Safari, which has served up Warren Miller–like steeps for three years, expands this year, opening up an additional 1,000 acres in the steep Davenport drainage. Expect 45-degree runs reaching 1,600 vertical feet ($375 per day; powdermountain.com). At Crested Butte, the year-old CS Irwin outfit accesses 12,000 vertical feet of rolling bowls and steep glades per day from the comfort of a cat outfitted with bison-leather seats and a flatscreen TV ($450 per day; csirwin.com). East Coasters: Sugarbush, Vermont's two-year-old Lincoln Limo accesses Sugarbush South's summit before the lift lines open ($75 per run; sugarbush.com).
Know the Ropes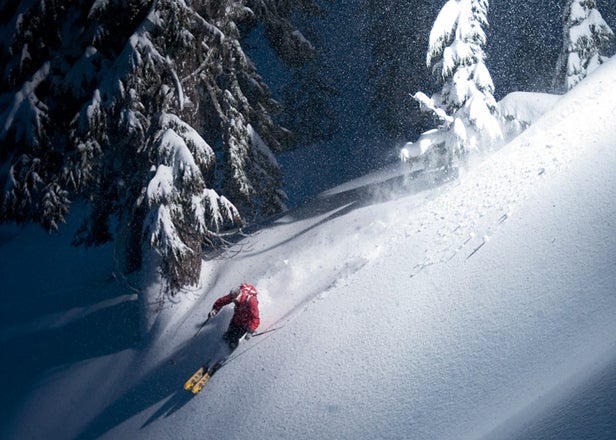 The proliferation of fat skis has turned everyone into a powder fiend. So if you want first tracks on the choicest runs on the mountain, it's important to be in the right place at the right time—namely, when the ski patrol drops the ropes on advanced terrain. Here's a cheat sheet for Snowbird, Wolf Creek, Mount Baker, and Taos. (Sorry, locals!)
SNOWBIRD, UTAH
Where: Mineral Basin, a southeast-facing bowl with intermediate to advanced terrain, and Mount Baldy, north-facing, hike-to terrain that's home to the Freeride World Tour Championships.
When: Show up at 10:30 A.M. on a powder day of 12 inches or more. Look for the exodus of ski patrollers from the warming hut right next to the tram. snowbird.com
WOLF CREEK, COLORADO
Where: The tamer west side of the mountain opens first, followed by the Alberta Lift area, featuring the 40-degree Alberta Face.
When: Wolf Creek gets pounded with snow (an average of 465 inches a year), so the experienced patrollers can make the Alberta Lift area safe for skiers just 30 minutes after the rest of the mountain opens. Check with the lifties at Treasure Chair, who get a heads-up about 20 minutes before the Alberta Chair is open, so you have time to zip over and be first in line. wolfcreekski.com
MOUNT BAKER, WASHINGTON
Where: Pan Dome, which contains 75 percent of the mountain's advanced terrain.
When: Given that Baker gets more snow annually than any other U.S. ski area (a record 1,140 inches fell in 1999), patrollers can be excused for, on occasion, not getting Pan Dome open before noon after a big dump. But it's usually ready to go around 10 A.M. mtbaker.us
TAOS, NEW MEXICO
Where: Longhorn—a huge, steep fall line on the front side of the mountain that's normally bumped up—becomes soft and glorious after a big storm.
When: Around 10 A.M. Ski "the ridge" and keep looping around on Lift 2. Once you see the ski patrol start throwing their skis on outside the shack across from the lift, make a beeline for Longhorn. skitaos.org.
Embrace the Green Runs
More and more ski resorts are going green—meaning you can feel good about living it up. In Colorado's recently renovated Snowmass village, the year-old Snowmass Viceroy offers 173 luxe rooms and a sprawling spa complex. But thanks to smart construction (think low-flow faucets and high-efficiency heating systems) as well as gaudy extras like an electric-car charging station, the lodge is up for LEED Silver certification. Roll up in your hybrid and parking's free (from $225 until December 22; from $595 December 23–April 10; viceroysnowmass.com). Meanwhile, Vermont has essentially converted to a green-ski state. Over the past decade, mountains there have teamed with Efficiency Vermont, a Burlington-based clean-energy consulting firm, to equip resorts with energy-efficient lights; easier-flow snowmaking pipes; and halfpipes built from earth, reducing the amount of additional snow needed. In this case, the greenest resort is also the whitest: Jay Peak, which averages 355 inches of annual snowfall. Jay is now two years into an eight-year, $140 million upgrade that's brought about the 83,216-square-foot, eco-friendly Tram Haus Lodge (from $119 per person; jaypeakresort.com).
Big Crowds Mean Empty Slopes
skiing
Telus
THE X GAMES, ASPEN, COLORADO
While everyone is watching the Games, Highland Bowl—270 acres of 45-degree hike-to pitches and powder stashes—will be empty. Get a taste of X Games mayhem at the Monster Party, which takes place on the Sundeck on Aspen Mountain and is known for impromptu nudity. To stay with the athletes, splurge on a room at the Little Nell (doubles, $840; thelittlenell.com). January 27–30; aspensnowmass.com.
SUNDANCE FILM FESTIVAL, PARK CITY, UTAH
Being in Park City, you have access to three resorts—Park City, Deer Valley, and The Canyons—all within minutes of one another. And while Redford & Co. storm downtown Park City, the slopes—and especially the advanced terrain—are usually empty. Get the $400 Adrenaline Pass, which allows you into any film screening before 11 A.M. and after 11 P.M. Crash at the Yarrow Hotel, in the heart of Park City, for easy access to films and the lifts (doubles, $399; yarrowhotelparkcity.com). January 20–30; sundance.org.
But Some Parties Should Not Be Missed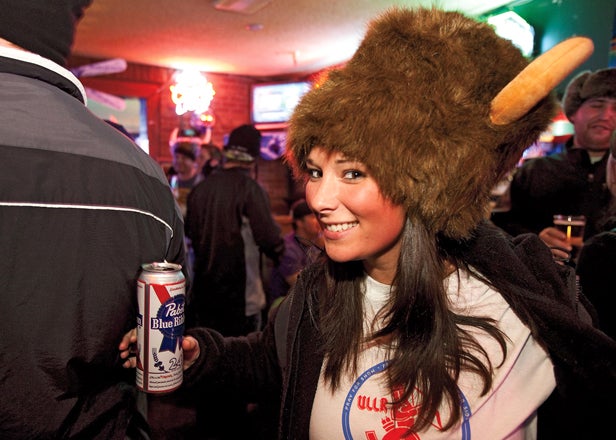 TELUS WORLD SKI AND SNOWBOARD FESTIVAL, WHISTLER, BRITISH COLUMBIA
What started 16 years ago as a competition between ski-school instructors has grown into a snowy bacchanalia. The concerts in Whistler Village draw the crowds, but the can't-miss event is the Magnum P.I. Moustache Contest at Sushi Village. Crash at the Crystal Lodge and Suites (doubles, $168; crystal-lodge.com). April 15–24; wssf.com.
ULLR FEST, BRECKENRIDGE, COLORADO
In 1963, Summit County skiers began celebrating the legend of Ullr, the Norse god of winter. Now sort of a Mardi Gras on snow, the festival's big draw is the parade, which features floats, booze, and endless high jinks. The main event is the Ullympics, a competition featuring a frying-pan toss. This fest packs the mountain, so make the 20-minute trip to Keystone to avoid the lift lines, and stay near the gondola at Mountain Thunder Lodge (from $228; breckresorts.com), which is close enough to walk to the events but far enough away that you can sleep in peace. January 9–15; gobreck.com.
The Revolution Will Be Digitized
This fall, Vail Resorts announced that five of its mountains would begin using embedded radio-frequency chips in lift tickets and season passes to feed location data to a free mobile app called EpicMix. It allows skiers to track their vertical feet skied as well as friends on the slopes through an automatic connection with Facebook and Twitter. The app represents a major leap in ski-area tech—and it's just the beginning.
Starting in December, skiers at New Hampshire's Attitash will be able to take warm-up "runs" on the mountain's Web site before arriving. The runs are recorded on video, allowing you to drag your mouse through the terrain and scope out the difficulty of various routes.
Verbier, Switzerland, has teamed with watchmaker Swatch to create snowparks called Shoot My Ride. By wearing a watch embedded with an RFID chip similar to the ones used at Vail, you activate cameras along a terrain course that will film you skiing. Go onto Swatch's Web site later and download your movie to your Facebook page for maximum bragging.
Meanwhile, an updated version of the RealSki iPhone app, available in November, will allow you to geotag everything from your car to a secret powder stash on your iPhone.
But the largest advancement, according to Michael McDermott, senior vice president of sales and marketing for Resort Technology Partners, is still three years off. "It will be a universal pass that will work at any resort," he says.
Some Runs Are Always Perfect
VAIL, COLORADO: RIVA RIDGE TO TOURIST TRAP
An incredibly wide, two-mile-long, north-facing groomer (think solid corduroy) that alternates between rolling flats and 45-degree pitches. vail.com
STOWE, VERMONT: GOAT
Often called the most challenging trail in the East, Goat features 36 degrees of moguls on a narrow winding trail over ledges, boulders, and streams. stowe.com
SQUAW VALLEY, CALIFORNIA: CHUTE 75
Located off chairlift KT-22, this chute is a narrow, 60-degree ride that's best skied in deep powder. Without it, expect to make hop turns. squaw.com
ALTA/SNOWBIRD, UTAH: MAIN BALDY CHUTE
Bisecting the peak that separates these two iconic resorts, this 40-degree, hike-to chute (30 minutes from Alta; 10 from Snowbird) is one of the most beautiful runs in the Wasatch Range. alta.com; snowbird.com
Deal or Snow Deal
Five strategies for saving this season
Bookmark Liftopia.com. The online clearinghouse has partnered with some 200 ski resorts, allowing them to control the price point and inventory on any given day. Which means that on dead days, you can save up to 85 percent off face value at places like Park City, Copper Mountain, and Sun Valley.
Embrace shoulder season. Many mountains offer great deals during the early winter and spring. From November 25 to December 17 and March 28 to April 3, Taos drops lift-ticket prices to $48. skitaos.org
From November 23 to December 16, Crested Butte offers a 50 percent lift-ticket discount with the purchase of lodging—and rooms at all resort properties are $50 per person per night. skicb.com
Guests who book three nights' lodging at Steamboat between November 25 and December 17 or April 1 and 10 receive free lift tickets. steamboat.com
From November 11 to 23 and April 25 to May 31, book two days' skiing and two nights' lodging at Mammoth Mountain and receive a third day and night for free. mammothmountain.com
Wear green on St. Patrick's Day at Vermont's Mad River Glen and get a $17 ticket. madriverglen.com
On April Fool's Day, lift tickets at Waterville Valley, New Hampshire, cost $1. Really. waterville.com
If you're going with a group, rent a house. Look to Vacation Rentals by Owner (vrbo.com), which updates by the minute, offers more than 140,000 rentals worldwide, and has detailed listings for each property.
For last-minute rentals, get the Kayak or Priceline Negotiator iPhone app. Both are free and can access deals for hotels, flights, or rental cars.
Consider a season pass. An Epic Pass (epicpass.com)—good at California's Heavenly and Colorado's Vail, Beaver Creek, Keystone, A-Basin, and Breckenridge—costs $619. That's about the same cost as six days of skiing at Vail. On the East Coast, a Peak Pass at Okemo, Vermont (okemo.com), runs $1,225—the equivalent of 17 days of skiing—and is good at Mount Sunapee, New Hampshire, and for three free days at Crested Butte.