How Studying Witchcraft Changed My Relationship with the Outdoors
What a witches' year taught me about our relationship to wild places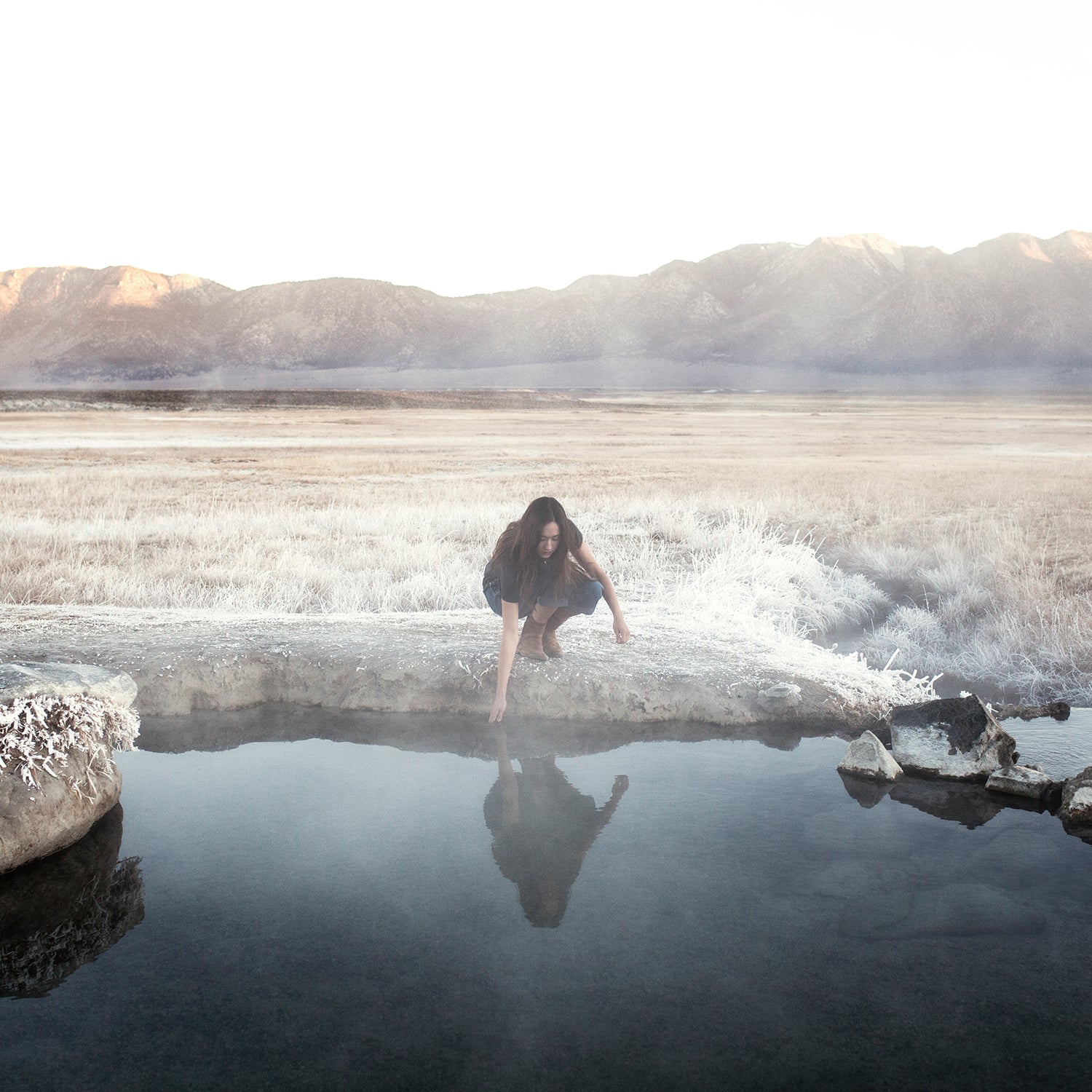 Brandon Harman/Cavan
Heading out the door? Read this article on the new Outside+ app available now on iOS devices for members! Download the app.
On December 30, 2020, the date of the Cold Moon, I took a late-afternoon walk through the cedar forest at the edge of my neighborhood in Nelson, British Columbia. I observed the snow, light and fluffy from a fresh storm cycle. I breathed in the icy air, wiggling my ungloved fingers in my pockets to keep them warm. I noticed the iridescent quality of the waning light. And I walked in silence, because I was alone, and because I wanted to move in step with the stillness of my environment. In many ways, my walk was no different than any walk I'd taken on a chilly day in the mountains. Except that I was doing it as a ritual, as a fledgling witch.
Not the pointy-hat-wearing, spell-casting witch from fairy tales and movies. Not the kind of unfortunate soul that Christian zealots executed in the 16th and 17th centuries. I'm talking about real-life, modern-day witches: people who study nature, its cycles, and the way it influences our lives in order to generate positive changes in ourselves and in the world. That's the way my teacher, Natalie Rousseau, a 45-year-old hedge witch—a woman who practices outside the confines of Wicca or other pagan religions—from Pemberton, British Columbia, describes it. I'm currently enrolled in her 12-month online course "The Witches Year," an introduction for anyone curious about incorporating elements of witchcraft into their daily lives. As a recreational mountain athlete, what I'm learning overlaps surprisingly with many of the ways I already relate to the outdoors. But the course has also encouraged me to reconsider my relationship with nature, both in how I regard and move through it.
When I registered for the program in the fall of 2020, I was supposed to have been bikepacking across the outback of South Australia. But that trip, along with all of my travel-writing assignments for the year, was a casualty of COVID-19. Meanwhile, Canada's infection rates were starting to climb again in a deadly second wave. Spirituality—or my lack thereof—was heavy on my mind. I'd discarded the Catholicism of my youth long ago, and while I'd read books on Buddhism and gleaned some helpful practices from yoga classes and mindfulness apps like Headspace, I didn't have anything solid enough to stand up to the uncertainty of a long-term global pandemic.
The tagline on Rousseau's elegant website appealed to me: "Earth-based wisdom, embodied practice, & everyday magic." I have zero experience with the occult, unless you count having my fortune read at a local fair as a teenager growing up in Ohio. But the way Rousseau presented witchcraft didn't seem to require engaging with anything paranormal—or even a belief in a higher power. It was more about slowing down and noticing the natural world, especially the shifts that happen over the course of a day, a month, or a season. As the pandemic raged on, I was open to trying new practices that might help me cope.
There are now nearly eight million #witchesofinstagram posts. On TikTok, #witchtok returns 20.5 billion views. A search on Amazon for "witchcraft books" released within the past 90 days yields more than 2,000 results. Practitioners, who tend to be small-scale and hyper-local, can't keep up with the demand for goods, services, and information. Herbalist Jess Turner, founder of Olamina Botanicals in Brooklyn, reported her highest-ever sales numbers of plant-based tonics, salves, and formulas in the first quarter of 2021. She tells me that participation in her workshops, like one on home remedies for illness, has more than doubled.
Interest in witchcraft has been trending for a few years now. Derrick Land, an insurance-fraud investigator in Texas by day, expected about 500 attendees at his inaugural Austin Witchfest on March 5, 2020, just before events were canceled in the wake of the pandemic. More than 3,000 people showed up. Pam Grossman, author of Waking the Witch: Reflections on Women, Magic, and Power, attributes the surge to major social movements like #MeToo and Black Lives Matter. "Whenever there's a sense of a kind of mass tension and distrust in institutional power, people lean more into alternative modes of power, of which witchcraft is certainly one," she says.
Fiona Duncan, a former K-12 teacher and college professor who has practiced witchcraft for three decades, sees it as a product of a growing discontent with religion. According to the Pew Research Center, more U.S. adults than ever now say they think of themselves as spiritual but not religious. To fill that gap, Duncan launched an online school of witchcraft in 2019. Her students include an ob-gyn, a physicist who works at Microsoft, an epidemiologist at Cleveland State University, several college professors, high school teachers, and published authors. "These people are highly intelligent and emotionally developed and yearn for something more," Duncan wrote to me in an email. "They believe they can find it (and they can!) through connecting with Nature's energies and their own, which is what the Craft is all about."
Witches, it seemed, were tapping into something about nature that, despite all my time in the outdoors, I'd somehow missed.
My Witches Year began, fittingly, on Halloween 2020, also known as Samhain (a Gaelic word pronounced SAH-win). For the ancient Celts, the festival of Samhain marked the end of the harvest and the beginning of winter, or the Dark Season. On Zoom, from her home in the Coast Mountains of B.C., Rousseau invited us to take a comfortable seat, close our eyes, and tune in to the natural landscape. What types of trees were close by? Where was the sun in the sky? How far was the nearest body of water?
I did all that. And noted that more than 100 other people were logged in to the session. From what I could tell by peeking at Zoom's gallery view, my cohort consisted of students who ranged in age from their twenties to their sixties.
Rousseau, wrapped in a blanket, with her long blond hair loose around her shoulders, looked more like a surfer or a yoga teacher than what we may think of when we hear witch. She's all three, as well as a trail runner, hiker, motorcyclist, and mom. Rousseau began exploring occult traditions like tarot and astrology in her teens, as an avid reader with a penchant for the esoteric. She's been teaching yoga for two decades now and has always incorporated seasonal wisdom into her classes and workshops, as a way of acknowledging the cycles of the earth. She started offering courses about her nature-based spirituality practices, which is how Rousseau defines witchcraft, in 2017. That was the same year she moved to B.C.'s verdant Pemberton Valley and dove into gardening, foraging, and wild crafting—gathering plants and herbs from the wild to use as medicine.
"My connection to the natural world was just the most alive thing in me," says Rousseau. "It was all I wanted to talk about or share or do."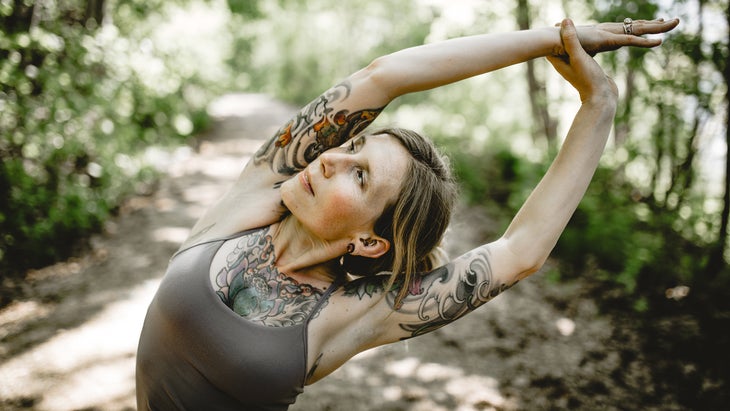 The Witches Year, which she first taught in 2019, is her latest offering. The course follows the wheel of the solar year as it's generally understood by pagans, with five periods organized roughly around the solstices and equinoxes: Dark Season, Deep Winter, Spring Fire, High Summer, and Autumn Harvest. We gather once a month via Zoom for a two-hour workshop, and Rousseau gives us readings, videos, and more to study in our time apart. We learn about traditional medicinal plants in their respective seasons, and read myths and sacred stories from ancient traditions around the world that correspond with a particular time of year. The idea is to start to notice how our own physical and mental states—our energy levels, emotions, sleep patterns, and food cravings, to name a few—are in or out of alignment with what's happening in the natural world.
I knew the Dark Season, where we commenced, as a shoulder season. In the forested valley where I live, it's too wet to mountain bike and there's not yet enough snow in the high country to ski. I'm generally irritable and restless waiting for winter. Seen through the lens of the Witches Year, it's the period when most things in nature are dying back, making it the ideal time to let go of old patterns and practices that are no longer serving us. Rousseau taught us a ritual for conscious release: you write what you want to release on small strips of paper, then burn them with purifying herbs like sagebrush and yarrow, then bury the ashes in the ground.
The second time we met online, Rousseau encouraged us to create an altar in the space where we'd be Zooming. Not one like those I'd seen in yoga classes with little statues of Hindu deities alongside framed photos of gurus, but an altar that contained elements from the natural world. I realized I already had what I needed. From my nightstand: a white feather from a snowy owl and a cone from a majestic Douglas fir tree across the road. From my bookshelf: an abalone shell with a pearl lining from the B.C. coast and a snail shell from the province's interior. As I gathered my earth treasures, as Rousseau calls them, it occurred to me that I've been building mini altars in various places in my home since I was a kid.
Much of what Rousseau—and witchcraft more generally—teaches is to pay closer attention to nature. It comes easily to children, who revere feathers and rocks and flowers and often talk to animals. It can also come naturally to adults like botanists and ecologists. The point is to see the outdoors as more than just a backdrop, and to instead nurture a personal relationship with it—to be able to differentiate between a red cedar and a Douglas fir in your local forest, to know which species of animals, birds, and even bugs live in your backyard.
Outdoor sports, like surfing and backcountry skiing, ask something similar of us. When I got serious about backcountry skiing, my entire relationship with snow and mountains changed. When fresh snow was forecast, instead of an immediate reaction assuming I should get out and ski in it, I thought through how the storm would impact the existing snowpack's stability, taking into consideration the contour and steepness of the mountain face, and how other factors like wind direction and solar energy might increase avalanche danger. My experience skiing became more holistic and multidimensional. I moved differently, more consciously, and with deeper understanding of and respect for the environment around me. And when I finally did drop into a line, I felt more connected, more in the flow, more joyful. Or as Rousseau puts it: "It's not you going out in nature, it's you being part of nature. You start to see you're part of that expression."
I began to understand what Rousseau meant during the period of Deep Winter, which begins on December 21, the winter solstice. At first I thought something was wrong with me. It wasn't so much that I didn't want to ski, it was that I didn't want to ski hard or fast. I was no longer interested in waking up early to put down fresh tracks, or racing sunset on my final descent because I'd been out all day. I started avoiding the ski resort—there were too many people, too much commotion. Instead I sought out easy-to-access backcountry, with low-angle slopes through the trees. I went out at midday and skied for two hours or less, usually with the dog and no more than one other person. I felt guilty, embarrassed even, for slacking off. But more than that, I felt, well, good. For the first winter in a long time, I wasn't exhausted by the end of January.
This approach was a radical departure from my "go hard or go home" mentality in the outdoors. I struggle with the idea of taking it easy, especially in winter when big snow days seem increasingly rare. Is it possible to slow down the way nature does during the Dark Season and Deep Winter, to dial back my activity level without feeling like I'm missing out? I checked in with Lisa Richardson, a fellow student who lives near Whistler, B.C. Richardson was educated as a lawyer, but after moving to western Canada spent ten years working as a ski instructor. She's now a writer and a communications strategist, enlisted by outdoor brands including Arc'teryx and Patagonia. She signed up for the Witches Year because she wanted to slow down, recalibrate, and feel a little more present in her day-to-day life.
"I feel as though it's as much of an unlearning as it is a learning," Richardson says. She describes her previous relationship with the outdoors as "mission based"—each outing had a clear objective, be it a new climb, a long ride, or a fast run. Her goal-oriented attitude left little time to stop and smell the flowers, or even notice them at all. The course has opened her up to a new way of thinking, one that's not on a linear path. "When you realize that each of the seasons comes around again every year, there's this beautiful kind of serenity in that," she says. "You're not charging forward, you're circling and going deeper with each pass."
The Witches Year gave me a framework to understand what was happening. Our bodies (and minds) experience seasons, too. During the fall and winter, the natural world is waning—experiencing a gradual winding down of energy. The growing season ends, and animals go into hibernation. Witch wisdom says to take our cues from nature and use this time to rest and restore, to catch up on sleep and allow ourselves conscious periods of stillness. Nothing was wrong with me. For possibly the first time in my adult life, I was in sync with nature's rhythms.
On March 1 of this year, at the beginning of the season of Spring Fire, my husband and I moved from the B.C. interior to the coast, to Vancouver Island, for three months. I'd never lived by the ocean and relished the chance to run on the beach every day. When it was raining, which was often, I would duck into the old-growth coastal temperate rainforest. I quickly amassed a trove of earth treasures: shells with purple linings or stamped aqua-green spheres, lichen plucked from tree boughs, a fish's lower jawbone with several teeth still intact, a seagull skull, and my favorite, a molted wing feather from a juvenile bald eagle that I'd watched fledge from a hemlock tree near my cottage. I arranged them all inside, on the windowsill closest to my desk.
By month's end, the third wave of COVID-19 was sweeping across the province, bringing with it a lockdown even more strict than during the onset of the pandemic a year prior. I wouldn't be resuming my globe-trotting travel-writing career anytime soon. I waited for the sadness to overwhelm me again, but it never came. Instead I continued my studies. I installed an app called PictureThis to identify what else lives beside the sea. I discovered a plum tree beside my cottage, and a pear tree. The distinctive three-petaled flower I'd noticed in the rainforest is called trillium. The delicate fuchsia blossoms where the lawn transitions to the beach are known as annual honesty.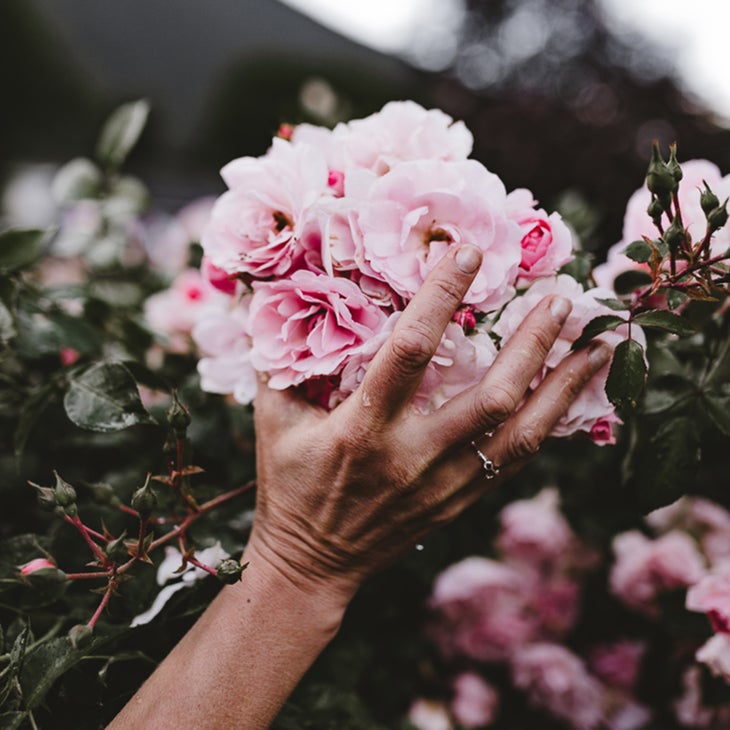 As High Summer transitioned to the final season of Fall Harvest, marked by the Celtic celebration of Lughnasadh (pronounced LOO-na-sah) on August 1, it became clear that COVID-19 was not going away. Despite the availability of vaccines, Canada was experiencing a fourth wave due to the more contagious (and deadly) variants, coupled with vaccine hesitancy. As indoor activities and events were once again restricted, the collective frustration in my little mountain town boiled over. Vaccine passports granted relief for some but renewed fury for others as anti-vaxxers took to the streets in protest, and politicians, law enforcement, and businesses battled it out over passport noncompliance.
I spent more time in the mountains, long my solace for tough times. I took to driving up to the local ski resort, which was still a month or two away from snowfall, with my dog, even if I only had 20 minutes to walk. There, trekking through the subalpine day after day, I watched the wildflowers live out their short but spectacular lives.
On one such hike in September, I noticed that the fireweed's bright blossoms were gone, leaving behind brownish-red cylindrical capsules. I'd miss them—the lanky, charismatic wildflowers had become my favorite. On my next visit, I was surprised to discover the cylinders broken open to expose what looked like angel feathers. Upon closer inspection, I understood they were seeds, hundreds of them, attached to tufts of silky hair. I smiled as I imagined the seeds parachuting all over the mountainside, then settling into the earth for the Dark Season.
The wheel of the Witches Year was about to turn, bringing me back to where I'd started, only deeper and more connected. It's a circle I plan to keep walking.
Lead Photo: Brandon Harman/Cavan
Trending on Outside Online