Souls of Adventure
Two extraordinary lives, up close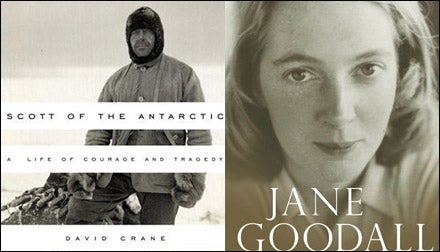 Heading out the door? Read this article on the new Outside+ app available now on iOS devices for members! Download the app.
At first glance, polar explorer Robert F. Scott and primatologist Jane Goodall have little in common. If shy, idiosyncratic Goodall could go back a hundred years to observe Scott in the field, she'd likely call him an alpha male with an overdeveloped sense of rank. Yet, as two new biographies reveal, the adventurous Brits share an outsize moral and physical courage.
In Scott of the Antarctic: A Life of Courage and Tragedy (Knopf, $30), Scotland-based writer David Crane attempts to rescue the explorer from the divergent myths that have long overshadowed his legacy. Was Scott, who led the ill-fated second expedition to reach the South Pole, in 1912, the last romantic hero of the Victorian Age or an overrated incompetent who needlessly risked his men? Crane adds new depth to Scott's story, particularly in his dealings with rivals Ernest Shackleton and Roald Amundsen and in his final, fatal weeks on the ice. It wasn't faulty logistics that did Scott in, writes Crane, "not arrogance, not stupidity, not the fifth man, not scurvy, but the weather." His writing can be pedantic, but he draws fascinating new tidbits from family diaries and Scott's journals, revealing him to be—in the end, at least—a brave, decent bloke. "There is no such thing as a 'good death,' " writes Crane, "only a good life lived out bravely to the end, and Scott had done that."
The British yen for adventure found a very different vessel in the young secretary who changed the science of animal behavior. In Jane Goodall: The Woman Who Redefined Man (Houghton Mifflin, $35), Dale Peterson, who co-wrote 1993's Visions of Caliban with Goodall, vividly captures his subject's idealism and derring-do. In 1957, 22-year-old Goodall lit out for Africa, and she was soon taking dictation for visionary archaeologist Louis Leakey. Before becoming his star protegée, Peterson writes, she fended off the married scientist's sexual advances. Men everywhere fell in love with Goodall, but it was the primates in what is now Tanzania's Gombe Stream National Park who earned her steadiest gaze; she would sit among the animals until, after years, they ignored her. Her discoveries that chimps ate meat and used tools "constituted a complete validation of . . . her untrained and possibly eccentric approach," Peterson writes in this readable if worshipful portrait. If Scott's story shows us what it is to be human in extreme circumstances, Goodall's helps explain how humans came to be this way.