South Africa Begins Secret Rhino Evac
Illegal rhino killings up 7,623% in six years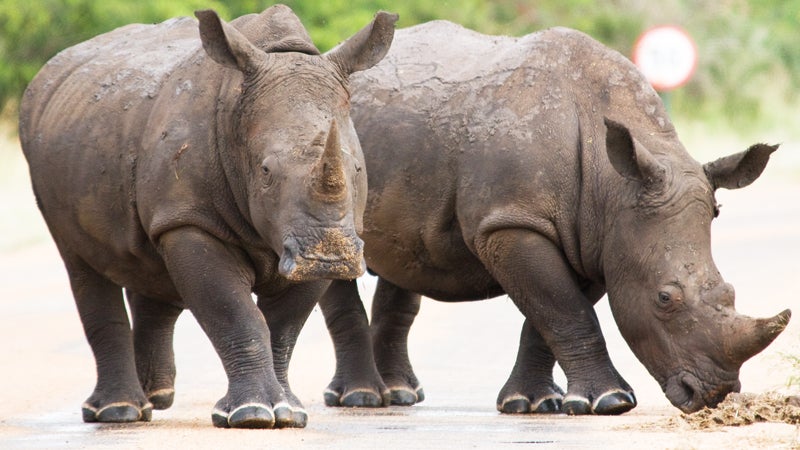 Heading out the door? Read this article on the new Outside+ app available now on iOS devices for members! Download the app.
Illegal rhino killings in South Africa's northeastern Kruger National Park, one of the largest game reserves in Africa, have increased from 13 in 2007 to 1,004 in 2013. With 630 rhinos poached in 2014 to date (408 of those in Kruger), South African officials announced this week that they will be undertaking the mammoth task of evacuating up to 500 Kruger rhinos to undisclosed, safer locations.
The relocation is twice as involved as the park's biggest relocation on record, an evacuation of 250 rhinos in 2009. The park has relocated 1,450 Kruger animals over the past 15 years.
The operation will take place on the Wales-sized park's impoverished eastern border with Mozambique, which experiences high degrees of poaching, and will be far from easily completed. Environment minister Edna Molewa said evacuation includes tracking the 1,500-pound animals through remote bush, tranquilizing them from helicopters, and transporting them to state-owned, private, and communal parks. The ministry has also discussed moving rhinos to Botswana and Zambia.
Why the growth in poaching? As with many things, it comes down to money. Demand for rhino horns has increased in Asian countries like China and Vietnam, where the horns were once used as cancer cures in traditional medicine but are gaining popularity as signs of wealth. Conservationists estimate that at a street value of about $30,000 per pound, rhino horn is more valuable than both platinum and gold.
In addition to protecting rhinos from poaching, the relocation could help populations recover. Government biologists said rhino birthrates have declined in the park because its ecosystem can't support the current population.
Lead Photo: Chris Eason