Splinter Technology
A spiffy new generator turns wood into watts. Could be just the thing for getting waaay off the grid.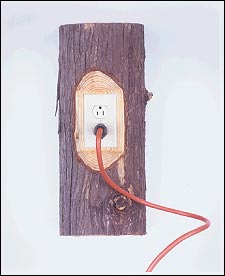 Heading out the door? Read this article on the new Outside+ app available now on iOS devices for members! Download the app.
"HYDRO AND FISSION are out the window," says King Browne, 49, ticking off a list of dead-end energy alternatives. "Solar and wind power aren't always cost-effective. So what's left? Ocean thermal gradients?" He shakes his head. Browne spent 15 years in the solar power industry before joining Community Power Corporation, a Littleton, Colorado, startup that develops renewable-energy systems for off-the-grid homes and businesses. Now he thinks he's found a 21st-century energy source that's nearly perfect, especially with President Bush eager to start weeding overgrown national forests: wood. Browne, CPC's vice-president of development, and his team of eight engineers have come up with the world's first nonpolluting biomass gasifier. Translated from the original Geek, that means a device about the size of a very tall office desk that turns dead trees and other organic matter into electricity by burning it in an oxygen-starved environment until it becomes a rich flammable gas—a product that burns cleanly and more efficiently than its solid counterpart. Shovel 100 pounds of wood chips into a hopper on one end; out the other end comes 20 kilowatt-hours of energy—enough to run the typical family home for a full day. Future models will be up to four times as efficient.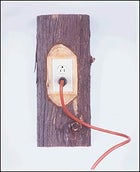 Photograph by John Clark

"Biomass gasification sounds like a stomach disease," says Browne, "but it's actually one of the most promising untapped energy sources out there."


The technology was used to power European cars when gasoline was scarce during World War II, but earlier gasifiers were too crude and dirty to be of long-term value. CPC has invested more than $5 million in its new cooker, the BioMax, which has a one-gigahertz computer chip that allows precise temperature control, and a high-tech cleaning system to eliminate smog-creating nitrogen oxide emissions.


In 2000, Browne spent four weeks in the Philippines installing a machine that ran on coconut shells and produced enough juice to electrify 100 homes in a small village. This winter, using a $3 million grant from the Department of Energy and the Forest Service, a handful of small businesses across the United States will test BioMax gasifiers. If all goes well, a retail unit, priced at about $10,000, could debut by 2004.


Critics of wood gasification argue that the machines use too much wood and would easily eat up all the available waste. Browne counters that the devices are meant to be used only where they make the most economic sense: in cabins and businesses where waste wood is plentiful and would otherwise rot (producing harmful greenhouse gases) or crowd landfills.


"Wood is condensed solar energy with leaves," he says. "As long as you've got the fuel on hand, you can generate power wherever you want."