Study: Standing Desks for Schoolkids Make Fitter Adults
Students prefer standing and build healthy habits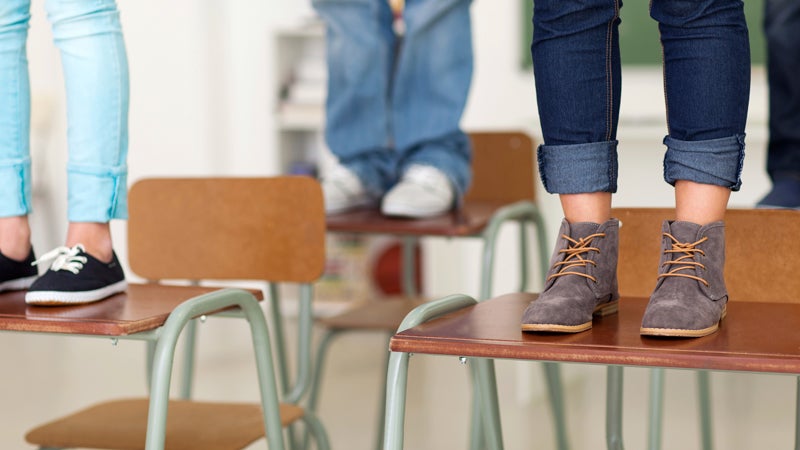 Heading out the door? Read this article on the new Outside+ app available now on iOS devices for members! Download the app.
A two-year study of three elementary schools in College Station, Texas, found that when schoolchildren were given the choice of standing or sitting at their desks, 374 of 480 students chose to stand and increased their daily activity level by 30 percent and their caloric burn by 15 percent.
Mark Benden, principal investigator of the study and director of the Texas A&M Ergonomics Center, said that humans get into the habit of sitting at a young age despite being naturally inclined to want to move throughout the day. "If you followed a four-year-old around all day, doing exactly as they do, you'd be exhausted—and in shape," said Benden. "We were born to move, and if we never get out of the habit of being active throughout the day, then sedentary lifestyles and obesity won't be a problem." 
During the study, standing desks were placed in classrooms along with accompanying stools so students had the option to sit or stand throughout the day. Benden said this is imperative, because the point is not to force people to stand all day but to allow them to transition between standing and sitting. The constant, low-intensity movement of standing engaged trunk muscles and increased core strength, causing a higher caloric burn. For adults, Benden says positive effects can be had from standing two to three hours a day. 
According to Benden, allowing kids to incorporate movement in their day helps them maintain a healthy weight from an early age, so forming new habits and losing weight won't plague them as adults later on. "Movement should be a natural part of everyone's day," said Benden. "By adapting early and easily with standing desks at school, we can change the trend of inactivity."
Benden and his research team are currently conducting a similar study in high school classrooms.