The Top 10 Adventure Stories of 2011
Outside picks the biggest people, places, and events of the last year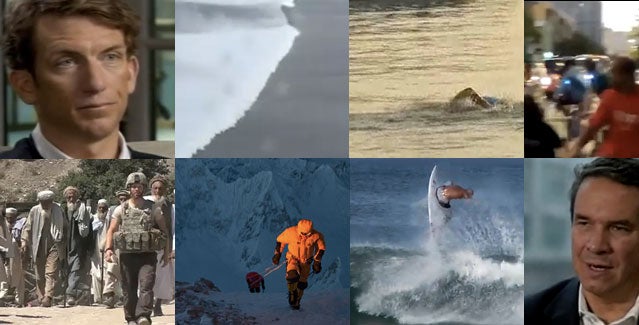 Heading out the door? Read this article on the new Outside+ app available now on iOS devices for members! Download the app.
Let's list some of the ways 2011 was a memorable year for adventure news. In surfing, Garrett McNamara may have surfed the biggest wave ever off the coast of Portugal, Sion Milosky drowned at Maverick's, the ASP announced they will institute drug testing, and Carissa Moore became the youngest woman to win an ASP title and was invited to surf the Triple Crown with the boys. In climbing, Adam Ondra completed two V16 boulder problems, a 9-year-old amazed at Hueco Tanks, and Gerlinde Kaltenbrunner became the first woman to bag all 8,000-meter peaks without supplemental oxygen. In expedition news, Conrad Anker and crew conquered Shark's Fin after a failed summit bid in 2008, Felicity Aston set off on a solo crossing of Antarctica, and Jon Turk and Erik Boomer circumnavigated Ellesmere Island. In survival, a grizzly bear attacked a NOLS expedition, a helicopter rescued a dog, and a UK decision to privatize helicopter rescues led to a debate about whether the United States should do the same. In running, Sammy Wanjiru died of mysterious causes, the Kenyans dominated marathons, and U.S. distance running continued to improve. In viral videos, Jeb Corliss flew through a cave in China, an ungulate attacked a mountain biker, Yves Rossy flew in a jetpack over the Grand Canyon, and Danny MacAskill redefined grace on two wheels, again. None of the above stories made our list of the biggest news of the year. Click ahead to find out what did.
10. Cory Richards, Simone Moro, and Denis Urubko Climb GII
Fast and light up an 8,000-meter peak in Pakistan, with a camera
It wasn't just that Cory Richards, Simone Moro, and Denis Urubko climbed one of Pakistan's 8,000-meter peaks in winter, or that they survived a brutal storm and avalanche on the way down. It was that Richards documented the entire journey, and that Moro and Urubko let him. The Anson Fogel directed short that followed wowed audiences for the quick, gritty look it offered inside a fast and light mountaineering expedition. It took home the Charlie Fowler award at Telluride Mountainfilm, The Spirit of Adventure prize at the 5Point Film Festival, and the Grand Prize at the Banff Film Festival.
Read more at Outside
9. Raw Video: Car Runs Over Cyclists
Warning: This clip is violent
Of all the viral videos that came through our feeds this year, none hit us harder than this clip of a car piling through a Critical Mass demonstration. On the last Friday of every month, bikers from Porto Alegre, Brazil ride together down city streets to raise awareness of commuting safety. On this particular Friday in February, a Black VW sped through dozens of cyclists, knocking several onto the pavement. No one died, but more than a dozen people went to the hospital. The driver turned himself into police. After authorities let him out of prison, he gave one long interview while awaiting trial. He said that he sped through the cyclists because they were banging on his car. He said he was afraid for his 15-year-old son and so sped off through the bikers.
Read more at TreeHugger
8. Diane Nyad Won't Give Up
More than 30 years after a failed attempt, a 60-something swimmer gets back in the water
In the 1970s, a twenty-something Diane Nyad broke the speed record for swimming around Manhattan, swam 102.5 miles from the Bahamas, and vowed to swim from Florida to Cuba. After more than 40 hours in the water, with rough seas pushing her off course, Diane Nyad called off her attempt. Shortly after that, she gave up distance swimming. This year, she got back in the water to try that swim at the age of 60. The first time, in August, she gave up after roughly 28 hours when a 12-hour asthma attack forced her to get out of the water. In September, she tried again, but repeated jellyfish stings shut her down after a 41-hour attempt. This December, The New York Times reported Nyad hasn't completely given up hope on completing her dream crossing.
Read more at The New York Times
7. Alex Honnold's Big Year
The 26-year-old climber continues to push the limits
You can read about Alex Honnold's 2011 accomplishments in our top 10 climbing write up, get an idea of why he climbs in this Outside profile, or watch him in action in this 60 Minutes profile, but to really understand how strong of a climber he is, you just need to think about one route from this year. On September 22, he sent Heaven, a 5.12d/13 40-foot route up an overhang that starts 2,500 feet above the Yosemite Valley. In 2005, Dean Potter free soloed the route after practicing it roped. Honnold, without ever having seen it up close, decided to climb it on a whim. He falls. He dies. He asked his climbing partner Mason Earle for beta, and then sent the route in less than five minutes.
Read more at Outside
6. Kelly Slater Wins Big, Twice
The champion surfer scores an eleventh title and something else
Kelly Slater became the first person to be awarded the ASP title twice in the same year. That was, of course, an accident. On November 2, the ASP announced he had clinched his eleventh world title. The next day they took back the title due to a computational error.
"Can you read this comment from Mark? The calculator at @aspworldtour must be broken. I'm not the world champ yet! http://pic.twitter.com/hEQXnz8K
Roughly a week later, he won it again. The mistake wasn't entirely funny, as ASP CEO Brodie Carr resigned over it. But Slater had one other big victory in November that didn't draw as much attention. After three rejections, the U.S. Patent and Trade Office approved a patent for his company's new wave pool design.
Read more at ESPN
5. The Case Against Lance Armstrong
The 7-time Tour de France champ faces new allegations
The year didn't start off that well for Lance Armstrong. Sports Illustrated published a heavily reported, 6,000-word story in January detailing old and new allegations that the cyclist used performance-enhancing drugs on his way to Tour de France victories. It got worse. In May, ex-teammate Tyler Hamilton told 60 Minutes that he saw Lance inject EPO. Things didn't exactly resolve themselves when the two men crossed paths in Aspen. Now, the world is waiting to see whether agent Jeff Novitzky and crew will have the cyclist indicted.
Watch more at 60 Minutes
4. Oscar Pistorius Races in the Worlds
The fastest man on no legs takes the next step
Up until this summer, Oscar Pistorius's name mostly came up in debate. Should he be able to compete against able-bodied athletes? After legal battles, the answer was yes. Do his carbon-fiber legs give him an advantage over able-bodied athletes? Scientists disagree on that answer. A lot of the debate about Pistorius involved hypotheticals. At least one of those hypotheticals became reality when Pistorius ran in the Track and Field World Championships this past August in Daegu, South Korea. He beat 22 of the world's fastest sprinters in the 400, but didn't make it to the finals. So talk about the South African sprinter has died down, but Pistorius is looking to make another one of those hypotheticals into reality next year. He hopes to qualify for the 2012 Olympics. That has us excited, not because we want to listen to his supporters and detractors go at it again, just because we want to watch him run.
Read more at Outside
3. The Case Against Greg Mortenson
Jon Krakauer and 60 Minutes call out the author of Three Cups of Tea
Last year, we listed Greg Mortenson's Three Cups of Tea as the best adventure story of the decade. It sounded too good to be true. It turns out, at least parts of it were. Jon Krakauer teamed up with 60 Minutes to call out the lies in Mortenson's books—and to question his motives. Outside talked to Mortenson about the allegations at the time of the airing, but since last spring, he has been very quiet.
Read more at Byliner and Outside
2. The Death of Tim Hetherington
The famed war photographer dies after taking a rocket-propelled grenade in Libya
Shortly after Tim Hetherington returned from the Academy Awards, where his movie Restrepo was nominated for Best Documentary, he left to cover the conflict in Libya. Roughly a month after that, while working in the city of Misrata this past April, he was killed by a rocket propelled grenade. His good friend and partner on Restrepo, Sebastian Junger, remembered him with a powerful essay in Vanity Fair. Hetherington's own words, provided to this magazine a month before he left, offer a view into his motivations. 
"I don't buy the whole altruism thing. I think at the heart of altruism is a selfish deed. You know, and that's fine. . . I want to reach people. Can't it come out of a place of personal curiosity? A desire to locate myself in the world and also have some utility?" —Tim Hetherington
The best way to think about his utility is to watch Restrepo. It takes the viewer inside—as much as a movie can—the lives of men fighting a war that's still going on.
Read more at Vanity Fair and Outside
1. Surviving the Japanese Tsunami
The shock and resulting wave cost thousands of lives
From above, the earth looked like a dump. Seaside homes had been reduced to piles of toothpicks. Hotels had been blasted into chunks of concrete and rebar. The neat patchwork fields of farms farther inland had been smeared into mud stained bogs dotted with random cars. Boats sat on top of buildings. Gas flared into the night from broken pipes. The 8.9 magnitude earthquake that hit off the coast of Japan and led to a tsunami killed an estimated 20,000 people, and its effects are still being felt. The Fukushima Daiichi nuclear power plant hasn't stopped leaking contaminated material. From the rubble, stories of survival and heroism surfaced. A team stayed at the nuclear power plant to prevent disaster. Rescue workers in Ishinomaki found a four-month-old baby in a destroyed home. A man carried into the Pacific on the roof of his house survived for more than two days alone at sea. You can read that survival story in the link below, and we suggest you do.
Read more at GQ
Trending on Outside Online