The Top 10 Adventure Stories of 2012
The year's biggest expeditions, events, and feats, from the deadly avalanche on Manaslu, to a whitewater first, to Felix Baumgartner's 24-mile fall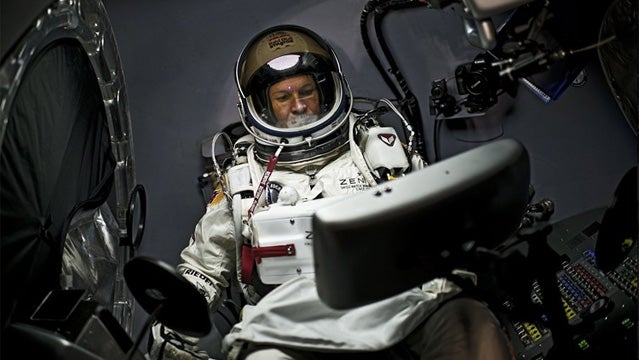 Heading out the door? Read this article on the new Outside+ app available now on iOS devices for members! Download the app.
The hardest part of making any list of the year's biggest stories is deciding what to leave out. Here are some 2012 expeditions, feats, and events that didn't make the cut: James Cameron's 6.8-mile, solo dive to the bottom of the Mariana Trench, Shane Dorian's paddle into two monster waves at Jaws, Greg Long's three-wave hold down at Cortes Bank, David Lama's climb of Cerro Torre, astronaut Donald Pettit's photos of the earth from the International Space Station and grab of Elon Musk's Space X Dragon capsule, that guy who finished his journey to visit every country in the world without traveling by plane, and the successful landing of the Mars Rover. Before you sound off on the picks, know that a few stories that would have appeared on this year-end adventure list based on past criteria will instead appear on a 2012 sports science list: Sarah Burke's death, skier Lindsey Vonn and Ted Ligety's battles with the FIS, Oscar Pistorius' Olympics, and Lance Armstrong's fall. Now, go ahead and sound off in the comments section if you disagree.
10. Kilian Jornet's Down and Up Year
09. Jeb Corliss' Impact
08. A First and a Last on the Grand Canyon of the Stikine
07. Davey du Plessis' Struggle to Survive
06. An Avalanche of Deaths
05. Alex Honnold Climbs the Triple
04. A Fatal Year on Everest
03. 11 People Die in Manaslu Avalanche
02. Felix Baumgartner's Monster Fall
01. The Response to Hurricane Sandy
The Top Adventure Stories of 2012: Kilian Jornet's Down and Up Year
After the death of his expedition partner, the Spanish endurance phenom pushes on, in several different disciplines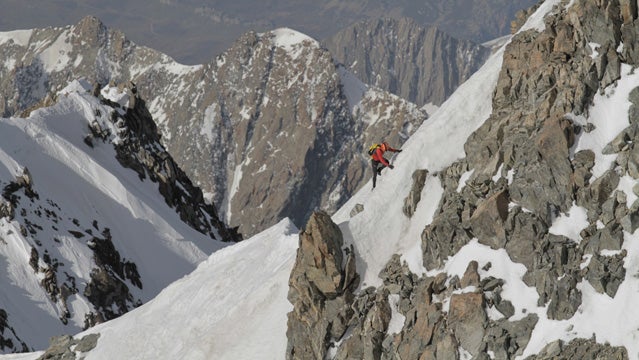 On Sunday, June 17, legendary French ski mountaineer Stephane Brosse and Spanish skier and ultrarunner Killian Jornet were on the Aiguille d' Argentiere in the Alps when a cornice broke under Brosse, leading to a 2,000-foot fall and his death. The pair were attempting to cross the Mont Blanc Massif for the first expedition in Jornet's Summits of My Life series, a four-year-long project to ascend and cross several of the world's highest peaks as fast as possible. Brosse, 40, held the speed record for the fastest traverse of the Haute Route, won three World Championships of Ski Mountaineering, and was Jornet's idol.
Jornet returned to the city a day after his friend's death to mourn. He announced he was pulling out of an upcoming ultramarathon, the Western States 100, which he had won in 2011. Then the 25-year-old returned to the mountains. "It is important because that is where it happened and it is there where you can find the answers," he said. "If you rest in the city, thinking about injustice and people and condolences, I think it is impossible to continue."
A couple of months later, he was setting records and winning races. On Saturday, August 11, Jornet smashed the 30-year-old Grand Teton speed record by climbing and descending the 13,770-foot mountain in 2 hours and 54 minutes. On Sunday, August 19, Jornet won the Pike's Peak marathon, a 26.21-mile race with 7,815 feet of elevation gain, with a time of 3:40:46. On September 18, he took on the second project in his Summits of My Life series, a 20-mile run and climb, covering roughly 24,000 feet, crossing from Courmayeur to the summit of Mont Blanc via the Innominata Ridge and then down to Chamonix, in 8 hours and 42 minutes. The climb was not on the same technical level as something alpinist Ueli Steck might complete—think scrambling versus scaling—but the speed combined with the difficult terrain led many to marvel. "Can you imagine what I could do if I had the physique of Kilian?" Steck told Rock and Ice.
Jornet isn't inventing a new discipline as much as he's combining old ones—ultrarunning and alpinism—in order to attempt minimalist high-altitude ascents and crossings. Along the way, he's winning ultramarathons, trail races, and ski mountaineering competitions that don't get a lot of attention in the United States. He's won long ultramarathons, like the Ultra Trail Mont Blanc in 2008, 2009, and 2011 and the Western States 100 in 2011. He's won shorter trail races that include a lot of vertical, like the Pike's Peak Marathon. He's also racked up victories on a European trail running circuit, winning the Sky Running World Championships in 2007, 2008, 2009, 2010, and 2012. After notching a number of different ski mountaineering titles over the course of the last decade, in 2011 he won the World Championships of Ski Mountaineering in Europe. 
Jornet said running, hiking, skiing, and cycling in the mountains from an early age and an intense training schedule have led to his success. On an average summer day he will run three to four hours in the morning, return home to rest, and then run for another hour in the late afternoon. His ultrarunning competitor Anton Krupicka agrees that his passion is super high and that he trains a lot, but said two other factors must be considered when thinking about Jornet's accomplishments. The Spaniard has a VO2 max that's been measured at 92mL/kg/min, one of the highest ever. VO2 max is a measure of the body's maximum ability to utilize oxygen during sustained and intense exercise. Krupicka also points to Jornet's ability to master different sports. "He is somehow able to do all of that training without getting injured," said Krupicka. "I suspect this is further facilitated by him almost exclusively skiing for half of each year." 
Jornet agrees that switching between skiing and ultrarunning limits injury, since he's changing the stresses on his body. He also believes the variety inspires him to train harder. "If I run just trails and ultras then it is boring because it is the same movements every time," he said. "For me, the perfect season has some ski races, some vertical incrementals, and some ultras."
The Top Adventure Stories of 2012: Jeb Corliss' Impact
The year's most impressive rebound
BASE jumper Jeb Corliss's year began with a violent thwap. On Monday, January 17, he jumped off South Africa's Table Mountain wearing a wingsuit while video cameras from HBO's Real Sports With Bryant Gumbel and GoPros rolled. He flew down the mountain at speeds of more than 120mph and clipped a granite outcropping with his legs. He was aiming for a small red balloon that he intended to kick, but it had been blown back and down from its original floating position by a slight wind, leading him to misjudge his flight path, right into a rock. After the impact, he had six seconds to make what he thought would be a death or death mid-air decision. He could pull his chute and suffer a slow and agonizing end or crash into the side of the mountain and die instantly. He pulled his chute, and survived.
The impact broke two bones in his ankle, ripped the skin off his right shin, cracked his fibula, shredded the ACL in his left knee, and tore the muscles from the bone underneath both of his thighs. That latter injury—combined with dehydration that resulted from lying in temperatures above 100 degrees—almost killed him. His kidneys had little liquid to work with while trying to process crushed muscle. At the hospital, he insisted on quitting painkillers two days into recovery because he doesn't believe in drugs. When he got better, he didn't just return to jump again, he also organized and competed in the world's first proximity flight wingsuit race.
He and 15 competitors hurtled themselves off a cliff in China's Zhangjiajie National Forest Park before racing down a course that included a massive turn and a cable car wire for a finish line. In the original design for the event, organizers wanted to float a giant red balloon to mark the turn. Corliss struck that idea. Instead, they built a tennis court-sized platform. Corliss didn't win, but that was the least of his concerns. "I am just super stoked I didn't hurt myself further before I had to come home and get my surgery," he said on Facebook, referring to a November ACL reconstruction.
The Top Adventure Stories of 2012: A First and a Last on the Grand Canyon of the Stikine
Ben Marr runs Site Zed and Jeff West dies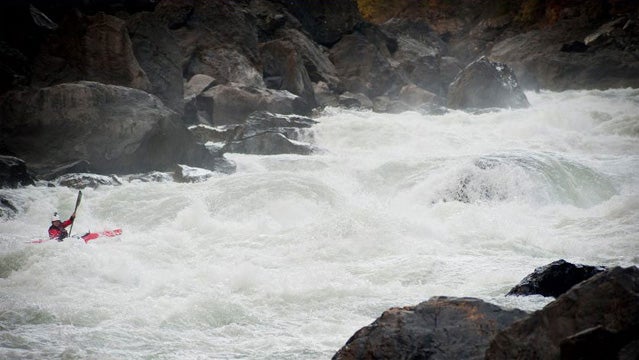 On August 21, kayaker Ben Marr completed the first full run of the Grand Canyon of the Stikine, a 45-mile barrage of Class V and VI rapids considered to be one of the ultimate testing grounds for whitewater kayakers. The 350-mile river drains roughly 20,000 miles of land as it rumbles from British Columbia into the Pacific Ocean north of Wrangell, Alaska. Fewer than 100 kayakers have run its recesses, but all of those comers either swam through or portaged around Site Zed, the last virgin rapid in a gorge flanked by 1,000-foot walls and grizzly bear patrolled forests.
Marr put into the river on August 19 with a group of seven. On the morning of August 20, he entered the roiling waters with his mates watching his back. He paddled over Westphalia-sized waves, boofed over a pourover, flipped in a boiling section, ninja rolled back into the flow, took the river's punches, jabbed back to send himself through a massive hole, flipped again, rolled, and paddled out, relieved and victorious—and maybe somewhat numb to the sound of shouts and cheers around him.
By September, at least two kayakers had plans to run the Grand Canyon of the Stikine solo. Neither would be the first. Doug Ammons had already run it alone in 1982, but he took three days. Erik Boomer told Outside he would do it in a single day. Jeff West, 42, also had solo plans, but he kept them relatively quiet. In 2010, he had paddled the 45-mile gauntlet in a day with Boomer and Todd Wells. The bus-sized waves and monster holes, the 1,000-foot canyon walls, the shot-after-shot barrage he took from the river's unexpected start and fits, and the challenge of thinking through technical run after technical run fueled his mind and his insides. When he paddled, he imagined such a fire burning in his heart that when he blew the snot out of his nose, he pictured flames shooting out. He growled before he hit waves. After he finished, he wrote about his experience like a man still burning.
"The Stikine makes other rivers seem two-dimensional. I had always thought of water flowing downstream, side-to-side and sometimes upstream. Additionally, on this river the water is constantly exploding upward and sucking down," he wrote. "It felt like a giant roller coaster and monster trampoline combined. Waves would throw you into the air. Seams would pull you into deep mystery moves. The crashing diagonals were the painful part. These waves are so massive that when you hit them it knocks the breath out of you. Imagine the ghost of Paul Bunyan standing next to the rapid. Instead of swinging an axe he has a giant 30-foot-long wiffle ball bat. As you charge your way through the rapid he squares up and knocks you into tomorrow. I have never been hit so hard by water."
On September 11, West died while paddling alone, possibly drowning after encountering high water conditions on the river. The exact events surrounding his death are still a mystery. Paddlers flooded the Web with remembrances that pooled into one heavy reality. It wasn't the promise of West's future in whitewater kayaking that hit them hardest, it was the loss of his inspiring effect on others that sent them reeling. "The time he spent reassuring and energizing aspiring paddlers to make their next step is unmatched by anyone the whitewater community has seen," said kayaker Kat Levitt on her Jackson Kayak blog. "His passion for his own incredible challenges was only rivaled by his desire to spread and share that same powerful feeling of accomplishment with others."
The Top Adventure Stories of 2012: Davey du Plessis' Struggle to Survive
A South African man runs for his life in the Amazon
At least three expeditions sought to complete 4,000-mile-plus source-to-sea journeys down the Amazon this year, all after officials said it was likely the river had a new source. The first descent sent by Joe Kane and Piotr Chmeilinski in the mid-1980s would now have an asterisk and a new record was open for the taking. Two expeditions—one by West Hansen and another by James Contos—fought for the crown. You can read Grayson Schaffer's story in our January issue about their battle for glory. The third expedition, a solo 4,000-plus-mile hike, bike, and paddle by South African explorer Davey du Plessis, failed. It made this list because it led to a gripping survival tale that involved 21st-century technology and an on-the-ground, village-to-village passing of the injured adventurer like a baton.
In July, du Plessis began his quest and news of his progress was periodically posted on Facebook. On Sunday, August 26, a cryptic update appeared on his page: "I need help. Does anyone know anyone in Peru, Davey has had an accident in the jungle, and I do not know where to start."
Du Plessis' mother was posting on his Facebook page. She needed someone to translate things into Spanish. She got help. She found out her son had been shot several times. She returned to social media to share the details and expressed her thanks and concern. The details of what exactly happened were a bit scattered, but later in the fall, du Plessis shared them on his blog and in a YouTube video. A quick summary from those two sources is included below.
Du Plessis was a four-and-a-half-day paddle from the small town of Pecullpa. He had taken to the forest's edge of the river in his red kayak because a school of river dolphins cavorting under his craft had spooked him. As he paddled, two men, maybe in their 20s, floated by him in a dugout canoe with a 50-horsepower engine. Shortly after they passed, he felt a sharp pain in his back and fell forward into the water. He had been shot, but didn't know it. He surfaced and grabbed his kayak. Pellets from a shotgun ripped into his face. He swam to the riverbank, and was shot again, this time through his windpipe. He sat down, ready to die, and saw the scariest thing he had ever seen in his life: the face of a man "without compassion" gliding toward him in the boat.
He got up and ran. He was shot in the thigh. He reached a spot more than a mile away where he had seen a ferry from the water. It was gone when he arrived. He saw two men across the river, but he couldn't yell because of the hole in his windpipe. He jumped up and down. They saw him and brought him to a village. He was passed from village to village, where the parties left him sitting in the dirt at the forest's edge while they passed on word of what had happened, and then his pellet-ridden body. An old woman washed the mud and blood from his body with a sponge. An old man sang him songs. Another man rubbed his back as he spat up coagulated blood. The train of locals eventually brought him to Pulcallpa, where a brewery owner arranged for him to be flown to Lima. He received medical care, was flown home, and in October had the green light from his doctor to resume normal activities. You might think he went right for a beer from that brewery, but he doesn't drink. He grabbed a surfboard and rode some waves breaking off the Cape Town coast.
"Every adventurer goes through some form of something going wrong," he said in the YouTube video. "I hadn't been prepared for it, but I still haven't lost that spirit for adventure, and as soon as I can diagnose what's wrong with me, I can't wait to get back in the saddle and continue doing what I love, and sharing it with you guys."
The Top Adventure Stories of 2012: An Avalanche of Deaths
Fatalities stacked up last winter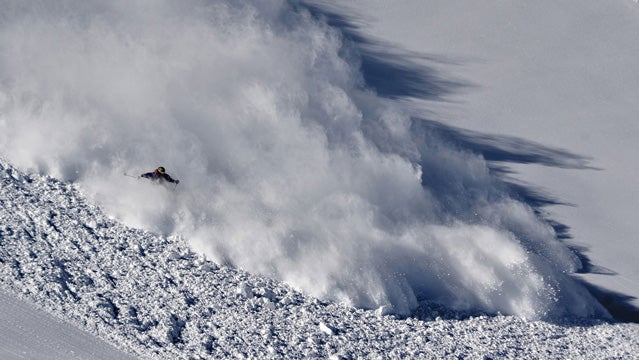 The avalanche deaths started early last winter, when 38-year-old pro skier Jamie Pierre died in Utah's Little Cottonwood Canyon in mid-November. Even then, avalanche experts we're concerned about the possibility of an unstable snowpack lasting throughout the winter. In much of the West, base layers had formed into slick crusts and facets—weak foundations that wouldn't bond well with the coming top layers of snow. Experts feared that heavy snowfall would sit precariously on top of the early layers, like an F-150 balanced on wine bottles. Adding the slightest weight—a skier or more snow—could cause the weak bonds to break, triggering a slide.
Unfortunately, unstable conditions remained throughout the winter, and they combined with questionable decision-making to lead to a total of 34 deaths from avalanches. It's not quite that simple, and judgment shouldn't be passed easily, which is why reading something more substantial is recommended. No single slide received more media attention than the February 19 avalanche at Tunnel Creek, outside Washington's Stevens Pass ski resort. That slide resulted in three deaths. Two stories covered it best, by showing how a pile up of poor decision-making—or lack of decision-making—led to the fatalities.
The Top Adventure Stories of 2012: Alex Honnold Climbs the Triple
The world's most famous climber pushes the limits in Yosemite
In less than a month, during the spring climbing season in Yosemite, Alex Honnold notched more impressive, big wall speed feats than most elite climbers will capture in their careers. On May 19, he and Tommy Caldwell finished the first free ascent of Yosemite's three biggest walls in less than 24 hours. On June 6, he soloed the park's three biggest walls in less than 24 hours—climbing mostly without a rope. On Sunday June 17, he paired up with Hans Florine to set a new speed record up the Nose of El Capitan, scaling the famous 2,900-foot face in 2:23:51, breaking the previous record by roughly 13 minutes.
The solo was Honnold's biggest moment. He linked up Mount Watkins, El Capitan, and Half Dome, roughly 7,000 feet of climbing, in 18 hours and 50 minutes. Expert climbers might take several days to copy the feat in teams. Dean Potter and Timmy O'Neill first completed the route in 2001, but as Outside's Adam Roy wrote earlier in the year, they aided their way through difficult sections, using gear to support their weight rather than pulling on holds. The route had been dubbed The Triple Crown, but Honnold preferred another name. "I've always just called it the Triple," he said.
Honnold began his climb around 4 p.m. on June 5. About halfway up the roughly 2000-foot Mount Watkins, wingless insects called silverfish swarmed his ears, mouth, and neck while he held on to the rock with his fingertips. "It was heinous," he told The New York Times. "At any given point I had dozens of them on me. But what are you going to do?"
He free-soloed—climbing alone without a rope—roughly 95 percent of the time, continuing up through the night. "Not scary, just lonely," he said.
He finished around 11 a.m. on June 6. On the way down from the climb, on a path toward pizza, he took some time for reflection. "It was kind of hardcore," he told an interviewer from The North Face. "It was probably more hardcore than the other one." He was referring to the Triple he had completed with Tommy Caldwell roughly two weeks earlier. The interviewer asked him to explain what he meant by hardcore. "Well, just the fact that if you fall off most of it, you will die," he said. "It makes it more exciting."
The Top Adventure Stories of 2012: A Fatal Year on Everest
Inexperienced climbers, cut-rate outfitters, and poor decisions lead to tragedy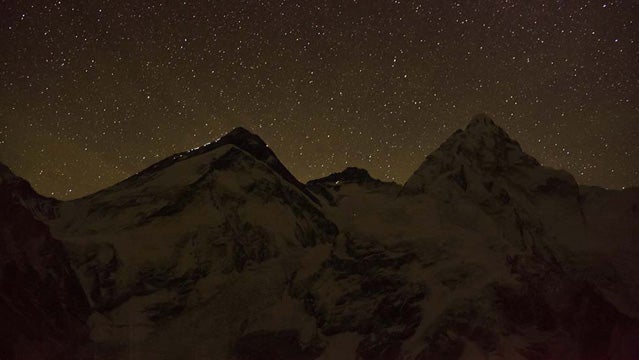 In April and May of 2012, 10 people died on Everest, making it the third deadliest spring season in the mountain's history, behind 1996's total of 12 and 2006's total of 11. Unlike 1996, when a sudden storm led to a high number of deaths on the mountain, a variety of circumstances led to fatalities in 2012. "Their deaths were the result of exhaustion, climbing too slowly, ignoring serious altitude sickness, and refusing to turn around—which is to say, the steady toll of human error," wrote Outside's Grayson Schaffer. "Nobody was killed by the mountain's roulette wheel of hazards such as rockfall, avalanches, and blizzards."
The names of the 10 people who died on the mountain are listed below. For a better idea of how and why they died, read Schaffer's exhaustively reported feature, "Take a Number."
The Top Adventure Stories of 2012: 11 People Die in Manaslu Avalanche
Benedikt Böhm becomes the first to summit and ski the world's eighth highest peak in the aftermath
On September 30 at 9:00 a.m., German climber Benedikt Böhm stood on the summit of Manaslu and tied a prayer scarf to a carabiner he had used roughly a week earlier to help haul boots to survivors of an avalanche that killed 11 people. He shared the details of his summit in a dispatch for EpicTV. At the top, he waited roughly an hour for his teammates Sebastian Haag and Constantine Pade. They didn't show. They had stopped 500 feet below the summit, deciding to save their strength for the ski down. Böhm met them there, where the trio began what he called "the worst ski descent ever." The terrain was windpacked, unpredictable, and covered by avalanche debris. Just over 23-and-a-half hours after departing from Base Camp, Böhm reached the bottom, becoming the first and only person to summit and ski the 26,759-foot peak without the assistance of supplemental oxygen in less than 24 hours. The space between his successful summit bid and the resting spot of his teammates near the top was just hundreds of feet. The gap between teammates who either died or survived the avalanche a week earlier was even smaller.
On the morning of Sunday, September 23, skier Glen Plake was in his tent reading the Bible next to expedition mate Gregory Costa. At roughly 4:30 a.m., a serac broke off a glacier, hit the snow, and triggered an avalanche that rumbled roughly 3,000 feet down the mountain. It swept through Camp III, where Plake and Costa rested in the same tent, and sent them reeling before careening down into Camp II. If left bodies and gear scattered in a mess that Plake described as a "war zone" after he emerged injured, but alive. Costa and several others were nowhere to be found. 
One of the first people to help in the rescue effort was skier Greg Hill. He had set up his tent off to the side of Camp II on an ice shelf because he was worried about conditions. When he arrived at the scene, he was shocked. "There were injured people stuck in their tents with the dead body of their tent mate wrapped around them," he wrote on his blog. "The line between life and death was inches. Some people were talking to their tent mates as it happened, and when the avalanche stopped their partners were nowhere to be seen."
Eight bodies were recovered and three were missing. Teams responded to the tragedy differently. Mountain Professionals remained and attempted a summit. Alpine Ascents International returned home. Three Members of Altitude Junkies returned home, while other members of the expedition stayed. Hill was the third member of Böhm and Haag's team. Like others at Manaslu, the trio had intended to climb Cho Oyu in Tibet, but China had denied them access and so they filtered over to Manaslu in Nepal. Hill decided to return home. The Germans replaced him with Pade.
As the season ended, the death toll remained at 11. In October, while funerals for those lost we're held continents away, two bodies had still not been found. Costa was one of them.
The Top Adventure Stories of 2012: Felix Baumgartner's Monster Fall
One record step for science, one giant leap for marketing
Yes, it was a stunt, but it worked. Eight million people watched live on YouTube as 43-year-old Austrian Felix Baumgartner floated high into the earth's atmosphere and then jumped, breaking three major records. Shortly thereafter, news stories trumpeted the feat as a social media and marketing triumph for Red Bull.
Just to be sure you understand what happened, Baumgartner stepped into a capsule attached to a 55-story tall balloon made of a material as thick as a sandwich bag and floated up for two hours and 21 minutes until he was 24 miles above the parched pale earth of New Mexico. He stepped out of the capsule at 128,097 feet and fell, reaching a maximum speed of 833.9 miles per hour, breaking the sound barrier during a 4 minute and 32 second free fall that included 30 seconds of uncontrolled spinning before he was able to right himself and fall some more before pulling his chute and floating to earth. In doing all this, he broke the record for the highest manned balloon flight, the highest sky dive, and the fastest speed achieved during free fall. It was an adventure feat that took years of planning, teamwork between hundreds of experts, and extreme courage and composure from Baumgartner.
After the jump, Amy Shira Teital posted a gripe about the broadcast. She wrote that several important points involving the science and history of the jump had not been shared during the livestream. Baumgartner did not fall from space, which starts 62 miles above the earth's surface, according to a general consensus. Baumgartner jumped on the 65th anniversary of Chuck Yeager's supersonic flight. Baumgartner's adviser, Joe Kittinger, who jumped from 102,800 feet roughly 50 years earlier, did so in order to test a parachute designed to stabilize a pilot from spinning after a high-altitude ejection. Even when Baumgartner started spinning, the exact science behind Kittinger's jump was not mentioned.
To be fair, Baumgartner said before the jump that knowledge gathered during his attempt could contribute to life-saving methods for astronauts, pilots, and maybe space tourists. Concentrating on the lack of science might be a jaded take on what was otherwise an amazing feat. After all, people talked about the video for days and are still rewatching it. Google put the clip into a mash-up of the biggest moments of the year. Who knows? Maybe a child watching the video was so inspired that she'll dream of traveling into the upper level of the earth's atmosphere some day. Maybe she also saw and took note of the logos plastered on Baumgartner's helmet, spacesuit, flight capsule, and parachute.
In the months since Baumgartner's jump, the Food and Drug Administration released information showing a link between energy drinks and injuries and deaths. In November, the FDA published adverse injury reports related to energy drink consumption that took place from January 1, 2004, to October 23, 2012. Red Bull was cited in 21 adverse reports, with four hospitalizations and no deaths. 5-Hour Energy was cited in 92 reports, with 33 hospitalizations and 13 deaths. Monster products were listed in 40 reports, with 20 hospitalizations and five deaths. Rockstar was listed in 13 reports, with four hospitalizations and no deaths. The information available about those deaths and injuries shows correlation, not causation. In other words, "the fact that an adverse event happened after a person has consumed a product does not necessarily mean that product caused the adverse event," the FDA report said.
Does that mean anything should be done regarding the study and regulation of energy drinks? In Canada, where the 2008 death of a teen with an irregular heartbeat was linked to consumption of Red Bull, they think so. By the end of 2012, the country will cap caffeine levels in energy drinks at 180 milligrams. A 20-ounce can of Monster Energy and a 24-ounce can of Red Bull wouldn't make their cut. In the United States, energy drinks don't fall under such guidelines because they are sold as dietary supplements. "We don't have energy drinks defined by any regulation," Daniel Fabricant, the director of the FDA's dietary supplement division, told The New York Times. "It is a marketing term."
The Top Adventure Stories of 2012: The Response to Hurricane Sandy
People venture out after the storm to help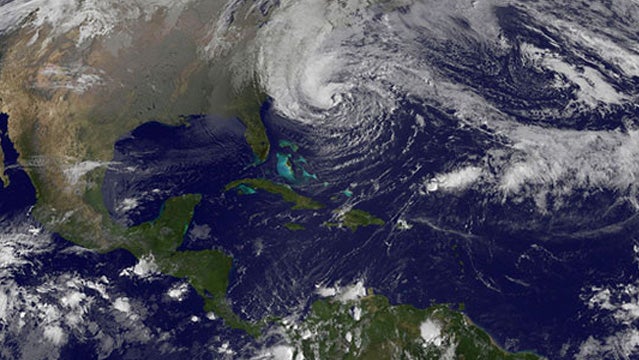 When Hurricane Sandy hit near Atlantic City at roughly 8:00 p.m. on Saturday October 29, she created maximum sustained winds of 80 miles per hour, tropical force winds that radiated roughly 500 miles out from her center, and a powerful storm surge that had already caused loads of damage along the coast. In New Jersey, six-foot high waves broke into buildings once every 10 seconds for six hours. In Manhattan, water levels in Battery Park city rose to almost 14 feet, shattering a record set in 1821 by almost three feet. The damage didn't stop with the wind and the waves. Locations in Maryland received 28 inches of snowfall. Overall, the storm caused more than 130 deaths in the United States and 60 in the Caribbean. It knocked out power to more than 8.5 million homes in 16 states and damaged more than 300 housing units in New York and more than 72,000 buildings in New Jersey. State officials have asked for more than $80 billion in federal aid to help with rebuilding, though the government is still working to pass a bill that would provide help.
In the storm's aftermath, activity all over the coast took the form of aid. Hipsters in Brooklyn biked out to Rockaway carting water and clothes. A surf club on the peninsula transformed itself into an aid center. Runners, in town for the canceled New York City marathon, ran relief supplies to residents hit hard by the storm in Staten Island. The Brooklyn Boulders climbing gym turned into an operations base for Team Rubicon USA, a volunteer group of former active military personnel who deployed at a moment's notice to help with search and rescue and the recovery. A slew of outdoor gear companies gave away loads of apparel to survivors weathering the aftermath in New York City and New Jersey. Surfer Jon Rose gathered his friends and directed the efforts of his non-profit, Waves for Water, delivering basic necessities to victims up and down the coast. Doctors Without Borders set up their first ground operation on U.S. soil in Rockaway and went to work. During the storm, a 23-year-old surfer named Dylan Smith ferried residents of Belle Harbor in the Rockaways over flooded waters on his surfboard. On Christmas Eve, the Associated Press reported that he died while surfing in Puerto Rico, bringing more heartbreak to the area.
The volunteering efforts have continued for the last two months, and likely won't end anytime soon. It's just something to consider, in case you're looking for a different sort of adventure in 2013.
Trending on Outside Online