Walking a Tightrope Over Niagara
A descendant of America's most famous acrobatic family brings classic daredevilry back to Niagara Falls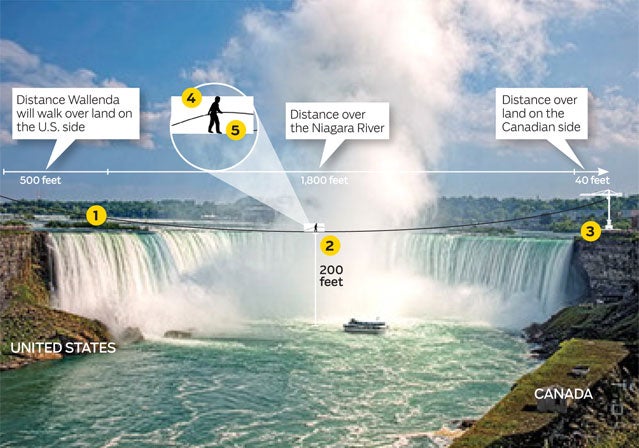 Heading out the door? Read this article on the new Outside+ app available now on iOS devices for members! Download the app.
If Nik Wallenda has his way, he'll soon become the first person in 116 years to tightrope-walk across Niagara River Gorge—and the first to do it directly over the falls. The 33-year-old Sarasota, Florida, native lobbied officials in Albany and Ontario for a year and a half to acquire the permits, even going so far as to have a U.S. law changed to accommodate the June 15 event, which will be broadcast live on ABC. Stunts were prohibited at the park in 1887, after a series of deadly accidents, but Wallenda made his case, in part by emphasizing the flow of tourism revenue the stunt would bring in. 
The Wallenda Family's Most Daring Stunts
Watch
a video history
of the Flying Wallenda family.
Wallenda is acutely aware of the risk involved: his great-grandfather, founder of the pioneering circus troupe the Flying Wallendas, died in 1978 while performing a high-wire act in Puerto Rico, and his mother still walks the tightrope. (His father is his chief rigger.) Wallenda insists he can prevent the line from swaying in the wind—the reason he says his grandfather fell—pointing to the expertise of Idaho's Power Engineers, the firm behind the stunt. "I've trained in 90-mile-per-hour winds, and I've practiced for the heavy mist," he says. "But once I get out there, it's about confidence and knowing I'm prepared for the worst."
ENGINEERING THE FEAT
1. The Slope: Because Goat Island, on the U.S. side, is higher than the Canadian side, Wallenda will walk at a 6.5-degree pitch down the wire, then at a 4.5-degree pitch back up.
2. The Wire: Running 1,800 feet and weighing 20 tons, the two-inch diameter cable will bow in the middle to roughly 200 feet above the water.
3. The Cranes: Two 100-ton-capacity behemoths anchored in the bedrock will raise the ends of the wire 50 feet above the ground on either side of the falls.
4. The Equipment: Elk-skin moccasins made by his mother will improve grip on the mist-slicked wire, and a 30-foot carbon-fiber pole made by his father will help him balance as he crosses.
5. The Stakes: Wallenda will wear a self-inflating life vest but no tether. If he falls, he falls all the way.