What You Missed: Surfer Andrew Cotton on the Impact of HBO's "100 Foot Wave"
Big-wave surfing in '100 Foot Wave,' high winds cancel skiing world cup, and a bald eagle versus one brave prairie dog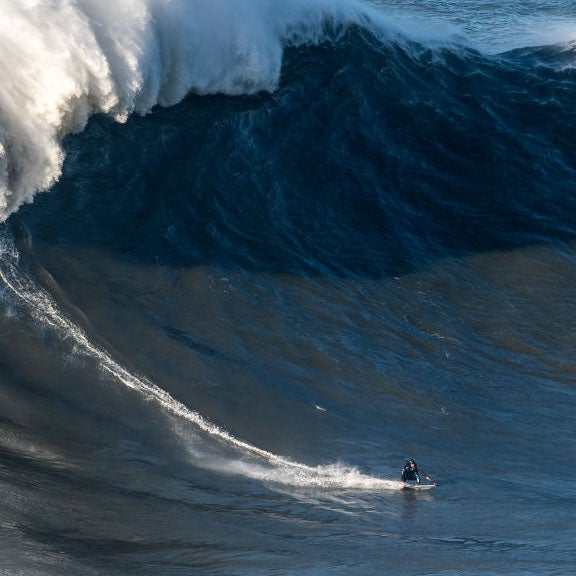 Octavio Passos / Getty Images
Heading out the door? Read this article on the new Outside+ app available now on iOS devices for members! Download the app.
Welcome to What You Missed, our daily digest of breaking news and topical perspectives from across the outdoor world. You can also get this news delivered to your email inbox six days a week by signing up for the What You Missed newsletter. 
---
HBO's recent six-part series 100 Foot Wave brought the heaving swells at Nazaré, Portugal, into living rooms across the United States through the exploits of Garrett McNamara, the Tom Brady of big-wave surfing. The documentary also placed a spotlight on lesser-known surfers who ride monster waves, chief among them British surfer Andrew Cotton, who was McNamara's surfing partner for multiple years at the Portuguese break. Over the course of filming, the documentary crew shot Cotton as he progressed from a part-time plumber into one of the top big-wave surfers on the planet.
We caught up with Cotton to talk about the documentary's impact on Nazaré and his career.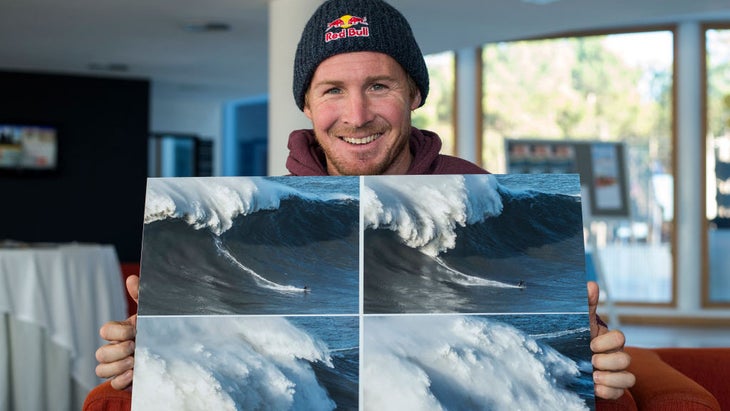 Outside: What impact has the documentary had on your place in the wider world of surfing?
Andrew Cotton: Weirdly it hasn't done a lot. I wish I could say it has, but it's only started airing in the UK. The only thing I've had are a lot of really nice messages, and my traction on social media seems to have increased a lot, mainly in the States. Apart from that, things are pretty normal. I didn't really know what to think about it when we were filming—I knew it was Garrett's thing—I knew I had been filmed for the last god knows how long, but I didn't know what to expect. I didn't even know how much I was going to be in it.
What has the documentary done for Nazaré itself?
The project to get Garrett coming to Nazaré was a tourism thing and that has been very successful. For Nazaré as a town, and for Portugal in general, this was the ultimate tourism project. I hear from people all over who are not surfers saying they want to come visit. The town always feels a lot busier now. And yeah, there are a lot more surfers in the water. For years, the North Shore of Oahu was the big proving ground, but it was always so expensive and hard to get to for Europeans. It's feeling like Nazaré is becoming the European proving ground. Guys want to show up here and make a name for themselves, which is great for surfing.
What sets Nazaré apart from the other big-wave destinations?
The quite unique thing about Nazaré is that you need quite a lot of structure to surf it. You need a safety guy. You need a team. It's not like Mavericks or Jaws, where you can just paddle from shore and it's just you and your board. At Jaws, you can paddle out with no jet ski and get four or five waves and it's sick. You need to be pretty lucky out here if you don't have jet-ski support. It's hard to do that here. So, you need to be prepared for the long haul. You need a game plan and be prepared to get out there at first light. Maybe you get one wave and then you have a long walk ahead of you.
So, maybe the long-term future is for Nazaré to remain a small surf community, because you need to have a team and financial backing, instead of just being able to jump in?
Nazaré is about bringing big-wave surfing to the mainstream. You rock up to Nazaré, walk down the headlands, and you can see just how big the waves really are. That's the future of Nazaré. It's a connection with the general public, who have never surfed or even thought about surfing, with the biggest waves in the world. At Jaws, it's a mission to actually see the wave because it's so far out. You can see Mavericks from the cliffs, but it's still a long ways out. We all thought the Cortes Bank off California would produce the biggest wave in the world, and that is 100 miles offshore. At Nazaré it's right there. It is bringing big-wave surfing to the general public and creating interest, which in turn creates sponsorship and media opportunities, which hopefully grow the sport. That's the future of it, not what actually happens out at sea. It's about putting this big wave in front of the mainstream audience.
In the documentary, we hear multiple descriptions of what it's like to take a big wave on the head at Nazaré—like going over Niagara Falls or like having a skyscraper fall on top of you. What's your best description for what it's like to have a bad wipeout there?
It's not just at Nazaré—having any big wave break on you or falling on a big wave, it's all about the impact on the body. People think we worry about drowning. I have no worry about drowning I'm literally worried about having my arm or my leg ripped off. It's all about the impact and the amount of force in the water—it can literally rip you apart. That's always been my fear—the impact—and what it can do to your body. You develop coping mechanisms. My talent is to really be able to think about nothing, to have nothing in my head in those situations, and you just kind of get through it.
What piece of advice would you have for a big-wave surfer riding Nazaré for the first time?
It's not just about the big ones—it's about the good ones.
High Winds Cancel Ski World Cup in Colorado
Mother Nature has it out for skiing this year.
On Sunday, high winds forced the cancellation of a downhill race at the Birds of Prey Alpine Skiing World Cup event in Beaver Creek, Colorado. Gusts reaching 40 miles per hour swirled through the Vail Valley, prompting organizers to postpone the event by several hours before calling it off entirely.
The cancellation came after crews worked long hours to get the mountain ready for the international event amid an unseasonably dry and warm fall. Some areas in Colorado's ski country are recording record drought, forcing multiple ski resorts to push back opening.
This is not the first cancellation of races at Beaver Creek due to high winds—organizers called off the Birds of Prey races in 2010 for a similar reason.
Ski racing fans still got to watch three other races. The Beaver Creek event this year also picked up a downhill and super-G event from the canceled World Cup at Lake Louise, Alberta, earlier in the year. Marco Odermatt of Switzerland won the super-G race on December 1, and Aleksander Aamodt Kilde of Norway won the super-G and downhill races held the following days.
Prairie Dog Versus Goliath
The Comedy Wildlife Photo Awards, a prize founded by photographer Paul Joynson-Hicks, recently announced the winners for 2021, and we simply cannot get enough of this heroic prairie dog.

Member Exclusive
"The 2021 Outsiders of the Year" Our team of editors and contributors honor the athletes, activists, storytellers, and other disrupters who changed our world for the better in 2021 . Outside
Around the Outside Network
"How to Master Backpacking in Bad Weather" Hit the trail all year long by learning to thrive in wet, cold, hot, and windy conditions. Backpacker 
"The Beta Tests: Devinci Spartan HP" Mountain bike gear editor Ryan Palmer ate up the corners on this high-pivot bike. Beta
"Opening Day Is Better Than Closing Day—Time to Celebrate" Break out the neon onesies and skin-tight costumes, because ski season's best parties are going on right now. Ski
"How to Go All-In on Winter Training" Running coach David Roche explains how a breakthrough year starts with a smart and dedicated offseason. Trail Runner
Lead Photo: Octavio Passos / Getty Images
Trending on Outside Online