Why Angelika Graswald Won't Be Convicted of Murder
She was present when her fiance drowned during a kayaking trip last year, and even told authorities she wanted him dead. But there's no way a jury will convict. Here's why.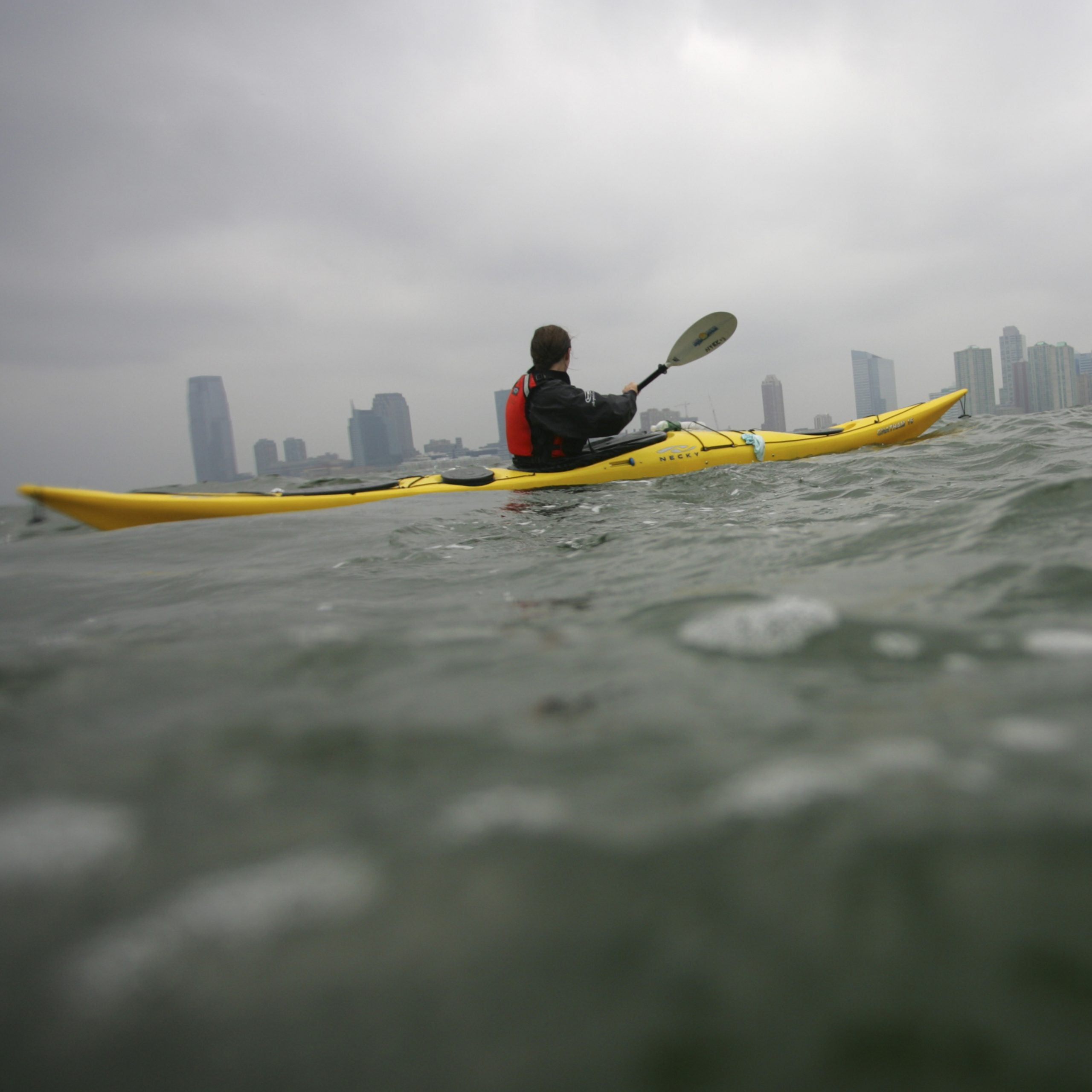 Heading out the door? Read this article on the new Outside+ app available now on iOS devices for members! Download the app.
In the days after Latvian émigré Angelika Graswald watched her fiancé slip from his kayak into the cold waters of the Hudson River on April 19, 2015, she posted a video of herself doing cartwheels on Facebook and sang karaoke at his remembrance party.
When she returned ten days after the accident to place flowers on the island they'd visited in their kayaks, a detective was there to meet her. She told him she'd removed the drain plug from the kayak of her fiancé, Vincent Viafore. The next day authorities charged her with his murder.
The media couldn't get enough, for all the usual reasons—a man-eating foreign ingénue, likeable everyman victim, and sexy motive. She stood to gain a $250,000 insurance payout, but news reports focused on her claim that he'd pressured her for a threesome.
When Graswald's trial starts March 13, the prosecution will present no eyewitnesses, little physical evidence, and a questionable theory. Their case will rely heavily on the statement Graswald gave to the investigator on the island and videotape of a bizarre 11-hour interrogation in which she strikes yoga poses, hop-scotches across the room, and finally tells a detective, "I wanted him dead, and now he's gone and I'm OK with that."
The prosecution will paint Graswald as a sociopath, and the defense will counter that we all have our own way of mourning. Ultimately, the case will turn on expert kayak testimony, says attorney and veteran kayaker Adam Van Grack, who has been watching the case closely. To convict Graswald of second-degree murder, or even the lesser charge of manslaughter in the second degree, prosecutors will have to convince a jury that the drain-hole—an opening the size of a penny—caused Viafore's boat to take on water and flip. Even though the cockpit is a far more likely source for the water. 
That's why she's going to walk.
Graswald told investigators she took the plug out weeks before the accident to use as a cat toy. Unless prosecutors can prove otherwise, that means that on the day of the incident Viafore had already paddled more than a mile to Bannerman Island without the drain plug, arrived safely and decided to paddle back, despite rising wind and waves.
Graswald's defense will argue that Viafore disregarded almost every safe paddling rule in the book. Of that there is no question. Here are eight decisions Viafore made on his own, each of which put him at more risk than paddling without a drain plug.
1.     No immersion protection in 46-degree water. Without a wetsuit or drysuit, Viafore would have experienced cold water shock the instant he went in the water. Within minutes he would have lost the effective use of his arms and legs. In 30 to 60 minutes, he'd have lost consciousness.
2.     No spray skirt to keep water from coming in through the cockpit. The drain plug covers a hole three-quarters of an inch in diameter; the cockpit opening is 22 inches wide and 46 inches long. Both are on top of the kayak, above the waterline. If the kayak filled with water, most of it would have come in through the cockpit.
3.     Cheap box-store kayak without bulkheads or flotation. Very few kayaks actually sink; Viafore's Future Beach 124 is one of them. That's critical because when the kayak goes under it takes away your best chance of being spotted, says Paul Kuthe, program director at Alder Creek Canoe & Kayak in Portland, Oregon.
4.     No life jacket. Viafore had a cushion-type flotation device. He would have needed at least one hand to hold onto it, and as hypothermia set in maintaining his grip would have become increasingly difficult.
5.     No idea about what he was paddling into. The Hudson kicked up violently that day because the wind was blowing about 15 miles per hour against the tidal current, creating 2- to 4-foot waves. We don't know whether Viafore checked the weather report or tide chart, or if he knew the combination of the two could cause hazardous conditions.
6.     No clue how to help himself. There's no evidence that Viafore had practiced or even knew about techniques for getting back into a kayak in deep water, such as the curl recovery.
7.     Alcohol. Both Viafore and Graswald knocked back a few Modelos on the island. The coroner calculated Viafore's blood-alcohol concentration at 0.066 percent, just below the legal limit. That's not much for a guy sometimes called "Vinny Two-beers," but alcohol affects judgment and speeds the onset of hypothermia.
8.     No reasonable expectation that Graswald could help him. The first rule of rescue is not to become a victim. No matter what was going through her mind as Viafore struggled in the Hudson that day, Graswald didn't have the skill or training to save him. Viafore was nearly twice her size and may have been panicked. He could have swamped her kayak and killed them both if she let him get close. That's not very romantic, but it's the truth.
Jeff Moag is the former editor of Canoe & Kayak Magazine.
Lead Photo: Aurora Photos