Catching a Break (or Three)
The endless summer set has yet to find Raglan's World class waves. Lucky for you.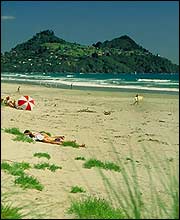 New Zealand Tourism
Heading out the door? Read this article on the new Outside+ app available now on iOS devices for members! Download the app.
Stationed between the groomed tropical waves of Fiji and the raging surf of Australia, New Zealand's chilly waters and fickle swells are typically not much of a draw for traveling surfers. That is, until they hear of Raglan. Only two hours south of Auckland, this sleepy North Island beach town possesses three inexplicably uncrowded world-class point breaks, including arguably one of the planet's best lefts. If you've been to Santa Barbara, picture three reverse Rincons stacked like corduroy to the horizon and backed by black-sand beaches, rolling green hills, and the mist-shrouded, 2,400-foot peak of Mount Karioi. Add in kayaking, boardsailing, miles of deserted hiking trails, and more than a few hopping cafes and you'll see why those in the know have begun bidding g'day to Oz—at least in the antipodal fall (that's spring to you), when Auckland weekenders thin out and the storm-tossed Tasman Sea aims its dervishes straight for Raglan.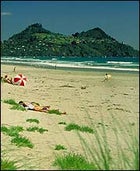 First, the breaks. A 10-minute drive south of town, Indicators is the most consistent: waves that go steep fast and produce rides of a minute or more. Just north is Whale Bay, a reef break that's easier to paddle out to but takes more of a swell to work. Closest to town is legendary Manu Bay, home to a treacherously rocky beach and the aforementioned left-hand break. Manu can be flat when Indicators is thumping, but when the swell tops six feet, a beast emerges in Manu that locals call the Ledge—a barrel section that has a penchant for snuffing all but the savviest riders.
No surf? No problem. Experienced boardsailors and kayakers launch from town's Te Kopua Beach and explore the inlets of Raglan Harbor. Raglan Backpackers Waterfront Lodge provides kayaks free to guests and rents them to others for $3 a day. (If you want to know anything—and we mean anything—about the local sports scene, ask Backpackers owner and lifelong surfer Jeremy Walton.) On land, the one sight not to miss is Bridal Veil Falls, a thin plume that, at 190 feet, is actually taller than Niagara. From the trailhead, 15 miles southeast of town along the road to Kawhia, it's a 10-minute walk through the bush to the top of the falls and 10 minutes more to the swimming hole at the bottom. Next, for unsurpassed views of the west coast's dormant volcanic peaks and estuaries, try the steep, three-hour climb up Mount Karioi; drive seven miles southwest from town along gravelly Whaanga Road and start hiking from the Te Toto Gorge parking lot.


Back in the 100-year-old village center, a walk along Bow Street, the palm-lined main drag, betrays Raglan's ongoing—and locally unpopular—transition from bohemian backwater to sizzling second-home market. Among the less dire effects of creeping gentrification are eateries such as the Tongue and Groove, a studiously hip dive with broken surfboards for tables, and Vinnie's, where Hawaiian transplant Colin Chung refuels spent surfers with such decidedly un-Kiwi fare as burritos and pizza. A final word of safe-surfing advice: New Zealanders use a roundabout system, where you sit back and let others take off after you've just had a good ride. If you ignore local etiquette, just be prepared to talk to a guy named Rock. You'll know who he is.



Getting Around:

For getting out to the breaks and side trips into the countryside, you'll need to rent a car at the airport in Auckland. A midsize from Budget (011-64-9-256-8448) will run you $56 per day.


Lodging:

The most convenient spot to bed down is Jeremy Walton's place, Raglan Backpackers Waterfront Lodge, a hybrid hostel with a communal courtyard and a harbor view ($9 per person per night; 64-7-825-0515). For more out-of-the-way (read "private") digs, Raglan Wagon Cabins (doubles, $16-$38; 64-7-825-8268) is a charming cluster of converted railroad cars set on a hillside pasture four miles south of town overlooking Manu Bay.
Gear:

Bring at least a three-millimeter wetsuit, reef booties, and a seven-foot board. For everything else, you can try Raglan Surf Co. (64-7-825-8988) — but expect premium prices.


Information:

Call the Raglan Information Centre (64-7-825-0556) for details on everything from house rentals to horseback riding to fishing charters.