Hook, Line, and Regulator
A compressed air pilgrimage to the Red Sea, where hobbyists become compulsives in the blink of a piscine eye.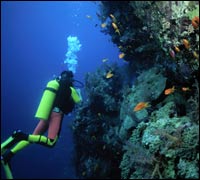 Heading out the door? Read this article on the new Outside+ app available now on iOS devices for members! Download the app.
The first time I visited Sharm El-Sheikh, the resort town near the southern tip of the Sinai Peninsula, I almost missed the point of the place. My ostensible purpose was to visit the nearby Monastery of St. Catherine, an exquisite, sixth-century Byzantine complex at the foot of Mount Sinai. St. Catherine's was great, spectacular even, but when I got back to Sharm, I was plunged into the usual resort inanity. "Sundown dancerobics on the beach with Kristal and Jeff!" read the poster in the lobby. Right. Where's the bar?


While I was studying the menu, trying to find a drink that didn't catch fire or involve fruit salad, I met a group of young Australians. They were drinking lager, and they were quiet, mellow, even decorous. They radiated a blissful quality that reminded me of the monks at St. Catherine's. I asked them what had brought them to Sharm.
"Diving, mate," said the biggest, blondest one.


"So, how is it?" I asked, trying to sound matey. "Pretty good?"


I might as well have stopped a New Yorker on Fifth Avenue to ask if there were any shops around. He turned to his buddies and said, "Wants to know how the diving is." With the good manners of most Aussies, they politely tried to conceal their scorn. Finally the big guy nodded and said evenly, "I reckon it's about the best. Where you come from, mate?"


"New York," I replied.


"Ah." He arched his snow-white eyebrows, comprehension flooding his tawny face.


Up to that point, my aquatic adventures had been pretty much confined to swimming slow laps at the city pool on Carmine Street. But now one beer led to another, and I tried to get the Australians to tell me more about diving. Ask most people about their sport and they will bore you for hours on end with elaborate replays of forgotten games and obscure rule variants, but all I could get out of these guys was dreamy stuff along the lines of "It's like . . . well, it's not like nothing else" and "You just gotta try it for yourself, mate."


The next morning, I borrowed a snorkel, mask, and fins from the hotel, waded out into the Red Sea, and within five minutes found myself peeping into the Aussies' world. It was a revelation, the baroque coral and swarming, glittering fish. But too soon I reached the drop-off and looked down into a deep, beckoning sapphire abyss. It was gorgeous. And unattainable. There might as well have been a little sign that said Divers Only.


For decades, the Red Sea has had a transformative effect on people: It's taken perfectly ordinary visitors and turned them into divers. And it's taken diving hobbyists and turned them into obsessives. An entire culture has bloomed in the Sinai around scuba, a beatific, chummy culture absolutely distinct from—and many fathoms calmer than—the beach scene. A culture from which I was excluded.


After I left Egypt, I often thought about learning to dive. But there was never a compelling reason until I received an invitation to return to the Red Sea. Immediately I resolved to become scuba certified, eventually completing my checkout dive in the Long Island Sound. There I got to see plenty of mud and tendril-like seaweed up close. With visibility of less than two feet, that was the only way to see it.


But this time spent amidst the murk paid off, because two weeks later I was back at the Red Sea—prepared, I hoped, to join the ranks of the brotherhood. Our dive group was setting up on a curved white-sand beach at Ras Muhammad National Park, 4,200 square miles of pristine shore land south of Sharm. As the sun seared us mercilessly, I sat on the tailgate of a Jeep, watching my diving buddy, Jessica, an airline executive, eye the equipment in front of us with consternation. My spirits began to flutter ever so slightly, until our instructor, Françoise, a lithe, deeply tanned 27-year-old Belgian, exhibited all the competent assurance that one could hope for.


Françoise's in fact was a rather typical Sharm story. Six years earlier she'd taken up diving in Belgian quarries and then visited the Red Sea on holiday. She'd never gone home, shucking a career in forestry to become a dive master.
Within the hour, we all understood why. The main reason, of course, was that Red Sea diving cheapens all superlatives. It's the K2 of scuba, the St. Andrews (and certainly divers can be every bit as fanatical as mountain climbers and golfers). Yet as Françoise pointed out, there's also a lot more here than just the sea. "When I get too bort with the resort," she said at one point, in her adorable accent, "I can go to ze desert and be alone." It's true: Only ten minutes from the pulsating nightlife of Sharm, you enter the cool, vast purity of the Sinai desert, with an infinite black sky, gleaming with stars, arching over eternal white sands. "But it's a leetle funny," Frangoise added. "I am a forester in a place wiz no trees."


After several last rounds of adjustments and instructions, our group finally is ready to submerge. The Red Sea coast has virtually every sort of dive terrain: walls, reefs, caves, and a few well-preserved wrecks. But at Ras Muhammad, wall diving is the thing. So off we waddle toward the water, carrying 60 awkward pounds of gear on our backs. A few young Italian swimmers and snorkelers regard us with becoming respect. About 40 yards out, the water finally becomes deep enough for us to snorkel the rest of the way. Soon we enter a shallow cove, its warm, crystal waters swarming with parrot fish, pale aquamarine beauties striped in yellow and pink; on the sea floor are fringed mollusks, snapping their jaws wide. Sixty yards from the shoreline, just beyond the protecting embrace of the cove, we come to the wall—an underwater cliff as steep and sheer as the ones in Road Runner cartoons. It drops away into an apparently bottomless chasm, blue and ever bluer as you look down. For a moment, I experience a mild wave of vertiginous doubt. But Jessica and Françoise have already begun their descents, and so I squeeze the air out of my buoyancy vest and slowly fall into the depths of the Red Sea.
The contrasts in the Sinai are astounding: ten minutes ago, we were on a barren plain, swept by hot winds; here, slipping slowly down this wall under the cool sea, we're surrounded by teeming life. Soft corals in all the radiant hues of a Degas pastel undulate sinuously, clustered around the overhangs and outcroppings of the cliff. When we descend to 70 feet below the surface, we see intricate, lacy gorgonian fans gently pulsing, with clouds of goldfish swarming through and around them.


Françoise will later tell us that the visibility was "lousy, no more than 15 meters," but at the moment it seems limitless to me, especially after my mud bath in the Long Island Sound. Neon-striped angelfish and butterfly fish circle around. At one point, Françoise points to the surface, where a lean barracuda swims between us and the brilliant sunlight rippling on the surface.


Before I earned my certification card and rented my first scuba tank, I never thought much about fish, unless they arrived on a plate with boiled potatoes. But now I am, I admit, entranced. Ten minutes after we descend, a school of about a hundred blue wrasses begins to swarm around us. One of them swims quite close and stares straight at me with a curious and unblinking eye: he's sizing me up as much as I'm marveling at him—a fish-eye view for both of us.


I run low on air long before the women, cutting the dive short. Françoise will later console me: "Oh, zat's OK, ze men always use it up faster zan ze women." But she's just being diplomatic. The real reason is that I've been thrashing around like a hooked bass. Ecstasy isn't always gainly.


There may come a day, and it may not be altogether distant, when experiences like this will be almost impossible. The stretch of Middle Eastern beachfront from Ras Muhammad east to Sharm and on up the coast to the hippie capital of Dahab is growing at a phenomenal rate. The infrastructure can barely keep pace. In some places, litter is heaped so high that progressive trip outfitters have begun organizing Egyptian beach cleanup tours.
And the development pressures are likely only to worsen. New resorts are planned for almost every acre of empty sand remaining. As we drive back through the huge, dun-colored expanse of Ras Muhammad, Françoise stops at park headquarters and introduces us to one of the rangers, a burly, bearded fellow named Nabil el Dafrawy. "They are planning to develop the whole coastline," Nabil tells us. "They're already calling it the Egyptian Riviera," he adds with a sneer. But then he draws himself up and looks over at us almost arrogantly. "I'm not worried about our beach, though," he says. "Not yet. We still have an iron grip on Ras Muhammad." We nod at him encouragingly. I hope he's not being overly sanguine. Certainly I wish him well.


We drive off, the dirt road paralleling a small mangrove swamp. Suddenly Jessica calls for the driver to stop and whips out her binoculars. A pair of reef herons is high-stepping delicately through the shallow water. As bleak as the landscape appears to be here at first, the more you look the more life you see. Heartened, we watch for a moment, and then we leave the park behind.


When first learning the sport, you're told that you shouldn't drink after diving, but that seems to be a rule seldom followed by the divers I've met. Back in Sharm, for example, Jessica and I venture to a bar overlooking the bay and order a couple of G&T's as a spectacular scarlet sunset ignites the blue velvet sky. When the G begins to kick in, I notice that Jessica's face is glowing with the same blissed-out expression I saw on the Aussie divers I met on my last trip. I suspect I wear that look on my face, too.


Just then the lounge singer launches into a very special medley of "Killing Me Softly" and "You Are the Sunshine of my Life," reminding us that, yes, we are once again at a real resort. So we do the only sensible thing: We order a second round and start planning our next dive.