Rock and Roll
Heading the Call of Oregon's Clatsop Spit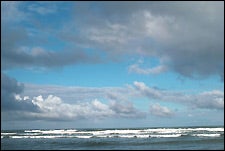 Heading out the door? Read this article on the new Outside+ app available now on iOS devices for members! Download the app.
The point in Oregon where the mighty Columbia River meets the great Pacific Ocean bears the surprisingly unarresting name of Clatsop Spit. The spit doesn't look like much—yawning acres of storm-blasted dunes facing far more dramatic Cape Disappointment on the Washington side of the river. From the observation deck of Fort Stevens State Park, your eye is drawn to the six-mile-long rock jetty, to smashing surf dotted by seals, and to mammoth container ships gliding gingerly over the treacherous Columbia Bar.


During my first few trips here, I didn't linger at Clatsop Spit. But something kept calling me back. I wanted to walk out to the extreme tip of land where, in Raymond Carver's phrase, water comes together with other water.
On a recent raw fall day I returned to complete the pilgrimage, following a faint trail in the lee of the jetty. Waves thundered and spurts of seawater kicked up over the boulders. As I waded across an icy ankle-deep estuary to reach the headlands, huge clouds piled in an operatic sky. Perfect Northwest weather, in other words, and I moved briskly toward the point. Or what seems to be the point: a navigational marker a mile off, from which I hoped to be able to resolve all conflicting elements—river and ocean, Washington and Oregon, sky and water, bridge and town.


When I reached the marker, however, it offered no such clarity. Nothing heralds the spot where river stops and ocean starts, where one state ends and another begins. The beach keeps curving. Undemarcated, the waters roil grayly together at Clatsop Spit.


To make your own peregrination, start at Fort Stevens State Park, takeoff point of the 46-mile Oregon Coast hiking trail, which shoots south past Haystack Rock and other marquee beach attractions. The park offers a range of camping options, from hike-in sites for $4.25 to five-person canvas yurts (with heat, electricity, and water) for $29; call 800-452-5687. Ten miles east on U.S. 101 in the fishing-cum-quaint-tourist town of Astoria, soak up local lore at the extensive Columbia River Maritime Museum (503-325-2323).