Adventure Video of the Week: 'Huck'
Heading out the door? Read this article on the new Outside+ app available now on iOS devices for members! Download the app.
To capture kayaker Evan Garcia dropping 70 feet off Outlet Falls, filmmaker Andy Maser and two friends set up four cameras for a day of shooting near White Salmon, Washington. The crew used a RED Scarlet, two Canon 7Ds, and a Go Pro to get the action shots they needed, but Maser was after more than simple paddle porn.  
"In the last 10 years, running big waterfalls has steadily consumed the public image of whitewater kayaking. Too frequently the highly skilled athletes that routinely paddle huge waterfalls safely are brushed off as crazy and reckless by those outside of the sport. At the same time, self-produced athlete media is dominated by partying and drunk-human-tricks," says Maser. "The goal of Huck was to strip all of that away and show the true essence of what it takes to paddle off of 70-plus-foot waterfalls on a regular basis."
In the 23-year-old Garcia, Maser knew he had the perfect character.
"Evan Garcia has really become the face of big waterfall kayaking. He is incredibly talented and constantly pushes himself and the sport of whitewater kayaking to new levels," says the filmmaker. "At the same time, he plays a role in perpetuating the image of waterfall kayaking as a drunken huckfest. I've known Evan for years and know from experience the thought and critical analysis that he puts into each waterfall, which is what I hoped would be the takeaway from Huck."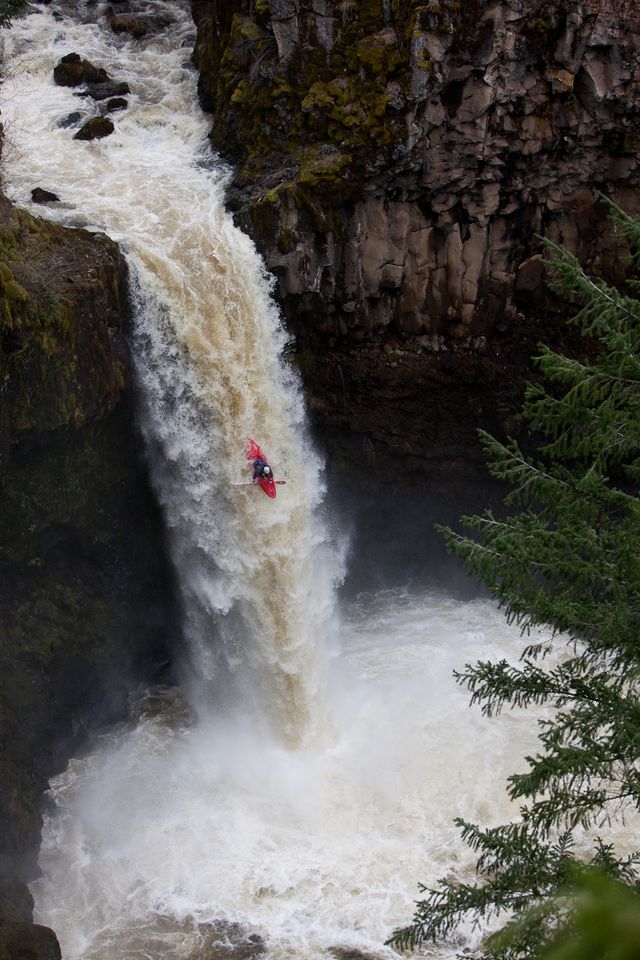 Kayaker and filmmaker Fred Norquist at Outlet Falls. Photo: Andy Maser
Garcia is sponsored by liquidlogic Kayaks, stars in a series of huck-glorifying videos for Bomb Flow, and regularly shows a more thoughtful side by chronicling his emotions and motivations on a blog called EGCREEKIN. He openly wrestles with the dangers of paddling off large waterfalls and the overwhelming commitment needed to pull off a career as a kayaker. Take, for example, this excerpt from a recent post called "Reasons:"
Kayaking has taken me to some wild places and confronted me with many challenges. What I've began to realize is more of those obstacles are off the river, not on. I love kayaking far to much to consider a hard rapid or a tiring portage a challenge. That's my life and what I dream about all day, so it's not a task, rather an opportunity. The challenges come in when I mix my insanely powerful passion for the sport into my everyday life with the outside world. Interacting with people who don't have a clue what I do or don't give a rats ass about it, can make simple things difficult. I have been so intertwined in the kayak world and lifestyle for so long now that when I step out, I am challenged to be a happy and positive person.
What does this mean? … Leave planet earth and go to Boofenland? I wish, but that's not an option. None of us are making much money in the sport. The longer I commit to being a whitewater athlete, the less time I have to start a career or find a real job. This is where I have to gather my feelings and make choices that will not only benefit me in the present moment, but also the future.
Right now, Garcia has chosen to continue to push the limits of whitewater kayaking. Maser, once a dedicated expedition kayaker himself, chose a different path in the not so distant past. He took up video and recently lined up projects from National Geographic, PBS, and several outdoor brands.
"Unfortunately, I rarely go on an expedition unless it's to shoot a film or TV show anymore," he says. "But fortunately, all of the projects that I shoot are adventures I would love to take regardless of whether or not I had a camera."
H/T: Kyle Dickman
—Joe Spring
@joespring
facebook.com/joespring.1
Trending on Outside Online