Caroline Queen Is America's Next Great Kayaker
Can Caroline Queen win a gold medal at the 2012 Olympics?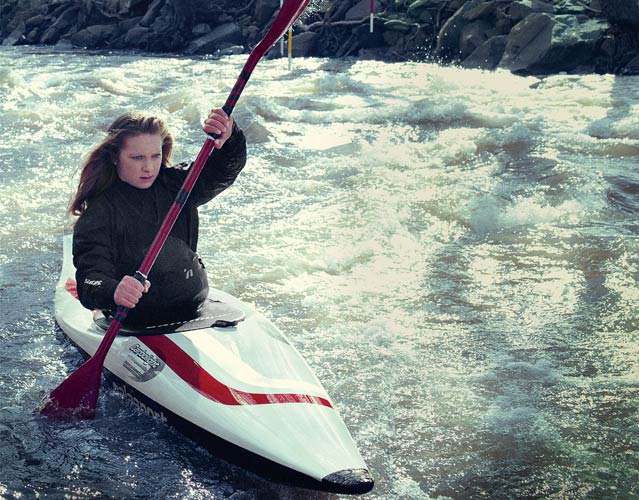 Heading out the door? Read this article on the new Outside+ app available now on iOS devices for members! Download the app.
In a sport now measured mostly by the ever increasing height of waterfalls run by young men, kayaker Caroline Queen is after a different extreme: speed. The Darnestown, Maryland, native has been one of America's top Olympic slalom prospects since she was discovered at a local kayaking camp at age ten. At 15, she became the youngest member of the U.S. Canoe and Kayak Team. Now 20 and still the women's team's youngest member, Queen has perhaps the best shot at winning America's first Olympic gold medal in her discipline, which is traditionally dominated by Eastern Europeans. She spoke with MADISON KAHN about slalom, freestyle, and her prospects this summer.
OUTSIDE: Freestyle and slalom almost seem like separate sports. What's the difference?
QUEEN: We're all trying to push the limits, but in slalom we're pushing the limits of time—to be faster but stay in the lines. Freestyle is all about breaking down those lines.
What about the idea that freestyle will push slalom out of the Olympics?
I've heard rumors, but I doubt it will happen. Maybe freestyle has caught the attention of the media, but lately I've seen more freestyle athletes discover slalom and drop their extreme gig. The opposite used to happen.
Why are the Europeans so good?
They have a well-organized federation and the perks of government funding, which we don't have. They can combine slalom training with police or army service and actually earn a living by kayaking.
What makes you think you can beat the Euros?
I'm fearless in the water. The London course is large and intimidates a lot of women, but not me. Most of the American courses where I train are just as large, if not larger.
The last American to win any medal in kayaking was Rebecca Giddens, who took home silver in 2004. Do you feel like you're under pressure to win?
I was 14 when someone told me I was the next Rebecca Giddens. I hadn't even made the team yet, and I was already having to deal with the expectations. I don't feel pressure, though; I see it as more of a responsibility.