Athlete Playlist: Surfer Garrett McNamara
Last November, Garrett McNamara caught what may be the tallest wave ever surfed. Here are the songs he listens to before his biggest rides.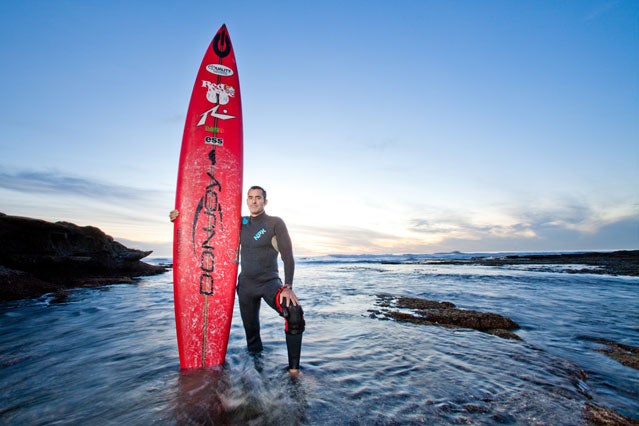 Heading out the door? Read this article on the new Outside+ app available now on iOS devices for members! Download the app.
Garrett McNamara wasn't even going to surf the day he caught the most talked-about wave of the year at Portugal's Nazare Canyon. "It wasn't supposed to be that big," McNamara says. But after being coaxed into it by fellow surfers Al Mennie and Andrew Cotton, the 44-year-old Hawaiian strapped on his board and towed into a monster that observers on shore estimated to be about 90 feet. Some riders have since questioned whether the wave was really that tall, but if the figure stands, it will be a new world record, and could net McNamara the $50,000 prize for ride of the year at the Billabong XXL big wave awards. To prep for giant swells, McNamara visualizes his possible rides over and over again while listening to music. Here's what he'll be playing in his iPod as he prepares for his return to Portugal. "There's more big waves there than anywhere in the world that I've found so far," he says. "We're talking 60 feet and over, all winter long."


Around the World by Daft Punk
I use that to focus, any time I want to shut the world out. I listened to it probably a million times when I was in Portugal. I was listening to it for a totally different wave that we haven't documented yet, that we're going to ride. I've seen it break, I know exactly what I'm going to do on it. I just visualize while I'm listening to that song.
Necta (Butterfly) by Sashamon
He's just this little Kauai boy who cruises and strums around. All of a sudden, he went to a few parties on the North Shore, and he became a hit overnight. A bunch of guys used him in their surf movies. It still brings me back to Hawaii.
Banana Pancakes by Jack Johnson
He's a friend—we grew up together, we used to have a holiday party at his house every year—so I overlook it sometimes. But I love his music. He's a mellow, low-key, reserved kind of guy. We surfed together all the time; I may have had a heat with him at Pipeline. He got hurt at Pipe, that's kind of when he threw in the towel.
Are You Experienced? by Jimi Hendrix
I got into [classic rock] for about a year. From then on, I was never really full-on, but whenever it comes on, I'm like "Yeah!" Cause classic rock will never die.
Till I Collapse by Eminem (feat. Nate Dogg)
I love working out to Eminem. If I go to the gym and I put the headphones on, I'm going to go a hundred and ten percent until I leave. It's kind of controversial, but I like it.
Download the full, uncut playlist on iTunes.