Bethany Hamilton Is What Unstoppable Looks Like
The surfer lost her arm to a shark 15 years ago. If you think that's slowed her down, you don't know her story.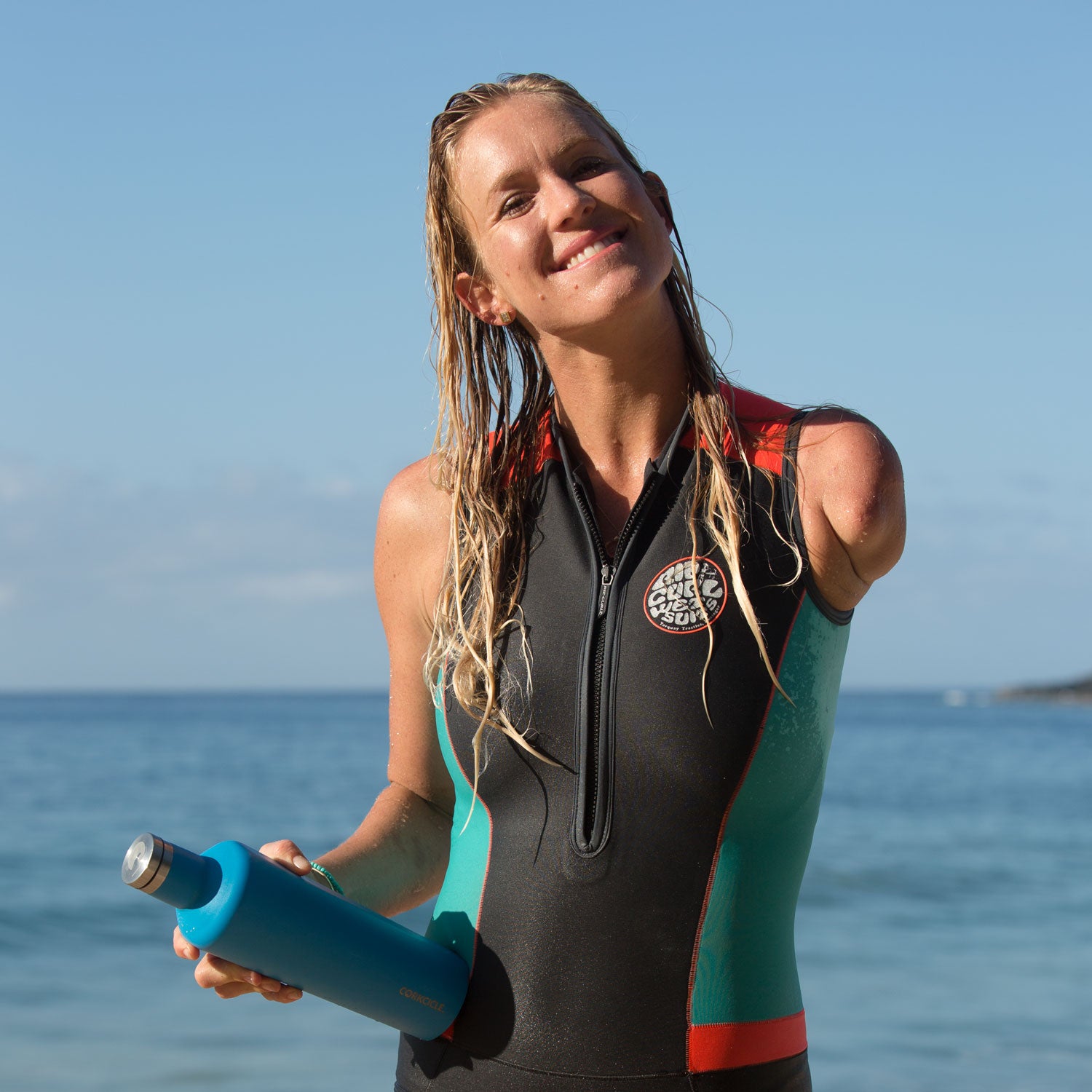 Mike Coots
Heading out the door? Read this article on the new Outside+ app available now on iOS devices for members! Download the app.
Words matter, and they especially matter when you're writing about Bethany Hamilton. The world knows the story of how a marauding tiger shark changed the course of Hamilton's life in 2003, taking her left arm while she was surfing on Kauai's north shore. She was 13 years old, a wildly talented grommette with her eye on a professional surfing career. Descriptions of that encounter invariably use words like victim and tragedy, but in the aftermath, Hamilton has served notice that neither label applies.
Even as the media referred to her as "shark-bite girl" and tried to categorize her as a disabled athlete, Hamilton, now 28, has never thought of herself in those terms. "At that time in my life, being so young and resilient, and a charger at whatever came my way, the loss of my arm felt like a speed bump," she says. "A little hurdle to go over."
That doesn't mean the experience was easy. The next time you're tempted to indulge in a spell of whining, consider the following: Hamilton lost 60 percent of the blood in her body that day. Less than a month later, stitches barely out, she was back in the ocean relearning how to surf. (She kicks her legs to counterbalance paddling with one arm, and her father rigged a handle on her board so she can duck-dive.) Two months after that, she returned to competition. She won a national championship in 2005, and turned pro in 2007.
Over the past five years, Hamilton got married; finished third on the television show The Amazing Race with her husband, Adam Dirks, a youth minister she met in 2012; won a women's pro event at Oahu's Pipeline, an ­infamous wave that has killed at least 11 people; and got barreled at Teahupoo, a Tahitian break even more treacherous than Pipeline. In 2014, she flew to Bali to practice her aerial surfing skills at Padang Padang—a fast snapper of a wave where she fell many times, occasionally coming up bloodied—and ultimately landed a frontside air-reverse 360, which she calls "the gnarliest thing I've ever done." Not for long, perhaps: Hamilton and Dirks's first son, ­Tobias, arrived in June 2015. Their second, Wesley, followed in March 2018.
Hamilton's run of accomplishments is chronicled in the new documentary Unstoppable, out this fall. Between footage of her triumphs, the film includes smaller moments from everyday life: breastfeeding Tobias after competition heats, surfing breaks near her home in Kauai, pumping iron while eight months pregnant with Wesley.
The film also reveals what really sets Hamilton apart: her titanium core. She cross-trains up to five hours a day, a mix of surfing, swimming, HIIT gym workouts, trampoline sessions, Pilates, beach sprinting, and underwater running while carrying a heavy rock. Maybe this tenacity comes from her devout Christian faith, or maybe it's learned and hard-won, but the documentary makes clear that Hamilton is a driven competitor, unafraid of pain, no stranger to setting and achieving the most outlandish goals.
It would be unreasonable not to allow her some lingering fears. She's respectful of sharks but not enamored of them. If Hamilton has any obstacle it's frustration, the disappointment when she falls short of her own zenith.
"Being so young and resilient, and a charger at whatever came my way, the loss of my arm felt like a speed bump," Hamilton says. "A little hurdle to go over."
In 2016, seven months after giving birth to Tobias, Hamilton spotted a big swell on the weather maps and island-hopped over to Maui in pursuit of one of the world's most formidable waves: Jaws. She was towed into and rode a 40-footer. Then she decided to raise the degree of difficulty by actually paddling into a giant wave. Her first few attempts resulted in memorable wipeouts, but she returned to the lineup and got one of the day's best rides. Hamilton laughs as she describes it: "Probably one of the scariest sessions of my entire life, and it was soooo fun at the same time—like this weird, crazy, fun sort of thing."
Tobias hadn't even reached his first birthday when he and his parents landed in Fiji, where Hamilton had been chosen as the wildcard entry at the World Surfing League's elite Fiji Pro event. Few of the sports cognoscenti expected her to place. En route to taking third, Hamilton defeated six-time world champion Stephanie Gilmore and the top competitor on the women's pro tour, Tyler Wright. "This really isn't supposed to be happening," Sports Illustrated wrote on its website.
After Hamilton's Fiji performance, surf icon Kelly Slater declared himself "ridiculously impressed." Meanwhile, big-wave legend Laird Hamilton (no relation) says: "She's a surfer at the core, and her desire and love for the sport has allowed her to do some stuff that even surfers who have all their limbs can't do."
Even with two toddlers, Hamilton is not slowing down. "I want to push my aerial surfing," she says. "That's the area that feels compelling and exciting to me." She and Dirks recently published a children's book, Unstoppable Me. Next she's launching a lifestyle app for young women, with fitness, nutrition, and other advice tucked in among tenets of her Christian beliefs. America's industrial food system, she says, has wreaked havoc on our well-being: "We need to recognize what we're doing to ourselves, and the earth, with food."
Bethany Hamilton, nutritionist? Local-food activist? Children's-book author? App developer?
"It's almost like I need a challenge," Hamilton says, giggling at the understatement. With that she hits on one of the reasons people are so moved by her story. We all need a challenge now and then, but those among us who face the most daunting ones with grace and grit we call heroic. In the Bethany Hamilton lexicon, that's a word that fits perfectly.