Big Country
Traveling to Canada no longer comes with a discount, but our neighbor still has eight times as much wilderness as we do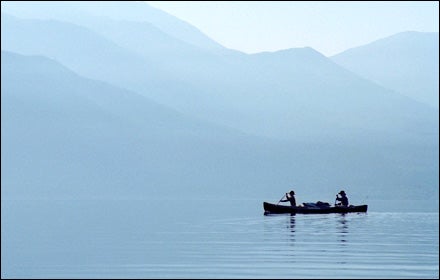 Heading out the door? Read this article on the new Outside+ app available now on iOS devices for members! Download the app.
Lake-Lodge Idyll

CHILKO LAKE, BRITISH COLUMBIA
Surrounded by 12,000-foot glaciated peaks, 55-mile-long Chilko Lake is British Columbia's version of Tahoe. The one difference: There's not a single condo spoiling Chilko's shores. Last fall, the Tsilhqot'in First Nations group won title to 1,200 square miles of surrounding wilderness, all but ensuring that development will be held at bay.Have the place to yourself at the Lodge at Chilko Lake ($300* per person per night; chilkolake.com), a remote fly-in retreat that opened last summer. The timber-frame complex has an airy, earthy feel, with vaulted ceilings, plate-glass windows facing the lake, and a sprawling front deck for lounging. It's a perfect place to unwind after catching 25-inch rainbows on the Chilko River, just out the back door; heli-hiking the high peaks of the Coast Mountains, three miles away; or rafting the Chilko's 20-mile-long Lava Canyon. The gorge contains the longest stretch of commercially navigable Class IV whitewater in North America. The easiest way to reach the lodge is via an hourlong bush-plane flight from Vancouver ($700 per person, round-trip); the lodge coordinates flights every Thursday and Sunday. In September, Nelson-based outfitter ROAM offers an eight-day rafting and kayaking adventure based at the lodge ($2,000; iroamtheworld.com) to coincide with the annual salmon run, which draws some two million sockeye to the headwaters of the Chilko River—not to mention dozens of grizzlies and bald eagles by the hundreds.
Hut-to-Hut Traverse
Banff National Park, Alberta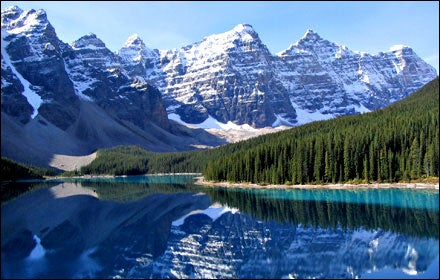 In winter, ski mountaineers descend on the Wapta Icefield, a series of glaciated ridges and peaks that spans a large portion of the Continental Divide in Banff National Park. But summer is prime time here: In July, temperatures hover in the mid-seventies and it's light until 11 p.m.Take advantage by trading skis for crampons on a hut-to-hut glacier traverse along moraines, lakes, and the high-alpine cirques of the Northern Rockies. Yamnuska Mountain Adventures' three-day trip ($785 per person, July–September; canadianrockieshiking.com) makes for a great introduction to technical ice travel, with just enough creature comforts. Nights are spent in the Bow and Peyto huts, mountaineer shelters with fully equipped kitchens (just bring a sleeping bag—your guides will do the cooking) and views of the 10,000-foot peaks fanning out in all directions.
Canoe Tripping
Temagami, Ontario
The Half-Baked Plan
Calgary Stampede, July 4–13
Arrive ($400;
united.com
). Ten-gallon white hat ($60;
realcowboys.com
). Watch chuck-wagon race, ladies' barrel racing, steer wrestling (event tickets from $23;
cs.calgarystampede.com
). Avoid miniature-donkey showcase. Sleep ($190; Stampeder Inn, 403-243-5531).
As canoe regions go, Ontario's Quetico Provincial Park and its American neighbor, Boundary Waters, get all the love—and most of the hordes. Skip the mob scene and head to Temagami, a 925-square-mile expanse of interconnected lakes and rivers on the Canadian Shield that, despite being just five hours north of Toronto, feels much more remote. The region's paddling tradition dates back thousands of years, to the Temagami First Nations people, who plied the waters in birch-bark canoes. These days, Temagami Clearwater Expeditions outfits its private trips with wood-and-canvas boats, introduced by Hudson Bay traders in the early 20th century. A five-day, 100-mile trip ($545; camptemagami.com) takes guests north via floatplane from Clearwater's Lake Temagami headquarters to a put-in at Florence Lake, in Lady Evelyn–Smoothwater Provincial Park. From there, descend the Lady Evelyn River—if you don't want to paddle the Class II rapids, there are plenty of well-marked portages. In backcountry this big, you'll see plenty of wildlife and few other people. Wake up early to spot moose along the banks, and factor in extra time for climbing 2,106-foot Maple Mountain and cooling off in swimming holes. Clearwater's home base hosts a children's camp until August 1, but you can choose your own dates throughout August.
Expedition Cruise
Torngat Mountain National Park Reserve, Labrador
The Lookout
Here's hoping U.S. Secretary of the Interior Dirk Kempthorne keeps up with Canadian news. While the DOI tries to squeeze more snowmobiles into our national parks—and more oil out of BLM–run wildernesses—our northern neighbors keep expanding their parks system. In April the government announced the latest, 2,934-square-mile Naats'ihch'oh National Park Reserve, near the Mackenzie Mountains in the Northwest Territories.

With their otherworldly terrain, rampant wildlife, and end-of-the-earth location—the only way in is by sea or air—Labrador's Torngat Mountains are Canada's version of Patagonia. And thanks to a harp seal resurgence, Torngat, named a national park in 2005, is also home to one of the highest concentrations of polar bears in the eastern Arctic. "To use an old Labrador expression, it's maggoty with polar bears," says Canadian explorer Jerry Kobalenko, who sea-kayaked the length of the park in 2006. Explore the park aboard the small ship Lyubov Orlova with Cruise North Expeditions (from $4,000, including return airfare from Kuujjuaq, June 22–July 3; cruisenorthexpeditions.com) or with Adventure Canada (from $2,960, September 24–October 4; adventurecanada.com). From the capital of St. John's, Inuit-owned Cruise North follows the ragged Labrador coastline, stopping at historic Viking sites before entering the true wilderness of Inuit waters, while Adventure Canada's Ghost Coast voyage tackles the route in reverse, traveling south from Iqaluit. Sea ice, polar bears (130 at last count), humpback whales, and seals are plentiful along the Torngat coast, and daily forays via Zodiac give you a front-row view of the action.
Deluxe Mountain Biking
British Columbia
Freeriding Vancouver's North Shore? That's so 2002. This year it's all about the singletrack, and the best way to pay homage is by signing on to Sacred Rides' new 11-day epic from Calgary to Vancouver ($4,500; September 6–16; sacredrides.com). From cushy backcountry outposts, visitors tackle B.C.'s most coveted rides, including the seven-mile Roots and Roots Extension, near Island Lake Lodge, in Fernie; a private trail network out the back door at Baldface Lodge; buff alpine singletrack near Revelstoke's Glacier House; and 18 miles of tight, twisty, just-made trails around Shuswap Lake, in Okanagan. The perfect post-ride perk: a real-deal sweat-lodge ceremony at the Quaaout Lodge, a First Nations property on Shuswap's shores. But the highlight comes on day ten, when a floatplane picks you up at the dock of Tyax Resort, on Tyaughton Lake. After buzzing the Chilcotin Mountains, north of Whistler, the pilot drops you off at Spruce Lake for a silky five-hour descent through alpine meadows back to the lodge. You'll understand why it's one of the most sought-after rides in Canada.
City Cycle
Quebec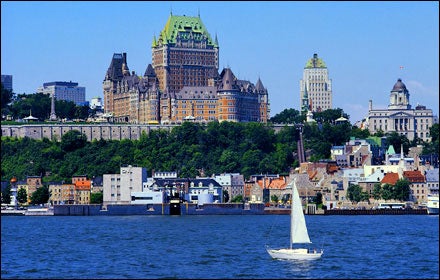 You could spend all summer prowling the Canadian wilderness, but you'd still need a little culture. Good thing there's Quebec, the closest you can get to Europe without leaving the continent. This summer, cycling pioneer Butterfield & Robinson launches a six-day spin from Montreal to Quebec City ($5,500, July 13–18 and September 7–12; butterfield.com). After pedaling the Latin Quarter and Mount Royal—Montreal's hippest districts, home to boho cafes and wine bars—you'll hit the rolling, farmy Eastern Townships. The scenery may be more New England than New France, but the cuisine is straight out of Provence. "There are artisanal cheesemakers, vineyards, and orchards everywhere," says Stephanie Thompson, a Montreal resident who scouted the trip for B&R. Feast on raw-milk cheeses and local wild mushrooms at the Hovey Manor, a swank outpost on the shores of Lake Massawippi. From there, head west along the St. Lawrence River to the outskirts of Quebec City, just in time for the capital's 400th anniversary. After a ferry deposits you in the cobblestoned old port, you'll want to indulge in the city's summerlong birthday bash. But don't go too crazy: The next and final day, you'll ride a taxing 60K circuit past former shipyards on the Île d'Orleans.
Coastal Trek
Bay of Fundy, New Brunswick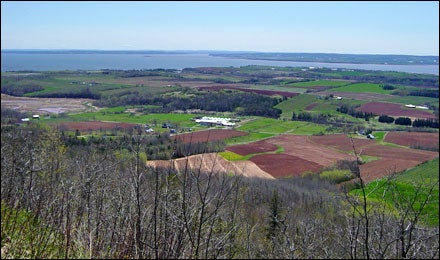 If Canada's Atlantic Provinces are the new New England, then the Fundy Footpath is the new (and abbreviated) Appalachian Trail. The 14-year-old, 24-mile wilderness route traverses one of North America's last undeveloped stretches of Atlantic coastline, following the Bay of Fundy north of Saint John from the Big Salmon River to Fundy National Park. The bay is best known for having the world's highest tides—up to 48 feet—so a chart is required reading on this five-day trek. After hugging the cobbly expanses of Long and Seely beaches, the trail climbs 1,000-foot coastal bluffs, descends ravines, and crosses the Goose River. At Little Salmon River, take a four-hour side hike through Eye of the Needle, a narrow canyon enclosed by 200-foot cliffs, to the 300-foot cascade of Walton Glen Falls. There are eight campsites en route, but most of the trail's hikers sleep on the beaches. Above the tide line. Trail maps and free permits are available at the Fundy Trail Interpretive Centre (fundytrailparkway.com), at Big Salmon River, a 45-minute drive north from Saint John. River Valley Adventures (rivervalleyadventures.com) will shuttle your car from Fundy National Park back to the Big Salmon for $150.
The Canadian Dollar: Hey, At Least It's Not the Euro
With the U.S. dollar in the tank, Americans can no longer rely on cheap Canadian ski trips, shopping sprees, or bar tabs—at press time, the exchange rate hovered at 1.01 Canadian loonies to the greenback. As the rate has fallen, so has tourism to our northern neighbor: Visits to Canada dropped 14 percent in 2007, mostly among day-trippers. But U.S. visitors to Italy, France, and Spain increased in 2007, even as the dollar fell from 0.76 euros?to 0.69 euros—and at press time, you got 0.64 euros for your buck. Compared with that, Canada's a steal. Consider the trips mentioned in this article. Last July, that mountain-bike tour of B.C. would have cost $229 less than it does now. The Wapta Icefield traverse? You'd have saved $41 by going last July. Buy some Canadian bacon instead of wild salmon in Alberta, or guzzle Molson instead of your favorite microbrew in Vancouver. Recession's no fun, but it's no reason to stay home—unless you're stuck on Europe.