Blind Kayaker Erik Weihenmayer's Quest to Run the Grand
The world's most accomplished blind adventurer has jumped out of airplanes, mountain-biked Leadville, and summited Everest. But nothing has proven to be as challenging as his current goal: to solo-kayak the Grand Canyon.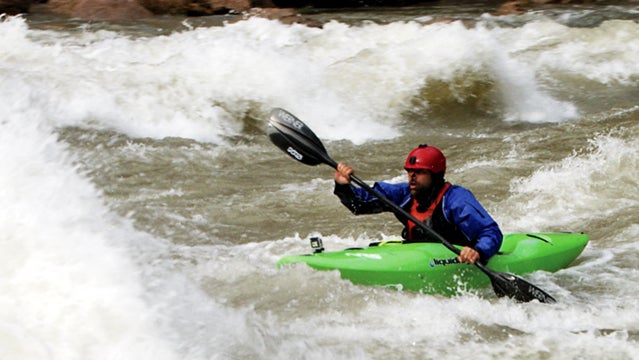 Jeremy M. Lange (2)
Heading out the door? Read this article on the new Outside+ app available now on iOS devices for members! Download the app.
IT WAS AS IF the whirlpools could think—materializing out of the muddy brown water at exactly the right moment to attack the expedition's most vulnerable member. it was January 2012, and Erik Weihenmayer and Rob Raker were paddling the swirling Usumacinta River between Guatemala and the Mexican state of Chiapas. Howler monkeys roared, and brightly colored birds chittered. Weihenmayer could hear the beauty around him, including a waterfall crashing in the distance, but couldn't appreciate it. The river's enormous flow created traveling whirlpools, eight to ten feet wide, that would appear out of nowhere, swallow boats, disappear, and then reappear farther downriver. A sighted person like Raker, an adventure filmmaker and longtime friend of Weihenmayer's, could see them forming, paddle hard to the right or left, and avoid them. But they ate Weihenmayer, who has been completely blind since the age of 14, for dinner.
"I'm paddling along, and all of a sudden I feel the river boil beneath me," Weihenmayer, 44, says. "I can hear Rob ten feet behind me screaming, 'Paddle! Paddle harder!' And I'm paddling for my life. I'm completely hyperventilating, in a total panic because I know what's coming. The river is going to yank my bow, flip me, and suck me out of the cockpit. The first time, I was lucky enough to grab onto a safety boat. But next time, who knows? When I get sucked into a whirlpool, I'm not like other people. I can't see the light. I don't know which way is up."
The Usu was flowing at nearly 100,000 cubic feet per second—seven times bigger than the Colorado River normally runs. On paper it was exactly the kind of high-stakes paddling Weihenmayer was seeking. After four years of training, he wanted to become the first blind person to kayak down the Grand Canyon—a 226-mile stretch that includes a half-dozen or so thumping Class IV rapids.
But the Usu was, in fact, fiercer, meaner, and more treacherous than Weihenmayer and his team of seven paddlers expected. He got sucked into several whirlpools, swam dozens of times, and generally found it more terrifying than anything he'd ever attempted. Which is saying a lot, if you know anything about Weihenmayer.
He has spent the better part of his life doing things most people—sighted or not—would never consider, like hiking through Pakistan and Tajikistan with his dad before the age of 20. In high school he took up rock climbing, which led to ice climbing, which led, in 1995, to successfully summiting Alaska's 20,320-foot Denali. In 2001, he stood triumphant on the covers of both Outside and Time after climbing Mount Everest, peak number five in a successful Seven Summits bid.
For Weihenmayer, a good day might include skydiving, scuba diving, or skiing, while a good few days have included run-hike-rappeling the 457-mile Primal Quest adventure race and mountain-biking the Leadville 100. And lest you think he's all adrenaline and no emotion, after every adventure he goes home, kisses his wife, Ellen, and helps care for his children, Emma, 12, and Arjun, 10.
Add to Weihenmayer's résumé lucrative speaking engagements, a charity that helps former soldiers and others with disabilities challenge themselves through outdoor adventure, and a book, Touch the Top of the World, that has sold more than 600,000 copies. But none of these, according to Weihenmayer, come close to kayaking blind, which he likens to "sitting in a rocket-shaped vessel with your eyes closed while riding an avalanche." Even that description may need revising, because he said it before he paddled the Usu.
SIX MONTHS LATER, on the first of May, I meet Weihenmayer for breakfast at a Courtyard Marriott in Charlotte, North Carolina. We're in Charlotte because this is where he has come to attempt to move past the trauma he experienced on the Usu. Not far from here is the U.S. National Whitewater Center, a $38 million outdoor-adventure playground that includes ropes courses, ziplines, and, at its heart, the largest man-made circulating river in the world. Six enormous pumps spray 536,000 gallons of water into two carefully designed, cement-bottom channels.
The rapids range in difficulty from relatively easy Class I–II on the Instruction Channel to bigger, wilder Class II–IV rapids on the Competition Channel. The 400-acre center attracts everyone from school groups to Army platoons to hardcore kayakers, in part because it's the perfect place for boaters to progress from beginner to advanced. If you flip and can't self-rescue, it's likely you will end up in an eddy. Plus, there are "river guards" standing by to throw you a rope.
Before the Usu trip, Weihenmayer's whitewater skills were pretty solid; he could reliably right himself if he flipped upside down, even in the middle of a rapid—what's known as a combat roll. But for months after the Usu, he didn't go near his boat. "The weird thing about Mexico is that Erik thinks he got beat up when he really didn't," says Raker, who has spent the past five years teaching Weihenmayer how to kayak. "Yes, he got sucked into a few whirlpools, but he was never in danger of dying. His fear was getting to him in a way that I hadn't seen in the ten years I've known him."
The first two days at the Whitewater Center were rough. On the easiest channel, Weihenmayer would lose his balance, flip, immediately try a few panicky rolls, and then pull his skirt and wet-exit—a beginner move he hadn't resorted to in months. Paddling alongside him, Raker could barely contain his dismay. "I was like, dude, you can hold your breath for a lot longer than three seconds," Raker says. "But he was freaked to the point of thinking he'd never paddle again."
"For me," Weihenmayer says, "every element of boating, from getting the right ferry angle when entering the river to staying upright when my bow hooks into an eddy, is about controlling my fear and being OK with chaos. In some ways I like this. But when a mistake happens—when I miss an eddy or Rob gets too far in front of me and can't paddle back—things can go downhill very quickly."
On the water, Raker tries to stay within shouting distance of Weihenmayer at all times, rogue wave trains and surprise keeper holes permitting. Bellowing over the crashing water, he shouts "Small right!" or "Small left!" for 15-degree turns, "Right!" or "Left!" for 45-degree turns, and "Hard right!" or "Hard left!" for 90-degree turns as the two careen toward various obstacles. Most of the time this works. But on those occasions when Raker's voice gets lost in the cacophony, the scenario that keeps Weihenmayer up at night becomes terrifyingly real.
"I dream about crashing into rocks," Weihenmayer says. "Rob's yelling at me, and I'm not hearing what he's saying. In my dream I'm totally hyperventilating. When I wake up my hands are sweating."
I see a small example of what causes these dreams when Raker and Weihenmayer take on Entrance Exam, a Class II rapid in the Instruction Channel. Crowds of rafters mill around, oblivious that the guy in the cobalt boat bobbing unsteadily in an eddy is about to attempt to navigate the rapids below entirely by sound.
Standing alongside the channel, I can barely hear Raker over the crashing waves, but I make out, "Two hard strokes to the right, line yourself up, and punch it down the middle!" Clearly nervous, Weihenmayer shudders. Then he pushes into the current.
And damn if for a few short seconds he doesn't look like a whitewater kayaker. His face seems relaxed, and his shoulders are square to the fall line. He follows Raker's direction, stroking hard into the gut of the rapid, but when the waves obscure Raker's voice Weihenmayer panics. In a trough between two whitecaps, he stalls, turns broadside, and flips. Ten, fifteen seconds pass as he attempts to right himself, with Raker hovering nearby. After three aborted rolls, he pulls his skirt and swims, his boat and paddle jettisoning off in different directions.
The unpredictable nature of whitewater also upsets Weihenmayer's equilibrium, which makes him feel queasy. I only know this because I overhear him discreetly telling Raker about it. Feeling like he could puke at any moment is just one of the challenges Weihenmayer faces in his quest to kayak the Grand Canyon. Though he had initially hoped to attempt it this past spring, the new goal is the fall of 2014. Settling upon a foolproof on-water communication system has proven frustratingly difficult. And there's one other big hurdle: Raker's health.
In 2010, Raker, an accomplished outdoor athlete, was diagnosed with a rare form of prostate cancer, the treatment for which slows the disease but doesn't cure it. The treatment is called androgen-deprivation therapy, a.k.a. chemical castration, and it robs the body of every last molecule of testosterone, causing fatigue, weight gain, and loss of muscle and mental clarity. Like other cancer treatments, ADT can be worse than the disease—and, for the time being, Raker has decided it's too hideous to continue. He does say, however, that he will start ADT therapy again in November. His hope is that by doing so, he'll remain strong and healthy long enough to keep doing all the things he loves to do and, eventually, join Weihenmayer on the Grand Canyon.
"I will definitely die of this," says Raker, who has been helping Weihenmayer achieve his goal while also running a film production company and spending as much time as possible with his wife of 16 years, Annette Bunge. "It might be in two years, it might be in five years. The best-case scenario is that, while I'm slowing the cancer with this hideous treatment, they find a cure. But it's not likely. So with Erik, I just do what I do with him one day at a time."
A FEW YEARS AFTER Weihenmayer climbed Everest, he became friends with Raker at a 2003 Primal Quest adventure race. Raker, who was filming the event, loaned an under-dressed Weihenmayer a spare fleece during one of the stages, and their friendship was born. He and Raker began teaming up on rock and ice climbs, and Raker quickly became Weihenmayer's most trusted guide and best friend. When Weihenmayer and his wife ventured to Nepal to adopt their son, it was Raker who accompanied them to help with the process. In 2008, Weihenmayer asked Raker to teach him to kayak.
There was never a moment—before blindness or after—that Weihenmayer hasn't been adventuring. The youngest of four siblings in Weston, Connecticut, he was diagnosed as an infant with retinoschisis (abnormal splitting of the retina's neurosensory layers) and throughout his childhood saw only shapes and shadows. But his failing vision was something his dad (and now manager), Ed, refused to let dampen his son's adventurous spirit. A diehard Evel Knievel fan, Erik was obsessed with launching off jumps on his bike. But by 11, he could no longer see well enough to hit the ramps he and his brothers built. Ed knew that the clock on Erik's freedom was ticking. So instead of quashing the thrill, he painted the ramps fluorescent orange, briefly extending Erik's independence.
The years following his complete loss of sight were hard. But right around his 16th birthday, another tragedy hit the Weihenmayers. Erik's mom died in a car accident. The family fell into a deep pit. Ed, a former human-resources manager on Wall Street, who is now 72, rescued the kids by taking them on adventures to places like Machu Picchu, West Irian Jaya (now West Papua), and Pakistan. Erik fell in love with mountains and the camaraderie of expeditions, and after graduating from Boston College in 1991, he began his career as a professional adventurer.
According to Raker, Weihenmayer was an A-plus paddling student. He performed a roll a few hours after he first tried one. Over the past few years, they've paddled Colorado's Gates of Lodore (Class III-plus) on the Green River, followed by Desolation Canyon, a Class III stretch that they navigated in 2011 at 44,000 CFS, a massive flow rate not seen since the eighties.
Along the way, they've identified, and tried fixing, the communication problem. On mountains, Weihenmayer typically follows the sounds of bells attached to his lead climbers. On the Gates of Lodore, Raker tried paddling a few feet in front of Weihenmayer's boat, periodically blowing a whistle to keep him oriented. But the crashing water and billion-year-old quartzite canyon walls above it obscured and reflected the whistle blasts, so that Weihenmayer couldn't tell where they originated. Also, it was hard to simultaneously scout and turn back and whistle, and to keep a good distance between the kayaks. When the boats were too close, they'd collide, often tipping Weihenmayer. With his bomber roll, Weihenmayer didn't mind flipping. But Raker knew that his star student would eventually graduate to rivers with boulders, ledges, logs, and holes. So he tried another method.
The following day, Raker paddled behind Weihenmayer, which allowed him to keep the gap between them smaller. He shouted "Right turn!" "Left turn!" "Wave train!" and "Eddy!" as the river dictated. By the end of the day, Raker says, Weihenmayer was executing each move "flawlessly." But early on, the pair learned that as the water got bigger, so did the need for more consistent communication.
Enter waterproof simplex radios, which would allow Raker to give Weihenmayer turn-by-turn instructions down the river directly into an earpiece. But the radios failed to work, because only one person can speak at a time (think Nextel push-to-talk). The two-way system had a half-second delay—too long for a self-propelled blind guy in a minefield of obstacles—and would cut out unexpectedly. "You can imagine what happens when a blind man goes into the biggest part of a river and the radio stops working," Raker says. Duplex radios (like phones, where two people can talk simultaneously) failed, too, because they weren't waterproof and the sound was bad.
Last March, they finally found a better option, a British company called DS-Neptune Developments that sells a completely waterproof Bluetooth intercom system, which allows two people to be on the line at the same time. According to another of Weihenmayer's river guides, Chris Wiegand, it allows for real-time speech and activation. It also allows Weihenmayer's guides to be farther away from him, helping to diminish their risk of ramming him or, worse, following his line so closely that they forget to watch their own.
IT TURNS OUT that the Grand Canyon may be more forgiving—and therefore more doable for Weihenmayer—than most people imagine. Or so says Brad Dimock, a guide for Arizona Raft Adventures who has been working on and writing about the Colorado River for 40 years. According to Dimock, the Usu and the Grand Canyon have similar hydraulics, but only when the Grand is at flood level—which it won't be anytime soon, because the entire West is in a yearlong drought. The Colorado, he adds, tends to be tamer than many people think, though tame is, of course, relative.
"Of the 227 miles, only 50 have significant whitewater," Dimock says. Guides like him call the Grand Canyon "big Class III with a couple of Class IV rapids." Translation: while the scale of water is huge, unlike smaller rivers riddled with strainers (downed logs that can pin boaters), undercuts, and recirculating holes (which pull boaters under the water and hold them there), unless you completely gork, the Grand Canyon is a hard place to drown.
Kayaker Brad Ludden, who has notched first descents on dozens of rivers around the globe and now runs a nonprofit that takes cancer survivors on outdoor adventures, agrees. "You can swim the entire thing and be fine," he says. "That said, for a blind person it's an incredibly challenging river. There are giant waves that you can't avoid. If he can keep control of his head, he'll be fine. But the second he loses the mental battle, the river is going to become a lot harder."
Dimock believes that, if they had to, Raker and Weihenmayer could do the Grand Canyon without radios. There are only three or four places—including Hance Rapid, Lava Falls, and Serpentine Rapid—where it's "absolutely necessary" for a boater to line up perfectly between obstacles. "The water is such that a really good boater could be within shouting distance of him all the way through," Dimock says.
Raker disagrees: "Not even close. This is where people who have no experience guiding the blind think it's acceptable to chime in. Erik is totally blind. You have to be on his butt all the time or—you've seen it—he completely freaks. The rapids on the Grand Canyon are so big that when you're in a kayak, you can't even see above a wave. You only know big holes are there because you scouted them. Plus, what if something happens to Erik and he swims? A sighted person can see what's around him and swim to safety. Without a radio, Erik has no idea where he is. If he goes floating down the river and I—or another guide—can't get to him, the consequences could be disastrous."
As conservative and methodical as Weihenmayer is in his preparation, like all professional adventurers who are pushing the boundaries of what's humanly possible, he has learned to manage the inevitable risks. On the one hand, Weihenmayer is adamant that he has nothing to prove to anyone but himself. But it's more complicated than that. A few months after the Charlotte trip, when I asked Weihenmayer why he wants to paddle the Grand, he told me about the time he asked the president of the National Federation of the Blind, Marc Maurer, for money to climb Mount Everest.
After Weihenmayer pleaded his case, Maurer responded with a question.
"When people think of blindness, what do they think?" he said.
"Helen Keller?" Weihenmayer replied.
"Yeah," said Maurer. "And she died in 1968."
Then, after a pause, Maurer asked, "When you climb Everest, are you taking a risk?"
"Yes."
"If you go to the top, could you die?"
"Yes."
"Good," he said. "Then we'll sponsor you. Because when people think of blindness, we want them to think of someone standing on top of the world."
Next fall, if all goes according to plan, people will also be able to think of someone who accomplished a feat that is magnitudes more difficult. "On Everest, I felt like I was in my element," Weihenmayer told me. "But on the water, so much craziness can happen in such a short amount of time. You have to be prepared."
Since I last saw Weihenmayer in Charlotte he'd regained his mojo. He'd paddled a half-dozen Class III–IV stretches of river, including Peru's Yanatile and Upper Apurímac (the headwaters of the Amazon) and paid another visit to the Usu. This time, says Wiegand, his roll was solid, and he had "no issues with the large whirlpools." He also did some creek boating, and, amazingly, paddled Mexico's Chocolja River, a pushy and technical water-way riddled with tight turns and six-to-eight-foot drops. The radios worked great.
This past spring, Weihenmayer and his team decided he was ready for a trial run down the Grand. Raker joined, though his cancer levels had risen. In April, they took a motor-boat to seven of the Canyon's ten biggest rapids. "Not only did he exceed his own expectations," says Wiegand of Weihenmayer, "but he exceeded all of ours as well. Over time, in big water, Erik gets overstimulated and mentally exhausted, and he has a tendency to shut down. But on this trip, he performed combat rolls where he literally got his entire boat launched out of a hole. He also did several consecutive rolls in 15-foot-high wave trains."
When I spoke to Weihenmayer afterward, he told me that one of the rapids they skipped was Lava Falls, among the biggest cataracts in the northern hemisphere and one of the Grand's most infamous stretches of whitewater. Before I could ask him why, he added, "I need something to look forward to when we return."
Tracy Ross wrote about her attempt to reboot her marriage with a hardcore backpacking trip in March 2011.