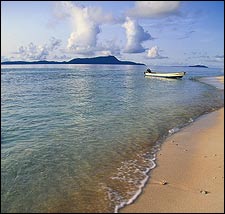 Heading out the door? Read this article on the new Outside+ app available now on iOS devices for members! Download the app.
REEF MADNESS Mix your altruistic nature with your hedonistic urges. Help gather data assessing coral bleaching, growth, and reproductive cycles while scuba diving the soft corals at Rainbow Reef, off the Fijian island of Taveuni—all for only $1,795 for a seven-night package. Work with the nonprofit group Reef Check and stay at the oceanfront Garden Island Resort. The rooms are a bit motel-like, but the rate includes airfare from Los Angeles, two dives a day for five days, lodging—plus the front desk can organize horseback rides when you're not "working." Contact: Aqua-Trek, 800-541-4334, www.aquatrek.com.

DEALS TO DIVE FOR Bilikiki Cruises Ltd. (800-663-5363, www.bilikiki.com) is offering a 16 percent discount on its all-inclusive, seven-day April scuba diving cruise in the Solomon Islands. For only $1,757 (normally about $2,100), live aboard a 20-passenger, 120-foot ship, which cruises Florida Island, the Russell Islands, and the Marovo Lagoon, stopping for dives at precipitous walls, WWII wrecks, and clusters of hard and soft corals.
Castaway Adentures
Explore
Kayaking for Calories

On Explorers' Corner's 13-day sea-kayaking trip through the Rangiroa atoll (200 miles north of Tahiti), you'll live like a castaway and eat like a king. (Sample fare: poisson cru, fresh reef fish mixed with lime, onion, and coconut milk.) Feast away. You'll need the calories as you sea- kayak among the Tuamotus' 78 isolated atolls, camp on untouched sand, prowl the reefs like a shark, and bushwhack across uninhabited islands. Cost: $3,950. Contact: Explorers' Corner, 510-559-8099, www.explorerscorner.com. Dates: April 12-25, July 19-August 2, October 18-31.


Savasana and Then Some

Indian ascetics may have invented yoga, but you won't have to renounce a thing on this yoga-centric multisport trip to the Fijian island of Beqa. For ten days, stay steps from the beach in one of Lalati Resort's five hutlike bures, with wraparound lanais, and wake up to "power" yoga classes with Rusty Wells, a popular San FranciscoÐbased teacher. Spend the rest of the day diving, snorkeling, river rafting, surfing, hiking, or kayaking; spend the evenings enjoying local traditions, such as watching skin sizzle at a Fijian fire-walking ceremony. Cost: $1,985. Contact: Zolo Trips, 800-657-2694, www.zolotrips.com. Dates: January 16-25.


Take Me Out to the Boneyard

Be the first to stalk little-plundered populations of bonefish in the remote Tuamotu Archipelago, which sprawls over 1,000 square miles of Pacific Ocean. The volcanic atolls off the Tuamotus are mostly uninhabited, so you'll live on a 58-foot sailing catamaran for seven days and walk onto the flats with expert guides. The bonefishing may be catch-and-release, but the gourmet chef and his staff will serve up fresh-caught mahi mahi. Cost: $4,400. Contact: Orvis Travel, 800-547-4322, www.orvis.com/travel. Dates: January 25-February 1, February 22-March 1, March 1-8, March 15-22.



Castaway Adentures
Relax
Relax
HOME NOW When you're swinging from a hammock and grilling shrimp on a private deck tucked into a forest of banyan trees and kentia palms, it's hard to imagine life beyond Lord Howe Island. In 2002, the Arajilla Retreat renovated 12 rooms, turning them into sophisticated Asian-influenced suites, each with complimentary use of snorkeling gear, fishing tackle, and backpacks. Cost: Suites start at $145 per night. Contact: Arajilla Retreat, 011-61-2-6563-2002, www.arajilla.com.au.

THE NEW LAGOON One look at the island of Aitutaki's lagoon—30 miles in circumference, 15 feet deep, and ringed by islets—and you'll see why the designers of Pacific Resort Aitutaki placed this retreat on 17 beachside acres. Some 145 miles north of the Cook Islands, this cluster of 28 palm-roofed villas and bungalows, set in hibiscus gardens, just opened in October 2002. Cost: $350 per night. Contact: Pacific Resort Aitutaki, 011-68-2-20427, www.pacificresort-aitutaki.com.

News
Free Flipper Help researchers observe 11 Pacific bottle-nosed dolphins at one-year-old Dolphins Pacific—the world's largest natural habitat for dolphin research—on Ngeruktabel Island in Palau. These ocean mammals are free to roam a 200-million-gallon roped-off lagoon, while visitors swim and scuba dive to learn more about dolphin behavior and ways to protect them in the wild. Reach the lagoon via a five-minute boat journey from the town of Koror. Cost: $80 per swim, $120 per scuba dive. Contact: Dolphins Pacific, 011-680-488-8582, www.dolphinspacific.com. Dates: year-round.
The Shipping News

Oceania personified: Micronesia's Truck Lagoon
Cargo ships crisscross Oceania like 18-wheelers do American interstates, offering cheap access to the South Pacific's island oases. Keep in mind, however, that these ships stay true to the spirit of adventure: Prices, boats, and itineraries often change.


The Marquesas: Twice a month, the 250-foot Taporo 4 makes a 15-day voyage to these craggy islands 800 miles northeast of Tahiti, stopping at seven atolls en route. Private cabins aren't available, but there's decent cafeteria food. Cost: round-trip fare, $450 for deck passage. Contact: 011-689-42-63-93.


The Tuamotus: To travel to these 80 small specks 200 miles north of Tahiti, track down the Mareva Nui in Papeete's harbor. More primitive than the Taporo 4, this 180-foot freighter makes four-day round-trip excursions to Rangiroa and its immense lagoon. Cost: $139. Contact: 011-689-42-2553.


The Tokelaus: Every two months, a ship chartered by the Office for Tokelau Affairs makes the 800-mile, seven-to-eight-day round-trip voyage from Western Samoa north to this lonely atoll. The ship stops at each of the Tokelaus' three reef-bound islands: Fakaofo, Nukunonu, and Atafu. Cost: Cabin fare runs about $200, deck fare about half that. Contact: To make reservations, write to the Office for Tokelau Affairs, Apia, Western Samoa. They'll answer. Really.


Micronesia: The 300-foot Micro Glory, operated out of Pohnpei by the Federated States of Micronesia, travels southwest on an 11-day, 900-mile round-trip voyage to some of the most remote islands in the world—Mokil, Pingelap, Sapwuahfik, Nukuoro, and Kapingamarangi. Cost: about $250 for a cabin and all meals. Contact: Call 011-691-320-2235 or write to the Public Affairs Office, Pohnpei State Government, Pohnpei, Federated States of Micronesia.


The Solomon Islands: Try the four-day trip to Gizo, in the Western Provinces, about 200 miles northwest of Honiara, aboard the 200-foot Luminao. She makes 11 stops at tiny island villages and provides first-class cabins, a small refrigerator, a cold shower, and a toilet. No food is served, so stock up before you depart. Cost: $90 round-trip. Contact: Wings Shipping Co., P.O. Box 9, Honiara, Solomon Islands.