To Catch or Catch Not
Casting for nada y nada in the footsteps of Hemingway, on the rivers of northern Spain.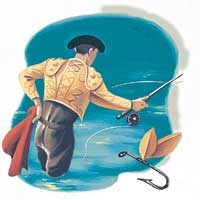 Heading out the door? Read this article on the new Outside+ app available now on iOS devices for members! Download the app.
"We don't really like Hemingway, we suffer him," sniffs Mikel Ollo, a tall, gangly Basque and one of Pamplona's eminent nature guides. This isn't the reaction I expect. Outside the downtown bullring stands a rather chunky statue of the man who made this Spanish fiesta city famous to generations of American Eurailpassers. (That, of course, is the problem.) Furthermore, Mikel was hired to tool me around by the Pamplona Convention Bureau, which wrings every possible drop out of the literary connection. The tourist office even displays a life-size plastic Ernesto sporting a plaid shirt and a bandanna. He looks appropriately stupefied, no doubt anticipating the afternoon's third bottle of rosado.



Mikel knows I want to fish the river Hemingway loved (and wrote about in The Sun Also Rises and Death in the Afternoon), the Río Irati. This makes him dislike me, but he gets over it. It helps that I adore Silvio Rodriguez, the Cuban musician crooning soulfully out of the tape deck. And Mikel enjoys the fact that I've been stymied by Spain's post-Franco bureaucracy. It took all day Monday (or the part not spent in Gothic churches) to get the requisite fishing permits. Now it's Tuesday, and fishing here is illegal on Tuesday. Not even the mayor can challenge the rules of the local fishing association. My troubles put Mikel in a better mood. "No problema," he says. "We go drink café and drive along the river."
The Río Irati tumbles out of the steep massifs of the Pyrenees. Surrounded by majestic beech and fir trees, it twists and cranks through gorges and Basque villages filled with white stone houses and wandering sheep. Every Basque man I see is wearing a beret and carrying some sort of stick: either cane or shovel or umbrella. If it weren't Tuesday, they'd no doubt be carrying rods as well. It all probably looks exactly the same as it did in 1925, about the time Hemingway first showed up with a dripping goatskin. For all his faults, Don Ernesto took his pursuits seriously. He recognized northern Spain for the best it had to offer: bullfights, rioja wines, and some of the finest fishing in all of Europe. The first two have caught on with the rest of the world, but, surprisingly, the third has not. The Río Irati is just one of dozens of cool, splendid streams in the region that teem with native brown trout.
A few days later, I fish outside of the holy city of León, about 200 miles west of Pamplona, this time with a prearranged license and a professional guide. The R‰o Luna is an indolent, slow-moving river bounded by the Montes de León to the west and the spectacular Picos de Europa to the north. Still, it is not wilderness. We fish near a modern housing project, a bridge, and an old power station. My guide, Javier Alvarez, turns out to be one of Spain's national fly-fishing champions.


"You like Robert Redford movies?" he asks. "I am like Brad Pitt." Well, not quite, but the man can tie flies. His favorite creation, which he calls a matadora, is a tidy job made from condor and rooster feathers.
With the April wind whipping down from the mountains, the fishing is less than stellar. "Huracán!" exclaims Javier's friend Alfredo, who walks up from fishing nearby. Later we come upon another friend, Romano. Javier, it seems, has a friend at every bend.


"Catch any?" calls Javier.


"Nada," yells Romano. "Huracán!"


Spain's national fishing champ catches one six-inch brown trout. I will go home empty-handed. But compared to all the churchgoing, it's a bang-up day. Javier gives me a bulging box of meticulously tied matadoras and nymphs, and I promise to send a sampling of Montana's finest in return. "In Spain," rhapsodizes Javier, sounding not unlike a drunken Se–or Hemingway, "we do not care about money. We care about friends and fishing."


ACCESS AND RESOURCES

The fishing in Spain is heavily regulated by national and local authorities. Unless you speak Spanish and enjoy pushing paper, it's easiest to go with a licensed guide. Javier Alvarez (011-34-98-780-5403) can show you the best rivers near León, in northwest Spain. For a guide near Pamplona, which is about 225 miles northwest of Barcelona, contact the Asociación Navarra de Pesca (011-34-94-814-8054). For more information on travel around Pamplona, contact the city's town council at 011-34-94-820-6540 or visit www.pamplona.net/engl/tourism. Hemingway stayed at the Hotel La Perla (double rooms from $42 per night; 011-34-94-822-7706).
Trending on Outside Online