Costa Familia
One dad's quest for an undiscovered surf spot turns up perfect waves, crazy wildlife, and just the right kid-friendly vibe on Costa Rica's wild Osa Peninsula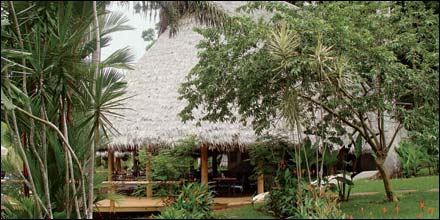 Heading out the door? Read this article on the new Outside+ app available now on iOS devices for members! Download the app.
WHEN A BIG ANIMAL MOVES IN THE JUNGLE, you hear it before you see it—at least it seemed that way to me in the sun-dappled shade of hundred-foot-tall strangler figs on Costa Rica's southern Pacific Osa Peninsula. With my surfboard under one arm and my two-year-old daughter, Hannah, in a backpack, I had no greater ambition than some warm-water waves and a shady picnic with my wife, Liz. As we strolled casually past the poolside bar at the Bosque del Cabo Rainforest Lodge and into the jungle, our ears were instantly abuzz with bug noises and birdcalls and freaky hoots and screeches. Everywhere we looked, our eyes caught thronging leaf-cutter ants and bright-yellow-beaked toucans squawking at capuchin monkeys, ghastly black spiders haunting ten-foot webs and electric-blue butterflies bouncing around passionflowers. It was like diving a bustling coral reef, except we were swimming in terrestrial wildlife.
Access & Resources
GETTING THERE:
American Airlines (800-433-7300,
www.aa.com
flies direct to San José from Dallas and Miami (round-trip airfare from Miami is about 0). From San José, fly Nature Air to Puerto Jiménez (5 round-trip; 800-235-9272,
www.natureair.com
). Rent a car from Avis in San José (- per day for a four-wheel-drive vehicle; 011-506-293-2222,
www.avis.co.cr
).
WHERE TO STAY:
In San José, book a room at the charming Hotel Grano de Oro (doubles from ; 011-506-255-3322,
www.hotelgranodeoro.com
). Cabinas at Bosque del Cabo Rainfore…
Osa Peninsula

And then there was the noise—a horrible bellowing, followed by a loud crash and the violent swinging of trees—on a trajectory aimed more or less right at us. Which would have been fine and fun and all, in addition to being scary, except that something more than just our well-being was at stake.
See, we weren't just on vacation; we were engaged in the travel equivalent of dating—scoping for an honest destination for family fun and a (possible) lasting relationship. You know the drill: You tell all your friends you're looking for someplace new, you talk about your needs and tastes and values, and they ask questions about what it is you really want. Answer number one, always, was that I wouldn't even consider a place without surf. Also, because our two-year-old can't swim—but will absolutely, positively grow up to be a surfer girl if I have any say in the matter, which I will—there had to be some warm-water shallows so utterly harmless that she'd be guaranteed a good experience. But even beyond all that, a place had to have . . . what was it? A kind of je ne sais quoi that, until our big moment in the jungle, I couldn't even define.
We'd had almost all of the above in Baja California, where we spent several winters in a row enjoying clean surf, cheap tacos, and all the rest. But that was back before baby learned to walk, and with Baby Number Two baking in the oven, the mellow waves and harmless shallows were more crucial than ever. We were looking for a new "place we go." You might even say we were searching for our own future.
For months, every time we got together with friends, they tried to set us up. We traded phone messages with mainland Mexico, long-distance winks with Tahiti, and a friendly e-mail with Hawaii, but nothing clicked. Even Costa Rica raised concerns. Aren't all the savvy surf travelers heading off to Nicaragua or El Salvador? Yeah, sure, we learned—those who want the edgiest experience they can find. But how could a young family turn down Costa Rica's political stability, low crime rate, functioning infrastructure, affordability, something-for-everybody waves, and—with roughly a quarter of the country set aside for national parks—sheer embarrassment of natural riches?
Which brings me back to the jungle—all of us standing stock-still, that sound growing closer—and how we got into that predicament.
It started like this: First we flew from San Francisco to San José, Costa Rica's capital, on a cheap and effortless connecting flight through Phoenix. Then, after a pleasing night in the lovely old Hotel Grano de Oro, we hopped a prop-powered Nature Air puddle-jumper over misty green mountains, down the glorious Pacific coast, and into the funky little airstrip at the village of Puerto Jiménez.
We'd made reservations at the Bosque del Cabo Rainforest Lodge, partly because I'd heard there were uncrowded waves and that the legendary mile-long left break known as Pavones was just across the Golfo Dulce. They sent out a mud-spattered Land Rover—complete with Safari Snorkel—and chauffeured us down horrendous dirt roads on the 45-minute ride to their spread. Once that was over, the big barrier between us and total immersion in primal biology was a restful nap in our shiny hardwood cabina overlooking the windless blue Pacific. There had been one minor mishap before breakfast, when pregnant Liz pulled on her pants, shrieked bloody murder, tore the pants off, and revealed the enormous, meaty scorpion that had just stung her bare thigh. But a frenzied blur of panicked research—tearing through every wildlife manual in the resort's office—proved that the venom of Costa Rican scorpions is relatively harmless.
Finally, with the kid on my back and the surfboard under one arm, we went looking for Phil Spier, the lodge's American owner and founder. Spier's a longtime surfer—the waves are what brought him here in the first place, although he never advertises that fact for fear of ruining the very breaks he loves. Mumbling something about a few good right-hand breaks, he pointed to a jungle trail and said not to worry, we'd be able to find our own way there. We grabbed a classy little picnic in a cooler bag from the kitchen and set off down one of the private trails on the lodge's 650 acres of jungle, where we got in touch with a few guidebook factoids that, up until then, were little more than idle airplane reading.
To wit: The Osa Peninsula, on which we stood, is the last great rainforest of Central America's Pacific coast, home to 2 percent of the earth's biodiversity. Pause on that thought for a moment: 2 percent of the plant and animal species on the entire planet live on a remote spit of land smaller than Martha's Vineyard. North America has a grand total of roughly 300 tree species; tiny Costa Rica, no bigger than West Virginia, has 2,000 and counting—enough to make identifying trees a headache, even for Bosque del Cabo's resident nature guide, a fussy British biologist. And that's not even mentioning the 876 bird, 205 mammal, and 376 reptile species snoozing on every other log. Who could keep up?
Within moments of leaving the lodge, we started seeing all manner of critters we never even knew existed, including a huge rodent called an agouti and a family of long-nosed raccoon relatives called coatis. Then, as we neared the beach, we heard the screeching of some hideous life-and-death combat no more than 50 yards away: two creatures of unknown kind, tearing each other, we assumed, limb from limb. Then came that guttural roar, so primal and terrifying that we froze on the trail. In the prior two days alone, Bosque del Cabo guests had seen a jaguarundi, a cougar, an anteater, and several tree sloths, all within a few hundred yards of the dining room. But judging by the way trees were slamming back and forth just now, we were about to meet something much bigger than all of the above.
JUST TO CLARIFY: We did score great waves in Costa Rica. And not only during our four days at Bosque del Cabo, but also in the four days following, in the international surf town of Dominical, about 60 miles northwest of Puerto Jiménez. We got there via four-wheel-drive rental car, puttering through a pastoral landscape of tiny farms, remote fruit stands, and potholes big enough to break an axle. And we stayed at a hilltop villa called Bosque en el Cielo, which had an infinity pool with a 180-degree view of more good surf spots than you could ride in a month. Steroidal cicadas slammed into the windows like kamikaze golf balls, and green parrots lived in papaya trees that grew all around, not because they had all been planted there but because the proprietor—Alex Hruby, an Austrian windsurfer with a killer wine collection—had thrown some rotten fruit into the bushes about six months earlier. The trees were already 25 feet tall.
Once we'd eaten the Starving Surfer breakfast at the San Clemente Bar & Grill among the hundreds of broken surfboards left by wave-beaten visitors, we meandered down to the miles-long beach. I then spent the rest of the day gorging on rippable rights and lefts. Liz had to sit out this time (obstetrician's orders), but Hannah actually let me carry her into the shore break and hold her shoulder-deep in the water. Every time a little wave came, I turned toward the beach and ran as fast as I could, holding her right in the wave's face—a game that quickly came to be known as Big Girl Surfing. And also as the most fun I've ever had.
But as wonderful as all that was, there was something about that moment in the jungle that stayed with me, all the way back to San José and on home. When the howling got close, I grabbed a stick from the forest floor. As I entertained fantasies of defending my family, I heard a peculiar trickling noise, like water splashing, and turned around to see a column of liquid pouring from the trees, not six feet in front of me.
Liz and I exchanged glances, craned our necks, and traced the liquid to its source, then started to giggle. There, up through the branches, was our terrible monster: a howler monkey, no bigger than our two-year-old, sitting on a tree limb and, yep, trying to pee on us. It let out another utterly outsized howl—a brilliant evolutionary adaptation that makes a 15-pound banana-eater sound like a cross between a tiger and an elephant. But instead of running, we all broke out in laughter, and the monkey swung away through the trees, bending them and bouncing them as it disappeared.
Whiling away the rest of the afternoon, I knew already that Costa Rica had exactly what I was looking for. And it wasn't just that a monkey had tried to insult us—nor the discovery that those other animals, the ones we couldn't see but thought were killing each other, were actually a pair of scarlet macaws: gorgeous red parrots that mate for life, live up to 80 years, and spend all those decades screaming at each other. It was the fact that, besides everything else Costa Rica had to offer—the food and the surf and the easy living—its natural world felt so palpably thriving and alive. Even a norteamericano surf family like ours could go home feeling that way.