Dudes, Mellow!
With Kelly Slater as his chief ambassador, SoCal surf legend Dorian "Doc" Paskowitz had a plan to teach the kids of Israel and Palestine how to get barreled—and bring peaceful vibes to the Middle East along the way. Of course that was before the Hamas supporters, the hashish, and the paparazzi got in the way.
Heading out the door? Read this article on the new Outside+ app available now on iOS devices for members! Download the app.
"You're black!" exclaimed Dorian "Doc" Paskowitz. Diminutive and tan, with a thatch of gray hair, the 86-year-old San Diego physician stood barefoot in a Tel Aviv apartment wearing khaki shorts and a white T-shirt emblazoned with a logo for Surfing for Peace, Doc's fledgling initiative to bring Israeli and Palestinian youth together under the banner of brotherly shredding. We were at 28-year-old Israeli surfer Arthur Rashkovan's place, a few blocks from the break at Hilton Beach, on the Mediterranean coast. Doc was fresh from a nap; by the time he emerged from the bedroom, I'd spent several hours hanging out with soft-spoken, laconic Arthur, a liquor distributor and surf magazine editor, and two of Doc's adult sons—David, 48, and Joshua, 32, both as lanky as their father is short. Joshua, a filmmaker, sported a mullet, a porkpie hat, and tattoos from neck to feet; musician David looked more conventional, with glasses and flecks of gray in his hair.
"It's Jimmie Briggs!" yelled Arthur. "Jimmie Briggs!" added Joshua. "Jimmie Briggs, you're black!" responded Doc, smiling, his arms open wide to give me a hug. Doc's not shy; we'd been speaking for months on the phone, but both Israel and the surfing community are mostly populated with white faces. He seemed delighted by the appearance of a six-foot-three, dreadlocked black dude from the Bronx.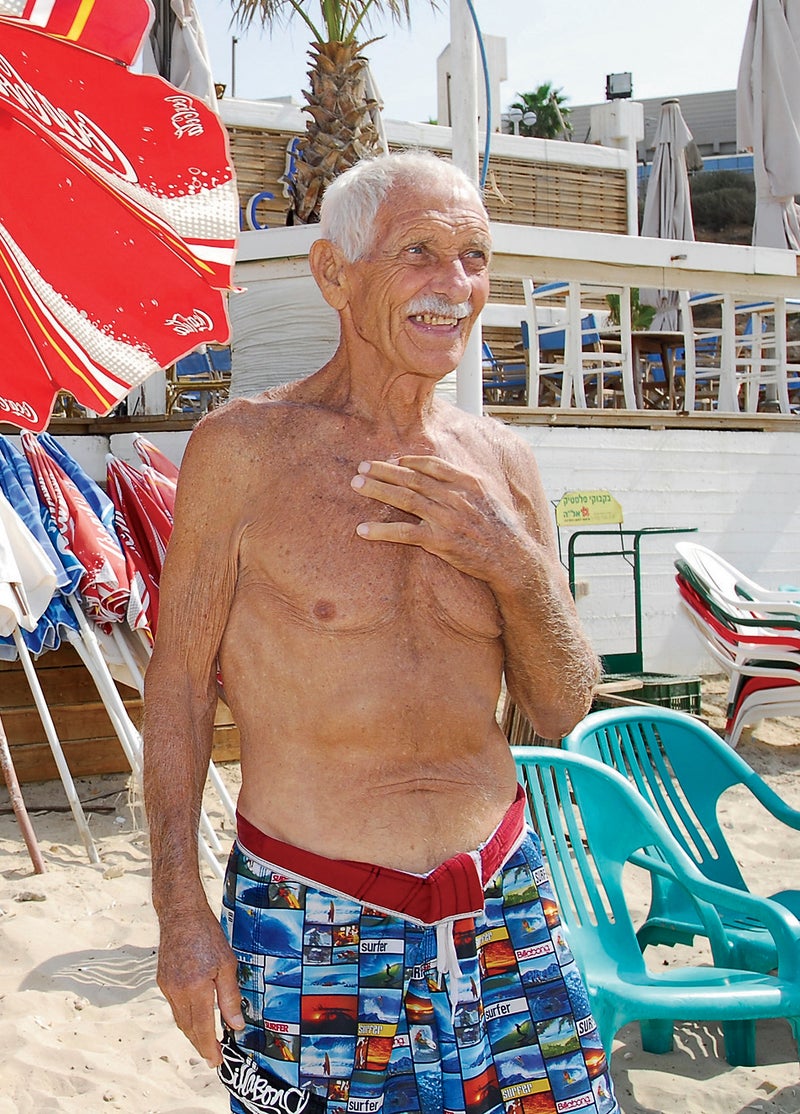 It was a hot, early October night in Israel, less than a week before the launch of Surfing for Peace, and the air seemed charged and slightly hectic. Back in Southern California, Doc's dream had seemed simple: Use surfing as a bridge between Arabs and Jews, get kids to learn the sport alongside their so-called enemies. They'd start with a concert, some surf clinics, and who knows, maybe it would grow into a foundation. To launch the effort, he signed up two of the biggest names in the sport: eight-time world champion Kelly Slater and 23-year-old Hawaiian big-wave wunderkind Makua Rothman, who at age 18 rode a 66-footer.
The plan was to stage a week of surf clinics in Tel Aviv and Gaza, culminating with a big Friday-night concert. Kelly and Makua would take the stage with the popular Israeli roots-rock band Malca Baya. David Paskowitz had written a song called "One Voice" for the effort, and, serendipitously, the peace organization OneVoice International, led by a New York–based Mexican Jew named Daniel Lubetzky, happened to be staging its own rally the day before the Surfing for Peace concert, with simultaneous shows in Tel Aviv and Jericho headlined by Canadian rocker Bryan "Cuts like a Knife" Adams. The timing was perfect. It would be huge. Concerts! Surfing! Rock Stars! Peace!
Of course, somebody had to pay for all this. Kelly is sponsored by Quiksilver, and the bulk of the money for the Surfing for Peace launch was coming from Quiksilver's Israeli distributor, Sakal Sports, run by surfer and former Israeli commando Haim Sakal. Kelly was the linchpin to everyone having a successful week. Not only is he part Arab (his great-grandfather was Syrian), but some of his most fervent followers come from the only Jewish nation in the world. There was just one problem: He was flying in from competitions in Europe, and nobody knew for sure when.
"We don't know if he's in Mundaka or France or what," explained Joshua.
The Paskowitzes were also increasingly worried about how it all would play out. They'd met with Sakal earlier in the day and left feeling that the week's events weren't going to be as pure as they'd envisioned. Instead of low-key surf clinics, they were starting to see a media circus.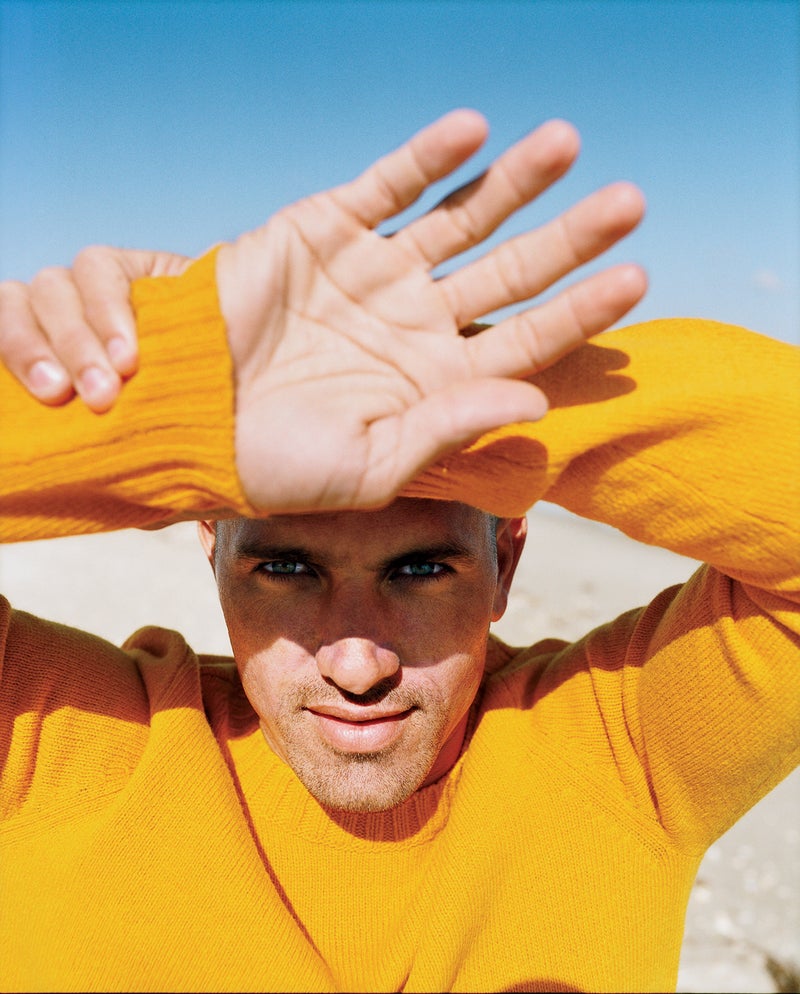 "Dorian, you don't understand what I've been trying to tell you," Arthur said to Doc. "I've been here since you and David left in August trying to make this happen. We've only had two months to pull it all together."
"I understand that, Arthur," Doc replied. "But I've got Haim's word that it's going to happen the way we want it."
I sat flipping through a Hebrew-language magazine until things cooled down and Doc went to lie back down. One thing was becoming evident: Launching a peace movement required focus and teamwork.
And these guys were surfers.
---
This is a story about surfing, although very little surfing actually occurs. It starts more than half a century ago, in 1946, when a young Jewish surfer from Galveston, Texas, graduated from Stanford University's medical school and became a general practitioner. A dozen years, two failed marriages, and three kids later, Dorian Paskowitz married Juliette, a six-foot Mexican opera singer he met in a bar on Catalina Island. They would go on to raise nine children, including Doc's three, traveling in an 82-foot camper from surf break to surf break, homeschooling the kids and working at medical clinics when money was tight. Paskowitz became a legend in the surf world. One of the first to develop the idea of instructive camps, in 1972 he opened the Paskowitz Surf Camp in San Onofre, California, which is now run by his son Israel.
In 1956, shortly before marrying Juliette, Doc decided he needed to support the young Israeli state—by volunteering in the war against Egypt over the Suez Canal. The Israel Defense Forces rebuffed him, but the beachgoers didn't. He spent the better part of a year traveling to the front lines as a civilian and surfing the small Mediterranean waves, introducing the sport to Israel. He left his wooden longboard behind, along with a small, fervent following. Fifty years later, the beaches are dotted with both teenagers and middle-agers toting boards, and most major surf companies distribute merchandise here.
As Doc is fond of pointing out, "If you can surf together, you can live together." After traveling back to Israel in 2000, 2003, and 2006 to visit friends and bring surfboards, he returned last summer with David, visiting both the beaches of Tel Aviv and the border crossing at the Gaza Strip. There he found Palestinian surfers making do with outdated, makeshift equipment, thanks to the near-total economic and social isolation of an area increasingly controlled by the Islamist political movement Hamas.
The idea for Surfing for Peace had grown over several years, from a one-off concert in Hawaii to, after the 2006 visit, clinics in Israel and Gaza. Once the Tel Aviv concert was scheduled, one of the first people Doc approached was Kelly Slater. He'd known the surfer since the late seventies, when the Paskowitzes had parked their camper in the Slater driveway during visits to Cocoa Beach, Florida. "You should come to Israel," he said—teach some kids, play some music. When Kelly told him about his Syrian ancestors, Doc nearly flipped.
"That's perfect!" he told Kelly. "You're an Arab and I'm a Jew. We're supposed to hate each other and we love each other!"
Of course, that's about as far as the planning progressed. And now here was Doc in Israel, his heart set on creating a legacy. "I have congestive heart failure and recently had a hip replacement," he told me one day in Tel Aviv. "Making this happen will be one of the greatest things I do in my life."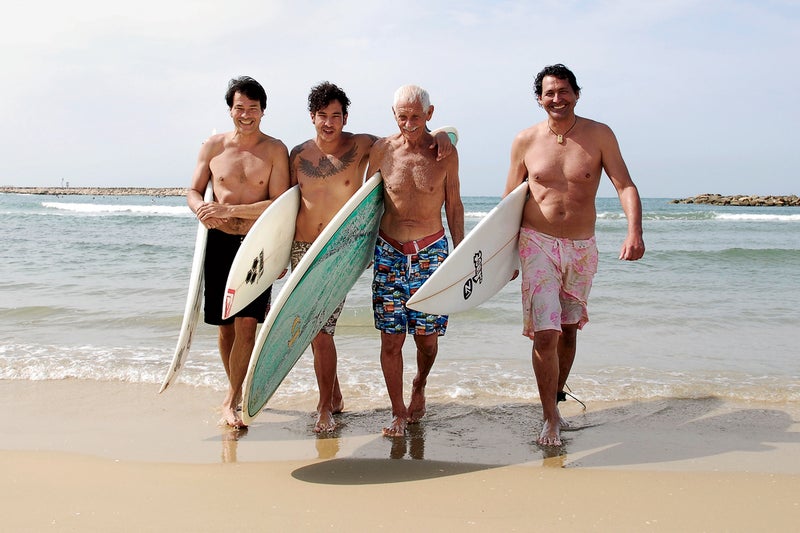 ---
If you want to know why there's no workable Middle East peace process, try orchestrating the movements of a few dozen Israeli Jew, Israeli Arab, and Palestinian surfers from an apartment in Tel Aviv. The rough plan had been to bring in Arab surfers from the gritty neighborhood of Jaffe, as well as half a dozen or so teenage and twenty-something Palestinian surfers from Gaza who'd received surfboards from Doc when he and David visited two months before. But the Paskowitzes landed in Israel to find that their contact in Jaffe had been busted, allegedly for selling hashish, and apparently wouldn't be getting out of jail until spring. Meanwhile, Arthur had discovered that some, or maybe all, of the Gaza contingent were Hamas supporters, which in and of itself didn't have to be an issue—they were still surfers, after all—except the border crossing was now closed. The Palestinian surfers couldn't come to Tel Aviv, and the Israelis couldn't enter Gaza.
Add to that the high hopes for Kelly's arrival, the negotiations with Sakal Sports over his schedule once he did arrive, and the Paskowitzes' low-key organizational style, and pretty much all progress ground to a halt. Kelly, meanwhile, was just doing his thing. "I thought, 'We're gonna play some music, surf, and take some kids out in the water,'" he said later; he didn't know his friends' plans were hinging on him. "They've always done things home style, low-maintenance," he said. "Like 'Let's meet at the beach and go surfing.'"
That seemed to be the M.O. so far. I'd met the family Sunday night. Monday morning, I headed back over to Arthur's apartment to find Doc, who'd just returned from a short swim. "I'm about four pounds overweight," he announced, pulling at the sides of his stomach while explaining his prescriptions for full living as outlined in the book he self-published last year, Surfing and Health.
"You're a handsome, striking man," Doc said, looking me over, "but if you lost 20 to 30 pounds, just think how much more productive you'd be personally, professionally as a writer, and sexually. I tell you, you need to be out there exercising—or, better yet, surfing.
If you want to know why there's no workable Middle East peace process, try orchestrating the movements of a few dozen Israeli Jew, Israeli Arab, and Palestinian surfers from an apartment in Tel Aviv.
"Man is not made for peace," he explained. "There can be a cease-fire between wars, a kind of tiring of the bloodletting, but peace will be hundreds of years away." Still, he added, "men can achieve peacefulness for themselves, tranquillity, enough food to eat, a place to lay their head down, shelter from the winds and the rain." The joy brought by surfing could take that to a higher level, advancing the "principles of peacefulness," Doc said. "It's my chance to see the start of the road toward peace."
As Doc and I talked, more of the gang was assembling. A third Paskowitz brother, 46-year-old filmmaker Jonathan, arrived from New York, where he'd been promoting a documentary, Surfwise, about the Paskowitz clan. Makua Rothman was there, too, with his dad, "Fast Eddie" Rothman, known in Hawaii as the don of the North Shore. Both Rothmans were short, intense, and deeply, deeply tanned.
Apparently, the youth surf clinics were going to wait until Kelly's arrival. That left concert rehearsals with Malca Baya. Makua had never played onstage, and the rest of the Paskowitz-Rothman-Slater supergroup had work to do before they were ready for prime time. Monday night was spent practicing in a cramped studio in the warehouse district of south Tel Aviv.
Tuesday brought more waiting. Throughout Tel Aviv, the number of false Kelly Slater sightings was steadily growing, but he wasn't in town yet and it was hard to tell if anyone was actually in direct contact with him.
When in doubt, surf. The clan headed over to Hilton Beach, where, when the waves are good, there can be more than a hundred surfers. Today there were a dozen. Arthur maneuvered around people on his shortboard while David caught a few rides before heading in to talk with the locals. Makua paddled out while his dad, who hadn't taken off his wraparound black sunglasses, even at night, watched from the sand.
Doc complained of stomach pain before plopping down in a plastic chair. He'd been feeling poorly for several days, leaving most of the organizational work to his boys—though he wasn't always pleased with the results. "My sons," Doc said later, "they're a colossal pain in the ass. I do respect David's tremendous choreographic ability; I do respect Joshua's wonderful entertaining capability; I do respect Jonathan's great surfing skill and his intensity with getting involved, helping others. But with that respect comes the feeling that these bastards are going to drive me crazy!" 
David was bearing most of the strain. "Making this happen has become one of the most important moments in my life," he told me several times over the course of the week. But by Wednesday, with still no sign of Kelly, tensions were running high. Arthur was focusing on Friday's concert, trying to get any of the Gaza surfers to Tel Aviv, and generally trying to avoid the corporate demands of Sakal Sports. "I'm so, so over this!" he finally blurted. "All along I wanted to do something simple and keep it about the surfing! No one wants to listen to me anymore."
To make matters worse, the planned OneVoice concert in Jericho had been canceled because of security concerns. Now Bryan Adams wasn't coming, and OneVoice was scrapping both gigs.
---
Just when I was beginning to wonder if the whole thing would be a bust, we got the word that Slater was on his way from France. On Thursday at midnight, everybody piled into David's rented SUV and headed to the airport. It was a motley crew, including Joshua in his porkpie hat, shorts, and Chuck Taylors, tattooed with jaguar spots and snatches of text.
Kelly walked through the arrival gate with representatives of Sakal Sports, giving hugs to David and Joshua and waves to the rest of us. He seemed laid-back and happy to be here. As far as he knew, he was supposed to come for a day to join the concert and clinic. Sakal Sports already had him for the morning; they told us they'd arranged for some disabled children to show up after breakfast for a demonstration and some autographs.
What happened was a little more involved than that. Friday morning, in Tel Aviv's upscale, tony Herzliya neighborhood, on the beach behind the Hotel Dan Accadia, several hundred adult fans, paparazzi, disorganized kids, and bemused onlookers overwhelmed the pro surfers. While security guards watched from up on the beach, dozens of photographers waded into the water to shoot Kelly and Makua trying to catch one of the few decent waves and help get kids up on boards.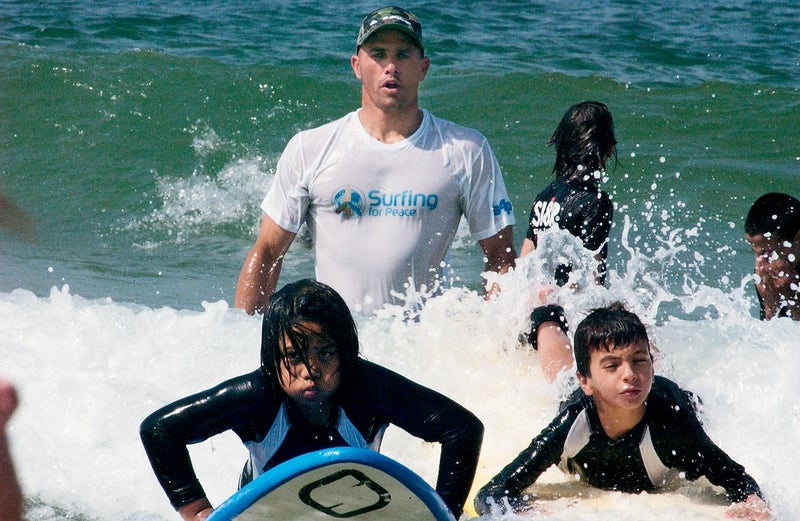 Jewish and Arab children flocked toward Kelly and, to a lesser degree, Makua, as Quiksilver signs fluttered across the event. Out in the surf, hyper kids and even more excited press photographers clambered to be as close as possible to Kelly.
"Just wait, everyone. Relax!" he yelled. "Everyone will have a chance to paddle out."
In the end, they did. The kids were pumped, including one little nine-year-old girl named Amna. "I'm very happy and excited," she told me, dripping wet but cloaked in a pinkish head covering and a long-sleeved shirt and pants. "I will surf again."
After more than an hour in the hot morning sun, Kelly made his way from the beach to a waiting black SUV. A dozen kids raced after him, asking for autographs. After signing a few and looking visibly overwhelmed, Kelly said, "That's it, everyone," and stepped into the car.
---
The Surfing for Peace launch went off that night on the beach in downtown Tel Aviv at an open-air bar called the Clara. Two hours beforehand, as dusk fell, David, Arthur, and Kelly paddled out into the Mediterranean with more than a hundred Arab and Jewish fans for a surfer's circle, where everyone could offer up a prayer or a statement of camaraderie. Again pandemonium ruled. Everyone was yelling, trying to get the participants, who were bobbing on their boards, to calm down and hear what Kelly had to say—virtually impossible over the bad disco music blaring from the Clara's speakers.
"We're all coming together," Kelly shouted. "Obviously, we're not working well together at this moment, but the cool thing is that we're out here together for the same thing, because we love surfing. Hopefully, we're out here to try to love our neighbors and get along."
At the Clara, the crowd of 3,000, mostly Israeli Jews in their twenties and thirties, was buzzing. Arthur bounded onstage to start things off. "We're here because of him!" he said, pointing to Doc. "Give him respect!"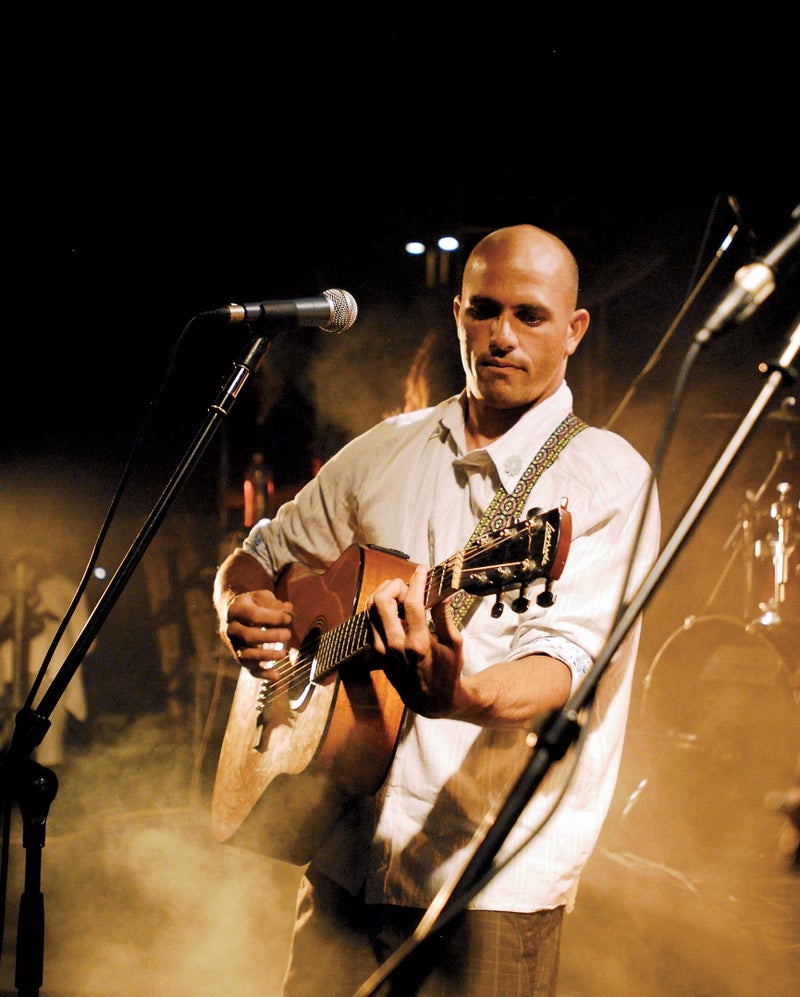 Energized, Doc mounted the steps of the stage. "First, so you can understand me, I want to wish you all Shalom Aloha!" he yelled into a microphone, fist punching the air. "That is love, from the people of Hawaii!"
Now the five members of Malca Baya hit the stage, crunching out serious guitar feedback. After the first song, in Hebrew, they were joined by Makua, who was carrying a ukulele; Kelly, with an acoustic guitar; and Joshua and David Paskowitz. David stood at the front of the stage, crooning "One Voice": "Hear me, brothers and sisters, there's no time for later!" Behind him, Joshua sang out with a ska/reggae effect. "Turn it to the heavens, and ask Him one big favor!"
The crowd went wild for Kelly, who strummed his guitar and sang along to the chorus before launching into an original ballad called "Trouble." He'd written it about a period in his own life, though the sentiment seemed to fit the occasion.
In a matter of hours, the previous five days of tension and boredom evaporated. If only for one night, Surfing for Peace was real.
---
The group's efforts did wind up making international headlines, but not the way anyone intended. After the two-and-a-half-hour concert, after the autographs, after holing up in the backstage VIP room for 45 minutes while security guards figured out a way for Kelly to escape, a few of the gang went to a nightclub, where Kelly met Bar Refaeli, an Israeli model and ex-girlfriend of Leonardo DiCaprio. Late that night outside his hotel, Kelly had a run-in with paparazzi when he grabbed an Israeli photographer's camera and got pushed, and a shoving match broke out. He spent the rest of the night at the police station.
The next morning, Saturday, everyone was spent. "I'm not even sure if I could tell you what I got out of it," Kelly told me later. "It was about 36 hours of emotional, mental overload. I didn't at all expect it to get that out of hand." He laughed. "But when there's that much energy around something, it has a lot of power in it. I'm not going back tomorrow, but I know I'll go back."
Kelly had agreed to delay his departure until Saturday night to meet with a small group of Arab surfers in Jaffe, a much less ritzy part of Tel Aviv, far from the cameras and glitz of Herzliya. A group of half a dozen boys as young as nine came out to take pictures. Twelve-year-old Mohammed gave Kelly a trophy of appreciation from the community, as well as a Syrian kaffiyeh, a black-and-white-checked scarf.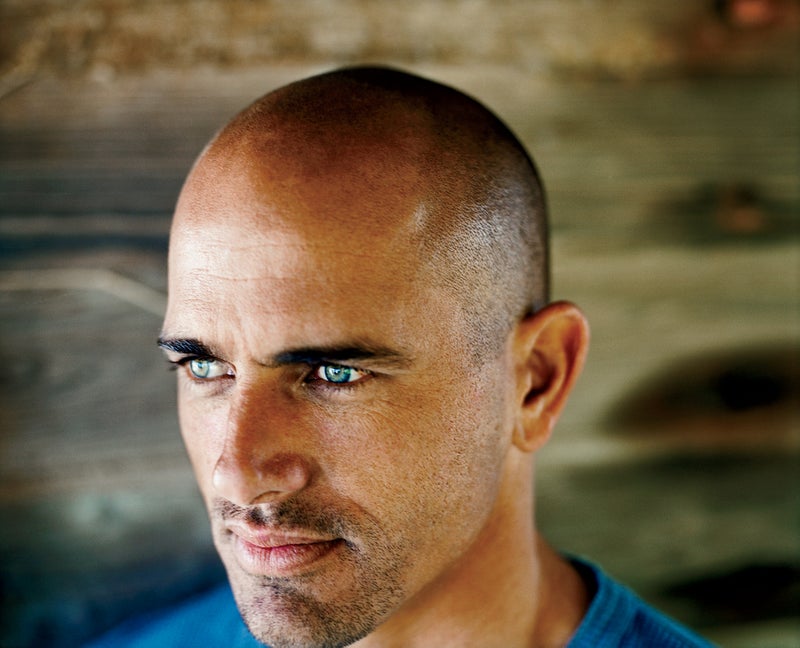 "Thank you so much for this," Kelly said, moved. "I'm sincerely honored."
"I've just been surfing for one month," Mohammed said in perfect English. "I was on the Internet and saw Kelly Slater and his videos. My friends taught me to surf. I think we can make peace when we go with our friends. It makes life friendly."
Nearby stood an older surfer in his thirties, the kids' mentor. "It's a good idea using surfing as a bridge between Israelis and Palestinians," he said. "My worry is that it will end on the beach. Outside the waters there is a lot of racism here, segregation." But just seeing Slater had given them a lift. "When I told the guys Kelly Slater was Syrian," he continued, "it was like 'What? It can't be! An Arab guy that made it in the big world.' It gives hope to people."
After the snapshots, the boys from Jaffe gleefully paddled out into the puny two-to-three-foot waves. There were no logos, no paparazzi, no overzealous fans. They jumped onto their shortboards—a few emblazoned with the Palestinian flag or icons of martyrs—mimicking the moves they'd seen in videos of their world-famous Arab brother, who was standing on the beach.
For Doc Paskowitz, that day in the waves washed away a lot of disappointment and frustration. "You can't imagine the delight I had with those boys," he told me later by phone from California. "It just made me feel so proud and so big. To have your enemy, so to speak, shake your hand and hug you—that's a great medal to wear on your chest."
---
Dropping Out? 
Since last fall, when Kelly Slater lost his bid for a third-straight world surfing title, retirement rumors have been rampant. Here, the eight-time champ talks to Jimmie Briggs about life after competition, the perils of speaking his mind, and what happens when you try to get wave-riding Israelis, Palestinians, and one world-famous icon into the same break.
OUTSIDE: You've said you're not planning to retire but will "scale back" next season. Did losing the title influence that decision?
Slater: No. I tend to do things pretty full-on and then get bored. The competition side of things is really starting to bore me. The new challenges come when some new guy comes along. But that happens every single year I've been on tour. It's just not as exciting.
Do you think you can win next year?
I do…if I apply myself. It's a mental thing to stay focused. I've learned that stressing about a situation or result should only last a couple of minutes, especially in the water. Otherwise you fight from the back foot and never get to feel the whole situation.
What kind of legacy do you think you're leaving behind?
I was thinking the other day about what surfing has meant to me. I've been married to the sport for 15 years. It's offered me a lot, but I've given up a bit too, in order to experience everything I can within it through travel, meeting people. My contributions will have to be judged by other people.
So if you scale back, what are you planning to do with all your free time?
This next year will be a transitional time for me. I don't know that I have dreams of grandeur. I have to find what makes sense for me. I really admire people who help others, on a personal level.
Is that what drew you to Surfing for Peace?
These are people who've been at war for a long time, but they have that common thing, surfing. Guys are surfing the same waves in Gaza as in Israel. The idea is that here's this one thing that we both love, and potentially we're surfing the exact same wave at the same time. There's something spiritual in that. Bigger than the other problems that seem so huge all the time.
How was that experience?
The whole time over there, I was freaked out. One day on the beach there were over 1,000 people. I had no idea that many people knew who I was. Everyone was stoked and excited. At the same time, the idea of Surfing for Peace is about trying to work together, and we just weren't working together at all.
As you got involved, did you feel pulled by the various sides in Israel?
I probably sympathize with the plight of the Palestinians in a lot of ways. Israel does have tremendous American backing, financially, militarily. It's almost like a basic race war between people. Both Israelis and Palestinians are living in fear and don't trust each other. I don't think either side is right or wrong. I see a lot of wrong, but I don't think either side is right.
Do people give you a hard time for speaking out on a subject like peace?
A few letters to surf Web sites and magazines. "We don't want to hear some surfer talking about politics." Why? I'm just like any other person. I probably have a more worldly view than most people because I get to see a lot of different cultures. People can easily point the finger at me and say, "Well, he's successful, has all this money and things, so it's easy for him to talk." They're right, but also by sticking my neck out there it shows I'm willing to learn something.