The Deep Blue Sea
Everything You Know About Surviving Rip Currents Is Wrong
About 100 people in the U.S. drown after being sucked out to sea in rips each year, and new research has experts arguing over how best to escape them. Australia has figured it out, why haven't we?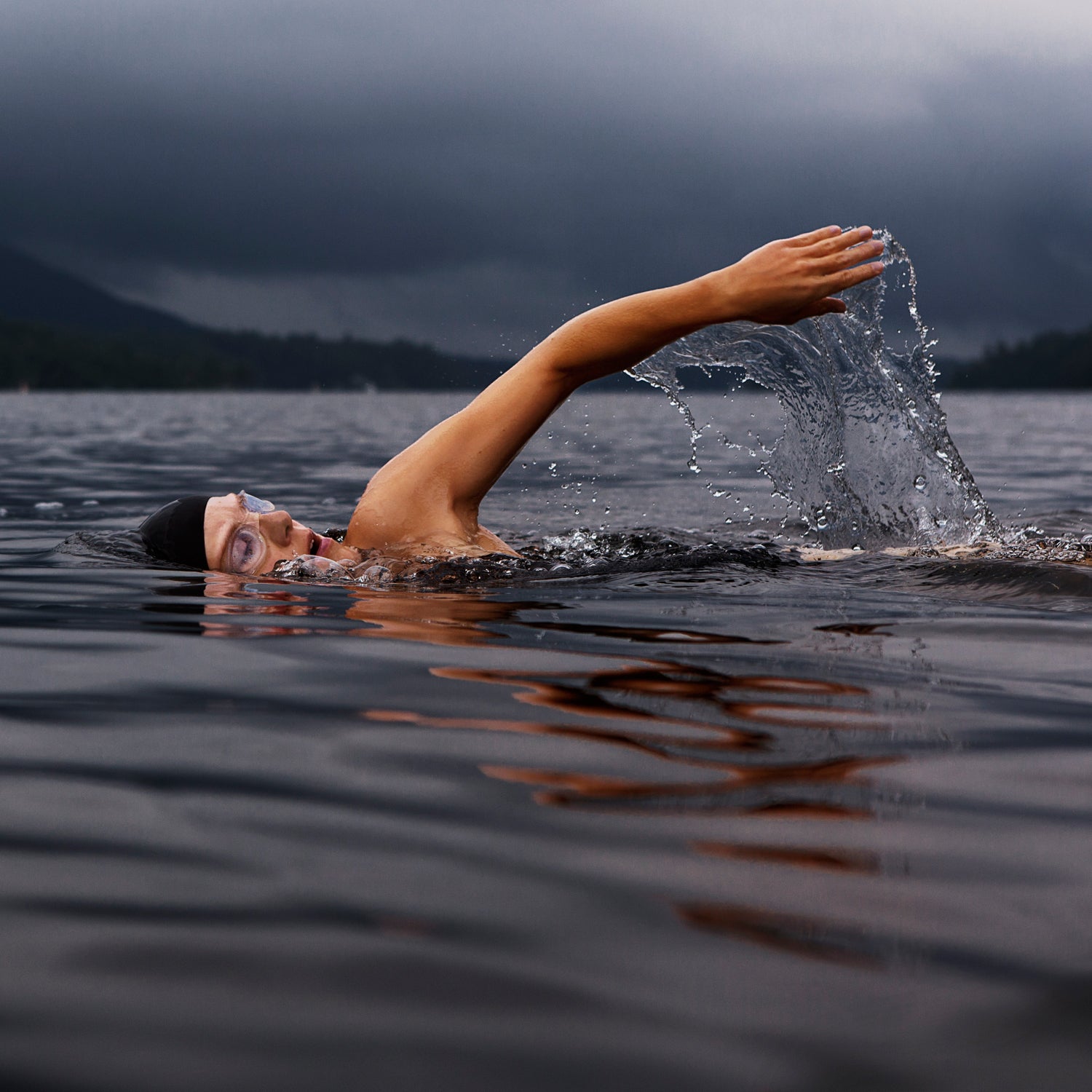 Todd Quackenbush/Unsplash(Photo)
Heading out the door? Read this article on the new Outside+ app available now on iOS devices for members! Download the app.
Conventional wisdom says that Jamie MacMahan was doing everything right when, about a decade ago, he found himself caught in a rip current while swimming off the coast of Monterey, California. Rips flow seaward, out to deep water, so beach access signs across the country advise swimmers to paddle parallel to the beach to escape the them. The savage, dread-inducing flows kill more beachgoers each year than any other threat and MacMahan, a professor of oceanography and a strong swimmer, was following the "swim parallel" gospel, paddling steadily. But as he thrashed in the cold Pacific, the rip refused to relent. "I thought, 'That's interesting,'" MacMahan says.
MacMahan, it's important to note, had done this to himself. A rip current expert at the Naval Postgraduate School in Monterey, he had volunteered to subject himself to the rip for a safety video the National Oceanic and Atmospheric Organization was filming. With plenty of experience, he wasn't in serious danger. "But as I was swimming parallel to the shore, left and right, I noticed that it was easier to swim one direction more than the other," MacMahan says. The safety guidelines he was promoting—the life-saving advice we tell the millions of Americans who flock to the beach each summer—he thought, could be wrong.
In the last five years, MacMahan's research has upended the field of rip current studies. Since that initial experience in Monterey, he's used GPS devices to meticulously track nearshore currents in the U.S., England, and France, and has jumped into rips around the world. Rips can form on any beach, MacMahan says, and swimmers usually don't know a rip's present until they're in its clutches. Panicked victims often try to swim directly back to shore—against the powerful offshore flow. Swimmers familiar with rips might try swimming parallel to escape. But MacMahan's research suggests doing the unthinkable: giving in and going with the flow.
"If you can relax—and it's a long time, for maybe three minutes—you're generally going to float back to the beach."
Eighty to 90 percent of rips MacMahan has studied flow in huge circles, from the shallows, out through the breakers and back again, every few minutes. A swimmer stuck in a circulating rip has no way of knowing which way the current is flowing. That means that by swimming parallel to the shore—something signs at nearly every popular beach in the country advise—the swimmer has a 50/50 chance of paddling against the deadly current.
"If you can relax—and it's a long time, for maybe three minutes—you're generally going to float back to the beach," MacMahan says.
It's a radically simple finding—one that challenges our primordial instincts and everything we think we know about beach safety. The discovery, which MacMahan published in Marine Geology in 2010 and calls rip current "circulation," is still contentious six years later. His peer-reviewed findings have dramatically changed the way Australia tells its citizens how to survive this menace. But at home, MacMahan's work is considerably more controversial and his research has opened a gaping divide in the sleepy rip current field.
"The reaction to Jamie's findings has polarized the community," says Rob Brander, a prominent rip researcher. For some leaders in the field, MacMahan's recommendation to simply float through a rip current is, at best, an idea to be ignored and dismissed; at worst, though, the advice is potentially deadly.
---
How Rip Currents Can Be Deadly
Chris Brewster, the International Life Saving Federation's chief in the U.S. and a 30-year veteran of the beach tower, remembers the only victim he couldn't save from a rip.
It was an unseasonably warm February day in 1988 and the surf was triple overhead at San Diego's South Mission Beach, where Brewster was the lifeguard sergeant in command.* From the three-story guard tower, Brewster saw two swimmers getting sucked out to sea. "It was an amazingly concentrated rip," he says. Brewster dispatched a lifeguard as the panicked swimmers tried to swim directly back to shore. Riding the current, which can flow as fast as eight feet per second—significantly speedier than an Olympic swimmer's top speed—the lifeguard reached the first victim quickly. "But this kid, Sam Crawley, was pulled farther out," Brewster says. "I'm intently watching him. And he just gives it up and submerges. I think that's the only time I've ever watched somebody die."
"I'll remember this kid for the rest of my life," Brewster says. "I had to call his dad to tell him his son was dead."
The U.S. Lifeguard Association estimates that nearly 100 people die in rip currents each year, and that lifeguards saved over 48,000 people from rips in 2015 alone. The typical victim is like Crawley: he or she struggles against the unrelenting pull, panics, and eventually succumbs to exhaustion. Rips can form on any beach with waves, including the Great Lakes, in nearly any conditions. They occur when water pushed onto the beach by surf or wind flows back out to sea in narrow, concentrated channels and they can be anywhere from ten to 200 feet wide. To make matters worse, their outward course often dulls the breaking waves and creates the illusion of calmer waters for inexperienced beachgoers. Lifeguards call rips "drowning machines," and Brewster believes if Crawley had swum parallel to the current, rather than tire himself out by grinding against it, he might have lived.
When I called Brewster to ask him about circulation, he was a little exasperated. "I'm unhappy to see it printed," he said, referring to Jamie MacMahan's research. "You have to understand: Jamie looks at it from a very scientific perspective. The logical thing, in his view, is try floating and see if that works." But nothing is logical when you're being sucked out sea in pounding surf. "Are you going to make that very, shall we say 'dispassionate' decision, when you think you might die?"
Brewster is not alone in his resistance. The U.S. Lifesaving Association has refused to incorporate MacMahan's research into its advice for beachgoers and instead supports NOAA's public advisory campaign that urges swimmers to "break the grip of the rip" and swim parallel to the shore. Spencer Rogers, a researcher directly involved in NOAA's campaign says that while the evidence is being reevaluated, "We don't think we can tell somebody just to float."
Recent research on the East Coast by Rogers, a coastal erosion expert affiliated with the research outfit North Carolina Sea Grant, showed that while most rips in North Carolina do circulate, about half stopped after several laps and deposited any floating GPS trackers out to sea, past the breakers. Rogers says that while circulating cells most definitely exist—and are particularly persistent where MacMahan carried out his research in California—the phenomenon isn't consistent or widespread enough to change the way we talk about surviving rips. Every beach is different, Roger says.
"We put people in rips that are good swimmers or shitty swimmers. Everything we've done points to the fact that there's not one single message that works."
MacMahan readily acknowledges that not all rips take swimmers back to shore, but still advises a "float first" approach. The current guidelines, he says, frighten swimmers and encourage them to overexert themselves trying to escape the rip. "A lot of the rip current educational info instills fear and panic," he says. "There are other brochures with pictures of a beach with a tombstone that says RIP. I say, if I'm someone who has seen this in my peripheral and end up in a rip current, that tells me I'm dead. Then you panic. You haven't created a sense of survival."
---
How to Survive a Rip Tide: The Science
The best place to look to understand the science of rip currents, and how to survive them, may be the beach-happy continent of Australia, where 85 percent of the population lives by the coast and surfing is a national pastime. There, the danger of rip currents is more seared into the public conscious.
On February 6, 1938, crowds packed Sydney's famed Bondi beach to celebrate the 150th anniversary of Britain's colonization of the continent. A little after 3 p.m., on what would become known as Black Sunday, a set of large waves swept through the surf zone and wiped away the sand bar. Suddenly, hundreds of swimmers found themselves being pulled out to sea. Lifeguards were overwhelmed and "some of them had to punch their way through a wall of distressed bathers to get to others in more danger," Sydney's Daily Telegraph reported on the anniversary. The beach, at one point, was littered with the unconscious bodies of 60 victims. All told, 200 some odd people were plucked from the water and, after herculean resuscitation efforts, only five died.
Today, rips kill more Australians than bushfires, floods, cyclones, and sharks combined. Perhaps as a result, the ideological riff over how to survive the currents has been more public. Surf Life Saving Australia, the country's main water safety group, has worked closely with Rob Brander, a professor at the University of New South Wales who goes by the nickname "Dr. Rip," and, in the last few years, the lifeguarding organization's opinions have evolved with Brander's studies.
Brander has worked with MacMahan and other prominent rip researchers around the world, but lately his studies have focused on something scholars ignored for decades: how swimmers caught in rips actually respond to the life or death terror of being pulled into deep water. He's interviewed dozens of survivors and strapped GPS devices onto actual swimmers and put them into rips. The results are not so clear-cut.
"We put people in rips that are good swimmers or shitty swimmers," Brander says. "Everything we've done points to the fact that there's not one single message that works. Sometimes swim parallel is great, sometimes it doesn't work. Same for floating."
It's a view that the Surf Life Saving Australia has taken, too. After working with Brander, they've updated their messaging. Rips are a complex, dynamic hazard and the multitude of variables—swimming ability, current strength, circulation, wave size—make the threat nearly impossible to solve with one-size-fits-all advice. No single "escape strategy" is appropriate all the time, the group now says, and lifeguards in Australia currently recommend combining the advice from both MacMahan's circulation concept and traditionalists like Brewster. If you're not a strong swimmer, stay afloat and signal for help; if you can swim, consider paddling parallel to the beach toward breaking waves—though be mindful of the potential circulating current. "All responses," the group concedes, "have their pitfalls."
In the U.S., no such compromise appears likely and the "escape the rip" signs promoting swimming parallel won't be coming down any time soon. In the end, all any expert can do is promote public awareness of rips, MacMahan says. "The scientific community has accepted [the circulating research]," MacMahan says. "They don't see flaws in our methodology. Until proven otherwise, we believe this is what we know. But changing policy is hard."
*CORRECTION: A previous version of this story stated that Sam Crawley died at Ocean Beach.
Lead Photo: Todd Quackenbush/Unsplash
Trending on Outside Online