Sponsor Content
The Future of Fishing Is Female: Brittney Novalsky
Fishing guide and educator Brittney Novalsky says more women will get into fishing if they just develop confidence—and trust their instincts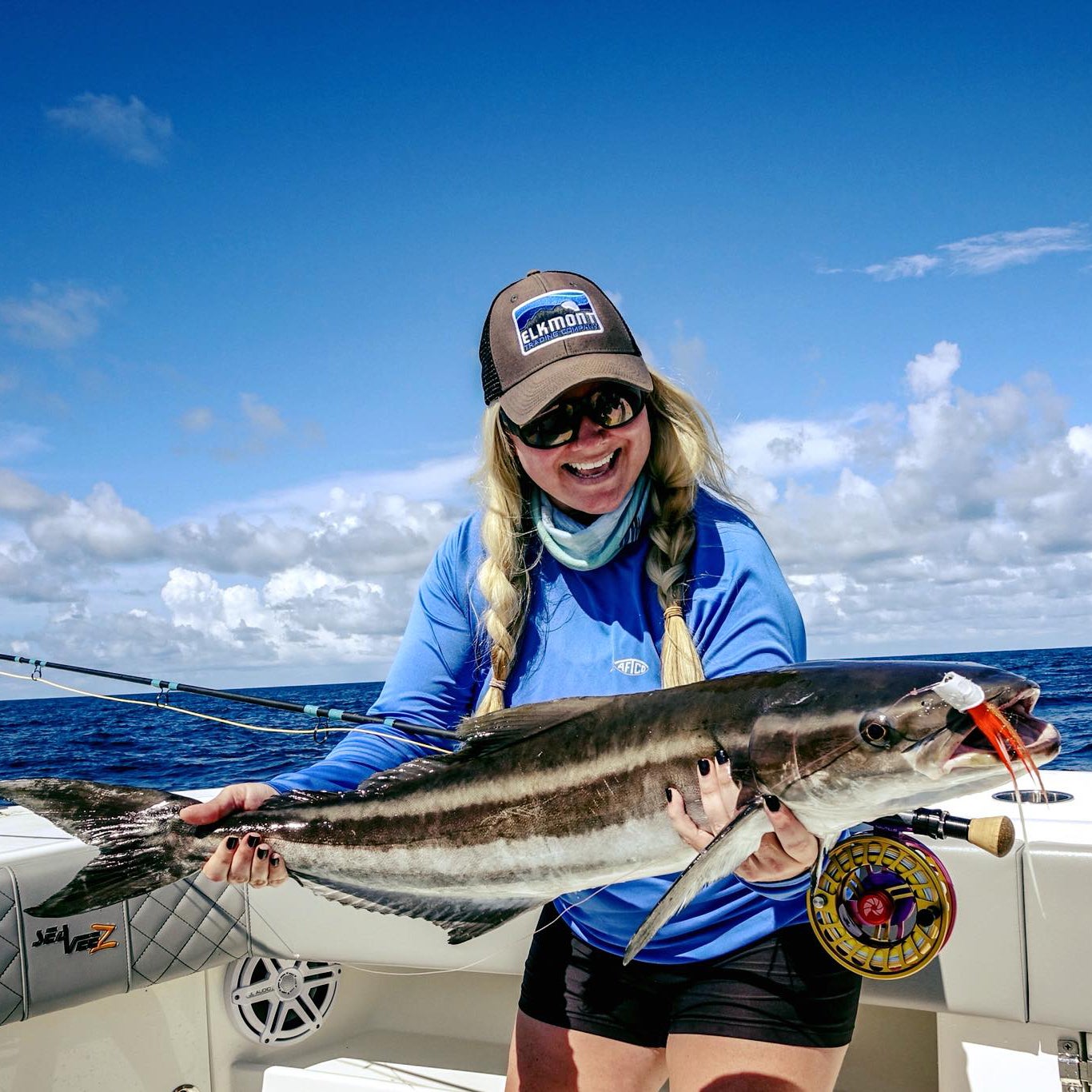 Brittney Novalsky, a fishing guide, educator, and conservationist, grew up fishing commercially with her family. Of all the things she learned on the boat, the most important has probably been self-assurance. "After you spend enough time outdoors," she says, "you learn to be trusting of what you see. If you're just present to your surroundings, you'll know what to do next."
Novalsky would know. As a child in Sebastian, Florida, she cast her line for snapper and kingfish, then helped her parents load coolers, clean the boat, and sell their catch at the local market. It was an early lesson in teamwork, she says, and her parents often bartered in fish to earn their dinner. It was work, but it was also fun. "Our adventures were our entertainment and education," she says. "We learned how to hold a fish the right way if we were going to release it, why certain fish traveled with stingrays, and how to carefully pick up a starfish—it was a cool way to grow up, on the water 24/7."
What she was really learning, of course, was how to be independent. As an adult, Novalsky started attending seminars and events, looking for new fishing partners. But each gathering was filled with "mostly guys," she recalls, and the few other women there seemed too intimidated to ask questions. Novalsky saw an opportunity. "I knew enough about fishing that I could teach classes for women. I asked the local tackle store if I could post an event just for them." Twenty women, including teens and children, showed up for her first class—and she's been introducing people to the sport ever since.
Today, when she's not running her own graphic-design and brand-building business, Novalsky teaches women's seminars and moonlights as a fishing guide on lakes and rivers from Panama to Alaska. This spring, she's fishing for tarpon in Florida before heading to Panama for roosterfish and yellowfin tuna. And she's basically always on call. If she gets a request from a group that wants to fish a region she has expertise in, she'll pack up her laptop, load her bags, and take them. In her free time, she's a dedicated redfish tagger for the Florida Fish and Wildlife Conservation Commission and an advocate for getting single mothers on the water.
Her personal tagline is "Travel, Explore, Trust the Wild," and it's the guiding principle behind her work. It's precisely that kind of free-ranging confidence she's looking to instill in female anglers. The only requirement, she likes to say, is that "you love to fish." Everything else can be learned—and there are plenty of mentors, guides, and educators like Novalsky out there willing to share their expertise. The water, the wildlife, and the fish are out there, just waiting for you to show up.
---
Take Me Fishing™ and Vamos A Pescar™ are the national campaigns from the Recreational Boating and Fishing Foundation. RBFF strives to increase participation in recreational boating and fishing, thereby helping to conserve and restore our country's aquatic natural resources. Learn more at TakeMeFishing.org.