High Over Hawaii
The Island's Resident Sports Gurus Spill Their Secret Favorite Places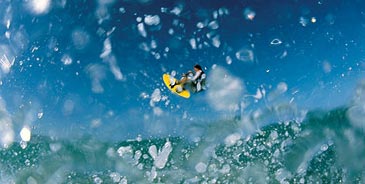 Heading out the door? Read this article on the new Outside+ app available now on iOS devices for members! Download the app.





MAUI

Kiteboarding off Kanaha Beach
Access and Resources


THE BIG ISLAND

Mountain biking Mud Lane
Access and Resources

OAHU

Canoe sailing off Waikiki
Access and Resources


KAUAI

Soul surfing Hanalei Bay
Access and Resources
The New Fusion
Where Kite Flying and Wakeboarding Collide

Giving in to the addiction: the power zone off Maui
TAKE TWO FAVORITE PASTIMES of the ancient Hawaiians—surfing and kite flying. Toss them into the Cuisinart of new-sport inspiration, press the frappé button, and out pours kiteboarding. Barely five years old, this nascent sport has quickly come to the attention of all self-respecting fun hogs. Holding on to what looks like an oversize stunt kite with a trapeze-style bar, a kiteboarder harnesses the power of the wind, riding atop a stubby windsurfing-style board. It's been described as wakeboarding with a twist—the twist being that you're both the rider and the boat driver, the wind serving as your 250-horsepower outboard. My surfboard shaper on Oahu warned me: "Be careful…it's more addictive than heroin."


Overcome by temptation, I head to the center of the kiteboarding universe: Kanaha Beach Park, aka Kite Beach, a shaded little cove on the north shore of Maui. I'm here to take a lesson from Martin Kirk, owner of the Kiteboarding School of Maui, which, at three years old, is a pioneer in promoting the sport. Like so many of his kama'aina (long-time local) brethren, 15-year resident Martin came to Maui to satiate his water-sports jones—and never left. With sun-baked freckles, strawberry locks, and an East Carolinian pork-barbecue heritage, Martin didn't strike me as a local's local. But I found that more than wind powers him. He possesses an attribute the Hawaiians call kokua aku, a penchant for "giving back" to his community, whether organizing beach cleanups, volunteering as a Big Brother, or serving as kiteboarding's ambassador.
The day of my lesson, the 18-knot trade breeze is ideal for laying out power-jibe rooster tails and hucking enormous air with slow-motion rail grabs. I, however, succeed with a flailing "body drag" wake, which is sliced and diced by a who's who of hard-cores, pros, and even world champions. I clutch the so-called control bar, but it's not at all clear who's controlling what as I am dragged out to sea by the twitchy, bumblebee-colored kite, a 4.2-square-meter Cabrinha. If my motions aren't smooth it yanks me skyward like a marionette being jerked off the stage. Martin encourages me in a calming voice: "Bring your kite to neutral…now hook into your harness…now dive your kite toward the water…PULL UP! Easy now, you can add and subtract thrust by diving and climbing."


I safely make it to the culmination of our four-hour lesson, and now is my chance to put it all together—alone. Kite launched, Martin spots me at shore's edge—adding ballast lest I get lifted prematurely. He repeats the checklist I must go through when I'm out on the water. "Kite to neutral…hook in…reach back for your board…slip into the footstraps." All systems go—I dive my kite through that hallowed place known as the Power Zone, the downwind sweet spot about 45 degrees above the horizon where the wind's full force hits the kite. Skipping out to sea, this time on my feet, I lean back on my heel-side rail and let the kite do the work. I've got it, and for now, my only peril is addiction.
Maui: Access and Resources
MAUI'S BEST from Martin Kirk
BEST PLATE LUNCH:
Shoyu Chicken with a scoop of macaroni salad, two scoops of sticky rice, and a small side of kim chee, at Da Kitchen Café in Kahului, 808-871-7782.
BEST MALASADA: Find this sugary Portuguese pastry at Komodo Store & Bakery in Makawao, 808-572-7261. Best Live Ukulele Music: Hula Grill in Kaanapali, 808-667-6636.
BEST PLACE TO SCORE AN AUTHENTIC ALOHA SHIRT: Sig Zane Designs in Wailuku, 808-249-8997.
BEST BODYSURFING: Big Beach in Makena.

A bamboo forest near Wailua Falls, Maui
AT FIRST GLANCE, Maui, the second-most-visited island after Oahu, seems like a pie sliced in three: resort-complex Maui, golf-course Maui, and condo Maui. But there are plenty more pieces to go around—the grassy ranch land and volcanic heights of upcountry Haleakala, the rainforest splendor of the Hana side, and the north shore's international windsurfing scene. Bon appe'tit!
WHERE TO STAY: The Hotel Hana-Maui on rocky Hana Bay has 66 luxury rooms and suites, many in plantation-style bungalows. Doubles, $275; 800-321-4262, www.hotelhanamaui.com. For the old upcountry Hawaii feel, stay at the Old Wailuku Inn at Ulupono, close to rainforest hiking and the famed Iao Needle rock spire. Doubles start at $120; 800-305-4899, www.mauiinn.com.
WHERE TO INDULGE: In the upcountry hub of Makawao, head to Casanova Italian Restaurant and Bar for calzones and live blues; 808-572-0220. Brag about the big front loop you busted at Ho'okipa over fresh sushi at Jacque's North Shore Restaurant and Bar in Paia, a hangout for the wind-chaser crowd; 808-579-8844. Or try the Old Lahaina Luau, with "broke da mouth" (delicious) Hawaiian fare and a traditional hula performance. $75 per seat; 800-248-5828, www.oldlahainaluau.com.
WHERE TO…
KITEBOARD: The Kiteboarding School of Maui's beginner lesson costs $240; 808-873-0015, www.kiteboardingschool maui.com.
SEA KAYAK: Paddle into an isolated marine reserve at lava-lined La Perouse Bay, a playground of green sea turtles and whales, with South Pacific Kayaks & Outfitters. $89; 800-776-2326, www.southpacifickayaks.com.
SCUBA DIVE: Jump from a catamaran into a sheltered reef preserve off the islet of Molokini with Trilogy Excursions. From $150; 888-225-6284, www.sailtrilogy.com.
WINDSURF: Harness the mellow morning winds off Kanaha Beach with Maui Sports Unlimited. From $50 per hour; 808-575-2266, www.mauisportsunlimited.com.
SURF: Take a lesson "wherever the waves are going off," with former pro Buzzy Kerbox. $65; 808-573-5728, www.buzzykerboxsurf.com.
HIKE: Follow the Sliding Sands trail into Haleakala Crater, then climb back up to the rim on the connecting Halemauu Switchback trail (11 miles total). 808-572-4400, www.nps.gov/hale. On the Hana side, hike Wai'anapanapa State Park's three-mile Piilani Trail and follow coastal lava flows past the stone remains of a heiau (temple). 808-587-0062, www.hawaiitrails.org.
MOUNTAIN BIKE: Rent a ride from Island Biker in Kahului and pedal the Mamane Trail, a five-mile singletrack loop through Polipoli State Park on the western slope of the Haleakala volcano. $29 per day; 808-877-7744, www.islandbikermaui.com.
This Mud's for You
The Joys of Biking on the Wild Side
I HAD BEEN WARNED. "It's gonna be wet out there!" Grant Mitchell announced at least four times during the five-minute van ride from the upcountry town of Waimea to the Mud Lane turnoff. After nine years at the helm of Mauna Kea Mountain Bikes, Mitchell had ridden the Big Island's most technical singletrack countless times and could afford the upbeat tone. But where I live in the parched and dusty Southwest, mud is an exotic novelty. I had come with him to reacquaint myself with mud's unlikely charms—the way it splatters off your tires and shellacs every inch of skin and clothing and bike, and brings a sense of grimy triumph to each precarious pedal stroke—and to meditate on one of mountain biking's most sacred mantras: Mud makes you cool.


Tucked into a dense swath of rainforest at 2,500 feet, high on the flanks of the lush Kohala Mountains and across a broad saddle from 13,796-foot Mauna Kea, Mud Lane exists in its own biosphere of mist and rain. The day of our ride, Mud Lane did not disappoint. It had been raining steadily all morning, and the trail was a veritable Slip 'n' Slide of muck and mud. After only a few minutes skittering down a washed-out jeep track—over a minefield of branches, rocks, and puddles—the mire was flying and our disc brakes were squealing. By the time we forked onto the three-mile singletrack loop, we were utterly, satisfactorily filthy. Threading our way through Norfolk Island pines and guava, koa, and waiwi trees, we tackled a thrilling series of tight roller-coaster turns, rain-slicked roots, low-slung branches, and gullies thick with mud. Had I not been so intent on staying upright, I would have whooped with delight.
If I was a little rusty in the mud, Mitchell was an old hand. Six feet tall with burly quads and forearms, he powered along as though he'd custom-ordered every rock, drop, and root on Mud Lane. Which, in fact, he had. "I helped build this trail," he informed me as we stopped to admire a particularly impressive drop-off that one of us had just ridden flawlessly. Mitchell, 40, moved to Hilo from southern California in the 1970s, got into mountain biking, and teamed up with surfboard innovator and notorious Big Island eccentric Gordon Clark and other locals to help cut Mud Lane in '86. These days, Mitchell leads rides across the Big Island's wildly varied terrain and works a handful of jobs to stay ahead on a Hawaii not yet overrun with tourists. "I lived on Maui once," Mitchell said, "but it was too crowded."


Indeed, Mud Lane was our own private trials course that day. We'd had eight miles of epic, technical slime to ourselves—and later, before hosing off in Waimea, I paused to inspect the evidence: a few bruises, a head-to-toe dousing in Mud Lane's finest, and a huge smile.
The Big Island: Access and Resources
THE BIG ISLAND'S BESTfrom Grant Mitchell
BEST PLACE TO BUY DARK-ROAST KONA COFFEE:
Royal Kona Coffee Mill in Captain Cook, 808-328-2511.
BEST SPOT TO TAKE IN VIEWS OF SNOWCAPPED MAUNA KEA:
Mana Road, a 48-mile doubletrack ride through upcountry ranch land.
BEST PLACE TO EAT A PANIOLO-STYLE TURKEY SANDWICH:
Maha's Cafe in Waimea, 808-885-0693.
BEST PLACE TO PICK UP A PAIR OF SLIPPERS
(the Big Island's signature $2.99 flip-flops): KTA Supermarkets, island-wide.
BEST PLACE TO WHALE-WATCH:
the oceanfront dining room at the Kamuela Provision Company, Hilton Waikoloa Village, 808-886-1234;
www.HWVon line.com
.
BEST SPOT TO STARGAZE:
the free nightly astronomy program at Onizuk…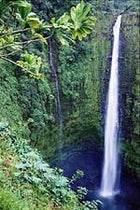 The Big Island's Alaska Falls
FROM SEA LEVEL to the nearly 14,000-foot summit of Mauna Kea, the Big Island offers the greatest topographic relief and climatic diversity of any of the Hawaiian Islands. It's also large enough to swallow the other Islands—twice over. So be prepared to clock some miles on that rental car.

WHERE TO STAY: Kona Village Resort has deluxe grass-roof hales—all with private lanais—in an authentic Polynesian-village setting on the Kohala Coast. Doubles start at $495 per night; 800-367-5290, www.konavillage.com. The Waipio Wayside B&B, a 1930s plantation house on the rugged Hamakua Coast, deserves raves for its big Pacific views. Doubles $95 per night; 800-833-8849, www.waipiowayside.com. For an upscale base camp close to Hawaii Volcanoes National Park, try the Inn at Volcano. Rooms and suites, $139-$399; 800-937-7786, www.volcano-hawaii.com.
WHERE TO INDULGE: Ka'upena Ono Hawaiian Food in Hilo is the place to go for a laulau, a Hawaiian-inspired burrito. Try their Super Coma laulau, a taro-leaf-wrapped hodgepodge of steamed pork, chicken, fish, and sweet potato. 808-933-1106. Bamboo Restaurant and Gallery—part island-art showroom, part delicious eatery—is located on the hip north tip of the Island in Hawi. Its passion-fruit margarita is the best on the island; 808-889-5555.

WHERE TO…
MOUNTAIN BIKE: Grant Mitchell offers a variety of guided tours on the Big Island, for all levels of riders, starting at $65. Bike rentals range from $25 per day to $130 per week; 888-682-8687, www.bikehawaii.com.

DIVE: Carlos Eyles, the master of breath-hold free-diving and owner of Diving Free Hawaii, will take you to the Kona Coast's blue edge. Three-day programs start at $300; 808-326-1569, www.divingfreehawaii.com.

HIKE: Hugh Montgomery's Waipio Waterfall Adventure takes you on a 3.5-mile rim trail that loops around the top of 1,200-foot Hi'ilawe Falls. $85 per person; 800-457-7759, www.hawaiian walkways.com.

RIDE HORSEBACK: Na'alapa Stables offers two rides: one down in the vernal heart of Waipio Valley; the other through the open range of Kahua Ranch. $75 for a 2.5-hour ride; 808-775-0419, www.naalapastables.com.
Connecting the Bumps
Racing the Wind in a Modern-Day Outrigger Canoe
CENTURIES BEFORE COLUMBUS MADE his little transatlantic trip, Polynesian wayfarers were crisscrossing vast stretches of the Pacific in their great voyaging canoes, guided only by their ancestral knowledge of the stars, winds, and waves. So I can't help but feel a certain sense of tradition blowing in the breeze as we chase gust lines in Matt Buckman's 45-foot fiberglass Hawaiian sailing canoe. Two outriggers, connected by a trampoline, balance the narrow hull as it slices through a light chop just outside the breakers fronting Waikiki's skyline and the serrated Ko'olau Mountains. At 75 degrees, it's a wintry day by Honolulu standards, and the spray blowing back from the outriggers forces Matt, me, and his two canoe-racing buddies to pull on light wetsuit tops.


Canoe sailing is the long-lost cousin of outrigger paddling, the state sport of Hawaii, and uses similar boats outfitted with triangular, lateen-rigged sails. Over the last decade, Buckman and a hard-core group of sailors have been reviving the sport, competing about a dozen times a year in interisland races. On off days, he extends his passion to anyone who wants to climb aboard and hang on for dear life.
A haole (non-native) in his late thirties and raised on Oahu, Buckman has a waterman's permanent weathered tan and will go to any length to keep his boat floating. His seat-of-the-surf-shorts exploits are notorious among fellow sailors. Once, after flipping a canoe during a race and breaking a key piece of equipment, Matt and crew were towed to shore, where he cockroached screws from a rental van to patch the broken fitting. Certified sailing canoes made for racing run about $17,000—likely the reason there are only 15 in the islands.


Buckman handles the sheet with casual ease, occasionally tossing a steering order back to Leimomi (Momi) Kekina, a compact Hawaiian woman who teaches canoe sailing at a local community college and usually races against Matt. "Steering with a paddle is the essence of what makes a canoe a canoe," Matt observes as he watches Momi deftly work an oversize steering paddle to surf the swells and catch the gusts. "Connecting the bumps," she calls it.


We skim along in a 20-knot wind, flying one ama (outrigger) catamaran-style over the turquoise water, and I scoot out on the canoe's broad trampoline to provide counterweight. The boat tucks into the face of a breaking wave as easily as it rips through the reef shallows off the Ala Wai Marina, taking full advantage of the canoe's eight-inch draft. "You won't find too many 45-foot boats that can do this," Matt says with pride. It's a sleek, strong work of art that tacks well as we zigzag back up the coast toward the postcard profile of Diamond Head. Safely moored back at the Outrigger Canoe Club it looks like a nimble water bug—all legs and long thorax.


Once we're settled into a beachside bar and sipping margaritas, I ask Momi what sailing these historic boats means to her. "When I'm out there on the ocean, I feel a sense of spiritual freedom," she says. "It's like my ancestors are right there with me, showing me what to do."


"What do they tell you?" I inquire.


"To go for it!"


"We have a saying," Matt adds. "Wherever there are two canoes together, it's a race."
Oahu: Access and Resources
OAHU'S BESTfrom Matt Buckman
BEST STORE TO BUY SURF SHORTS: (Birdwells, exclusively): Island Paddler in Honolulu, 808-737-4854.

BEST SPOT TO GET SQUID LUAU: (a Hawaiian stew made with spinachy taro leaves) Ruger Market in Kapahulu, 808-737-4531.

BEST PLACE TO TAKE HIS TWO-YEAR OLD TO THE BEACH: Lanikai, on the eastern shore.

BEST SHOP TO BUY A LEI: Flowers by Jr., Lou & T in Honolulu, 808-941-2022.

BEST BAR TO DRINK A BEER WITH SOME "LAGOONATICS": La Mariana Sailing Club, 808-848-2800.

Sunset at Oahu's North Shore
OTHER THAN SURFERS chasing down the legendary North Shore bombs, athletic travelers tend to think of Oahu as just an urban way station en route to the wilder neighbor islands. But Honolulu is just a bike ride away from a mountain trail, an uncrowded beach, or a bustling coral reef.

WHERE TO STAY: Make the scene at Oahu's hippest hotel, the W Honolulu, with 48 contempo-Asian designer rooms and suites. Doubles, $375; 888-528-9465, www.starwood.com/whotels. The Hawaii Polo Inn Beach Cottage sits on deserted Mokuleia Beach with views of the North Shore's famous surf. $125 per night; 800-669-7719, www.hawaiipolo.com.

WHERE TO INDULGE: See and be seen at Indigo, serving creative Eurasian fare in old Chinatown. 808-521-2900. Honolulu's Ono Hawaiian Food dishes out traditional fare like poke (spiced raw seafood) and heapings of poi (mashed taro root); 808-737-2275. Locals head to Matsumoto's for the island's best shaved ice. 808-637-4827, www.matsumotoshaveice.com.

WHERE TO…
CANOE SAIL: Matt Buckman's company, Aloha Spirit Hawaii, offers canoe cruises off Diamond Head and arranges custom itineraries. $25 per passenger per hour; 808-306-6012, www.alohaspirit.com.

KITEBOARD: Fly on Kailua Beach with Naish (yes, as in Robbie) Hawaii. A two-hour lesson costs $100; 800-767-6068, www.naish.com.

SURF: The Hans Hedemann Surf School teaches novices to read winds, currents, and swells—and, of course, to surf. From $50; 808-924-7778, www.hhsurf.com.

SCUBA DIVE: Swim out with Haleiwa's Surf & Sea to the marine conservation area at Shark's Cove on the North Shore, a diverse reef of coral canyons and challenging caves. $65 per dive; 800-899-7873, www.surfnsea.com.

HIKE: Explore rocky coves and tide pools on the 2.5-mile coastal trail in Kaena Point Natural Reserve on the island's northwest tip. Or try the Kuli'ou'ou Valley and Ridge Trail in East Honolulu, a six-mile forest loop through the Ko'olau mountains. Contact the state trails program, 808-973-9782, www.hawaiitrails.org.

MOUNTAIN BIKE: Pedal with Bike Hawaii Tours through the dense tropical foliage of the Ka'a'awa Valley. $85; 877-682-7433, www.bikehawaii.com.


The Universe According to Guava
Respect is All You Need to Surf Monster Waves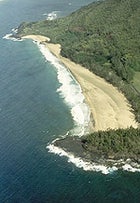 An aerial view of Kauai's Hanalie Bay
GUAVA JOE HAD LINEBACKER SHOULDERS, bowlegs, sun-bleached dirty-blond hair, and that hint of cynicism that comes from carving a life out of instructing landlocked tourists in Hawaii's highest art form—surfing. My friends and I met him at Kayak Kauai, an outfitter and boat rental in the north-shore town of Hanalei.


"You ladies looking for a surf lesson?" he asked, without introduction.


We were. But we'd heard that monster winter waves had killed two tourists and one local surfer in the last week, and all we knew about this guy, aside from his fruity name, was that he appeared to be a Coppertone cliché. So we chatted him up.


"I'm just a soul surfer, I've never really competed," he told us. But the 42-year-old did seem qualified. He grew up in New Hampshire, started surfing at age five, sailed from the U.S. Virgin Islands to Massachusetts before he was 20, and moved to Kauai for the waves in 1983.


"Girls are so much easier to teach," Guava baited us. "Guys try too hard."


We bit.


The next morning, we met Guava and our longboards at the pier on Hanalei Bay. Spanning two miles, with the crenulated mountains of the Na Pali Coast to the west and the combed sand of the luxurious Princeville Hotel to the east, Hanalei Bay is the stuff of honeymoon fantasies. Much to our surprise, it was also an excellent spot for a newbie surfer to catch a wave, with a distant reef breaking the 12-foot tubes and allowing them to reform in the bay as gentle, slow rollers. And we figured the chalky sand bottom would soften the rub when we crashed.


"You can't control the ocean, so you gotta have respect," Guava preached as we sat on the beach. "You're taking energy created by another type of energy and coming in harmony with it." Amen, brother.


Out on the water, Guava floated on his board 20 yards beyond us. He reminded us to pop to our feet, showed us where to position ourselves in a set, and then, when an ideal ankle-slapper approached, enthusiastically called, "Paddle! Paddle!" at the top of his lungs. "That-a girl!" he yelled as I fell off my board, communed with the ocean floor, then bobbed back up through the surf. I paddled and crashed until my skin felt like sandpaper. By four, we were parched. So we bought Guava a six-pack, sat on the beach, and basked in the glory of those few seconds when we had stood on our boards and come into harmony with the universe.



Kauai: Access and Resources
KAUAI'S BESTfrom Guava Joe
BEST PLACE TO SURF: Middles, the far reefs of Hanalei Bay. The rest are top secret. ("There are places I'd get in trouble if I mentioned. I don't want to lose respect from the Hawaiian boys.")

BEST BREAKFAST QUESADILLA: Hanalei Wake-Up Café ("Look for my photo on the wall."), 808-826-5551.

BEST FRESH FISH: Sushi Blues, Hanalei's best and only sushi bar/dance club. Order the Hanalei Roll: ahi, fish eggs, avocado, seaweed, 808-826-9701.

BEST PLACE TO LISTEN TO A LOCAL BAND ON A SUNDAY NIGHT: The Hanalei Gourmet, home of The Mango Brothers, an all-Hawaiian band, 808-826-2524.

Kauai's Poipu Beach
WHERE YOU GO AFTER landing in the town of Lihue depends on the island experience you're after: To reach the wet, tropical side of Kauai and the dramatic Na Pali Coast, head north on the Kuhio Highway. To see the less-explored cactus-strewn desert cut by 3,000-foot-deep Waimea Canyon, follow the Kaumualii Highway west. Or, If lounging on one of Kauai's impossibly soft white-sand beaches is a priority, you don't have to go farther than Poipu, just 20 minutes from the tarmac.

WHERE TO STAY: Rent one of 48 two-bedroom condominiums at the Hanalei Colony Resort fronting the perfect beach on Kepuhe Point; $160 per night; 800-628-3004, www.hcr.com. In Waimea, book one of 53 rustic bungalows at Aston Waimea Plantation Cottages. From $215 per night; 800-992-4632, www.waimeaplantation.com.

WHERE TO INDULGE: Join the surfing crowd at Zelo's Beach House Restaurant and Grill in Hanalei for fresh-strawberry pi-a coladas and macadamia-nut-crusted ono; 808-826-9700, www.zelosbeachhouse.com. The high-end Beach House restaurant overlooks Kuhio Beach in Poipu and serves a wonderful ahi taster combo plate—ahi poke, ahi tostadas, and an ahi hash spring roll; 808-742-1424, www.thebeachhouse.com.

HOW TO…
SURF: Go with Guava or one of 12 other instructors at Kayak Kauai in Hanalei; $40 per 90-minute lesson; 800-437-3507, www.kayakkauai.com.

SEA KAYAK: Paddle past 4,000-foot cliffs on the remote Na Pali Coast, arguably the world's most beautiful kayaking destination, with Outfitters Kauai; $165 per person, 888-742-9887, www.outfitterskauai.com.

HIKE: Walk the 11-mile Nu'alolo/awa'a-Puhi Loop Trail above the stunning Na Pali Coast; the $231-per-person price includes lunch, guides, and transportation; 800-437-3507, www.kayakkaui.com.

DIVE: Just outside of Haena, Tunnels Reef is a maze of caves, caverns, and lava tubes winding 60 feet below the surface of the Pacific. Call Dive Kauai scuba center in Kapaa; $98 per one-tank dive; 800-828-3483, www.dive kauai.com.