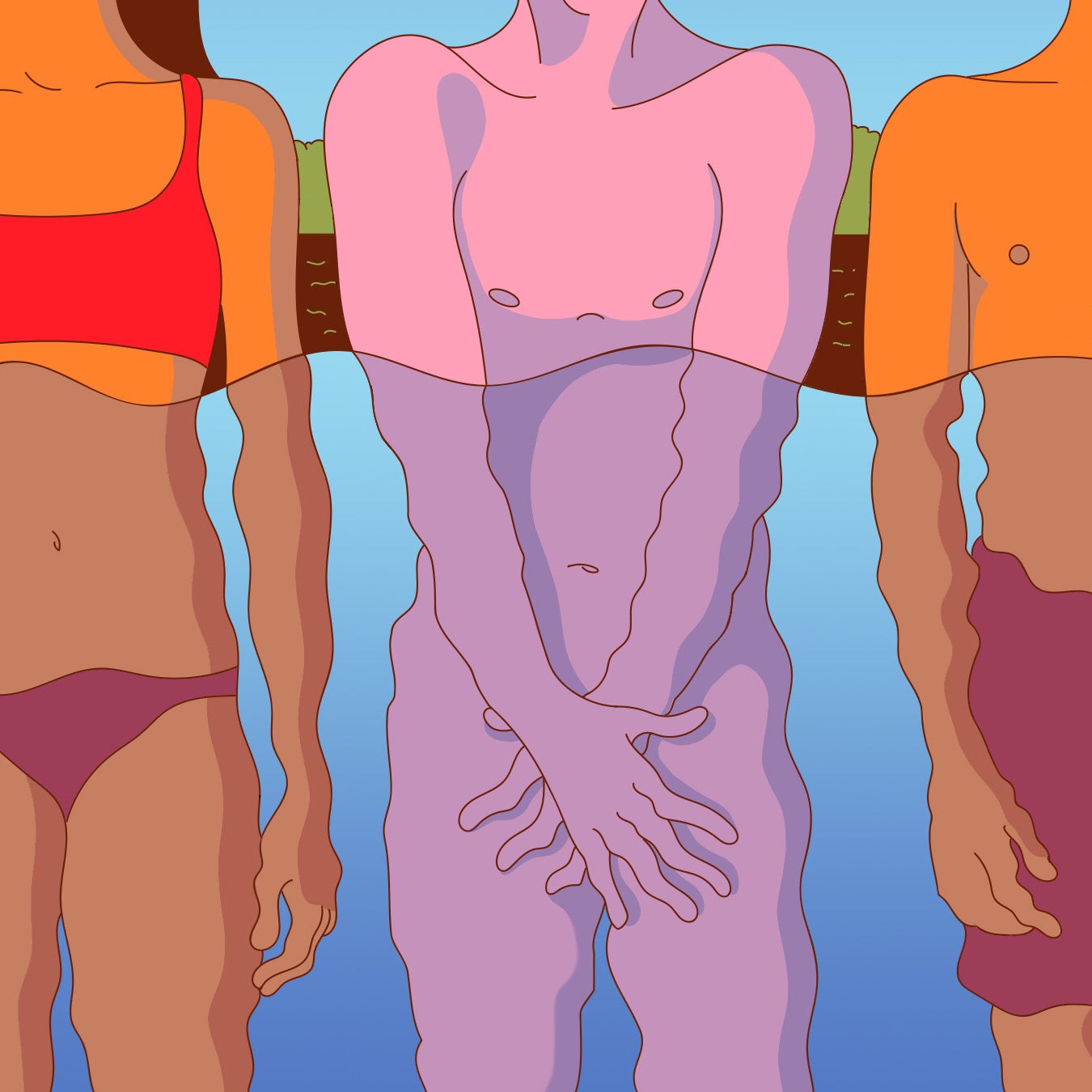 Heading out the door? Read this article on the new Outside+ app available now on iOS devices for members! Download the app.
Dear Sundog: I was soaking naked in hot springs in the woods when a group of people arrived and joined me in their swimsuits. Was I obliged to put mine on? —Naked and Alone
Dear Naked: What brings us closer to the earth than warm water bubbling to its surface, bathing our bodies, and soothing our souls? Many of us, alone at dusk or dawn, have felt a sense of being birthed by Mother Earth, a respite from that general indifference of the universe. It's a moment of true belonging, in which Sundog wonders if these springs rush to the surface intentionally to shelter and cleanse us during our journey across this planet.
Sundog gets intimate with Creation in the manner that the Creator intended: stripped of delusions, possessions—and clothing.
Your question, Naked and Alone, gets straight to the heart of the human place on the public landscape. In private, developed hot springs, of course, you have to follow the rules, which usually means suiting up. But what about in the wilderness?
The law is vague. Agencies that oversee public hot springs—the National Park Service, U.S. Forest Service, Bureau of Land Management—have no blanket prohibition of nudity, yet they often defer to state and county codes. Idaho, a hot-springs mecca, criminalizes any person who "exposes his or her genitals, in any public place," although during this summer's heat wave, women on Coeur d'Alene beaches adroitly reasoned that breasts were not genitals and legally lounged topless, causing an online hubbub with comments such as, "My little kids don't need to see that crap." Meanwhile, Nevada bans nudity as a form of indecent exposure, and yet its state-published travel magazine advises: "When it comes to dress code at a hot spring, the proper etiquette here is no etiquette. It's totally the norm to come up on a spring and find everyone in the nude, so just be prepared to roll with it."
In any case, in the backcountry, far from policemen with better things to do, such laws are rarely enforced. We are left to improvise, and Sundog sides strongly with Travel Nevada. There are so few places in the world to be nude outdoors. To be clear, dedicated spaces exist, where self-proclaimed naturists congregate to swat badminton birdies and slide shuffleboard pucks with their appendages flapping. But these colonies don't satisfy that yearning to immerse in the earth's abundance.
Wild naked places are important. They must be protected.
While Sundog and Ms. Sundog were nudely bathing on a beach in southern Spain, they saw evidence of a backlash against the encroachment of uptight squares in swimsuits: on the concrete steps leading down the cliff to the ocean, someone had spray-painted "Nuda Solamente!" Indeed, once you find yourself naked in nature, those in swimsuits suddenly appear irrationally fussy, and Sundog finds himself paraphrasing the American prophet George Clinton: undress your mind, and your ass will follow.
Now let's address a corollary of your question: Should men suit up when women arrive? After all, backcountry hot springs are dominated by a certain demographic: naked, solo, middle-aged to old-age men. Sundog has observed that a person's willingness to be seen nude is often inversely proportional to other people's desire to see them sans clothes. And let's face it: some public flaunters are creeps, whose leering and cheesy do-you-soak-here-often pickups make it impossible for women (and men) to achieve the sort of solitude and earth connection that they seek. Should those dudes clothe up for women?
Let me tell you a story. Back when Sundog was a young fellow earning $55 a day hauling teenagers through the wilderness, he taught his charges to make a sweat lodge out of a tent, sleeping bags, and river rocks heated in a bonfire. On one such occasion, the girls in the group announced that they wanted to go in the buff. Here, Sundog's general advocacy for nudity conflicted with his specific sense of professional guardianship. He didn't want to body-shame the girls, but neither did he want parents hearing about their daughter cramming into a sweaty nylon hut with her glistening 27-year-old instructor. So he crept over to the director's tent and asked the policy on this. The director rubbed his grizzled beard. Nearby a canyon wren sang. Finally he replied gravely:
"Sunglasses on. No boner."
Ultimately, Sundog allowed his charges to nude up, but he stayed outside the lodge, tending the fire. However, that's not what matters. The point is that what makes a naked creep is not his lack of clothing but his creepiness. When a woman in the backcountry assesses a man to be a threat or an annoyance, it's not because he's naked, it's because he's gawking, stroking his balls, and asking if she wants to check out his Sprinter van.
The etiquette for nude men when women arrive, then, is not to rush and cover up, but rather, as my director sagely advised, to avoid sexualizing a nonsexual encounter. Don't be a creep. Don't stare. (This applies, by the way, to everyone, regardless of gender.) If you absolutely can't control your virility then yes, slip into your shorts. If they want to talk to you, they will talk to you. And for fuck's sake, if they want to see your Sprinter van, they'll ask.
---
Got a question of your own? Send it to sundogsalmanac@hotmail.com.