How can I wash in the wild without freezing?
I'm heading out on an extended canoe trip and I'm not really looking forward to jumping into freezing cold water to wash. Can you recommend a good solar shower? Space and weight are a major issue. Tim New Jersey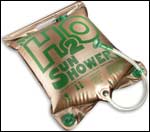 Heading out the door? Read this article on the new Outside+ app available now on iOS devices for members! Download the app.
Summer trip? How cold can the water be? Unless it's in the Arctic Circle or something. Granted, around where I live lots of streams are ice-cold in August due to their origins in snow or glacier melt. But by the time even that water gets to the point where it's deep enough and slow enough to be canoeable, it's warmed up considerably.

Stearns Super Sunshower II


Anyway, what you need is a Stearns Super Sunshower II ($20; www.stearnsinc.com). It's simply a plastic bag with a hose and small shower head attached. You fill it with water (four gallon capacity) and set it in the sun. Stearns says that on a sunny day it will boost 60-degree water to 110 degrees in three hours. When it's empty, it packs down very compactly and weighs only 14 ounces. I wouldn't take one backpacking, but for a canoe trip it would be fine. You might even figure out a way to fill it in the morning and leave it in an exposed place on the boat, so the water is all warmed up and ready to go when you hit camp.
If you want to get really fancy, you can add to your ablution ensemble the Stearns Shower Enclosure ($28). It's a nylon shower curtain that you hang from a tree. Inflatable bladders around the top and bottom of the curtain help it keep its shape.
Happy paddling (and showering)!
Check out more of the outdoor-gear world's must-have gizmos in the Gear Guy's report from the
2004 Outdoor Retailer show
.