How Crazy, Drunk Swedes are Stirring Up Endurance Competition
The dirt (and freezing water) behind Sweden's premiere event, ÖTILLÖ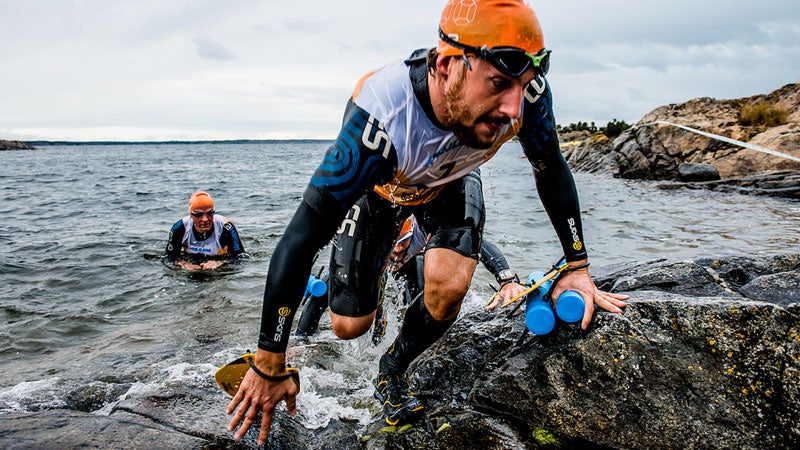 Heading out the door? Read this article on the new Outside+ app available now on iOS devices for members! Download the app.
Swimrunning is quickly becoming Sweden's hottest endurance phenomenon, thanks in no small part to an event called ÖTILLÖ (prounced ah 'till ah), or "island to island," in English.

Racers hit dry ground.

A racer swims through the cold and dark water.

Showing off some of the gorgeous scenery.
The sport is exactly what it seems: athletes swim and run repeatedly over a set course. If they're racing ÖTILLÖ, billed as the Swimrun World Championship and held annually on the first Monday in September, athletes will cover a total of 6.2 miles of swimming and 40 miles of trail running in a point-to-point adventure across 24 islands.
Despite average race day water and air temperatures in the 50s, this race sells out. Limited to 120 teams of two, ÖTILLÖ has a lottery and qualifying events for the international roster of "Ironman triathletes, multisport stars, elite military teams, endurance junkies, and nut cases," as the official race literature states, clamoring for a spot on the starting line. We spoke with race founder, Michael Lemmel, and three-time ÖTILLÖ champ, Jonas Colting, to find out why—and how to survive.
History: So these guys made a drunken bet…
No really. "I went to a garage to fix my car," Lemmel says. "The owner of the garage was also the owner of the hotel, which is now where we finish the race on the island of Utö. He told me his other partner and two employees had gotten drunk in the bar one night, and they had challenged each other to go from Utö to Sandhamn 75 kilometers away, which is where we have the start line now, the next day. The bet was the last of the pairs to get to the hotel in Sandhamn would pay for the drinks, and also pay for the hotel rooms. But when they did arrive, the hotel was fully booked and they all had to sleep outside. So they did it a second year, and it was just after the second year that I met this man at the garage and he said, 'Do you think this could be an idea that you could make something from?'"
Who should do it:
"You need to be of Ironman quality to do well in this race," Lemmel says. Applications for ÖTILLÖ's ninth edition are currently open. Selected teams will be notified on Jan. 29, 2014. Note: If you are chosen, you must pay the $1,600 entry fee within two weeks. Ask Santa for cash this year.
Insider tips:
Cut up your wetsuit
"You need a good triathlon wetsuit, and you need to cut the arms and legs so your elbows and knees are free," Colting says. You'll also need a pair of lightweight running shoes with good traction. Colting likes Innov8's line of trail shoes. And you'll want calf sleeves. "The islands are just full of thorn bushes and rocks and sharp stones—you're going to scratch your legs," Colting says. Finally, many racers use paddles to help make up for dragging shoes in the swim. With 48 ins and outs, there's no time to take equipment on and off; you'll even run with your swim cap and goggles on.
Partner up
Picking a partner is the most important decision you'll make. The two of you must stay within 10 meters of each other on each swim, and 100 meters on each run. Considering the average finishing time in 2013 was 12 hours and 7 minutes, that's a lot of time to spend breathing down each other's backs. "Find someone you can curse with throughout the day," Colting says. "Someone of equal ability, especially in the water."
Make training suck
"You need to run and swim when the weather is bad," Lemmel says. "If you're a proficient open water swimmer when the water is cold and when there's waves, you'll do really well. If you can deal with bad weather and difficult conditions, then that takes away that mental obstacle."
Chill
"The Baltic Sea is brackish water," Colting says. "There are no jellyfish. Basically, we don't have anything that is scary in Sweden—it's like Disney World here."
Why you'll love it:
"It's a great mix between highs and lows. You'll be tired and frustrated from the terrain, then you reach a point on an island where it's really beautiful and tranquil," Colting says. (The race's photostream highlights the splendor of Sweden's islands.) "I think the big attraction is the ability to race in couples as a team with your friend. That's a great thing for endurance events, where you typically do stuff on your own."
Get there:
The race begins in Sandhamn, about an hour east of Stockholm. Fly into Stockholm, then take a water taxi from Strandvägen in the center of Stockholm to the island. See the host hotel's webpage on how to get there for more information.

Hardcore factor:
10/10. If you don't die of exhaustion or hypothermia, there's always the chance of getting drowned by a hydrophilic moose. "Last year we had a moose swimming on the course with us," Lemmel says.
Similar events:
In addition to ÖTILLÖ's two qualifying events, Colting offers his own swimrun race in Sweden. ÖTILLÖ hopes to stage a qualifying event in the U.S., but no date has been set. In the meantime, the Survival of the Shawangunks triathlon in New Paltz, New York, may be the closest thing America has to ÖTILLÖ.
Trending on Outside Online