Indefinitely Wild
How a One-Armed Surfer Plans to Fix Wildfires
With an environmentally friendly firefighting gel called Strong Water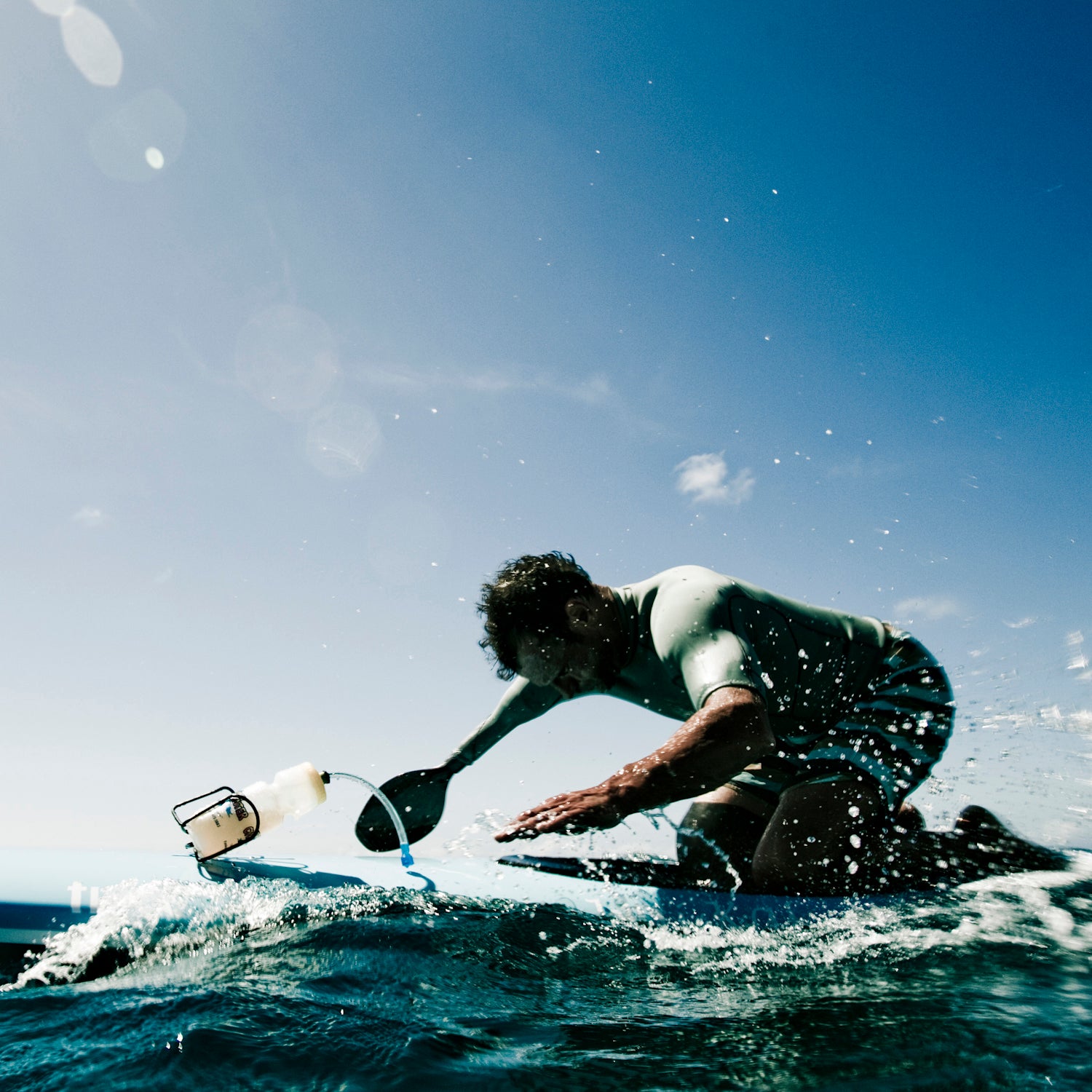 Heading out the door? Read this article on the new Outside+ app available now on iOS devices for members! Download the app.
Last year was the most expensive wildfire season on record. The U.S. Forest Service spent $2 billion fighting blazes in 2017, and those fires still destroyed more than $12 billion in property—in California alone. In the 13 western states, the total value of homes threatened by wildfire now tops $500 billion, and due to climate change, that threat is only going to get worse.
Plus, the way we fight fires isn't great for the environment. The vast quantities of water dumped and sprayed on blazes can wash toxic debris into groundwater. Worse, the foam and thickening agents used by firefighters are toxic, adding to pollution and potentially threatening the health of firefighters and the public. Finally, during a drought, water can be difficult to find nearby and thus require expensive transportation by land or air.
A one-armed surfer thinks he can do something about all the above.
In 1993, Jeff Denholm was working as a fisherman when he lost his right arm to a trawler's driveshaft off the coast of Alaska. After surviving the 21-hour trip to the nearest hospital and the subsequent amputation, he set about designing a prosthesis that would enable him to continue surfing. Denholm has since created similar prosthetic arms for skiing and mountain biking, and he now works as a surf and paddleboard ambassador for Patagonia.
Denholm also owns a fleet of fire trucks that he rents to the U.S. Forest Service to help it fight wildfires, which is how he became aware of the problems with existing firefighting chemicals and decided to look for a solution. His search led him to Steve Haddix, an engineer who had developed a biodegradable gel that promised just that. The two are now partners in Atira Systems, which makes just one product—Strong Water. 
Strong Water is a gel intended to be coated on structures and even forests to make them fire-resistant. It's distributed as a concentrate (Denholm won't reveal exactly what's in it, but says the mixture poses no risk to humans or the environment), which is then shipped to local fire departments. They then mix it with water, and voilà—they get a toothpaste-like substance suitable for fire protection or suppression. Five gallons of Strong Water concentrate combined with 250 gallons of water can coat a 1,074-square-foot structure with three-quarters of an inch of gel. 
Denholm claims that the gel, which has a six-year shelf life, increases the "value" of water to firefighters by up to 20 times. He arrives at this calculation due to the gel's ability to "stick and stay" on vertical surfaces. Where water and foams simply run off whatever they're sprayed on, Strong Water clings for two to eight hours. That enables considerably less water to provide much more effective fire prevention. When dropped from an airplane, Smart Water will coat the upper layers of a forest. It can be sprayed onto houses well in advance of a fire's arrival. Because it persists through flames, the gel can prevent the fire from rekindling. 
With current technology, firefighters might "write off" a home if it's adjacent to an overwhelming amount of fuel (dead trees and brush). They simply lack the ability to effectively protect structures in those circumstances. With Strong Water, both that home and the adjacent fuel could be coated in fire-extinguishing gel an hour or two before the fire arrives, allowing firefighters to efficiently save the structure and move on to its neighbors, all well in advance of the actual fire line.
https://player.vimeo.com/video/232679023
The stuff's already been approved for use in California following a three-year trial by the state's Office of Emergency Services. Atira is working to create local stockpiles of the concentrate around the state so it'll be available wherever it's needed during this summer's fire season. It's currently being used by fire departments in San Diego County and San Bernardino County, as well as on the trucks that Denholm supplies to Forest Service Region 6 in the Pacific Northwest.
It's difficult to fully quantify the advantages of this new technology, especially because it's designed for such a chaotic, constantly changing application and all the methods and practices for using it have yet to be developed. Government employees like firefighters are also prevented from endorsing businesses and their products. But Strong Water has already faced its first real-world test: Atira estimates that roughly 1,000 gallons of the gel concentrate were used to fight last year's destructive Napa and Thomas fires, protecting $200 million in homes.
As for the name? "Strong water took my arm on the Bering Sea. Strong water has provided a platform to leverage athletics into environmental activism," Denholm says. "Strong water is the nexus of all things in my life." 
Lead Photo: Tim Davis