Kai Lenny Walks on Water
Or so it seems. The 24-year-old from Hawaii is a multiple-time world champion of stand-up paddling, a dominant wind- and kitesurfer, and one of the most fearless big-wave riders on the planet. His combination of talents would seem impossible if he didn't make it all look so easy.
Heading out the door? Read this article on the new Outside+ app available now on iOS devices for members! Download the app.
Hurricane Madeline had just spun off and Hurricane Lester was hard on its heels and the skies over Maui's north shore were brooding and restless, with fierce clouds casting the ocean a surly shade of slate, but Kai Lenny thought the conditions would be "epic" for a downwind coast run on his stand-up ­hydrofoil board, so he drove to Maliko Gulch in his black Ford F-150 truck, towing a matched pair of jet skis behind him on a trailer. This convoy of stoke and gear rolled up the Hana Highway and hairpin-turned into the gulch, bouncing across washboard ruts and through giant mud puddles. At the edge of the launch ramp, Lenny backed up the truck and tipped the jet skis into the water. "Look, it's already breaking up," he said, scanning the horizon. "It's windy though. There'll be bumps out there for sure." 
Nothing about the day looked overly appealing. I stood ankle-deep in storm debris—leaves, sticks, mud, rocks—wrestled on a wetsuit, and zipped up my flotation vest. Standing beside me, Victor Lopez, one of Lenny's mentors (and the brother of surf legend Gerry Lopez), did the same, and then we waded into the murky gulch and climbed aboard the skis. Rain fell crankily. Lenny, however, was buoyant and cheerful. 
And why not? At 24, Lenny is already a seven-time stand-up-paddling world champion—three racing and four surfing with a paddle. He is one of the globe's most ­accomplished watermen, a prodigy not only at paddling, but also at windsurfing, kitesurfing, and big-wave surfing—doing each of these three sports at such an elite level that, were he to give any one of them his singular attention, its world title would also be well within reach. In pursuit of his passions Lenny has surfed oceans, bays, rivers, lakes, wave parks, even swimming pools. Last April in a Paris stadium, he windsurfed off a ramp and landed a massive aerial flip, with 15,000 spectators cheering and disco lights flashing overhead. His repertoire also includes prone paddling, outrigger canoeing, freediving, skimboarding, bodysurfing, shortboard surfing—anything that involves water or waves, basically. One surf observer has quipped that Lenny could "ride a loaf of bread if you coated it with resin." But chest puffing is not Lenny's style. "I wouldn't say I'm anywhere close to where I want to be," he says. "I feel like the more you learn, the less you know."
Certainly it doesn't hurt Lenny's aquatic DNA that he was born and raised on Maui; that his parents, Martin and Paula, moved to the island specifically to windsurf and then built their family life entirely around watersports; that he grew up with "uncles" like Laird Hamilton, Dave Kalama, Robby Naish, Darrick ­Doerner, and the Lopez brothers. Before Lenny's first week on earth was complete, his parents had already dipped him into the Pacific, a baptism of the highest, wildest order. At four he caught his first wave; by nine he had his first sponsor. This all seems quite fateful, even before you learn that kai is the Hawaiian word for "ocean." 
Now, two decades later, watching ­Lenny paddle is a lesson in elegance; I've seen sea­birds less graceful. At five-nine and 154 pounds, he is not a brawny guy. For his size he's long-limbed, every muscle a functional tool. Lopez and I followed as Lenny set off on his 7'2″ canary yellow hydrofoil board in search of the best wind and waves. Soon he was up on the foil. "He's going nine or ten knots," Lopez said, nodding his approval.
A foil appears ungainly only when it's not in motion. More than anything it resembles an airplane wing, connected to a board by a vertical strut. When it moves through the water, the physics kick in and the foil creates lift, allowing the rider to soar, frictionless, around two feet above the surface. Though foils have been around for years, they've mainly been used for tow surfing. Lenny changed that, working with an engineer on the design, adapting it for stand-up paddling and shortboard surfing. Being able to fly under your own power was, he claimed, "life changing." ­Every wave in the ocean, even crummy waves, mushy waves, misshapen waves, was suddenly a joyride. 
We made our way down the coast as ­Lenny zipped through the swells. At one point the sky darkened ominously behind us while the sun peeked out front and a full rainbow emerged, glowing with preposterous ­beauty. It arched over Lenny's head, the ­dramatic light illuminating the Hurley logo on his boardshorts, the Tag Heuer watch on his wrist, the rich yellow of his Naish surfboard, the Red Bull logos glinting off the jet skis. Lenny's skin shone like copper; his smile could be seen from outer space. It was an image that would make advertising executives fall to their knees in rapture, eyes rolled back in their heads. 
Lopez grinned. "Kai has a whole different relationship to the ocean than most people," he said. "And he's the nicest kid out there! The only grief I can give him is that he eats too many burritos."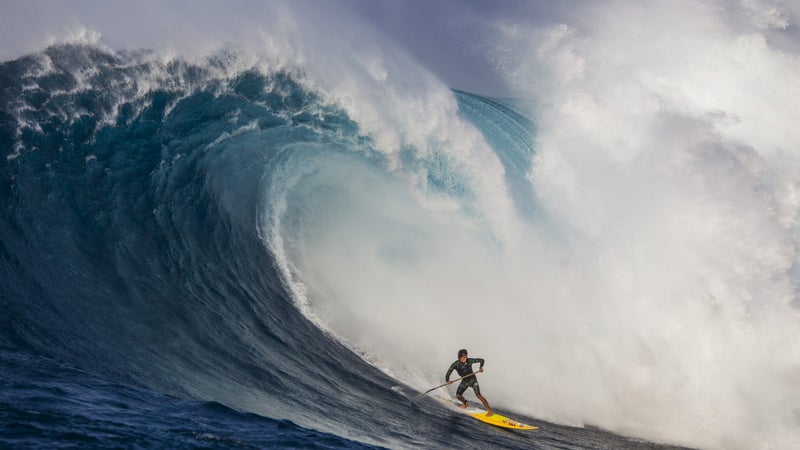 On any afternoon when the trade winds are blowing, Hookipa Beach Park, on Maui's north shore, is a riot of kites and sails, attitude and adrenaline. In the parking lot you'll hear German, French, Portuguese, Spanish, Japanese, pidgin—a United Nations of surf. Local heavies patrol the place enforcing Darwin's rules of etiquette. Offshore the waves can be triple overhead. In short, it's a tough place to make an impression. Especially if you're ten years old.
Veteran pilot Don Shearer, whose yellow chopper is a familiar sight at every big swell, recalled the first time he saw Lenny at Hoo­kipa, back in 2003. Shearer had been flying a photography crew who were shooting the scene when a tiny figure streaked into the frame: "Here comes this little kid, and he does this full loop right in front of the helicopter on his windsurfer! I'm like, 'Who the hell is that?' "
Robby Naish knew who it was. Naish, now 53, is a windsurfing icon, a 24-time world champ who won his first title at age 13. He also launched a board-sports company, fielding a team of talented riders. Around the same time Shearer noticed Lenny, ­Naish had ­received a letter, penned in a kid's hand. "I will be the best team rider if you give me a chance," it read. A résumé and list of references were attached. The letter was signed: "Your Freind [sic], Kai Waterman Lenny."
"Thank you very much for your résumé… and welcome to the team!" Naish wrote back, adding: "The number one rule is that school comes first!" He also advised Lenny to listen to his parents and to "stay modest. Nobody likes a 'big head' even if he's the best in the world."
Recalling Lenny's letter now, Naish chuckles. "It was cute. I've known Kai since he was born. He had so much enthusiasm, it was pretty clear he was gonna go places eventually. Unless he spun out or became a drug addict, it was almost guaranteed. Fortunately, he's got his head on straight." 
This is an understatement. As a young adult, Lenny has his act together in a way that's rare in someone twice his age. Disciplined, organized, reliable, friendly, positive: all those adjectives apply. Lenny doesn't drink alcohol—"I don't like the taste," he says—or, God forbid, smoke. He considers his time in the ocean to be a state of constant meditation. When forced to remain on land, he reads Joseph Campbell and teaches himself filmmaking. The most deviant thing he's been known to do is roll his dog, Bubba, upside down and spin him around a few times. "He loves it," Lenny says. (For the record that appears to be true.) 
Most important, he is surrounded by Maui's tight-knit watersports community and a family that couldn't be more supportive. Martin Lenny, an ­affable man with a calming presence, juggles a real estate ­career with helping Kai guide his ­affairs. ­Paula ­Lenny is an athletic woman with tousled blond hair and kind eyes who recently retired as a physician. The two not only ­encouraged Kai and his younger brother, Ridge, in their oceanic adventures—they joined in. 
To put it mildly, this is not always the soil in which young surfers grow: Rates of burnout and dropout and delinquency abound. Substance abuse lurks nearby. The surf world's list of cautionary tales is long, but it is simply impossible to imagine Lenny, say, chugging a 40 while dazed on oxycodone. At no time in his life will he be getting his neck tattooed. 
This is not to say, however, that Lenny is perfect. There was that incident in the cane fields, when his Polaris Rzr ATV ended up floating down an irrigation ditch and had to be sling-loaded out. Officially closed to the public, these fields hold forbidden allure for dirt bikers—or, in Lenny's case, high-speed off-roaders who enjoy aerobatics. "If I was really in trouble and I had to make my great escape, nobody could catch me on that thing," he says. "It goes 140 miles per hour!" And the burrito-gluttony charge is legitimate.
Lenny loves Taco Bell with a level of devotion that fast-food chains don't often inspire. The relationship is not mercenary: there is no sponsorship here, just adoration. It takes multiple bean and cheese burritos to power an eight-hour day of training that may include surfing, paddling, foiling, kiting, windsurfing, a gym workout, and a Muay Thai boxing session thrown in for good measure. 
"I have a hard time keeping weight on," Lenny says. "There's a burning furnace in my stomach." Finding his body's ideal fuel has not been an easy quest. On the water he dutifully ingested gels, which he hated, and found himself bonking and fading anyway. At home a dinner of fish and salad didn't cut it. "I was always feeling so tired, because I wasn't getting enough fat and calories," Lenny says. "So this year I just said screw it, I'm gonna eat whatever I want. And I feel amazing. I finally realized that the people who were telling me what to eat were all, like, 50."
---
If there's a race that demands the full mea­sure of Lenny's determination, it's the Molokai 2 Oahu Paddleboard World Championships, a 32-mile, notoriously feisty channel crossing between the two islands. At that distance it's a test of pain threshold as well as paddling skills. In 2015, Lenny finished second. The year before that resulted in fourth. This wouldn't suffice. The M2O is a crown jewel in the extreme-sports kingdom; winning it was high on Lenny's to-do list. He changed up his equipment, modified his training, debriefed with master waterman Dave Kalama, tweaked his race tactics, and stocked the escort boat with Taco Bell. 
And trounced everyone at the 2016 race, setting a new world record.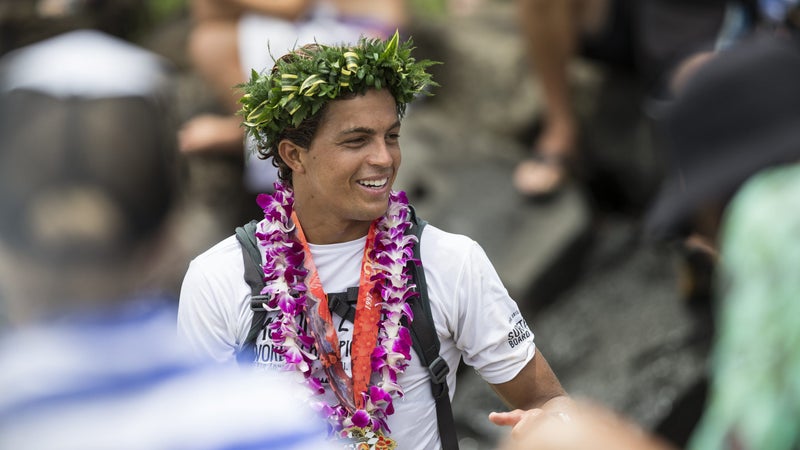 "The best part was nobody thought I was going to win," Lenny tells me one day as we're sitting in the living room of his parents' house in Spreckelsville, a stone's throw from some of the Pacific's best windsurfing breaks. "I just raced against myself," Lenny says, describing a strategy of high-intensity intervals rather than a long, grinding slog. "I would go really hard for a while, then I would really relax."
Martin and Paula are at home today, too; the only Lenny not in evidence is Ridge, who is away at college. The house has a ­relaxed, happy vibe, with comfy sofas, wooden carvings of sea turtles, vintage surfboards hanging from the dining room ceiling. 
In the run-up to the 2016 M2O, after a big-wave competition caused Lenny to miss one paddling event and illness kept him from another, a SUP blogger brayed across the Internet: The stand-up tour's current world champion was not a contender. You would not be seeing him on the podium. 
Paula nods. "Everyone was asking, 'Is Kai going to retire from racing?' "
"People are funny," Lenny says with a smirk. "When they don't see you, they assume that you're done. And I'm like, 'You guys do realize I'm only 24, right?' "
Enjoying this pressure-free, underdog status might have been easier had a 60 Minutes Sports crew not been following Lenny, hoping to capture footage of a big showy victory. "It's such a mental game, that race," he says. "It hurts so bad. You're pounding as hard as you can for four hours." But the effort was worth it: "The only way to become world champion is to go to a point that somebody else isn't willing to go." The other day on the water, Lopez had weighed in: "I think that record's going to stand for a long time. And when it's broken, it'll be him breaking it."
El Niño winter is hard luck for many marine creatures, but one group thrives on it: big-wave surfers. And no big wave draws more of their attention than Peahi, otherwise known as Jaws. Located on Maui five miles east of Maliko Gulch and a half-mile offshore, Jaws is an irresistible fever dream for anyone whose idea of a good time involves surfing a wave as daunting as Mount Everest. Its faces can top 80 feet. 
Lenny has been riding Jaws since he was 16, and he was fantasizing about it long before that. He began tow-surfing it under the tutelage of Kalama and Hamilton, the wave's undisputed kings. "Kai's been watching us ride Peahi since he was a baby," Hamilton says. "For him, riding these giant waves is the norm: 'Oh, that's what you do.' " Despite a memorable wipeout the first time he was towed in, Lenny was instantly sold; now he's there whenever the wave breaks in good conditions. Most years that's three, four, maybe five times. Then the weather gods brought winter 2015–16: Lenny surfed Jaws 24 times. His performance on the biggest days earned him a spot on the World Surf League's Big Wave Tour. 
"I think a huge transformation came from being a part of my best big-wave season ever," Lenny says. "From the start of it, my thought process was, 'Well, I hope I don't die. If I can make it to May, I'm gonna be so happy.' " Not that he was any less scared by the end, he stresses. Big-wave riders tend to think of Peahi as a ferocious female presence—Hamilton has called her "the Grand Empress"—who commands total respect. "I feel like she's my other mother, in a way," Lenny says. "And that's spiritually speaking, because every time I go out, I do feel like I'm being taught a lesson." 
"He has that sense of how to survive up there," Kalama notes. "And not every big-wave surfer does. A lot of them just have giant nuts and will go on anything—and all they're really doing is taking off into obliv­ion. Kai's extremely talented in maneuvering and positioning and judging how to make the wave. And yet, at the same time, he's totally down to take a beating. Which is really impressive in my book."
"I've always been really lucky with injuries," Lenny says, allowing only that the worst one he's gotten at Jaws—his right foot nearly sliced in half—was "irritating." He'd fallen on a wave and taken some 30-footers on the head, and somewhere in the maelstrom his board's fin filleted him between his toes. Lenny popped up, gasped for air, reached down, and felt two pieces of foot where there would normally be one. That bad situation would have been worse if not for Don ­Shearer's improvisational medevac skills. 
"Yeah, I pulled him out of the water," Shearer says. "I saw the whole thing happen, and it didn't look good." To transport Lenny from the lineup to shore to a car to the hospital would have taken too long—­obvious from the scarlet froth in the whitewater. With Shearer hovering low and Lopez maneuvering the jet ski, Lenny grabbed the helicopter's left skid and hauled himself into the backseat. Judging from the photos, this is not something you should try at home.
"By the time I got to the airport, he had bled all over the whole helicopter," Shearer recalls. "The inside, the outside, the seats, the ceiling. And we had the doors off, you know—it's a hurricane in the backseat. We're going 120 knots, and you get side winds." 
After Lenny was safely in the ER, ­Shearer surveyed his chopper, which now looked like the site of an ax murder. "I called Kai and left a message: 'If I didn't love you so much, I would come over there and kick your ass! I'd make you come over here and clean up this shit! I have to wash the whole damned helicopter!' " Shearer laughs. "He owes me a wash job! Tell him I haven't forgotten."
---
Even at home, Lenny runs a tight ship. His apartment above his parents' garage brings to mind a well-ordered yacht: zero clutter, all items tidily stowed. "I like to keep everything as clean as I can," he explains, an admirable philosophy for anyone, especially anyone who happens to compete professionally in at least four different sports. And he is ­constantly travel­ing, schlepping equipment all over the planet and then back home to Maui. He would surely be forgiven a bit of chaos: a tangle of ­leashes, a pile of wetsuits on the floor. Yet when he shows me a room where about 60 of his hundreds of boards are stored, the rows are so neat it's as though they've been filed in alphabetical order.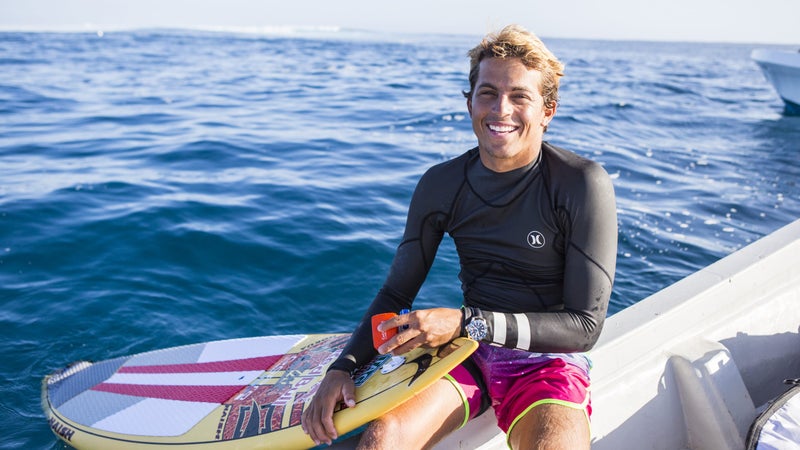 Today is a rest day, a concept Lenny does not love but is learning to tolerate. The Herculean work ethic that drives him ­physically, however, also holds sway over his interior life, so Lenny's idea of taking a break includes designing new foil shapes on his computer, or watching technical videos of canoe paddling, or analyzing the data from his heart-rate monitor, or writing in his journal, or reading David Mamet on Directing Film, the book that's lying on his desk. The one thing the day probably won't include is actual, indolent rest. "If I'm not on the move—I'm all about adventure around the next corner, otherwise I get really bored," Lenny emphasizes. "I need constant stimulation."
Whatever Lenny is doing to engage himself, it's working. And whatever success he's already achieved, it's clear he's just getting started. Which goals are up next? I ask for specifics, and Lenny muses for a moment, then says he would have to break it down by sport. Even talking about waves revs him up, and the words tumble out in a rush. "For windsurfing, I want to be doing gravity-­defying moves in the air when I jump. I want to do double rotations and feel like I lose the sensation of time. And then kitesurfing, I'm really into doing maneuvers you couldn't do on a surfboard, that need the assistance of the kite. Connecting the dots so it just looks unbelievable. Shortboard surfing, it's about tricks, learning all the intricacies of tricks. Big-wave surfing is about performance. I want to ride really big waves, and I want to surf them like they're small waves. That's my goal. And then foiling, I want to figure out how to be a fighter pilot. Being as efficient as flying, but doing radical turns. Defying most people's idea of physics. Doing stuff where they think, That's not possible. I love that. That's so cool. And then stand-up-paddle racing, I just want to be an absolute animal. Feel like there's no other athlete who can push as hard as me or go as fast as I can. And the only way to do that is by training and stuff. What else is there? That kind of covers all the basics."