The Lazy, Crazy Guide to Sand Land
Where to Surf, Hike, Dive, Fish, Shop, Eat, Drink, Dance, Sleep, and Kick Back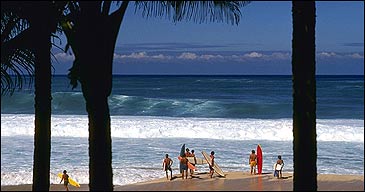 Heading out the door? Read this article on the new Outside+ app available now on iOS devices for members! Download the app.


Best Surfing Waves

BATHSHEBA, BARBADOS: Soupbowl, a reef break with a powerful right on the island's undeveloped east coast, has been hosting wintertime surfing competitions for 20 years, but thanks to an Atlantic exposure, good waves can be found year-round. The Soupbowl scene heats up in November, when the Independence Pro (celebrating Barbados's 1966 break from Britain) draws surfers hoping for southwest winds and deep barrels. Kelly Slater won last year. For details, contact the Barbados Surfing Association (246-228-5117, www.bsasurf.org).

HALEIWA, OAHU, HAWAII: Its exposure to huge swells makes Oahu's North Shore (a.k.a. the Seven Mile Miracle) the most epic surf magnet in the universe. Winter storms generate rolling monsters made famous at spots like Pipeline and Sunset Beach, but beginners can enjoy Chuns Reef and Puaena Point, where weaker currents and a softer bottom make for a gentler entrée to the sport. For lessons ($65 for a three-hour group lesson) and rentals ($24-$30 per day) contact the Surf-N-Sea shop (808-637-7873, www.surfnsea.com).
PUERTO ESCONDIDO, MEXICO: The "Mexican Pipeline" is a legendary beach break with left- and right-hand tubes at Zicatela Beach. In March, the Central Surf Longboard Invitational is held here, kicking off the summer season of big southern swells. If the Pipeline's too gnarly for you, walk a bit farther south to La Punta, where you'll often find an easier point breaking left—a slower, rounder learner's wave. For classes, check in with the Central Surf Shop ($50 per two-hour lesson and $10-$12 for all-day board rentals; 011-52-954-582-2285, www.centralsurfshop.com).


Best Hipster Hangouts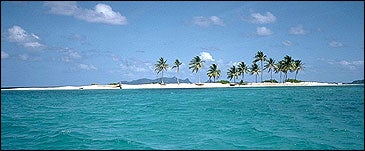 BEST DANCE CLUB
Salon Rosado de La Tropical
This is the hottest salsa venue in Cuba—and therefore the world. You can't help but get your bacon shakin' at this giant outdoor arena, where you can catch white-hot acts such as NG La Banda, Los Van Van, Paulito y su Elite, and other Cuban greats along with thousands of gyrating fans. Salon Rosado is in a barrio of Havana on 41st Avenue between 46 and 44, Municipio Playa.

JAKE'S JAMAICA: Eclectic Jake's, part of the super-chic Island Outpost group (owned by Island Records' Chris Blackwell), is an intimate jumble of adobe buildings—accented by a thumping reggae soundtrack—atop a south-coast cliff near Treasure Beach's dark sands. Denizens of cool are many here—you could bump into Bono in the mosaic-tiled saltwater pool if you're not lazing about in Seapuss, Sweetlip, or one of the 11 other brightly painted gingerbread cottages done up with island paintings. Be sure to try Jake's pumpkin soup at the restaurant (doubles from $95; 800-688-7678.

HOTEL DESEO, MEXICO: Pack the Gucci shades—this "hotel and lounge" on Playa del Carmen's Fifth Avenue places a heavy emphasis on the lounge part of the equation. Note the Euro-tinged accents wafting through the air as bronzed gods and goddesses sun away last night's party on daybeds lining the upstairs deck. Grab a cerveza at the bar, then hop in the outdoor Jacuzzi. The 15 elegantly sparse guest rooms—grooviest on the Mayan Riviera—feature marble toilets and clawfoot tubs (doubles from $118; 011-52-984-879-3620, www.hoteldeseo.com).

LALUNA, GRENADA: Sixteen airy villas—each with a Balinese four-poster bed and an expansive private deck that includes a plunge pool—cover a hillside above Laluna's secluded beach. Welcome to an Italian-owned and -designed enclave of fabulousness near Morne Rouge. When you're not diving or kayaking, sample the fresh Mediterranean pasta in the beachside restaurant and keep an eye peeled for former megamodel Jerry Hall (doubles from $270; 473-439-0001, www.laluna.com).
Best Beaches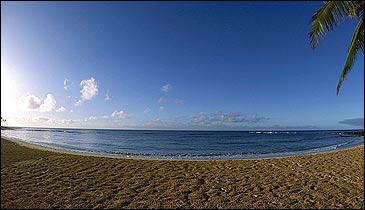 SECRET BEACH, KAUAI, HAWAII: At the base of 150-foot cliffs west of Kilauea, this two-mile stretch of gold-glowing sand draws its name from its remote location (and the presence of nude sunbathers). To get in on the Secret, you have to drive two miles west from Kilauea to Kalihiwai, go a half-mile down a muddy road to the trailhead, then walk five minutes on a rocky path. Once you're there, you'll want to comb the beach and lounge around, but it's best not to swim: From October to May, swells can be quite large, and currents are always strong. The folks at Kayak Kauai are knowledgeable and can help with directions (800-437-3507, www.islandout post.com/jakes).

SANDY CAY, BRITISH VIRGIN ISLANDS: This uninhabited 14-acre nirvana southeast of Jost Van Dyke can be reached only by boaters, namely yachties, but its crystalline waters and gleaming white sand make it well worth chartering a ride yourself. Daytrippers are welcome to anchor on the island, owned by Laurance Rockefeller, and bask on his beach or hike the 20 minutes it takes to circle Sandy Cay or venture up the trail through its interior. Call Caribbean Connection for charters (284-494-3623).
ST. JOSEPH PENINSULA STATE PARK, PORT ST. JOE, FLORIDA: Rated America's best beach by Dr. Beach himself (Stephen Leatherman, a coastal geologist who assesses the health of the nation's sandy stretches), the 2,516-acre park is bounded by St. Joe Bay and the Gulf of Mexico, with 14 miles of coastline. Highlights include snowy sand dunes, wildlife (this is a primo spot for spotting hawks and monarch butterflies), and the bliss of seeing nary another soul (campsites, $15 per night; 800-326-3521 for reservations, 850-227-1327 for information).
Best Eco-Lodges
Best Mercado
Oaxaca City, Mexico
Fresh chocolate ground with almonds and vanilla, colorful baskets teeming with seasoned grasshoppers, and cheap rocket-fuel-style mescal are just a few of the local treats to be found in this sprawling outdoor market, where Indian women hawk everything from power tools to turkeys. (
www.oaxacaoaxaca.com
)
LODGE AT PICO BONITO, HONDURAS: The 8,000-foot peak of Pico Bonito sets the backdrop for this 200-acre nature resort close to the Caribbean coast, where 21 cabins (constructed from hurricane-felled timber) are tucked among a grove of cacao and coffee trees. A poolside bar serves fresh grapefruit juice straight from the orchards on the property, while a restaurant with an outdoor patio offers Meso-American cuisine. Pico Bonito National Park is next door, and the Class II-IV Cangrejal River flows nearby. For a less frothy adventure, paddle a canoe through the mangroves of Cuero y Salado Park, near La Ceiba. Watch for 275 species of birds, including the long-tailed manakin, as well as jaguars, kinkajous, and monkeys (doubles from $155; 888-428-0221, www.www.picobonito.com).

EXOTICA, DOMINICA: The lodge's eight wooden cottages overlooking the sea on the slopes of 3,683-foot Morne Anglais have a genuine eco-pedigree—they're run by the president of the Caribbean Conservation Society, Athie Martin. The units have tropical-hardwood verandas, pine-paneled living rooms, and fully equipped kitchens with gas stoves and solar-heated water. Guests can prepare their own meals with fresh-picked produce from an adjoining organic farm or dine at the lodge's café. Aside from soaking in the get-back-to-the-land vibe, there are diversions: Wander old hunting trails through forests looking for bananaquit birds, hike an hour up to Middleham Falls near Cochrane, or go play in the sea (doubles from $140; 767-448-8839, www.www.exotica-cottages.com).

HOTELITO DESCONOCIDO, MEXICO: Here's proof that a stay at an eco-resort doesn't have to be an exercise in austerity. Sixty miles south of Puerto Vallarta on the Pacific coast, Desconocido is as plush as environmentally oriented accommodations come: Think Mexican fishing village meets luxury safari camp. Palafitos (wood-floored bungalows with palapa roofs) are set up on stilts around a stunning lagoon and a 100-acre beach reserve where sea turtles nest from June to January. Use the lodge's equipment to windsurf, or take a horseback ride along the beach, then head back to one of the 30 rustic-chic guest rooms, which feature canopied beds, open-air showers, and embroidered linens—but no electricity. Solar energy powers the resort, and countless candles provide soft lighting (doubles from $215; 800-851-1143, www.hotelito.com).

TIAMO RESORTS, SOUTH ANDROS, BAHAMAS: Sea kayaking, sailing, diving, snorkeling, and a quiet beach are all a coconut's throw away from Tiamo's lodge and eight bungalows on stilts with views over South Bight's teal waters. The resort is supremely eco-friendly—it's solar-powered and uses composting toilets; guests are asked to pack out their plastic goods for recycling. Bring your fly rods—bonefish are abundant in the flats right out the front door. Afterward, head to the main lodge for Chef Jared's seared tuna with red-pepper-and-mango sauce (doubles from $205; 800-201-4356, www.tiamoresorts.com).

KANANTIK, BELIZE: Situated on 300 private acres (with an airstrip) in southern Belize, Kanantik Reef and Jungle Resort redefines "isolated": The only neighbors are the jaguars and toucans that haunt the Cockscomb Basin Wildlife Sanctuary, four miles south, and the whale sharks that migrate offshore. Ancient Mayan building traditions have been updated to 21st-century cush in the 25 spacious cabañas that line the palm-fringed beach, where you can launch a sea kayak. You can also dive, fish for bill- and bonefish, sail one of the resort's Hobie Cats, or tour the temples at Xunantunich ruins, near the Guatemalan border. Refuel with the restaurant's Creole-Mediterranean fare (doubles from $265; 800-965-9689, www.kanantik.com).
Best Dive Destinations
Best Plunge Pool with a View
Ladera Resort, St. Lucia
Refreshing cold-water plunge pools are the perfect treat after a sweat-in-the-sun activity, and they've become a trend at boutique resorts. Ladera's set the gold standard—each room has its own private plunge pool, with spectacular views from the resort's primo perch on a ridge overlooking the ocean and St. Lucia's famed Pitons. (doubles from $290; 758-459-7323,
www.ladera-stlucia.com
)

Into the Caribbean's clear blue wonders
DRIFT DIVING LITTLE CAYMAN'S BLOODY BAY WALL MARINE PARK: Bloody Bay is a notch every diver wants to carve into his or her weight belt, with good reason—gliding over the edge of a mile-deep vertical drop as the wall disappears into the depths of the Caribbean Sea is an unbeatable thrill. Orange and brown sponges jut from all directions, and sea turtles, spotted eagle rays, and groupers swim about. Three-night packages, including lodging, meals, and diving, start at $645 at the clubby Little Cayman Beach Resort (800-327-3835, www.littlecayman.com).

VIEWING WHALE SHARKS OFF UTILA, HONDURAS: Your best bet for encountering 25- to 40-foot whale sharks, the largest fish in the sea (don't worry, they eat plankton, not humans), is to sign up with Princeton, N.J.-based Shark Research Institute. During a weeklong visit at their field station at Utila Lodge, on one of the Bay Islands off Honduras in the Caribbean Sea, you'll learn how to find the mammoth spotted creatures, dive with them, and help researchers with population studies. Seven-night packages, including lodging, meals, and diving, cost $1,150 per person (609-921-3522, www.sharks.org).

DIVING THE SHORES OF BONAIRE: The shore-diving capital of the world has outstanding dive sites just duck walks from the beach. (Salt and Old Town piers are favorite spots.) The strictly regulated Bonaire Marine Park surrounds the island—a 111-square-mile Dutch outpost off the Venezuelan coast—and protects its coral, sea turtles, and fish. Buddy Dive Resort (866-462-8339, www.buddydive.com) offers eight-day, seven-night packages, including rental car and six days of unlimited air fills, starting at $965 per person.

DIVING PINNACLES IN SABA MARINE PARK: Saba—a five-square-mile mountainous outcrop in the Netherlands Antilles—is legendary for its underwater pinnacles and seamounts, including Third Encounter and Twilight Zone. Covered in red and orange fans and sponges, they rise from the floor of the Caribbean Sea to within 85 feet of the surface, and are frequented by six varieties of shark. Sea Saba Advanced Dive Center (800-883-7222, www.seasaba.com) offers three-day, six-dive packages starting at $399 per person at the eco-funky El Momo Cottages.
Best Archaeological Sites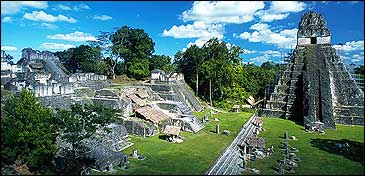 TIKAL NATIONAL PARK, GUATEMALA: The overused term "lost world" finally feels appropriate when you first glimpse the Mayan ruins of Tikal, once a thriving metropolis of 100,000 people that peaked around a.d. 700. Temple IV, Great Plaza, and South Acropolis, the major ruins in this 143-square-mile park in northern Guatemala, poke out of a mist-shrouded canopy, while toucans flutter, monkeys chatter, and coatimundis cross your path. Visit when the park opens at dawn—trails of vapor rise from the ruins like departing spirits. You'll find the rustic, backpacker-friendly Jaguar Inn (doubles, $48; 011-502-926-0002, www.lacasadedondavid.com/index.html) near the entrance to the park.

FORT JEFFERSON, DRY TORTUGAS NATIONAL PARK, FLORIDA: The seven islands that make up the Dry Tortugas National Park—70 miles west of Key West—were discovered by Europeans in 1513, when Ponce de Léon arrived and named them after the sea turtles that fed his sailors. The islands are still known for their marine life, but the ruins of Fort Jefferson, on 16-acre Garden Cay, are the main attraction. Construction on the red-brick fort began in 1846 but was never completed. Reach Garden Cay by seaplane ($179 per person round-trip; Sea Planes of Key West, 800-950-2359, www.seaplanesofkeywest.com) or boat ($109 per person; Yankee Fleet, 800-634-0939, www.yankeefreedom.com). As you approach it, the six-sided, three-story fort hovers over the Atlantic like a mirage. In 2003, camping will be available on the beach ($3 per person; 305-242-7700, www.nps.gov/drto).
RIVER OF RUINS TRIP THROUGH MEXICO AND GUATEMALA: This Indiana Jones-style river tour of Mayan ruins begins in Palenque, Mexico. You'll fly to Tikal National Park in Guatemala, and then ride back to Mexico by river on 20- to 80-foot plank boats called lanchas. During your cruise along the Pasion, Petexbatun, and Usumacinta rivers, you'll frequent 1,500-year-old sites like Aguateca and Yaxchilan, accessible only by hiking. A ten-day trip with Ceiba Adventures (800-217-1060, www.ceibaadventures.com) costs $2,550 per person.
Best Fishing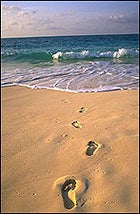 Walk this way: stepping into Cuba's Cayo Largo
BONEFISH—LA TORTUGA IN JARDINES DE LA REINA, CUBA: Combine live-aboard and lodge fishing in these pristine flats 40 miles off the island's southwest coast. A lack of commercial fishing and a dearth of people mean you can cast a fly into waters few others have ever fished. Avalon Fishing and Diving Center is based at a floating lodge—three large boats with 17 cabins—and uses a fleet of skiffs for fishing. Expert Cuban guides pole you through shallow water around cays as you cast for the elusive fork-tailed torpedoes. Eight-day trips cost $2,400 (011-39-335-814-9111, www.avalons.net).
TARPON—RÃO COLORADO, COSTA RICA: With howler monkeys screeching at you from the trees onshore while a 100-pound tarpon hurls itself out of the Río Colorado at the end of your line, it's hard to imagine a more intense fishing spot than here in northeastern Costa Rica. But just keep concentrating and you'll be reeling in tarpon aplenty at this spawning ground where the river meets the Caribbean Sea. Base yourself at Archie Field's Río Colorado Lodge, which offers 18 plain but comfortable rooms on stilts, right on the riverbanks ($380 per person per day, including guides, meals, and boat; 800-243-9777, www.riocoloradolodge.com).
PERMIT—ASCENSIÓN BAY, MEXICO: In the heart of the Yucatán's Sian Ka'an Biosphere Reserve, a 1,304,688-acre UNESCO World Heritage site, this massive expanse of saltwater flats is one of the world's best places to catch a permit on a fly. Your odds of hooking a bonefish or a tarpon are pretty good, too—Ascensión Bay is often called the Grand Slam Capital of the fishing world. Most anglers situate themselves in or near the tiny fishing village of Punta Allen; the best place to stay is a four-bedroom guest house, SeaClusion Villa, five miles from town ($2,500 a week, per person, including transport from Cancún; 888-829-9420, www.seaclusionmexico.com).
Best (Affordable) Beachfront Resorts
BEST TIKI DRINK
The Horny Monkey
You've sampled barrels of mai-tais, pina coladas, and margaritas, but have you ever faced down a horny monkey? Fill a cocktail shaker with ice and add 1.5 ounces of banana liqueur, one ounce of vodka, a half-ounce of light rum, and two ounces of cream of coconut. Shake well. Strain into a tall, ice-filled glass and fill with pineapple juice. Garnish with a whole banana, dust with cinnamon, and serve (recipe from Tiki Drinks by Adam Rocke, published by Surrey Books in 2000).

HOTEL HANA-MAUI, MAUI, HAWAII: When you get a load of the sea crashing practically right into this place, you won't be surprised that scenes from Fantasy Island were shot on the 66-acre grounds. Sure, there's tennis on site, hiking in Haleakala National Park, cycling along the winding coastal roads, and snorkeling nearby at Hamoa Beach, but after soaking in the stars and the ocean views from the hot tub on your room's huge deck, you won't feel like doing much else. The resort's 47 plantation-style cottages, all with ocean views (and surrounded by a 4,500-acre ranch), are situated near the little town of Hana on Maui's east coast. A main dining room, with streamers dangling from the ceiling to diffuse light, serves scrumptious meals with local produce (doubles from $275; 800-321-4262, www.hotelhanamaui.com).

NUEVA VIDA, MEXICO: This tiny resort's Swiss Family Robinson-style rooms, with mucho wood and palm thatch, are housed in bungalows built ten feet off the ground to maximize the sultry ocean breezes and gorgeous ocean views. What to do? Tulum's sweep of white-sand beach and one of the Yucatán's most dramatic clusters of Mayan ruins are right outside your door (you can also explore the nearby ruins of Cobá and Chichén Itzá)—or let the hotel's massage therapist noodle you silly. Leave the blow-dryer at home: The sun and wind power the lights and aren't up to the task of drying your hair (doubles from $65; 011-52-984-877-8512, www.tulumnv.com).

EDEN ROCK, ST. BART'S: If you want a whiff of Saint-Tropez in the Caribbean, try this red-roofed resort, which crowns a rocky promontory jutting into Baie de St. Jean. You're more likely to see guests wearing Prada than Patagonia—most of the 16 rooms cost at least $600 per night—but the common denominator is a love for the luxe beaches that stretch out below the hotel. The trick: Reserve the Captain's Cabin at about half the cost of a room. When you tire of snorkeling around the reef surrounding Eden Rock, you can gorge on French cuisine, pamper yourself in the spa, sip fruity cocktails in the beach bar, or laze on the topless beach (cabin rental is $375 per night from January to April and less during the summer and fall; 877-563-7105, www.edenrockhotel.com).

WINDMILLS PLANTATION, SALT CAY, TURKS AND CAICOS: On laid-back Salt Cay, you're in the company of wild donkeys, windmills, and migrating humpback whales; the perfect place to slow yourself down is this eight-room, plantation-style hotel overlooking a 2.5-mile stretch of beach. The hotel has a saltwater pool and snorkeling off the beach; divers can explore the coral walls and the Endymion, an 18th-century wreck, with Salt Cay Divers. At day's end, repair to rooms whose colorful walls and dark wooden antiques from colonial-era plantations take you back to the days when those donkeys hauled salt from mines to ships bound for distant ports (doubles from $325; 800-822-7715, www.saltcaysite.com).
Best Hikes
PICO DUARTE, DOMINICAN REPUBLIC: Hike from steamy jungle to cool forest on this strenuous 29-mile trek to the top of the Caribbean's highest peak, Pico Duarte (10,128 feet). Traverse Parque Nacional Armando Bermúdez, which typically sees fewer than 200 tourists a year, and listen to your guide spin stories around the campfire. On the trail, look out for wild boar and the rare Hispaniola parrot. Iguana Mama's three-day trip costs $450 (809-571-0908, www.iguanamama.com).

PARQUE NACIONAL DARIÉN, PANAMA: This 1.2-million-acre UNESCO World Heritage site, stretching almost the entire length of the Colombian border, is home to 6,000-foot mountains, Emberá Indians, and 450 species of birds, like macaws and the green-naped tanager. Fly into a renovated gold mining camp (sleeps eight) at Cana, a valley in the Pirre Mountains, for day hikes. The five-mile Pirre Mountain Trail climbs 1,000 feet to a cloudforest camp; the two-day Boca de Cupe Trail is the only way out of the park by land. Ancon Expeditions offers a 14-day Darién Explorer Trek ($2,495; 011-507-269-9415, www.anconexpeditions.com).
PU'U KUKUI, MAUI, HAWAII: Each year, 5,788-foot Pu'u Kukui Mountain receives buckets of rain (about 30 feet), but few visitors (about 12). The 8,661-acre nature preserve is owned by the Maui Land and Pineapple Company, which one day a year, in August, helicopters up a dozen hikers (at $1,000 bucks a pop!) for a three-mile tour and lunch, led by the Kapalua Nature Society. The cloudforest hides 12 of Hawaii's 150 indigenous plant communities and the nearly extinct i'iwi bird. Contact Kapalua Nature Society (800-527-2582, www.ceibaadventures.com).


Trending on Outside Online