Lead Us into Temptation
And deliver us pronto to these 44 island Edens—if they were any more perfect we'd be in heaven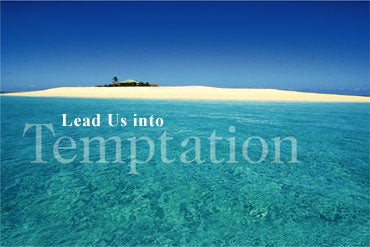 Heading out the door? Read this article on the new Outside+ app available now on iOS devices for members! Download the app.






PLUS: Exclusive online listings of one-resort islands, islands for sale, and uninhabited isles




La Digue
Seychelles, Indian Ocean Say you were alone on an isle packed with Euro honeymooners. You too might fall for a dark-hulled, double-ended Digwaz beauty.
Isle File
The Funkiest Food
MOFONGO sure doesn't sound like something you'd ask your mama for, except in PUERTO RICO, where it's a national dish (mashed plantains with chicharrones of pork). This is not to be confused with Hot Mofongo, a fine Puerto Rican jazz trio.
Another lonely beach in the Seychelles

Access & Resources
LA DIGUE IS FOR LOVERS. Or so it seemed as I boarded a salty-looking schooner for the four-mile crossing from the neighboring island of Praslin. The benches around me were full of young, affluent, mostly European couples who, if they weren't snuggling, nuzzling, or fully making out, were videotaping each other for later delectation. And once we'd arrived on this smallest of the Seychelles' "major" islands, I had to agree: It's a pretty romantic place, with its turquoise lagoon, its two dozen white-sand beaches, and most of all its towering granite rock formations. I, alas, was solo, not en couple, something the locals could never quite accept. "Madame is not coming down this morning?" the woman who served breakfast at my hotel kept asking. No, Madame wasn't.



The Freudian term for my behavior during my first few days on the island is, I believe, sublimation. Each morning I set off on little bike rides—they can hardly be otherwise on La Digue, where there's only one five-mile-long road—that somehow morphed into epic, Conradian quests. One day I rode down the windward side of the island and then, at road's end, found myself scrambling off-trail to find a coastal route from Anse Caiman to Anse Cocos, two of the island's most remote and unspoiled beaches. The distance was negligible—perhaps half a mile—but the terrain was fantastically rough, a jumble of pink granite monoliths the size of houses, and it took me several hours of tropical bouldering (flip-flops only) and full-contact bushwhacking to claw my way through the jungle.

Another day, after a heart-pounding dip in the breakers at Grand Anse, a favorite boogie-boarding and surf spot, I off-trailed it to the Nid d'Aigles, or Eagle's Nest, the spectacular lookout at the top of the island. Fleets of low, moist clouds, a result of the southeast monsoon, were streaming in off the Indian Ocean at a dizzying clip. At dusk, the flying foxes came out—not flitting like bats but gliding between the fruit trees—and then the moon to light my ride home.

By day four, though, I was getting lonely. My hands were raw (from bouldering, you understand), and my legs looked like I'd been through some medieval rite of self-mortification. And then, just in time, I found her.

Access & Resources: La Digue

Private motor vehicles aren't allowed on three-mile-long La Digue. By special dispen-sation, the island priest bops around on a Vespa, but everyone else rides mountain bikes. Be prepared for sticker shock: from $5 cigarettes to $35 paperbacks, the Seychelles are pricey.

GETTING THERE: Air Seychelles (800-677-4277; www.airseychelles.net) flies to the main island of Mahé from major cities in Europe (round-trip from Paris costs about $800). There's no airport on La Digue, so unless you spring for Helicopter Seychelles' chopper from Mahé (about $120, 011-248-37-39-00; www.helico-seychelles.com), you'll need to take a ferry or an Air Seychelles Twin Otter to the neighboring island of Praslin, then head to La Digue via ferry (Inter-Island Ferry Service; 248-23-23-29). Mountain bikes are available for about $7 a day in La Passe, at Chez Michelin (248-23-43-04) and other places.

WHERE TO STAY: At La Digue Island Lodge (248-23-42-32; www.seychelles.net), aging bungalows go for $265­$380 a night. Better deals are Chateau St. Cloud ($180; 248-23-43-46; or e-mail stcloud@seychelles.net), centered on a restored plantation house; and L'Ocean ($250; 248-23-41-80; or e-mail hocean@seychelles.net) at Anse Patates; and Choppy's Beach Bungalows on Anse La Réunion ($150; 248-23-42-24; or e-mail choppys@seychelles.net).

WILD LA DIGUE: The $2 entry fee to L'Union Estate includes passage to Anse Source d'Argent, the magnificent boulder-strewn beach featured in all those Bacardi ads. La Digue ranks high on the list of the Seychelles' top dive spots; check out the island's only dive center, at La Digue Island Lodge. Gerard Payet (look for him on the dock in La Passe) will set you up with snorkeling trips to Îe Coco, Grande Soeur, Petite Soeur, and Félicité(about $40, including lunch). For deep-sea fishing and multiday yacht cruises, call Mason's Travel (248- 23-42-27; www.masonstravel.com) or Travel Service Seychelles (248- 23-44-11; www.tss.sc).

ISLAND EATS: Most restaurants are attached to hotels. The two exceptions, Zerof and Loutier Coco, serve French-Creole dishes such as curry spiced with piment.

Back to the top
Rarotonga
Cook Islands, South Pacific Hoist a frosty fruity, sniff the hibiscus, imbibe the swaying palms. The South Seas are still the spot for Everyman's tropical fantasy.
Isle File
The Nastiest Cocktail
Not on the menu but available upon request is an aphrodisiac called chu: The gag-inducing elixir of SORGHUM DUM WINE, dochi berries, dried sea horse, spider legs, and (ahem) horny goat weed is brewed at Indigo Euroasian Cuisine in Honolulu on OAHU.


Access & Resources

I was floating about eight feet above a sandy-bottomed reef, staring into the Day-Glo face of a sunset wrasse, when the notion struck me. Fish are not generally known for their prodigious brains, yet when you come face-to-face with poisson of the non-man-eating variety in their natural element, a strange exchange can take place. This one, for instance, seemed intrigued. Unlike the octopus that had shot under a rock, fast and bulbous, when I'd surprised it only moments earlier—shedding light on that obscure adage "Never trust a mollusk"—the wrasse seemed to want to dialogue. Most of his neighbors were too busy munching on coral to care, but he was trying to make a connection. When I blinked, he blinked back. When I raised my eyebrows, he emitted a stream of bubbles. Something was happening here. One small step for me, perhaps, but one giant leap for piscine-hominid brotherhood.

You could call it a eureka moment, I suppose, but it was really nothing more than the product of many hours of painstakingly indolent and hedonistic study. I had come in search of the True Essence of Nowhere, and had adhered to a strict regimen of snorkeling, lollygagging, and consuming exotic fruits, big blue drinks, and much fresh fish (sorry, bro). My wilderness study area, in this case, was the island of Rarotonga, a lush, craggy mountain of green that erupts out of the otherwise wide blue expanse of the South Pacific. At a humble 40 square miles, Rarotonga is the largest of 15 atolls, volcanic outcroppings, and sandy mounds that make up the Cook Islands, a far-flung group of landmasses that hover between French Polynesia to the east and New Zealand to the southwest. Which is a diplomatic way of saying the middle of nowhere. So I'd come to the right place.

Nowhere, I found, has its advantages. Being in the middle of it means that McDonald's, Sheraton, Starbucks, Wal-Mart, Chanel, and the like have yet to establish beachheads, and that walking around in a loud floral shirt is construed as a fashion-do.

It also means that dogs and roosters pretty much run the joint. Roosters let you know this by crowing at 5:30 a.m. and at precise 20-minute intervals thereafter for the next 13 hours. Dogs let you know this by taking their own sweet time crossing the road—usually at the exact moment you've had the first of many lazy island epiphanies like "Hey, I'm driving 30 miles an hour on an island in the middle of nowhere. What do I have to worry about?" Roosters and dogs have their own worries, though. Due to their annoying punctuality, roosters get a lot of stuff thrown at them, so they're a little skittish around humans. When it comes to dogs, well, as one guidebook flatly states, "Dogs are sometimes eaten by young men on drinking sprees"—in some parts of the world a fashion-don't.

My search for the True Essence of Nowhere was arduous and thorough. The art of doing nothing is very hard work. You have to unhinge the shackles of time and space and bob on the slipstream of whatever slipstreams bob on. Rarotongans make it look easy. When not tending the papaya and taro crops that dot most patches of cleared land, or managing a host of businesses in the bustling, postage-stamp-size capital of Avarua, or cruising Muri Lagoon in an outrigger to inspect the traditional nets and traps they've been using for centuries, they can usually be found plinking ukuleles and singing old Maori folk songs to the wind. They're not slacking, they're just…passing time. It's no wonder the standard greeting on the island is Kia orana—"May you live on."

My wife, who threw herself into the search with vigor, became obsessed with finding the perfect abandoned shell—no easy task. Rarotonga is the tip of an ancient dormant volcano girdled by 20 miles of submerged coral and rock. The nubbly white-sand beaches are therefore spangled with a fresh crop of seaborne detritus with each new tide. You'll never see more shells, and you'll never drive yourself more crazy.

It was a benign lunacy. Myself, I became transfixed by the waves. On the west coast of the island, near the village of Arorangi, the reef is only about 200 yards offshore. You can sit for hours and muse on fish brains while watching meaty turquoise rollers pound the barrier with metronomic precision, only to flatten out like backwash on their final dash to the beach. I took about 30 snapshots of this phenomenon (known in common parlance as, uh, breaking waves). Hear me, fellow pilgrims: I was trying to capture that sublime moment when a wave flips up to a perfect pre-curl, like a jaw about to slam shut. I never got it right on film, but I could have watched them break for the rest of my days.

Our days, however, were numbered, and we caught only occasional glimpses of pure Nowheresville. Like the morning I opened the door of our bungalow in time to see a coconut fall and hit the sand with a tremendous thud. Or the afternoon we snorkeled the calm, cerulean lagoon at Aitutaki, an "almost atoll" about 140 miles north of Rarotonga, and communed with a school of bigeye bream. They just hung there, suspended in tight pods, beckoning me with their big freaky eyes, as if to say, "One of us, one of us…" (Oh yeah, they can think.)

Then one evening, while strolling on the beach as dusk succumbed to nightfall, we looked up and beheld the True Essence. Above us, the Milky Way had cracked open the heavens, spilling stars like snowflakes on black velvet. "Can you believe where we are?" I asked my wife. "No, I can't," she said. Pause. "But where are we?"

We were Nowhere and Everywhere at the same time. And we were doing nothing. And it felt great.

Access & Resources: Rarotonga

You know that Gilligan's Island cliché of South Seas islanders as lei-wearing, ukulele-playing, hula-dancing happy people? Well, it's not just a cliché; here it's a refreshing reality.

GETTING THERE: Fly Air New Zealand (800-369-6867; www.airnewzealand.com), the only major carrier that lands in Rarotonga. Direct from Los Angeles takes just under ten splendid hours (prices start at about $1,200).

WHERE TO STAY: Crown Beach Resort in Arorangi (011-682-23-953; www.crownbeach.com) has 22 one- and two-bedroom wood-paneled and thatch-roofed villas with eat-in kitchens ($214­$281 a night) perched directly on or just off the strand. Bungalows at the Muri Beachcomber ($93­$138; 682-21-022; www.cookpages.com/MuriBeachcomber) and Palm Grove ($69­$108; 682-20-002; www.cookpages.com/PalmGrove) are only slightly less posh—think linoleum rather than stained wood. Most units come with kitchens, and many sit right by the beach. For those hitchhiking their way across the Pacific, the ack-packers International Hostel ($6.50­$11; 682-21-847; or e-mail annabill@backpackers.co.ck) is surprisingly homey, with a big communal kitchen and a rooftop sundeck.

WILD RAROTONGA: Car, scooter, and bike rental shops (in Avarua try Budget/Polynesian Bike Hire, 682-20-895 or Avis, 682-22-833; car rental is about $22 per day) pop up all over the island, making transportation easy. You can snorkel almost anywhere, but the best site is on the south side off Titikaveka. Expect to see sunset wrasses, Moorish idols, yellow boxfish, and the occasional octopus. Barry Hill at Dive Rarotonga ($22­$26; 682-21-873; www .diveraro.com) knows every cave, drop-off, and wreck around the island, and has swum with humpback whales ("That'll give you dreams for a week," he says). If you're keen to hook fish rather than swim with them, Trevor Yorke at Manatee Fishing Charters can take you out beyond the reef to troll for barracuda and dogtooth tuna ($27; 682-22-560).

ISLAND EATS: You can't take a step without tripping over pawpaws (papayas), star fruits, bananas, or guavas. And then there are the fish: oysters, lobsters, wahoos, eels, yellowfins, scallops, green mussels, parrot fish—all just-off-the-hook fresh. Check out the Windjammer, Tumunu, and Flame Tree restaurants for steaks and seafood, fine New Zealand and Australian wines, and utensils. Other roadside attractions: the Ambala Garden & Café in Muri for organic breakfasts and lunches in a private botanical garden; in Avarua, Raro Fried Chicken, where the chicken-and-chips combo will easily satisfy your daily grease-'n'-salt quota.

Back to the top
Cat Island
Bahamas On this low-key string bean of land in the Out Islands, sip-sip and dominoes are about as rough as it gets
Isle File
The Worst PDAs
Sensuous green ST. LUCIA has so many honeymooners rustling in the bushes, groping in the hotel HOT TUB, nuzzling on the beach, and feeding each other conch morsels at dinner, that you'll feel like an extra in Boogie Nights


Access & Resources

MAYBE THERE'S SOMETHING on Cat Island that didn't arrive by mail boat—some bag of cement, some chicken coop, some case of Gilbey's gin, some straw-hatted old lady in a pretty calico dress. Anything is possible. But I came to Cat on the Sea Hauler, and so did a Chevy S-10 and a Ford F250 and an off-brand minivan, rolled aboard with much fanfare over two dry planks. And so did the gospel choir from the Dumfries Church of God and a side-by-side refrigerator marked "Frank" and a white sash window for "Mr. Butler Sr." and somewhere on board a live squid, whose owner, a well-groomed businessman, described his missing charge as "a member of the octopus family."


The Sea Hauler is a lovely old tug, diesel-soaked and coated in grime thick as bacon. We pulled out of Nassau on a hot, still afternoon, the conch sellers waving from Potter's Cay pier on one side, a booze cruise­load of sun-pickled tourists on the other. Captain Allen Russell steered us southeast, the Church of God congregation crowded into the wheelhouse with him, belting out "Uncloudy Day." We left the first of the Exuma Cays to starboard at sunset as men sprawled on coils of rope sat sipping Kaliks and two little Nassau girls—Lakeisha and Yeronnicker—taught me schoolyard games on the upper deck. We all slept where we lay, the girls and I spooned with our heads on my pack, safe under the stars and the satellites overhead.

At 4 a.m. on Cat Island, the bonefish were still sleeping, the clear waters of Smith Bay still opaque. A crowd had gathered, waiting for packages and family and news and sun. In the growing light Cat Island looked rough and beautiful, unapologetically unscrubbed, an older, more blessedly real Bahamas than the one we'd left behind.

Like everything else on Cat, the dock at Smith Bay clings to the lee side of the island, its gossip-linked small settlements strung 48 miles up and down Exuma Sound. I was picked up like a parcel and taken the mile south to Fernandez Bay Village resort, a collection of limestone cottages where, beware, days blur from beachside coffee to beachside cocktails with, if you're determined to rally, bonefishing or snorkeling in between. On the second morning (or was it the third?), a little 19-foot Abaco motored in, piloted by marine biologist Stevie Connett, dropping in to see resort owners Tony and Pam Armbrister and to check on Cat Island's sea turtles. The only way to count a turtle is to catch him, and so at high tide Stevie and I ran the Abaco south ten miles into Joe's Sound, me standing lookout, the skiff's deck blinding against the turquoise creek. The water moved and the clouds moved over it, tortoiseshelling the pocked sand bottom in shadows that resolved themselves into grass and algae and back into shadows again. Suddenly Stevie shouted and I cannonballed in, chasing a green sea turtle through the sun-filtered water. He was small, and I managed to grab a flipper, and then his shell; on deck we turned him over and he lay there panting, his turtle breast heaving. We tagged him with a leather punch, #BP9815, took his mug shot, released him. Track me, he said, see if I care.

In some elemental way, Cat Island is like that turtle. It just goes on doing its thing with or without you. Tourism is of the low-key, thatch-roofed variety— diving, a little bonefishing, catch a marlin, sure. Adventures, when they happen, happen on island time. The typical tourist is a naked German lady stuck in a cave at high tide, waiting for the police. The typical expat washed up on a sailboat and never left. Cat is the kind of place where on Sunday mornings in the village of Old Bight, the regulars at the Pass Me Not Bar lock the front door out of respect for the Baptist church across the street and play dominoes under the tamarind tree out back as the Baptist ladies holler scripture through megaphones. Where children roam under the midnight moon, catching hubcap-size palm crabs, and where you best not ask about obeah, or black magic, but where anyone will tell you that 21-Gun Salute, a bush-medicine Viagra, is "guaranteed to raise the dead." Cat is the kind of place that doesn't need you, but it likes you just fine.

There are unseen powers on Cat Island, demons that throw dishes, hands that reach down in the night. Cat has 2,000 caves and plenty of blue holes, but you won't catch a Cat Islander in any of them: "Take us to one of the blue holes," says island historian Eris Moncur, "and there's something that happens to our skin." Moncur is a sober man: white shirt, shiny shoes. As we sat under the thatched roof at Fernandez Bay, he told me about the island's namesake, the pirate Arthur Catt, its past life as San Salvador, Columbus's first landfall, and its first son, Sidney Poitier. Then he told me about spirits, and about the legendary nyankoo, a three-foot-tall gremlin with a human face. "You're laughing," Moncur rebuked me. "What we can't control," he intoned, "is safest for our sanity to deny."

Late one afternoon, as the sun slanted into Exuma Sound, I threw a mask and fins into a kayak and headed up Fernandez Bay's Bonefish Creek toward the Boiling Hole, a bluewater cavern that, through some alchemy of ocean, current, and creek, churns like a pot at high tide. I paddled for an hour, keeping the markers, tied to the mangrove branches, on my left. I passed the last one; no hole. I kept going. I got a feeling in my stomach that the water was sliding downhill, that I was being sucked into a drain. Spooked, I started to follow my wake back out, but the water had begun to percolate. Beneath the kayak the silt bottom opened into a limestone cavern, its recesses reaching farther than I could see. The idea had been to hop out and go snorkeling. You'd see great fish down there—snapper, grouper, barracuda.

But floating above the darkness, I suddenly understood. Cat Islanders have got it right; there are things you don't fool with, powers bigger than tourism, or recreation, or paradise. God only knew what monsters swam in that hole. "Maybe live, surely die," one islander had shrugged brightly to me at a midnight wake for his brother, who'd sat down on his front porch and never stood back up. You got to enjoy the time you got, drink your bush medicine, take the bright gifts the ocean offers. But don't mess with the invisible. Ain't no way, I thought, as I hung above that black water—ain't no way I'm going in that hole.

Access & Resources: Cat Island

Don't come down here thinking you're going to "do" Cat Island. Oh, it's all here to do—paddling, fishing, snorkeling, scuba diving—but you'll be too deep into your blissed-out island reverie for anything too ambitious. And rightly so.

GETTING THERE: Visit during the Rake 'n' Scrape Festival, a feast of traditional music the first weekend in June, or for the Cat Island Regatta, a rowdy homecoming the first Saturday in August. Forty dollars will buy you 12 hours of chop on the Sea Hauler— or dish out $70 for the 45-minute plane hop from Nassau on Bahamasair (800-222-4262; www.bahamasair.com). In New Bight, you'll pay dearly to rent a rusted-out Chevy Caprice at Gilbert's Car Rentals ($65 a day; 242-342-3011).

WHERE TO STAY: Fernandez Bay Village is all outdoor showers, crisp linens, and a thatch-roofed bar (cottages, $160­$305; 800-940-1905; www.fernandezbayvillage.com). The beachfront Hotel Greenwood, with its 20 motel-style rooms, is a mix of hippie Berliners and dolphin therapists from Miami ($79­$105; 800-343-0373). Sport fishermen stick to Hawk's Nest Resort and Marina ($124; 800-688-4752; www.hawksnest.com).

WILD CAT: Hotel Green-wood runs the only dive operation (two-tank dives, $75; 877-228-7475). Both scuba divers and fishermen will appreciate Cat's Tartar Bank, an abrupt plunge from 60 to 6,000 feet. Hawk's Nest's fishing charters cost $400 half-day, $675 full-day; Mark Keasler is the island's wiliest bonefish stalker ($195 half-day, $280 full-day; 242-342-3043). On your own, snorkel wherever the spirit moves you—any road off the Queen's Highway leads to another deserted Atlantic beach. Just don't leave Cat without a sunset picnic at the hermitage on 206-foot Mount Alvernia, the highest point in the Bahamas.

ISLAND EATS: Tear yourself away from that tenth plate of pigeon peas and rice at the Blue Bird Restaurant in New Bight and head for Hazel's Seaside Bar in Smith Bay, where sassy octogenarian Hazel Brown offers up Kaliks, sip-sip (gossip), and dominoes. Soon you'll be ready to lose your shirt down at the Pass Me Not in Old Bight, where the pros play. Dominoes under the tamarind tree and Percy Sledge on the jukebox—the perfect Cat Island combination.

Back to the top
Grenada
Caribbean Islands Catch the fever dream, and let Boney take you on a wild ride past rocky cliffs, soursop trees, and the molasses devil that cavorts through town

In the drink: an offshore view of Grenada

Access & Resources

ON GRENADA, YOU DRIVE in the left lane and shift with your left hand, but it's trickier than just that. Grenadan roads contain no straight lines. The narrow pavement follows the island's volcanic contours with blind curves linking together for miles and sudden fearful inclines that match any in San Francisco. Roads are occasionally flanked by hundred-foot drop-offs with no guardrails. And around most every turn, something darts into your path: a bush dog, a Rastafarian, a coconut, a hobbling old-timer with a cane, an armadillo. Maps are of little use; street signs rarely exist. Taxis aim at oncoming traffic as if engaged in a good-natured game of chicken.

In time, my wife and I came to love driving on Grenada, but on the last afternoon of Carnival, we were sternly warned against it. There would be roadblocks, people said, and mobs of revelers. You'll never make it around the island on your own. Hire a driver. Give Boney a call. And so we did.

He grew up near La Sagesse, a lovely bay on Grenada's southern shore. His mother named him Stephen Morain, but 33 years ago, when he was 19, an Englishwoman rechristened the skinny kid Boney, and it stuck. A father of seven, he's been a Rasta man, a policeman, a driver for the prime minister. He was taught by his grandmother, who lived to be 105 and passed on wisdom about plants that few remember anymore.

On a steep hill overlooking St. George's, the capital, and the Carenage, the city's artfully distressed harbor of anchored sloops and pastel warehouses, our education begins. Grenada's roadsides are both pantry and pharmacy for those who can decipher the tangle of greenery. "This is dasheen," Boney tells us, easing his maroon van to the shoulder and pointing to a spinachlike plant that's the key ingredient in callaloo, the island's signature soup. Next to it is a soursop tree, with huge, bumpy green fruits. There are breadfruits, mangoes, pawpaws, sugar apples. He fingers a weedy-looking vine—coriley, he calls it. "I take it once a month. Very bitter. For my kidneys. It help you a lot. A lot, my friend. Two or t'ree mout'ful a dis once or twice a month."

He threads past a hilltop graveyard and down a twisting, plummeting backstreet, narrating all the while. There's Fort George, on a brow of hill over the Carenage, where in 1983 a rival faction executed Prime Minister Maurice Bishop days before U.S. troops landed. Over there was an ice factory in the days before refrigeration, when the delivery man would announce his arrival in towns by blowing into a conch shell. On Grenada, most exchanges still begin with "Good morning" or "Good afternoon," and even Boney's irritation with other drivers seems tempered. To a passing minibus driver, as calmly as a schoolteacher: "Drive betta dan dot."

We work our way clockwise along the western coast, past yawning valleys of coconut palms, enormous drooping banana plants, stately nutmeg trees. Here's Molinière Reef, a few snorkelers undulating with the swells among the parrot fish and sergeant majors. We pass small vintage billboards for Ovaltine and Vita Malt, and an ominous sign: "Caution—Drive Slowly—Broken Road Ahead."

At four o'clock, we enter Gouyave, a fishing village, just in time to witness a fever dream. Grenada's Carnival takes place in August in part because it has roots in a harvest festival that started in the 1800s as Cannes Brulées ("burnt cane"), which gradually merged with the celebration of the 1834 emancipation of Grenada's West African slaves, from whom most islanders are descended. There's great commotion ahead on the main thoroughfare, so Boney diverts his van a block or so, darting down alleys, the houses close enough to touch. It works: We pull into a gas station at the town's center, and the hallucination begins.

A flatbed truck leads the parade procession loaded with coffin-size speakers thumping out calypso at a deafening throb. Men on the truck bed are covered with glitter, some with red and blue body paint, some with huge blue horns flaring out from their skulls. Several dozen follow on foot, carrying a banner: "Splendid Pirates," old and young alike wearing wigs and garish balloon pants of brown, red, green, yellow, white, and purple, stepping in unison to the beat as if in a trance. Then comes a marching pirate ship, a mock funeral, a brigade of men in identical Arab costumes. A fight erupts among four snarling dogs; a painted man beats them with his floppy straw hat. Here comes Death in his skeleton garb, and Jab-Jab, the molasses devil. Men and women walk in formation clutching tall cans of Heineken with straws poking out. Now comes a round-rumped gentleman wearing nothing but a lacy transparent curtain. Boney roars with laughter, though we can barely hear him above the din.

On to St. Patrick parish, on the island's north side. Loaded vans and minibuses whiz past, slogans on their windshields: Humble Thy Self, Thug Life, Jah Rules. We enter Sauteurs, where Boney weaves through another mob, fragrant of ganja, and then throttles up a tightrope back alley lined by concrete troughs deep enough to swallow a jeep. He does this fast, uphill—and backward. He turns off the engine atop a cliff overlooking a rocky shoreline. From this spot in 1654, a small band of Carib Indians, trapped by French soldiers and fearing a life of enslavement, leaped to their deaths.

The sun sinks, and we arrive at an old airstrip, defunct since the new airport opened in the 1980s. Here sits an old Cuban turboprop, forlorn and abandoned in the grass. Boney has a dream about this plane: He wants to tow it closer to the sea and convert it into a restaurant. He's talked to government ministers, but so far his plan has gone nowhere.

The notion still enthralls him, though. "If I had that airplane…," he muses. He's grinning broadly, gazing slightly heavenward. "I'd have some sparkling ladies there; old people in the kitchen; grilled foods, not fried; some guava ice cream, mango ice cream, soursop ice cream, chocolate, coconut…"

We vanish into the black night. Boney slaloms his van through unlit switchbacks, narrowly missing dreadlocked ramblers, dreaming aloud about empty fuselages and mango ice cream and a sweet-smelling entourage he's sure will soon arrive. It's a dazzling vision, on a day when no vision seems impossible.

Access & Resources: Grenada

Rumors of Grenada's Club Med­ification have been exaggerated. Yup, there's a new shopping mall near Grande Anse, the two-mile crescent of white sand where the island's plushest resorts sit. But there's also this sign just down the street: No Tethering of Animals Allowed.

GETTING THERE: Fly American (800-433-7300), British West Indies Airlines (800-538-2942), or Air Jamaica (800-523-5585). Rent a car from Avis in St. George's (about $50 per day; 473-440-3936). Boney, aka Stephen Morain, charges $20 an hour to be your driver and guide (473-441-8967).

WHERE TO STAY: The 66-room Spice Island Beach Resort on Grande Anse is inches from the Caribbean ($214-$173; $359; 473-444-4423; www.spicebeachresort.com). A more economical choice is the nearby Blue Horizons Cottage Hotel, with a cool veranda restaurant called La Belle Creole ($170-$173;$190; 473-444-4316; www.bluegrenada.com). La Sagesse Nature Center is a nine-room onetime English manor house on a gorgeous, palm-shaded cove ($70-$173; $125; 473-444-6458; www.lasagesse.com).

WILD GRENADA: Summit the 2,300-foot, delightfully named Mount Qua Qua in Grand Étang Forest Reserve or hike to the Seven Sisters, a misnamed series of five waterfalls. It's worth it to hire a guide, and probably the island's best is Telfor Bedeau, a 62-year-old Grenadan who's hiked the island's highest peak, Mount St. Catherine, more than 100 times ($25-$173; $30 for one person, $15-$173; $25 per person for groups; 473-442-6200). To see the island from the water, sign on with First Impressions for a jaunt up the west coast aboard the Starwind III, a 42-foot catamaran ($45 half-day, $60 full day; 473-440-3678). Divers mingle with barracuda around the wreck of the Bianca C, an Italian luxury liner that sank off St. George's in 1961. Reputable dive operators include Dive Grenada (473-444-1092; www .divegrenada.com) and Sanvics Scuba (473-444-4753; www.sanvics.com).

ISLAND EATS: Cuisine centers around fresh-plucked fruit and the daily catch, with a local twist: More nutmeg grows on this 21-by-12-mile island than anywhere else except Indonesia. A fine perch from which to sample local grub is The Nutmeg, on St. George's harbor. Above Grand Anse is Calypso's Terrace, which serves up nighttime views of St. George's and a fine rum-and-coconut-cream blend called a Painkiller.

Back to the top
Best Islands for Sea Kayaking

Round up: paddlers prepare to shove-off in Belize
Exuma Cays, Bahamas
This 90-mile-long mosaic of more than 365 sandy cays is blessed with calm seas and dozens of flourishing reefs. The Exuma Cays Land and Sea Park, a 130-square-mile marine wilderness, has a strict "no take" rule (that means you, cockleshell klepto) that has allowed hundreds of species to thrive. For information on guided trips, contact Ecosummer Expeditions (800-465-8884; www.ecosummer.com).

Rock Islands, Palau
Paddling the air-clear water of the Rock Islands, a group of deeply undercut, plush green knobs, feels more like flying than floating. Swoop over barrel sponges and giant clams and buzz the open maws of dark sea caves before you touch down on an exquisite, deserted slice of sand—your camp for the night. Sam's Planet Blue Sea Kayak Tours (011-680-488-1062; www.samstours.com) can help with gear and guides.


Isla Espiritu Santo, Mexico
Leave the cockfights and tequila worms behind and head for this desert island in the Gulf of California, where turquoise coves slice into volcanic cliffs, sea lions raise their pups, and black jackrabbits look for shade in the sun-baked canyons. For a guided trip, call Baja Expeditions (800-843-6967; www.bajaex.com).

Glover's Reef, Belize
Sapphire-blue seas, the world's second-longest barrier reef, and six palm-studded cays crying out for the creak of a hammock…all in an 82-square-mile lagoon. Contact Slickrock Adventures (800-390-5715; www.slickrock.com).
Best Islands for Communing with Nature
Dominica
Peaks shooting 4,000 feet from the surf, rare Sisserou parrots, 100-foot waterfalls, an undersea hot springs called Champagne—welcome to the Caribbean's most primeval isle. Play "Me Tarzan, you Jane" at the orchid-filled Papillote Wilderness Retreat ($90; 767-448-2287; www.papillote.dm.

Kangaroo Island, Australia
Eucalyptus-stoned koala bears roam this 1,737-square-mile island off Adelaide. Hundreds of miles of hiking trails take you through 21 parks, where you'll spot sea lions, kangaroos, and nocturnal penguins returning to their colony at Penneshaw (Alkirna Nocturnal Tours, www.alkirna.com.au).

Madagascar
Nearly all 30 species of lemurs live on this 995-mile-long island off Africa—broad-nosed gentle, ring-tailed, red-bellied, fat-tailed, hairy-eared dwarf—and despite a host of other exotic animals, they steal the wildlife show. Contact Lemur Tours (800-735-3687; www.lemurtours.com).

Fernandina Island, Ecuador
Flightless cormorants, pelicans, marine iguanas, and sea lions congregate on Punta Espinosa in the Galápagos Islands. Contact Galapagos Adventures (561-393-4752; www.galapagosadventures.com).

San Miguel Island, California
San Miguel is unique for its seal and sea lion colonies; Point Bennet is the only place in the world where six types of pinnipeds congregate. Click on www.channel.islands.national-park.com.
Best Islands for Scuba Diving
Cocos Island, Costa Rica
To witness what lurks in the current just off this jungly island 300 miles west of Costa Rica, you'll need to go long and deep. Live-aboard dive boats make the rough, 36-hour crossing; then it's a 60- to 135-foot dive down to see hammerheads, white-tipped sharks, and manta rays. Book a trip on the Okeanos Aggressor (800-348-2628; www.aggressor.com).

Little Cayman Island
Still home to some of the deepest walls and clearest water, and still scarcely inhabited, this Frisbee-flat isle 80 miles northeast of Grand Cayman belongs on every diver's life list. Kick through tunnels, chimneys, and canyons; sail over 1,000-foot drop-offs; and come face-to-face with sea turtles. Book a diving package at quirky Pirates Point Resort (345-948-1010).


Wakatobi, Southeast Sulawesi, Indonesia
Waka-who-bi? Largely unexplored, the Wakatobi National Marine Park in the Sea of Banda teems with everything from pilot whales to pygmy sea horses. Stay at the Wakatobi Dive Resort on Tomia Island (011-62-361-284-227; www.wakatobi.com), which has lodging for 22 guests.

Roatán, Honduras
Visit 33-mile-long Roatán and you'll be faced with tough decisions: Reef-, wall-, or wreck-diving? Full-service dive resort or primitive beachfront cabana? Elephant-ear sponges and black coral or black groupers and whale sharks? Roatán Charter (800-282-8932; www.roatan.com) offers tank dives or weeklong packages.

Gizo, Solomon Islands
Diving near Gizo, in the western Solomons, means exploring coral-encrusted World War II wrecks and 100-foot walls surrounded by slow-cruising manta rays, tuna, barracuda, and a parade of confetti-colored reef fish. Topside, Gizo is a lush fantasy island smothered in orchids and mangroves. Call Dive Gizo (011-677-60253; www.divegizo.com).
Best Islands for Fishing

Cast away: afloat off the Florida Keys
Madeira, Portugal
Obsessive record-stalking anglers descend on this mountainous, vineyard-covered isle 320 miles north of the Canaries hoping to haul in a "grander"—a thousand-pound-plus blue marlin, one of two things Madeira is famous for. The other is a sweet wine that's sure to ease your pain over the one that got away. Charter a boat and guide from Nautisantos (011-351-291-222667; www.madeirafishing.com).

Midway Atoll
Once a World War II battle zone, this U.S. National Wildlife Refuge 1,500 miles northwest of Hawaii began allowing visitors five years ago. Since then, more than 20 world-record catches have been hauled in, including a 78-pound giant trevally. Stay in Midway's only accommodations, the spruced-up (and surprisingly pleasant) former Army officers' quarters.Contact Destination: Pacific (888-244-8582; www.fishdive.com) to plan your trip.

Mauritius
This volcanic melting pot 450 miles east of Madagascar, with its Creole-speaking Franco-Anglo-African-Indian-Chinese population, offers superb fishing for black and blue marlin, sailfish, and sharks. Captains generally keep your catch and sell it; if you insist on catch-and-release, expect to pay about $75 for each fish you land in this not-so-green economy. Call Sportfisher (011-230-263-8358; www.sportfisher.com).

Marquesas Keys, Florida
Monster tarpon, permit, and bonefish loll in the turquoise shallows of this handful of uninhabited islands in the Key West National Wildlife Refuge. Work the Marquesas on daylong charters out of Key West.Call Key West Fishing Guides (800-497-5998; www.keywestfishingguides.com).
Best Islands for a Multisport Vacation
Corsica, France
Scraggly peaks and 620 miles of rugged coast draw Euro-masochists for canyoneering, sea kayaking, diving, climbing, mountain biking, and sailing, plus paragliding off 8,877-foot Monte Cintu and rafting the Class IV Golo River. But the sportif notch to carve on your belt is trekking the grueling Fra I Monti, or GR20 Trail, a 104-mile grind along the island's spine. Call France-based Corse Aventure (011-33-495-259119; www.corse-aventure.com).

St. John, USVI
Virgin Islands National Park, which claims about three-fifths of this emerald isle, is crisscrossed with 20 miles of jungle trails for hiking and biking and blessed with pristine coral reefs for some of the best snorkeling and diving in the Caribbean. Arawak Expeditions gets you out in the park on weeklong trips (800-238-8687; www.arawakexp.com). But schedule a few extra days to enjoy lounging like a Rockefeller.


Kauai, Hawaii
Mount Waialeale, near the island's center, which gets more than 480 inches of rain a year, is a verdant backdrop for horseback riders, mountain bikers, hikers, and windsurfers. Kauai's trophy trek, the 11-mile Kalalau Trail, leads you from the cliffs of the Na Pali Coast, past 300-foot Hanakapiai Falls, deep into the spectacular Kalalau Valley. For camping permits, contact the Hawaii Division of State Parks, 808-274-3444.

Dominican Republic
Hike 10,417-foot Pico Duarte, raft Class III­V Yaque del Norte, mountain bike in the Dominican Alps, windsurf off Cabarete, and surf the ten-foot waves near Sousa. Go green and stay at Rancho Baiguate, an eco-resort in the highlands (809-574-4940; www.ranchobaiguate.com.do).
Best Islands for Boardsailing
El Yaque, Margarita Island, Venezuela
Fifteen- to 30-knot sideshore winds blow over water so shallow here that you can bail 400 yards out and still walk back to land. High-quality rental rigs, cheap Cuba libres, and pulsing merengue compensate for crowds. Call Club Margarita Windsurfing for details (011-44-1920-484121; www.clubvass.com/clubmarg).

Flag Beach, Fuerteventura, Canary Islands
Wide beaches and sartorially challenged German sunbathers dominate this arid Spanish island 70 miles west of Morocco. At Flag Beach, low pressure from the Sahara pumps in sideshore winds and Atlantic storms kick up jumpable swells. Call Flag Beach Windsurf Centre in Correlejo (011-34928-866389; www.flagbeach.com).


Taranaki, North Island, New Zealand
Mast-dwarfing walls sculpted by 20-knot winds along the mountainous West Coast are ridden most days by only a handful of wild-eyed, whooping Kiwis. Get local wisdom and a bunk at Wave Haven lodge in Oakura (011-646-752-7800; or e-mail wave.haven@taranaki.ac.nz).

Fisherman's Hut Beach, Aruba
Bankable trade winds and planeable flatwater lure windsurfers to this cactus-spiked isle. Goofy diversions—casinos, jet skis, rum-'n'-strum cruises—keep fidgety nonsailors happy, too. Call Sailboard Vacations (800-252-1070; www.sail boardvacations.com) for rentals and lodging.

Hookipa, Maui, Hawaii
Kneel at the feet of the airborne masters of Hookipa's North Shore and perfect your carve-jibe in the sideshore trades off Kanaha Beach Park. Call Hawaiian Island Surf & Sport (800-231-6958; www.windsurfmaui.com).