Mexican Hat Trick
A world-class mountain biking, surfing, and boardsailing hideout awaits in Baja. All you have to do is find it.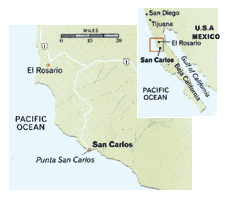 Heading out the door? Read this article on the new Outside+ app available now on iOS devices for members! Download the app.
I was mashing at the pedals and sucking wind as we ground our way to the top of the final ridge. The Baja desert is unforgiving, but when you throw in lung-busting ascents, technical descents, and dense stands of towering cardón cactus, you're really asking for it. Ignoring the oozing gashes on my knee and forearm—the result of a crash on a near-vertical scree slope—I crested the final 1,000 feet of our 20-mile ride and followed my guide into a sandy arroyo that split open to reveal the sun setting over the sparkling Pacific surf.
Pacific views: Punta San Carlos, Mexico


I had been coming to this desolate spot in northern Baja—known as Punta San Carlos—for more than a decade to surf its legendary mile-long waves, but this ride was a revelation. A new, 30-mile network of singletrack has transformed the barren, rust-colored landscape into a knobby-tire playground. The realization that this was now a place where, in a single day, I could nail the trifecta of my outdoor addictions—surfing, windsurfing, and mountain biking—hit me like a shot of tequila.
An isolated outcrop 300 road miles south of the U.S. border and 35 miles from the nearest stretch of pavement, Punta San Carlos was discovered by the California surfing crowd in the late sixties. Set on a south-facing bay with a point break churning up dreamlike, slow-turning barrels, its only flaw was a relentless afternoon wind that sandblasted everything in its path. But the "flaw" attracted a new set of fanatics in the mideighties: Windsurfers raved about this secret spot where the side-off breeze ran parallel to the breaking waves in a textbook-perfect setting. Driving to Punta San Carlos was an odyssey involving roadblocks, bribes, and mechanical breakdowns, but the payoff was enormous: surfing and sailing in a pristine, private setting.

The peninsula's newest arrival, adventure outfitter Solo Sports, has only improved the scene. In 1997, Solo founders Kevin Trejo, 41, and Ron Smith, 39, a pair of annoyingly fit multisport enthusiasts from Irvine, California, worked with local landowners to secure a long-term lease on five square miles around the beach. Then, without altering the area's relaxed vibe, they began a series of subtle improvements.
Piles of trash—scraped-up surfboards and old camping supplies left by various hard-core contingents over the years—disappeared, and a neat row of outhouses erased the need for the time-honored shovel-and-squat routine. Trejo and Smith developed a simple beachfront base camp, with four outdoor shower stalls, private tents, a large dining room, and piles of the latest gear, to serve clients on Solo's eight-day package trips as well as those visiting Punta San Carlos on their own. On the mesa overlooking the ocean, they carved out a looping mountain-bike trail system that rivals anything in Moab.

Round One for me started just after sunrise with a couple of hours of surfing in clean, glassy overhead swells. There were three of us, straddling longboards and taking turns picking off the choice waves as the sets rolled through. With the exception of the whales breaching just outside the impact zone, we were the only sign of life along 20 or so miles of visible coastline.

By 11 a.m. the wind was ripping, and it was time to rig up a sail and head out for Round Two. When it comes to windsurfing, few things beat wave sailing—basically surfing with a sail in your hands—and nothing beats wave sailing at Punta San Carlos. At about 60 degrees, the water is colder here than it is in Maui, usually 75 degrees or so, but there's never a crowd, and the winds are consistent at 25 to 35 miles per hour.

After lunch, a buffet of cold cuts, assorted breads, and fresh veggies, and then another sailing session, I waded out of the water and was rummaging through the cooler when Trejo rolled up on his bike.

"Quick ride?" he offered. I started to protest—I was still in my wetsuit; my arms and legs ached from a good eight hours in the water—but the next thing I knew it was Round Three, and I was madly pedaling to keep up with my guide. When we straggled back into camp, someone handed me a beer and some Band-Aids—a fitting salve for a bruising yet perfect day.
While there's almost never a bad time to visit Punta San Carlos, the weather is most consistent between March and October, with dry, sunny days and reliable afternoon winds. Winter can bring monster swells, and sudden storms can wash out roads and strand you for days—not always a bad outcome. Highs range from 60 degrees in March to 75 from August through October; nights are always chilly.

Guided Trips: Solo Sports (949-453-1950; www.solosports.net) offers eight-day multisport packages year-round starting at $1,350 per person (with a 20-person limit), including round-trip van transportation from San Diego—an eight-hour trip each way—all meals, and gear. Custom trips are also available. Solo provides roomy, private dome tents, sleeping bags, and the latest models of Terry Senate surfboards, Naish and RRD sailboards, and full-suspension K2 mountain bikes. There's plenty of room in the vans if you'd rather bring your own bike or boards, but take a hard look at how many airports you'll have to hump them through first. Do pack a wetsuit and booties, a windsurf harness, hiking boots, and a CamelBak.
On Your Own: Punta San Carlos is about a 300-mile drive from Tijuana, Mexico. Follow Mexico Highway 1 south; about 15 miles past the village of El Rosario, head west on the rugged 35-mile dirt road that leads to Punta San Carlos. (Beware, the turnoff isn't always well marked, thanks to surfers who jealously protect their slice of paradise by plastering the sign with surfing stickers.) A four-wheel-drive vehicle with plenty of ground clearance is recommended. Bring everything you could possibly need, including spare vehicle parts, since Punta San Carlos has nothing in the way of amenities. The good news: You can buy meals and water and rent gear and tents through Solo Sports even if you're not on one of its package tours. Call Solo Sports for a price list.

Don't Miss: An evening Baja Fog at base camp—a vaporous tequila-and-beer drink that will ease the throb of those aching muscles.