Mexico: The Mainland
If your idea of good H2O involves head-high surf and barracuda-infested reefs, you'll find no better place to hang your hammock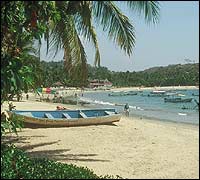 Heading out the door? Read this article on the new Outside+ app available now on iOS devices for members! Download the app.
Zapatistas, economic meltdown, corruption, political assassinations—there are so many reasons to cross Mexico off your list these days. Go right ahead; I'll be able to get a better room at a cheaper rate (which is why I don't mind sharing four of my favorite places). Forget the sunsets over the Pacific, the hundred shades of green, the centuries-old civilizations, the relaxing rhythm of life, the gentle humanity of people who honor civility, passion, and grace above all else. It's OK. Go somewhere else. Did I mention the esophagus-eating parasites?

DIVING


The Yucatán

Cozumel's Palancar Reef is one of the most dramatic places to take on nitrogen anywhere, and its famous 3,000-foot wall is certainly a worth a look—as long as you don't mind standing in line. (I've seen more fish and fewer ugly tourists on the Submarine Voyage ride at Disneyland.) You want to dive and fish and feel tropically soothed? Go to Tulúm, 45 minutes south of Playa del Carmen on the mainland. Not to the ruins (though the setting is spectacular, they're historically inconsequential), but to the little community a mile south, starting at Cabañas Santa Fe. The barrier reef that extends all along the coast of the Yucatán is only 600 yards offshore here; swim out from the beach to see giant groupers, manta rays, and moray eels. Tanks and dive equipment can be rented from the Santa Fe Dive Shop (two-tank dives, $55; 011-52-988-4-2876) right on the sand at Cabañas Santa Fe. The dive shop can also set up fishing trips for tuna, mahi-mahi, and barracuda ($50 per hour includes all tackle).
There's a string of places to stay on Tulúm Beach (including Cabañas Santa Fe, which has campsites and cabañas for $8-$10 per person per night; 987-1-2096), but unless you like the odor of patchouli and the din of rock and reggae blaring from the open-air bars, I'd suggest Qué Fresco (no phone), about a mile south on the road to the town of Boca Paila and the Sian Ka'an Biosphere Reserve. The food is legendary, and you can camp ($3.50 per night) or stay in a cozy thatched cabaña ($35). There are four cenotes (deep, freshwater limestone sinkholes) to explore in the area, and it's a handy jumping-off point for exploring the reserve—full of panthers, ocelots, howler monkeys, jaguars, and tapirs. Arrange for tours into Sian Ka'an at Cabañas Ana y José (doubles, $60; 988-0-6022), two miles down the Boca Paila Road from Qué Fresco, or through the Amigos de Sian Ka'an ($40 per person; 988-4-9583). You can also rent bikes at Ana y José for $10 a day to ride the dusty Boca Paila Road. One bonus to staying in Tulúm: The Mayan ruins of Cobá are just 26 miles away.

Surfing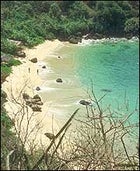 Puerto Escondido

At first glance, Puerto Escondido, 200 miles southwest of Oaxaca, looks like one enormous ocean-view lot tucked into the elbow of a huge bay. But it's not the view that makes it special, it's the waves off Zicatela Beach, a five-minute walk south of town. Surfers call it the Mexican Pipeline, home of the most reliable tube rides in the world: great bone-crunching, board-snapping, spray-spitting tunnels of doom that snap down into the rippled sand-bar bottom like a cat catching a mouse. Winter waves regularly reach six feet or more and are so powerful that shapers make boards strengthened specifically for this break.
The less turbulent Playa Marinero, the town's main beach, is better suited for bodysurfing. Snorkeling is best at waveless El Angelito, a five-minute, $1 boat ride to the north side of the bay. You'll see octopuses, barracuda, and lots of snappers; snorkeling equipment can be rented right on the beach for about $2 a day.


Puerto Escondido has a distinctly Italian flavor–reportedly there's even a retired Red Guard terrorist living in town, having traded in knee-capping for cappuccino-sipping at one of the espresso joints that front Pérez Gazga, the short, red-bricked main street of downtown. This three-block section of "new" Puerto Escondido is where you'll find all the restaurants and nightlife. La Perla Flameante has the best seafood (lightly handled and so fresh it's still quivering). If you go out fishing (arrange for a guide through your hotel, about $15 an hour, three-hour minimum), you can have the restaurant cook your sailfish, bluefin tuna, or whatever you catch. Il Capuchino is known for its great coffee as well as its incredible avocado pie, better even than the pie de limón, a local specialty.
A number of surf-dude hammock hotels are strung along Zicatela and range in comfort and price from about $6 a night for the bare essentials (a roomful of hammocks, shared bath) to $15 for more civilized surroundings (a fan, a bed, your own bath). Rockaway Surfer Village on Zicatela Beach (doubles, $12-$18; 958-2-0668) has a pool, a well-equipped surf shop (where you can rent everything you need for about $4 an hour), rooms with fans and mosquito nets—and it's stumbling distance from the break. For more upscale lodging, there's only one choice: The Santa Fe (doubles $75; 958-2-0170), at the northern end of Zicatela Beach, has air conditioning, a pool, and a restaurant/bar overlooking the beach.
The Beach

Puerto Ángel
In a snug little bay on the southern coast of Oaxaca, half-way between Puerto Escondido and Huatulco, this humble fishing village of 8,000 has long been a destination for backpackers en route to and from San Cristóbal, the Yucatán, and Guatemala. At Playa Zipolite, a mile north of town, you'll find the only quasi-sanctioned nude beach in Mexico, Playa Nudista (also called Playa de los Muertos, or Dead Men's Beach, for its ferocious undertow). The beach is ideal for a lazy stroll, vigorous bodysurfing, hammock-induced alpha-wave lounging, and a meal of red snapper fried in garlic at Zipolite's.
Stay right on the beach at one of the no-name hammock-cabaña places (about $5 per day), or head back over the hill to Posada de Cañón de Vata (doubles, about $35; Box 74, Pochutla, Oaxaca 70900), a hideaway tucked inside a dense, semitropical forest of teak, mahogany, ebony, and mango. There's no phone or street address, but Puerto Ángel is so small you can find it easily—it's about 100 yards from Playa del Panteón (Graveyard Beach), the town's main beach.


For a break from town, take the half-mile cab ride south to Club Playa Estacahuite, a small palapa bar/restaurant perched on a rocky point that looks south toward the bays of Huatulco. There's great snorkeling just off the exposed coast here: swim around with sea tortoises, barracuda, and moray eels.
Mountain Biking

San Miguel de Allende

San Miguel isn't exactly a secret—artists have been coming to this colonial outpost 182 miles northwest of Mexico City for 60 years or more for its thriving art and music scene and excellent restaurants and bars. The newest attraction is some of Mexico's best mountain biking: 800-plus miles of both hard and easy trails, a dedicated crew of local and foreign bikers, and a mountain-bike shop that feels like it belongs in Moab.
For all your biking needs—rentals, helmets, gloves, repairs, Smoke tires, Mr. Tuffy tube liners, Slime patch goop, and maps—your first stop should be Bici Burros bike shop on Calle Hospicio (rentals, $20 per day for Nishiki, TREK, and Raleigh bikes; 415-2-1526). From town, trails lead off in every direction; my favorites head north, skirting tiny pueblitos along the old Camino Real that sprang up when the area was a major silver-mining center some 300 years ago. Head out from the jardín in San Miguel to Palo Colorado, a small ranch about ten miles away, and then drop down into a roller-coaster track that leads another four miles to Atotonilco and its 250-year-old church. From there follow an old railway bed about seven miles to Cieneguitas, then head into the countryside on trails that parallel the train line to San Miguel.


The round-trip, which winds through a rocky, high-desert land of mesquite and cholla cactus, takes about six hours, depending on the heat, the number of flats you get, and your physical condition. (San Miguel is more than a mile high, so expect to spend a few days getting used to the altitude.) On the way back, there are hot springs where you can break up the ride with a thermal soak. Taboada and Xote are both close to the road from Atotonilco to Cieneguitas—look for the "Balinero" signs.
San Miguel is a resort, so there are loads of housing options. You can stay in a luxury hotel with swimming pools and private patios like La Puertecita Boutique'otel (doubles, $90-$165; packages, $119 per person per day, including lodging, local transportation, bike rental, guides, coaching, and two meals; 415-2-2250), the only hotel in town that caters to mountain biking. A couple of cheaper possibilities are Villa Jacaranda (doubles, $85; 465-2-1015) and Quinta Loreto (doubles, $17-$20; 415-2-0042).
Access and Resources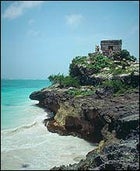 Fares to Mexico usually increase in November or December. The following fares are for high-season, midweek travel:
Use Cancún as your gateway to the Yucatán: Aeromexico (800-237-6639) has direct service from Miami ($235), Houston ($314), and Los Angeles ($553). Continental (800-525-0280) also flies from Houston ($330), as well as Los Angeles ($502), New York ($468), and Chicago ($470). Mexicana (800-531-7921) departs from Newark ($503) and Miami ($235).


Flights to Puerto Escondido require a connection in Mexico City. Mexicana flies from Los Angeles ($555), Chicago ($554), and Newark ($690). From Puerto Escondido, take a 45-minute bus ride to Puerto Ángel (around $6) or a taxi (about $30—be sure to negotiate).
The nearest airport to San Miguel de Allende is León, about 75 miles west (bus service is available from the airport; taxi, about $70). Mexicana has direct service from Chicago ($461) and Los Angeles ($460); Aeromexico and Continental fly from Houston ($471); American (800-433-7300) departs from Dallas ($383).
The cheapest and easiest route to Baja California is via Los Angeles. Mexicana goes to San José del Cabo ($295); AeroCalifornia (800-237-6225) to Cabo San Lucas and La Paz ($205 for both).
Car rental in Mexico tends to be expensive, and it's unnecessary in most places other than the Yucatán (Avis in Cancún charges $56 per day, or $336 per week for a Chevy Corsa, $180 a week for a Volkswagen bug). Reserve your car from the U.S.—the rates will be lower—and hold on to your confirmation number. It's often difficult to find a gas station in Mexico, so fill up whenever you get a chance, and always carry drinking water in the car.
Trending on Outside Online