Mich Kemeter Sets Waterlining World Record
Heading out the door? Read this article on the new Outside+ app available now on iOS devices for members! Download the app.
Waterlining is slacklining over water. If you're going to slackline, it seems like a pretty good way to do it. Still, it would be hard to walk 728 feet on a slackline for 25 minutes without falling, which is what 24-year-old Mich Kemeter did at Grüner See Alpine Lake in Austria to set a world record in early June. Kemeter fell at least once while practicing, which must have been motivating as the water temperature was 43 degrees Fahrenheit.
Don't let the waterlining fool you, Kemeter has completed more dangerous feats, like a 99-foot untethered walk across a slackline in Yosemite. If that doesn't impress you, a portion of his resume is posted below. The entire thing is a 10-page PDF, so we included just the highlights section: pistol-shooting, BASE jumping, his degree, etc.
2004: Became part of the international pistol-shooting team
2005: Austrian champion at pistol-shooting
2006: Focused on traveling around Europe and Canada
2007: Sarted slacklining; graduated with a diploma in weapon engineering
2007: European championship: 18th place; world championship: 28th place with pistol-shooting 2008: Professional sportsman as a pistolshooter in the austrian military till the end of 2010
2008: First 8a sportclimbing route; first free solo highline
2009: First 8b and 8c sportclimbing route; first fb8a boulder; first 8a multipitch route; first 7b free solo climb
2009: First longline world record; first highline world record in Millau at the National Games in France
2010: Started skydiving and stopped professional pistol shooting; first 8a free solo sportclimbing route 2011: Started BASE jumping; waterline world record in Austria; two 8a sportclimbing routes free solo
2011: Studying in North-California and finished a dregree; living for nine months in California 'til January 2012 and moved back to Europe to continue studying
2012: First publication in GQ magazine
If you're wondering why you don't remember Kemeter from GQ, it's because he was in the Italian edition.
Click on Mich Kemeter's resume to read more about him and to see pictures of his greatest feats, which he sometimes performs in jeans.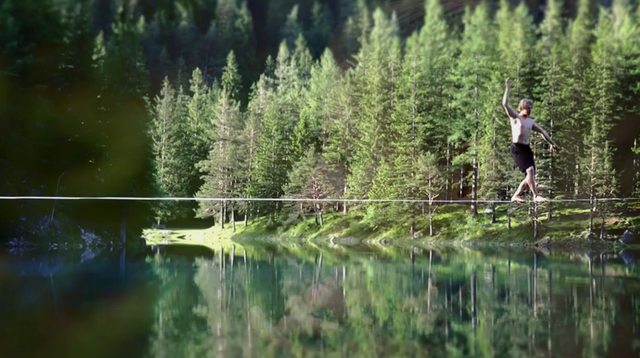 Screenshot from Vimeo
Note: The text in Vimeo says Kemeter earned his record on July 6, but it also said he accomplished his feat around his birthday, which is June 3. Since he posted the announcement of the record on the news section of his website this June, we have included the June date above.
H/T: DPM Climbing

—Joe Spring
@joespring
facebook.com/joespring.1