No Cold Feet
Budding explorer Sonya Baumstein becomes the first person to SUP across the Bering Strait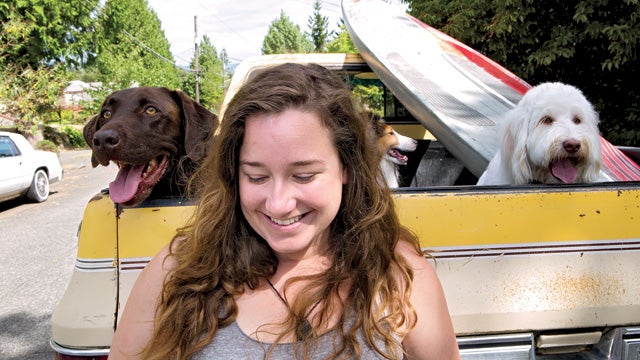 Sian Kennedy
Heading out the door? Read this article on the new Outside+ app available now on iOS devices for members! Download the app.
THERE ARE A handful of accomplishments that can anchor your expedition résumé. Summiting Everest. Sailing around the world alone. Schlepping to a pole. Then there's the rare feat of crossing the Bering Strait, a physical challenge that few have even attempted, due to dicey international politics. In 1987, at the height of the Cold War, open-water swimmer Lynne Cox finagled permission from the USSR and swam the 2.7 miles from the U.S.'s Little Diomede Island to Russia's Big Diomede Island. In 2006, Briton Karl Bushby and Frenchman Dimitri Kieffer walked on ice across the entire 51-mile mainland-to-mainland route—and were promptly detained by Russian authorities. The same thing happened to six guys on personal watercraft who filmed their crossing for an obscure reality-TV series.

This summer, 28-year-old Sonya Baumstein added her name to the Bering Strait short list. On August 1, Alaskan Inupiaq hunters dropped off the Florida native and her 14-foot-long, 25-pound carbon-fiber stand-up paddleboard in dense fog 15 miles south of Big Diomede. Eleven hours and 25 miles later, she landed on a sandy beach north of Wales, Alaska, where she became the first person to SUP the channel.
Some people define a crossing as island to island. Others are strictly mainland to mainland. To sidestep the Russian bureaucracy, Baumstein split the difference and launched her bid in international waters, which will no doubt add an asterisk to the record books. Still, just getting there was a heroic effort. Baumstein struggled for 11 months to get the funds, then she waited more than three weeks for a weather window.
Now Baumstein is using the feat as a spring-board for an even more ambitious undertaking. In April, she and Lia Ditton, a 32-year-old British sailor, plan to set out from Japan and row 6,000 nautical miles across the North Pacific to the United States in a custom, self-supporting rowboat. The duo will carry $30,000 worth of food and 50 pounds of research gear for NASA's Aquarius Mission, a satellite system that monitors the ocean's currents, salinity, and surface temperature. "We're going to be a moving science float," says Baumstein.
Trending on Outside Online