Transoceanic Rowing Is the Craziest Endurance Sport You've Never Heard Of
Long-distance rowing is steadily gaining popularity, but that doesn't mean the sport is safe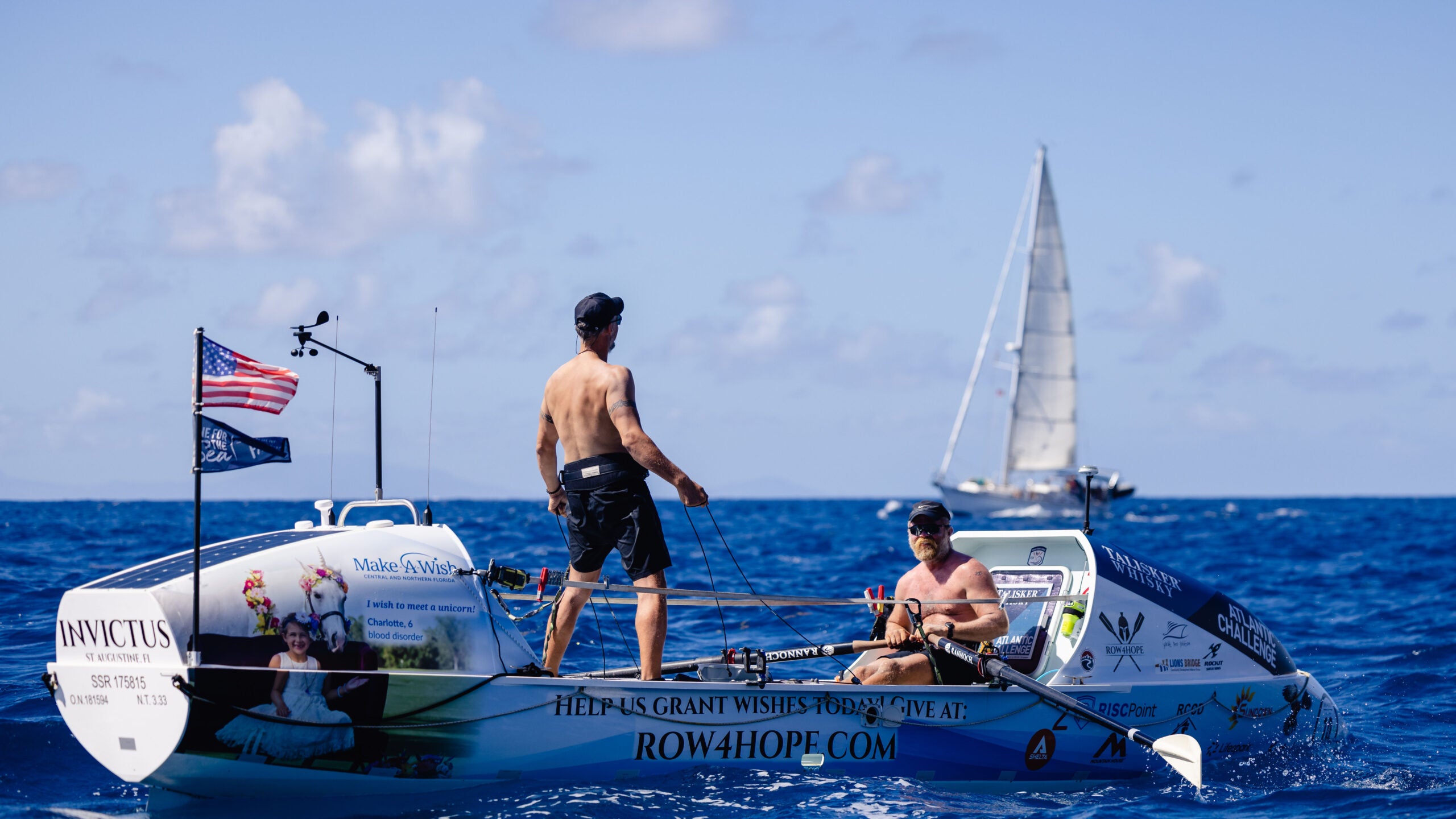 Heading out the door? Read this article on the new Outside+ app available now on iOS devices for members! Download the app.
In early July, a 23-year-old Australian named Tom Robinson set off from the coast of Peru in a 24-foot rowboat he built with his own hands. Robinson plans to paddle his boat for nine months, covering roughly 8,000 nautical miles of the Pacific Ocean, to reach his hometown of Brisbane in March, 2023.
No, Robinson is not crazy, or desperate, or being coerced; rowing across a daunting swath of open ocean is a dream he's had since he was a boy. Robinson sees his upcoming row as the best opportunity to discover and explore his own limitations.
"I used to spend all my spare time rowing up and down the river by my home," Robinson told me before setting off. "So, I guess it's a combination of testing oneself, pushing yourself to the limits, and that love of the ocean—ocean rowing seems like the best way to combine those two."
Robinson is not alone. In recent years, the tiny sport of ocean rowing has steadily expanded, pushed along by a handful of dedicated athletes, and by a growing collection of organized events, like the Atlantic Challenge, a 3,000-mile race between La Gomera, Canary Islands, and Antigua, and the GB Row Challenge, a 2000-mile circumnavigation of Great Britain. In both races, rowers can compete solo or in teams.   
The sport has generated headlines for the amazing feats of its stars, and, in the case of solo adventurers, for the untimely deaths of others. In 2020, American rower and Paralympic gold medalist Angela Madsen died while attempting to cross the Pacific under her own power. And earlier this year, French 75-year-old adventurer Jean-Jacques Savin died while rowing across the Atlantic.
Both tragedies highlighted the dangers that are inherent in the sport. But the stories of both rowers have connected with a new generation of adventurers who, like Robinson, see purpose in the grueling, monotonous ordeal of crossing oceans with nothing more than the push of currents and a wellspring of grit.
"Being in a boat powered by oars in the middle of the ocean," Robinson says, "is the truest sense of being able to get yourself out of a situation."
The earliest-recorded attempt to row across the Atlantic occurred in 1896, when Norwegian-Americans George Harbo and Frank Samuelson paddled for 55 days between Manhattan and England. According to the website Ocean Rowing Stats, there have been 984 attempts to row an ocean since Harbo and Samuelson's voyage, 694 of which have been successful.
Most of the latter have occurred in the last two decades, thanks in large part to races like the Atlantic Challenge. With its safety net, it's no surprise that the event is absorbing the bulk of ocean rowing's surging popularity. The 2022 race will be the largest ever, with 44 crews for a total of 137 rowers.
In 2023 the event is set to be even bigger, with 50 crews.
"It's growing massively," says Ian Couch, the race's head safety officer. Atlantic Campaigns, the company that runs the event, has also just announced for 2023 the inaugural California to Hawaii Pacific Challenge—20 crews have already signed up.
Couch and other rowers point to various reasons for the sport's swift uptick in participation. For one, social media allows rowers to broadcast their journeys in real time. But in the case of the Atlantic Challenge, it's the race's reputation for rigorous training and education prior to launch day that's attracting so many first timers.
"Last year, our success rate was 100 percent, which was the first time in the sport that every boat, every rower, got across," Couch says. "The rate is so high because we make it harder for people to start; it's all about preparation."
Today's high-tech rowboats are also making a big difference. The boats are purpose built to withstand the abuse dished out by the ocean, even capable of self-righting when they are tumbled completely upside down by waves. Both their bows and sterns resemble the noses of a commercial jet, which improves aerodynamics. Though the coffin-sized cabins offer little space for creature comforts, they are watertight—even during a dreaded capsize.
Safer boats, social media and proper preparation may be the main reasons for the sport's growth—but there's also the age-old need for individuals to test themselves against the elements. Roz Savage, 54, was in her mid-30s when she quit her job as a management consultant to participate in the Atlantic Rowing Race as a solo competitor. Today, she sounds a lot like young Tom Robinson.
"I wanted to find out what I was capable of," says Savage, who eventually became the first woman to row across three different oceans. "It's not a rational thing to do, it's something that comes from the heart rather than the head."
Other rowers point to still another source of inspiration: the pandemic. The belief is that the coronavirus, in its total upending of the human perspective on health and mobility emphasized the importance of the outdoors as a place of healing and, ultimately, freedom. For many, the natural space that embodied those sentiments more than any other was the open ocean.
That was the case for chef and restauranteur Ben Towill, who plans to compete in the 2022 Atlantic Challenge.
"Professionally and personally, the last few years have been a real challenge to find hope and joy and to work through some really big things that have happened, says Towill, who is rowing alongside partner Charlie Layton. "And I think training alongside that experience, challenges come up at sea, mentally, you're just conscious all the time that you're working towards this goal."
These west-to-east routes in both the Atlantic and the Pacific, during the months when the races occur, offer favorable currents that help push crews toward their destinations. Atlantic Campaigns, Couch says, is also very selective about who they select to participate in the races. If a solo rower or crew is accepted, they are required to undergo extensive training that's overseen by Couch and his crew. And once at sea, rapid-response vessels are on hand and never too far away from the fleet. Not surprisingly, since its inception in 1997, the Atlantic Challenge has been responsible for about 30 percent of all successful ocean rows. But, as Couch says, "the ocean doesn't get any easier—once you are there on a boat, you are the same small person in the same small boat with the same challenge."
Couch himself has rowed the Atlantic three times and the Indian once, as part of crews of various sizes. He has climbed mountains, trekked deserts, and speed-crossed the Greenland ice sheet. And yet, he says, "there is something particularly relentless about the ocean."
Rosalind West, who completed the 2018 Atlantic Challenge as part of a crew of four, has for the past two years been studying the physiological impact of ocean rowing on the body. She has compared her findings from 27 Challenge competitors with those from research on Tour de France and Race Across America cyclists, ultra-runners, and explorers who have crossed the Antarctic ice cap. On average an ocean rower burns about 5,000 calories a day, which, West says, is less than the amount burned by a Tour de France competitor and similar to someone working their way across the Antarctic. The big difference with ocean rowing is how "it challenges every single system of the body at the same time," West says.
"Because you're not standing up, your calf muscles go completely, but then your core and arm muscles stay the same or get bigger," West says. "Then, you're rowing for a minimum of 12, maximum of 18-20 hours, a day. A Tour de France cyclist rides heavily for five hours and then they sleep and eat so their body can recover. In the Antarctic, you still get seven, eight hours of sleep at night. In ocean rowing, you don't get that kind of recovery. You can't stop, you can't get away from it, so there's this mental battle as well."
While the Atlantic Challenge—and soon-to-be Pacific Challenge—are clearly brutal, the level of danger they present is nothing compared to what solo rowers like Angela Madsen and Jean-Jacques Savin were attempting. The Ocean Rowing Society, considered the governing body of "all human-power open-water exploration," lists 13 rowers who have been lost at sea. Underscoring the danger of the sport's rising popularity, four of those losses have occurred just in the past six years, the latest being Madsen and Savin.
The extreme risk doesn't faze Robinson, who readily admits that his open ocean rowing experience is "surprisingly little." He is not alone. In March, Victoria Evans, a 35-year-old lawyer with no rowing experience whatsoever, completed a 40-day, 2,559 nautical mile journey from the Canary Islands to Barbados. The next day, a 28-year-old British soldier named Jack Jarvis, who was an accomplished freshwater rower but who had never rowed in the ocean, landed in South Florida after rowing from Portugal—a trip that covered 4,500 nautical miles and took 111 days.
Robinson understands that the process of crossing the Pacific will be daunting and dangerous and he is aware of the cautionary tales, that is all eclipsed by the fact that what he is about to do is in service of the dream he's had since he was a kid. "I find that when I row, something to do with the rhythm and the strokes and the solitude, time can pass at an interesting rate—it can go really fast and really slow. It's humbling, but it's powerful, and not something that we get to experience anywhere else."
Lead Photo: pennybirdandcamera