Op-Ed: Let Women Compete in Big-Wave Surf Competitions
In one of the best seasons for big-wave surfing in recent memory, it's time to open the competition stage to hard-charging women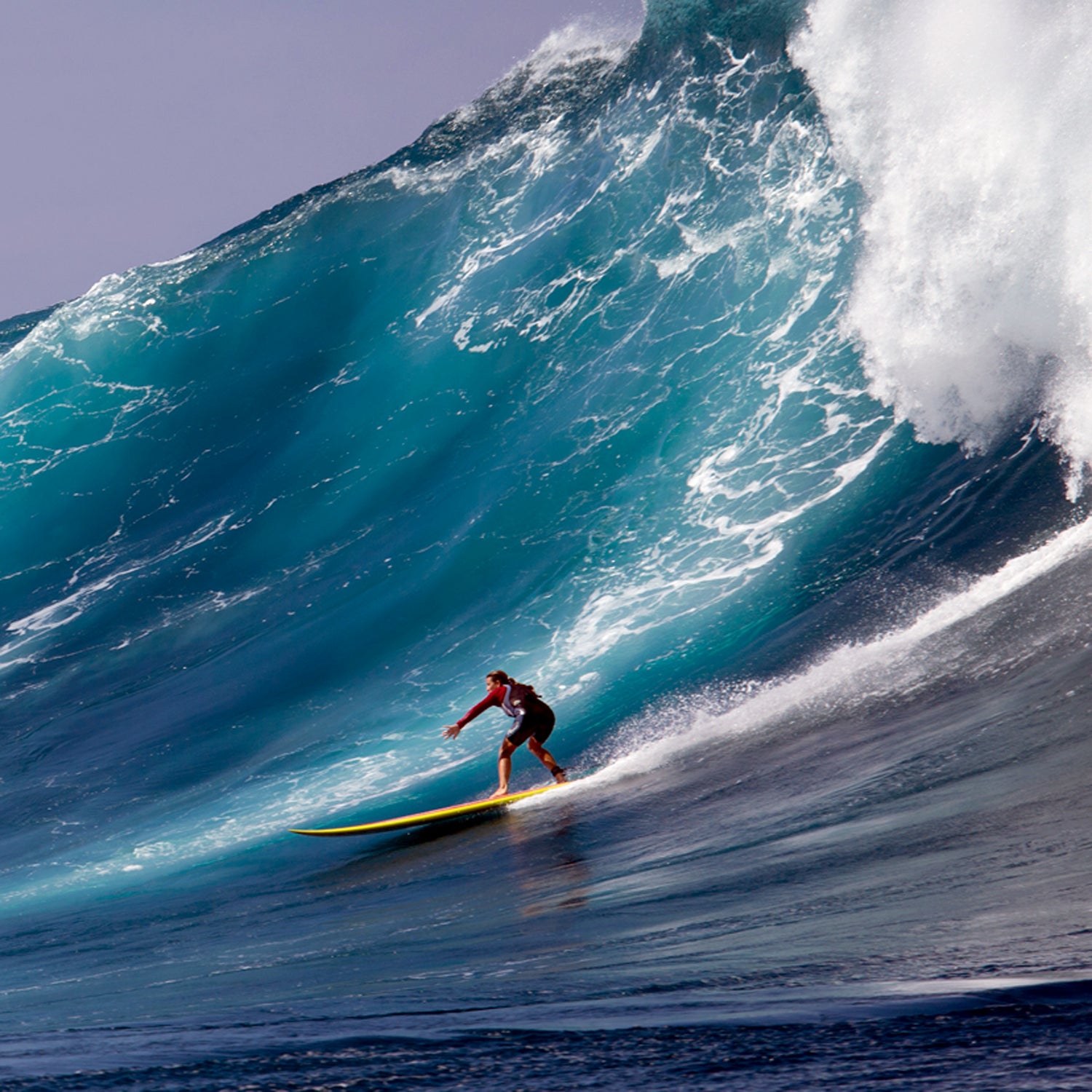 Heading out the door? Read this article on the new Outside+ app available now on iOS devices for members! Download the app.
The current El Niño weather pattern has stirred up massive swells around the Pacific nearly every week of this year, making for an exceptional season for big-wave surfing contests. The World Surf League (WSL) has pulled off successful big-wave events in Chile, Hawaii, and Mexico. The Quiksilver in Memory of Eddie Aikau competition in Oahu came close to launching this week, and the Titans of Mavericks surf contest in Northern California is happening today.
More than $100,000 in prize money has been awarded thus far with 24 surfers featured in each contest. Not a single one of those contestants have been women.
Let's be clear: women have come a long way in competitive pro surfing. The first Women's International Surfing Association was formed in 1975, helping launch various amateur competitions and marking the start of women's events. Back then, the first all-women contest was held in Malibu and offered a total of $3,000 in prize money; men refused to clear the lineup during the contest, requiring competitors to surf around them. Fast forward to 2015 and the WSL's Women's Championship Tour boasts ten stops around the world for 17 competitors to showcase their talent and pays out $262,500 per contest (which is half of what the total payout is for each men's competition).
So why is equality in the big-wave arena lagging?
"Women's support has taken a step back."
Some might point to the relative youth of the sport, but today there are more than enough talented lady chargers to hold a women's big-wave heat or contest. Yet there are no consistent big-wave events for women, and a woman has never been invited to participate as a main competitor in a high-profile big-wave contest. (This year, however, Savannah Shaughnessy of Santa Cruz, California, was included on the list of alternates at the Mavericks contest.) The most we've seen are special women-only heats tucked into bigger events, specifically two invitational heats at Oregon's Nelscott Reef competition in 2011 and 2014, and one-off productions like the first-ever women's invitational held at Mavericks last season.
It's not that women aren't performing. A huge swell rolled into Mavericks last week, and pro Brazilian-American surfer Andrea Möller charged waves alongside men on what locals consider one of the biggest days at the spot this season. "There are women who absolutely can throw down," says Grant Washburn, one of the original Mavericks surfers who has competed in every competition since 1999 and has two young daughters. "The numbers just aren't there yet. But if there are more Andreas growing up, there will be a lot more in 20 years."
It's time to start laying the groundwork. We need a regular women's heat at all of the stops on the WSL's global Big Wave World Tour or a separate, recurring women's event. Both would be great, and right now we don't have either. Just when it looked like women were starting to gain ground—with the two events at Nelscott and the one at Mavericks—this year we've seen no events for women to showcase their talents.
"Women's support has taken a step back," says Greg Long, the most decorated big-wave surfer in competition today. Last year's corporate restructuring of the WSL was a "huge undertaking" that unfortunately left the women on the sidelines, Long says. Still, he's supportive. "Anytime a woman paddles out, guys are pulling for them." To his credit, Long is trying to organize a women's invitational at Todos Santos to "help foster the growth of the sport."
"I don't think there is any question there are enough women to warrant a heat at certain events."
San Mateo County Harbor Commissioner Sabrina Brennan brought the issue center stage at a California Coastal Commission hearing in November. (The Harbor Commission issues permits for the Mavericks contest.) She pointed out the gender inequality of the event—no women have ever competed in the nine contests held since 1999—and the lack of equal access to the coast that an exclusive five-year permit would perpetuate. "It would have been irresponsible if I didn't bring it up," Brennan says.
The Coastal Commission responded by voting through a requirement that Cartel Management, the company that hosts the Mavericks contest, create a plan for "highlighting, involving, or encouraging the growth of women…in this event or in this sport."
"The Coastal Commission should grant a second permit to an organization interested in having a women's contest at Mavericks," says Nico Sell, chairman of the mobile security app Wickr, which produced the all-women event at Mavericks last season. "It is amazing that we are still fighting for human rights here in California."
There may be reason for optimism. The WSL is currently talking about launching an all-women big-wave event, says Bill Sharp, founder and event director of the WSL Big Wave Awards. "I don't think there is any question there are enough women to warrant a heat at certain events," he says. "The concept is being explored at this time."
A consistent all-women event on the Big Wave World Tour would guarantee a platform for these women to prove to the public and sponsors that they have more than what it takes to attract fans and eyeballs. The infrastructure is already in place, and the world is already watching. Now is the time.
*Sachi Cunningham is a water photographer, filmmaker, and Professor of Journalism at San Francisco State University who has covered big-wave surfing for 15 years.
Lead Photo: Fred Pompermayer