The Overachiever
A former corporate lawyer whose back-of-the-napkin plan to kayak from Minnesota to Florida was so awesomely deranged, we decided to pay his way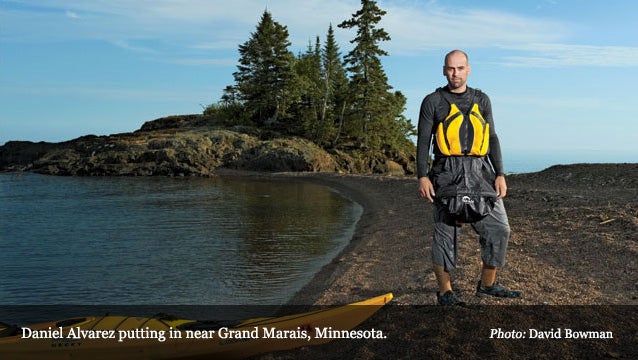 David Bowman
Heading out the door? Read this article on the new Outside+ app available now on iOS devices for members! Download the app.
As this issue arrives in your hands, Daniel Alvarez, a 31-year-old Tallahassee, Florida, native, lifelong Outside reader, and recovering corporate lawyer, is piloting a 17-foot bright yellow sea kayak over some large body of water—possibly the Mississippi River, possibly the Gulf of Mexico—on our dime. Alvarez won Outside's inaugural Adventure Grant, a $10,000 one-time endowment to enable a bucket-list trip, by pitching a 4,000-mile paddle over the many lakes, rivers, and seashores between the northernmost point of Minnesota and Key West, Florida. He easily bested four other finalists, earning 2,046 votes in a contest on Outside's Facebook page. However, Alvarez, a veteran distance hiker, neglected to mention a few relevant points in his application. Among them: his paddling experience is modest at best. He took a weeklong whitewater-kayaking course "about 10 years ago" in college, at the University of Florida. Since then he's paddled only in flatwater. In sit-on-top kayaks. The first time he stepped into a sea kayak with a spray skirt was in June, when he put into Lake of the Woods in Northwest Angle, Minnesota, at the start of this expedition.
"It's a very freewheeling trip," Alvarez explained in June from the outskirts of Minnesota's Voyageurs National Park, not long before tackling the unforgiving west coast of Lake Superior. He had launched
his expedition weeks before, and things had gone smoothly, with the exception of one near capsize. "I plotted it out enough to know that it's possible. I looked at the portages: I know I can get from Lake of the Woods to Lake Superior, and get from Lake Superior to the Mississippi River. But that's all I know."
All of which makes us say: bravo, sir. Alvarez's plan is bold. And inspired. And slightly reckless. In short, it embodies the spirit this magazine has celebrated for the past three and a half decades. Or, as a Facebook commenter put it more succinctly: "Booyeah!"
Alvarez caught the adventure bug as an 11-year-old, when his mother, Anna Lee, took him to the Grand Canyon. When he refused to get out of the car, she offered to roll down the windows for him, then set off hiking; he followed and has been rambling ever since. In 2004, he completed his first distance hike: the Appalachian Trail. In 2007, he caught a flight out of New Haven, Connecticut, in the middle of his final year at Yale Law School, hiked the Pacific Crest Trail, and returned in time for exams. "Yale is a good school," he says. "They were happy to pass me along."
After a couple of years doing "the most boring things you can imagine" for a corporate-law firm in San Francisco, Alvarez was laid off in 2009, whereupon he hiked the Continental Divide Trail. He was helping his father, a College Football Hall of Fame wide receiver with the Florida Gators, on an autobiography when he heard about our grant, and he submitted his plan to paddle across 13 states. He was already seven days into the trip when he found out he'd won; he celebrated by camping under some trees.
This being a modern expedition, Alvarez is carrying a laptop and smartphone to file blog posts. But he's not relying on GPS or plotting out his campsites beforehand, choosing instead to play it where it lays and rely on the kindness of strangers when complications arise. A Baudette, Minnesota, librarian let him camp in her yard, and her husband gave Alvarez a fishing pole. A shopkeeper in Northwest Angle let Alvarez stow his kayak on his lawn for a week while Alvarez dropped off his rental car in Minneapolis and hitchhiked back to the put-in spot. Another local family convinced him to come in for a walleye dinner instead of launching during a thunderstorm.
That said, our man has taken some precautions—the yellow boat, for instance, which Necky kayaks donated. (Necky, too, received only a cursory description of Alvarez's paddling skills.) "I wanted to give the huge barges on the Mississippi the best chance of seeing me," he says. Godspeed.