Phantom Waters
Diving after elusive sea life on the teeming reefs of Indonesia's Celebes Sea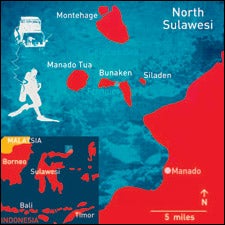 Heading out the door? Read this article on the new Outside+ app available now on iOS devices for members! Download the app.
SOME YEARS BACK, the New York Yankees, in an effort to fill their stadium, came up with a terrific catchphrase: "At any moment, a great moment." I recall the slogan when I'm about 60 feet beneath the Celebes Sea, diving along the precipitous coral wall that surrounds Indonesia's Bunaken Island. Vitro Tumpia, a mocha-skinned scuba guide from Froggies Divers, raps his tank with the hilt of his knife—a quick, dull thunk that signals such a moment has arrived.
Access & Resources
THE SMALL PORT TOWN OF MANADO
, on the northern tip of Sulawesi, is the jumping-off point for trips to Bunaken. Singapore Airlines (800-742-3333,
www.singaporeair.com
) flies from Los Angeles to Manado from
,450 round-trip, as well as from Newark to Manado from
,740. If you stay at Froggies, the staff will meet you at the airport and whisk you away in a dive boat for the 50-minute trip to Bunaken. Where to Stay: Froggies has eight comfortable seaside bungalows with verandas opening onto Bunaken Bay (www.divefroggies.com, 011-62-431-850-210; from , based on double occupancy, including dinner and airport transfers). Exploring:We make eye contact, and he points. Just below us, a trio of blacktip reef sharks slips by, their vacant eyes and efficient jaws stirring a limbic dread. Their passage alerts a hawksbill turtle; she emerges from her lair and fades into the distance like a slow-moving UFO. In just 40 minutes, we've encountered scores of fantastic creatures: a tiny orangutan crab covered in crimson mohair, iridescent mandarin fish hiding among the red-tipped branches of a fire coral, and a family of ribbon eels, cartoon-character snakes with electric-blue bodies streaked with neon yellow.
All very enchanting, to be sure. What I'm really looking for, though, is one of Bunaken's most elusive creatures: the ghost pipefish, a surreal cousin of the seahorse that's as weird as anything out of Dr. Seuss's imagination. Two days ago, I'd never even heard of these animals, but my short stay at the Froggies bungalows, with its expert and obsessive clientele, has already had an impact. My days of blithe diving are over; now I'm keeping score.
Off the northern tip of Indonesia's Sulawesi lies Bunaken, a tiny island where the marine ecologies of Australia, Malaysia, and New Guinea converge. Bunaken, Indonesia's most impressive national marine park, is one of the country's success stories. It covers nearly a quarter-million acres, 97 percent of which is underwater. The modest entrance fee buys you admission for a year. (In contrast to many Indonesian national parks, which allegedly enrich Javanese bureaucrats, every rupiah of Bunaken's fee is invested in reef and island conservation.)
On a globe, this part of the earth looks as remote as Betelgeuse. When you get there, of course, it's a different story. Divers from all over the world consider North Sulawesi province an undersea mecca—a place to commune with rare varieties of nudibranchs, octopuses, and exotic fish. For many of these adventurers, Froggies, Bunaken's best dive resort, is a home away from home.
Froggies is a funky, palm-shaded spot with eight bungalows, bucket baths, and plentiful seafood buffets. Geckos patrol the ceilings. Small waves lick the shore with a jazz-brush cadence. Formal entertainment is scarce, but one of the dive guides usually has a guitar in hand.
The queen of Froggies is Christiane Muller, a spry, 67-year-old, sun-ripened French-Italian woman with precise English and a dry sense of humor. Before her first dives (in 1988, at age 50), she'd had a variety of careers: DNA researcher, translator (she speaks six languages), and ethnic-music producer. It was on a trip to the Caribbean for music research that her youngest son invited her to go scuba diving.
"I told him I couldn't possibly," Muller laughs. "And he said, 'Oh? I dare you.' " She grinds out her clove kretek in a glass ashtray. "The moment I touched the water, I had this feeling: I'm home. Now I get up every morning wondering, What will happen today? What will I see?"
Muller began her dive-instructor career on North Sulawesi in 1993. Two years later, she moved to Bunaken and hung the Froggies banner. Today, the shop is a magnet for serious divers, some even returning for a second or third visit. They're a focused bunch: No package tourists here; this is a three-week, three-dives-a-day crowd. Most of the guests have logged hundreds of dives in their careers; some have cleared a thousand.
After dinner, the ten divers—two Belgians, two Germans, three Italians, a French couple, and me, the lone American—sit around the table, trying to remember the names of all the Seven Dwarfs. A cross-cultural puzzler, but we finally succeed, with the unobtrusive Happy as the last holdout.
Then comes the real fun: poring through Froggies' zoology library, identifying the day's critters. Maybe I'm deficient, but I've never cataloged the creatures I meet on dives. On Bunaken, though, I'm surrounded by aqua-twitchers—people who compile lists of every Amphineura and beryciform they've seen.
Oppressed by their jargon, I wander off to Muller's bungalow. I express my impatience with this fetish for Latin nomenclature, but she simply shrugs. "When I started diving, I had the same feeling: I'll never be able to remember all these names." She looks at me slyly. "But you develop an interest."
Of course, she's right. After a few dinners with this lot, a photograph in the book Seahorses, Pipefishes and their Relatives gets under my skin. I find myself fascinated by a creature called the ghost pipefish.
Ghost pipefish (Solenostomus paradoxus) are like marine hummingbirds: delicate, multicolored creatures that hover around the nutrient-catching petals of feathery echinoderms. They're elegant and adorable, and—it becomes evident—everyone's seen them but me. The diving scorecard is out. I must make my mark.
BUNAKEN'S REEFS, among the richest in the world—they host around 70 genera of coral, while Hawaii's have 17—ring the island in a range of undersea cliffs that plunge to incredible depths. These near-vertical walls, which draw cool deep-sea water, helped protect Bunaken from the devastating 1997–98 El Niño, which killed some of the world's best reefs. The combination of high walls and varied corals attracts an abundance of both reef and pelagic animals, from Spanish dancers to blue marlin.
It's my final day on Bunaken, and still no ghost pipefish. With Vitro Tumpia, my guide, I hover at 30 feet along the edge of a wall called Likuan. If there's no feeling of vertigo, it's because the depths below us are impossible to comprehend. If the ocean were drained, we'd be poised like hawks, hovering over the rim of the Grand Canyon.
As a last-ditch effort, Tumpia suggests a night dive. After the sun drops, we motor out to the "house" reef, less than 100 yards from Froggies' lights. Incredibly, the water feels even warmer at night; it's like plunging into God's private Jacuzzi. We descend slowly, our dive lights blooming over the corals. By night, the reef is as resplendent as Times Square—there's a whole new set of creatures, some in their finery, others with claws. A big sponge crab scuttles by, carrying its ungainly camouflage on its back; a lobster hides in a tiny cave, its long antennae testing our scent. Parrot fish shelter in place, sleeping in cocoons of saliva.
My air-pressure needle drops gradually. It's time to let go of my pipefish obsession and get Zen about the experience. That won't be so hard to do—the truth is, diving in Bunaken is better than any Yankees game: Every moment is a great moment.
It's a noble sentiment that I almost believe. But my reverie is broken by the thunking of Tumpia tapping his tank. I swim toward him, and there they are: a pair of ghost pipefish, two inches long, hanging like red-and-white ornaments near the mouth of a feather star. We stare at them, shining our lights away from their eyes and watching their ethereal dance. How, I wonder, do they see us? We loom beside them large and ungainly, like balloons in a Macy's Thanksgiving Day Parade.
That night, after a dessert of ripe snake fruit, the zoology books come out. The other divers blink at me dismissively. "See anything this evening?"
"Just a few Dromidiopsis edwardsi. A Scarus bleekeri. Oh—and a couple of absolutely gorgeous Solenostomus paradoxus, hanging out near a crinoid."
They raise their eyebrows, nodding silently. Muller kicks me under the table, grinning like the seventh dwarf.