The Planet's 8 Best Paddling Spots
Pro kayaker and filmmaker Rush Sturges has dipped a paddle all over the globe. Here, he picks the 8 most amazing places to kayak on earth.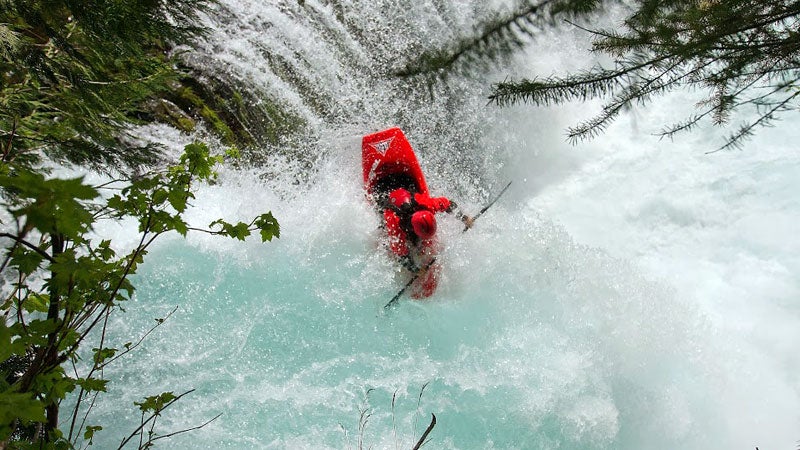 Heading out the door? Read this article on the new Outside+ app available now on iOS devices for members! Download the app.
Rush Sturges, now the ripe old age of 28, has already paddled on almost every continent, and a good number of the islands in-between. A professional kayaker and filmmaker based in White Salmon, Washington, Sturges has been on a decade-long mission to track down the best whitewater on the planet, paddling everything from California's rocky steep creeks to the Congo, the highest volume river in the world. If anyone knows where to find the best whitewater, it's probably him. Here are Rush's 8 favorite places to paddle:
---
California
Sturges admits he may be a bit biased towards California because he was born and raised there, "but it's hard to compete with the High Sierras," he says. "The rivers are built like waterslides, cutting their way through endless granite and boulder garden bliss." The classics often require you to pack all of your sleeping kit, food and supplies for 2-5 days at a time. "This coupled with the fact that it rarely ever rains during the summer months makes for a pretty special paddling experience," Sturges says. " It is truly an anomaly, and will always be a place that will keep me coming back."
Best Kayak School: Otter Bar Lodge (Full disclosure: Otter Bar is owned and operated by Sturges's parents, but it still rocks.)
---
Norway
Big waterfalls are just one reason why Sturges likes Norway. "Long days in the summer months, beautiful women, and epic scenery are a few of the other things," he says. "It's hard to beat the nature of the rivers in the land of Vikings. The lines are big, the whitewater is non-stop, and the water is crystal clear." According to Sturgest, it also produces the best road access Class V kayaking found anywhere on earth, "not to mention some of the most substantial park and hucks in the game," he says. 
Best Buy: Statoil Cup.  You'll understand when you get it.
---
Quebec
If you like big volume rivers and freestyle, "Quebec is the promised land," Sturges says. It's also home to some amazing creek boating around the greater Quebec City area as well as Lac St. Jean. "It remains pretty unexplored," Sturges says. "There is no question that this is one of the major frontiers for river exploration and big wave freestyle in our sport. It's a little off the beaten path, but well worth the effort."
Epic Partying: Chicoutimi
---
Pucon, Chile
"Chile has a little something for every kind of kayaker that visits," Sturges says. Pucon, Chile, is his favorite spot. "It has an unreal quantity of great paddling in a close proximity," he says. "It's easy access and has a pretty decent paddling season during our North American winter—not to mention an awesome nightlife." It's also worth venturing down south to the big volume rapids of the Futaleufu, he says, or even further south to the more seldom paddled Rio Baker.
Kayaker Hangout: Latitude Bar
---
Zambia/Uganda
Home to the world famous Nile and Zambezi Rivers, both Zambia and Uganda should be on the bucket list of every paddler, according to Sturges. "They are each special in their own right," Sturges says, "and, logistically, are relatively easy paddling trips." If you're a solid Class IV kayaker both destinations have a fair bit to offer. "If you are an expert Class V paddler," he says, "there are plenty of lines and awesome waves to progress your river running or sick trick expertise."
Tip: While you're there, checkout the island of Madagascar. "It's probably the most under rated kayaking destination in the world," Sturges says.
---
Columbia River Gorge, Washington
"I made the Gorge my home for the simple fact that I can paddle Class V whitewater every single day of the year," Sturges says. "The constant rain can be an issue for some people, but it keeps us kayakers happy." The winter and spring seasons produce the best flows, with high water on the Little White being the focal point for most expert paddlers in the area. Intermediate paddlers can also keep entertained year-round, running laps on the Class III-IV Main Salmon.
Best Pub: Everybody's Brewing, White Salmon, Washington
---
Mexico
The Rio Alseseca Watershed in Veracruz alone makes Mexico one of Sturges' favorite places to paddle. "The logistics are fairly easy," he says, "and with the right beta, any group of Class III-V kayakers can have an outstanding trip." With more quality runs available a short drive to the north or south, it's a veritable whitewater wonderland. "No Class IV/V enthusiast is complete until they venture into some of the gorges on the 'Big Banana' section of the Alseseca," Sturges says. 
Kayaker Lodging—Adventurec, Tlapacoyan
---
New Zealand
"There is a lot of whitewater in New Zealand," Sturges says. And it's good, especially the famous Kaituna River, "which is a great start for any newbie or intermediate boater," according to Sturges. "If you want to get into some of the more substantial Class V, the helicopter runs on the West Coast of the South Island are unbelievable." By "helicopter runs," he means rivers requiring a heli drop at the put in. These runs tend to be committing gorges with steep and technical rapids that don't offer much margin for error. "Nonetheless, it is quality whitewater at its finest," Sturges says.
Best Beta: "New Zealand Whitewater Guidebook" by Graham Charles
Lead Photo: Natalie Gray