Right Time, Right Place, Right Now
Fifty-odd years ago, a young guy's visit to Vanuatu inspired the legend of Bali Hai. Thankfully, the good life's still here. Why aren't you?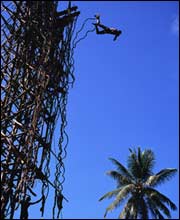 Heading out the door? Read this article on the new Outside+ app available now on iOS devices for members! Download the app.
Unlike its neighbor, Fiji, the pacific nation of Vanuatu, made up of 83 ruggedly forested, volcanically active islands, is a place hardly anyone in America knows. Which is odd, when you think about it. True, Vanuatu is so undeveloped that on the dozen or so larger islands where most of its people live you can still discuss the latest stock report (somebody's cows wandering through a neighbor's garden patch again) with a man whose entire wardrobe consists of a woven grass namba, or penis sheath. And when they bungee-jump in Vanuatu, where the pastime was invented centuries ago, they don't use sissy stuff like bungee cords. Instead, land divers, as they are called, tie jungle vines around their ankles and plunge from towers, up to 100 feet high, that look as if they were constructed from sticks and branches by a nest-building bird who got into the fermented berries.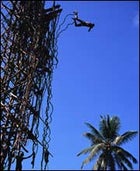 Yet Vanuatu, known as New Hebrides until it gained independence from England and France in 1980, has had a distinct effect on American culture, or at least on how we imagine paradise. It was among these coconut-palm-and-beach-fringed islands that Lieutenant James A. Michener was inspired to create the mystical heaven on earth known as Bali Hai.
Now, half a century later, other American travelers are discovering the archipelago too. Of Vanuatu's 100,000 or so annual visitors, more than half come ashore via cruise ship or yacht. The rest fly in, either extending a visit to Fiji—which boasts more than a decade's head start on development and three times the tourists—or skipping Fiji altogether.


While flying into Vanuatu is easy enough, getting around its mountainous interior—in much-abused four-wheel-drive vehicles or on foot—can be a challenge. And because tourism is new to the outer islands, lodgings at times consist of dirt-floored leaf houses where, as the tourism office so eloquently puts it, "running water is not common and the bath is to be taken on the beach or in the river." But for uncrowded diving, sea kayaking, and trekking, and for an adventurous look at a corner of the South Pacific that has changed little since Allied forces passed through, Vanuatu is among the most fascinating spots I've encountered in three decades of bumping around. It's the kind of place where, if you harbor, as I do, the fantasy of getting temporarily marooned on a tropical island, you'll likely begin plotting your return soon after your arrival.
Right, Time, Right Place, Right Now
Efate
"Machetes, aisle three," said the hardware store clerk in Port Vila, on Efate, the third-largest of Vanuatu's islands and home to two-thirds of its mostly Melanesian population of 180,000. Port Vila, the capital, though faded and scruffy in a pleasant, Somerset Maughamish kind of way, is surprisingly cosmopolitan. At Le Meridien, I could order Melanesian dishes, such as minced pork wrapped in manioc and taro leaves, in English, at Paris-steep prices. As I picked at my coconut crab at the Waterfront Bar & Grill, I eavesdropped on yachties whose timetable dictated cruising to New Zealand before December's cyclone season began. I could have shopped for French cologne or Australian shiraz. But instead I walked to the hardware store, because I've always wanted a machete and could find no souvenir in the duty-free shop that pleased me half as much, even though it turned out to be made in Brazil.


The best of Vanuatu lies beyond Efate. But stay a day or two to sea kayak to tiny offshore islands, snorkel among 300 species of coral, and visit the Ekasup Cultural Village. Located a few miles from Port Vila, the village is a scattering of traditional thatch houses, their pointed roofs extending almost to the ground to make them more secure during high winds. Traditional too is the location, near a banyan tree with a huge, above-ground root system that provides sanctuary during cyclones. The show Ekasup puts on is a bit commercial, but it can provide some insight into the old survival skills, which could prove useful if you find yourself in the outer islands without lunch in hand and need to know how to trap a fish or spear a pig.



Espiritu Santo
Santo, as it is usually called, is where Michener was based. No other place in all the vast Pacific, he later wrote, made as profound an impression on him. The largest of Vanuatu's islands, it has a craggy interior that makes for rugged hiking through massive kauri trees, orchids, and moss-hung cloud forest. And Champagne Beach, with its sweep of white sand, is arguably the best in the country. But like most visitors, I'd come here for the President Coolidge, a 654-foot luxury liner-turned-American troop carrier that is considered one of the world's finest wreck dives.


The Coolidge went down so fast after striking a "friendly" mine in October 1942 that its decks are still strewn with the rifles and personal effects of the more than 5,000 men who were aboard. (Most walked ashore, and only one life was lost.) Now sitting in 60 to 200 feet of water, the ship lies on its side but is almost fully intact. The dive, along the promenade deck, down long corridors, and into the staterooms themselves if you are experienced enough, is eerily similar to the underwater scenes in Titanic. (A few miles inland, both snorkelers and divers will also want to check out several spring-fed blue holes, where visibility is so great that as you look up, fish appear to be swimming across the sky.)
I dove with Santo Dive Tours, whose owner, Alan Power, has been exploring the Coolidge for 29 years. A round-bellied Aussie locally known as Mr. President, Power is a classic Santo character—at least that's what I decided after spotting a hand-lettered memorial in his backyard eulogizing a cow who was the only victim of Japan's one wartime attack on the island's airfield.
Pentecost Island
Eel-shaped Pentecost Island, so undeveloped that there are few places to stay other than traditional leaf houses in small villages, is proof that there were crazy people in the world long before 1988, when a New Zealand company opened the first commercial bungee-jumping operation. Land diving is so rooted in local culture, in fact, that the Vanuatu government is allegedly trying to obtain compensation from international operators for "theft of the custom of Pentecost." Though now strictly a male undertaking, done to ensure a successful yam crop, legend has it that the first jumper was a woman escaping an abusive husband who chased her up a banyan tree.


The jumps take place on Saturdays in April and May. Nowadays, many are put on just for tourists. But the most authentic—ritual jumps in which 30 divers a day leap from the highest towers—are held only once each month, in the village of Bunlap. Presumably the divers here have donned Western-style pants only once&3151;for the 1974 visit of Queen Elizabeth II.



Tanna
One of the southernmost populated islands, Tanna is best known for its mysterious "cargo cult" religion, as well as its uniquely accessible, reliably active volcano, Mount Yasur.


Yasur's personality is more simmering than violent, but it has been erupting, sometimes with fatal results, almost continuously since Captain James Cook first observed it in 1774. With a licensed guide, which is the only way to go, you drive across an ash plain, past a lifeless lake, to a parking lot scattered with boulders that—though best not to ponder it until you are a safe distance away—were flung from the caldera during past eruptions.
From there, scramble 400 feet up the side of the cone until you come, abruptly, to the realization that there is no guardrail between you and a very big barbecue pit. It's possible to visit Yasur on a day trip from Port Vila, but far better to stay on Tanna at least one night, which will allow you to make the climb just before sunset, when the sparkler-like display is at its best. Activity is greater, and more spectacular, during the wet season, from December through March.


The day I visited, I was standing at the crater's edge, snickering about a nearby Frenchman sporting a hard hat and ski goggles, when the ground shook with a sound as if whatever God was driving desperately needed a new muffler. A fiery array of molten rocks the size of big-screen TVs shot into the air, followed by a belch of black smoke that devoured the entire crater but, thank goodness, was pushed away from us by a gust of wind. "Good thing I brought a clean pair of knickers," said an Australian woman standing next to me, whose initial shriek had fortunately covered my own. Our guide shrugged. "Not to worry," he said. "The activity is only Level Two."


I didn't find his reassurance all that comforting, since Level One means no activity, and Level Three that the island is in imminent danger of being vaporized. The grading scale needed refinement. Still, I stayed and watched the Roman-candle-like vents spew for another hour, and would have stayed longer if I'd had a hard hat and ski goggles.


Not far from the volcano is Sulphur Bay, or Ipeukel, the main village of the cargo cult known as John Frum. Another World War II legacy that has nearly disappeared, cargo cults once flourished all over the Southwest Pacific, with locals convinced that if they pleased the gods—by clearing jungle airstrips and building bamboo models of such unimaginable wealth as radios, refrigerators, and jeeps—they would once again be showered with the real things. Who John Frum was is something of a mystery, but he may have been an American medical corpsman, "John from America," whose red-cross insignia has become the cult's symbol.


Every Friday at their church in Sulphur Bay, the worshipers—whose ceremonial garb includes cast-off U.S. military uniforms—hold services that consist mostly of singing, dancing, and for the men, drinking an intoxicating kava-root brew. Visitors are welcome year-round, but the big blowout is on February 15, John Frum Day, when 100 barefoot "soldiers" carrying bamboo rifles drill solemnly before a tattered 48-star American flag in expectation of their messiah's return. It's likely the most flattering, if surreal, reception an American could receive so far from home. Perhaps, if I'm ever marooned on this particular tropical island, these troops would consider defending me against misguided would-be rescuers.