Room & Board
There's nothing like surf school to put parents in their place. At the end of the day, just like your eight-year-old, you may feel as mighty as Laird Hamilton—or like you've survived the spin cycle. We tracked down three top-notch schools that are perfect for parents and kids.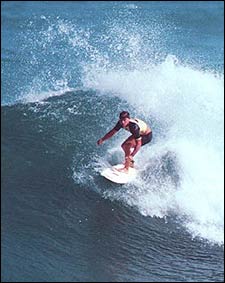 Heading out the door? Read this article on the new Outside+ app available now on iOS devices for members! Download the app.
SURF DIVA
Additional info
All lesson prices include use of a surfboard and a wetsuit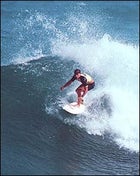 Rolling thunder
La Jolla, California

Surf Diva's home base is the cliff-lined coast of La Jolla, where the instructors, mostly women, have a motto: The best surfer is the one having the most fun. The Divas recommend five days of two-hour lessons for families, with adults and kids learning together. Day one begins with an hour of on-land instruction covering safety, surf etiquette, paddling, and pop-ups (the method surfers use to hop to their feet). Once you're in the water, you'll practice paddling out and turning around quickly to catch a wave. Lessons on the other days include beach instruction and 90 minutes of water time. By week's end, riding waves will be like riding a bike.

When school's out, you can snorkel the La Jolla Ecological Reserve in La Jolla Cove to see harmless leopard sharks, or hike through Torrey Pines State Reserve, where it's common to spy dolphins leaping in the Pacific.

Cost: Lessons are $140 per hour for a group of four people, $100 for two. (The smaller group is required for kids under 12. Minimum age is six.) Contact: 858-454-8273, www.surfdiva.com. Lodging: Many students pick Hotel La Jolla at the Shores, five minutes from the beach (doubles from $169; 800-666-0261, www.hotellajolla.com).
THE BETTY SURF CAMPS
Cocoa Beach, Florida

Many of the Betty Surf Camps teachers are Hall of Fame surfers. In summer 2003, the Bettys will offer a new five-day surf camp for families that combines a two-hour lesson in the morning with a surf session in the afternoon, with parents and kids mixed together. Instructors—one for every four pupils, on average—swim among the surfers offering tips and reminders; campers should be catching waves on their own by the third day.

When abs scream for a break, head to Cocoa's left coast, the canoe-friendly Intracoastal Waterway, or try to spot bobcats and armadillos at nearby Merritt Island National Wildlife Refuge.

Cost: The five-day camp is $975 for a family of four (no minimum age). Contact: 321-733-6582, www.thebettyseries.com. Lodging: Pelican Landing Resort in Cocoa Beach has rooms with kitchens (doubles from $89; 321-783-7197, www.pelicanland-ingresortcb.com).
PRIDE SURF SCHOOL
Virginia Beach, Virginia

Head instructor Jason Borte melds the technical skills of a former pro surfer with the patience of a former middle-school teacher, which is helpful because 80 percent of the students here are under 18. A three-day camp at Pride Surf School includes two and a half hours of instruction and practice daily; students are divided into beginner and intermediate categories. The second day includes a Q&A session to address neophytes' concerns. Study hard and you'll be taming waves and headed to surf graduate school by the last day.

Campers should make the effort to get to False Cape State Park, a mile-wide barrier spit between the Atlantic and Back Bay, 20 miles south of Virginia Beach. Visitors have to bike or canoe in from adjoining Back Bay National Wildlife Refuge to access the park's trails and beaches.

Cost: The three-day camp is $100 per person (minimum age is eight). Contact: 757-486-5055. Lodging: Camp or stay in a cabin at First Landing State Park in Virginia Beach (cabins rent for $120 per night and camping costs $22; 800-933-7275, www.dcr.state.va.us).